The distinction between smartwatches and fitness trackers is gradually eroding. Some may argue that they are still not very practical, but they are adequate for monitoring some basic health issues. The good news is that even some low-cost smartwatches provide the majority of the functions seen in pricier smartwatches.
The introduction of smartwatches sparked unavoidable disputes about why someone would need a smartwatch to check the time and calendar instead of a smartphone.
However, as time went on, the category became more useful, gaining more smart capabilities such as calls, built-in voice assistants, social media notifications, and so on. Slowly, they began to develop more advanced capabilities to assist you in keeping track of your health. Because of their built-in GPS, smartwatches can now be your trip companion.
Thanks to many monitoring sensors, they can also be used as a general fitness tracker. Their themes are fully customized, with a variety of sizes and strap possibilities. However, they are still evolving, and more work needs to be done on them. Nonetheless, they are highly functional and are sometimes even considered future smartphone replacements.
Even low-cost smartwatches are capable of providing you with the experience. Thank you to the smartphone manufacturers that have rushed in to help kickstart this process.
There have been several new inexpensive smartwatches released recently, and we've tried to compile a list of the best ones. Heart rate, sleep, and activity trackers are included in these budget-friendly smartwatches. Some of these also include a SpO2 monitor, which is a useful addition for monitoring your blood oxygen levels.
1. Amazfit Bip U Pro
With over 60 sports tracking modes and a slew of health-related functions, the Amazfit Bip U Pro is a fantastic fitness tracker for the money. The built-in GPS and Alexa smart assistant, on the other hand, are the show stealers. Alexa, on the other hand, does not perform as well as we had hoped.
Even on sunny days, the 1.43-inch LCD color display is bright enough to read plainly. Heart rate, SpO2, sleep, breathing tracking, and other fitness and health-related functions are included. Alexa, notification mirroring, music management, and a camera shutter are among the smart features. All of the tracking features are functional and precise. The Bip U Pro comes in three colors: black, green, and pink. For this review, we're using the black version.
The wearable is also rather thick, measuring 11.4mm in diameter, yet it is light on your wrist, weighing only 31g. You'll get two pre-attached straps that may be swapped out for any other 20mm strap. The default strap is comprised of silicone rubber, and we had no problems wearing it for extended periods. The strap has 14 holes for a custom fit, and the interlocking technology keeps the watch firmly in place.
The Bip U Pro's key functionality is fitness, and this is one area where the wearable excels. Over 60 activities may be tracked with the Amazfit Bip U, including badminton, cricket, swimming, free workout, cycling, rope skipping, rowing, and dance, to name a few. You receive accelerometer and gyroscope motion sensors to track indoor activities, show step counts, and enable automatic sleep tracking in terms of sensors.
You can see how many steps you've taken, how many times you've stood up, how many calories you've burned, how far you've traveled, and how many steps you need to take. The phone's main selling feature is its built-in GPS, which can be used to track all of your outdoor activities.
The tracker 2 PPG optical sensor monitors your heart rate in real-time. It can also monitor heart rate during activity, providing extensive information. You can also set a heart rate interval from one minute to every 30 minutes, or turn it off completely and manually monitor it, which helps to save battery life.
Google Home Vs Amazon Echo Vs Apple HomePod: Let The Battle Begin!
2. Realme Watch 2 Pro
The 1.75-inch color display on the Realme Watch 2 Pro is 56% larger than the previous generation. It boasts a 320 x 385-pixel resolution, a refresh rate of 30 frames per second, and a peak brightness of 600 nits. A dual-channel GPS is also included, allowing you to track multiple outdoor activities without having to use your phone.
Up to 90 sports modes can be tracked with the wearable, including running, walking, strength training, football, horseback riding, hockey, table tennis, badminton, elliptical, yoga, cricket, boxing, bowling, and more. The Realme Watch 2 Pro's battery life is rated to last up to 14 days on a single charge thanks to its built-in 390mAh battery.
A heart rate sensor, a SpO2 sensor to monitor blood oxygen levels, and a 3-axis accelerometer are among the other sensors included. Caller ID, IoT control, reject/silence incoming calls, weather updates, notifications from phone apps, and reminders are among the other significant features. The most significant upgrade is the dual-channel GPS, which allows you to track different outdoor activities without having to use your phone.
Training metrics, distance, calorie burn, and workout length are just a few of the basic elements. Aside from that, the wearable can track up to 90 different sports activities, including running, walking, strength training, football, horseback riding, hockey, table tennis, badminton, elliptical, yoga, cricket, boxing, bowling, and more. However, the business also stated that all 90 modes will be added via OTA update in the future.
The Realme Watch 2 Pro's battery life is rated to last up to 14 days on a single charge thanks to its built-in 390mAh battery. However, this will vary depending on how the GPS and other aspects of the watch are used.
Caller ID, reject/silence incoming calls, weather updates, notifications from phone apps, and reminders are just a few of the smart features included in the Realme Watch 2 Pro. It can also control the phone's media playback and take images. Bluetooth 5.0, sedentary reminder, drinking reminder, meditation, IoT control via Realme Link app, and finding my phone are among the other features.
Release date rumors, pricing, early leaks, and all we know so far about the iPhone 14
3. Realme Watch S
The Realme Watch S could be a choice for people searching for a wristwatch with a more attractive and appealing appearance. This smartwatch is a significant improvement over their previous smartwatch. The new design is more premium and appears more like a traditional watch, which increases its appeal.
The 1.3-inch color display is also brighter, and the round face allows it to mix in with a wider range of clothing. It may easily last two weeks on a single charge because of the larger battery.
The only serious difficulty we encountered was with the accuracy of sports tracking. The Realme Watch S has a 47mm aluminum body that's 12mm thick, making it a little chunkier than Realme's original watch, and it's also a little heavier at 48g. This is paired with a relatively standard-looking 22mm silicone strap in black, green, blue, or mustard.
A 1.3-inch, 360 x 360 LCD touchscreen display is held in place by the case, which is protected by Corning's Gorilla Glass. While the screen size is smaller, the resolution is higher than the first Realme Watch. It doesn't appear to be as faded out, and it has high maximum brightness, vibrant colors, and wide viewing angles.
When you swipe over it, there's no severe screen lag, and it's a step up in almost every manner. However, there is no always-on display mode here, and while raise to wake worked well in general, it seemed to struggle a little more during activity.
Two physical buttons flank the touchscreen display, the top of which takes you to the app menu and the bottom of which gives you instant access to a function of your choice.
The default setting is a workout-tracking out of the box. Those buttons also twist, albeit they aren't used for any of the onboard functions. You won't be able to swim with the Realme Watch S or take it in the shower with it. It has an IP68 water resistance rating, which means it can withstand a light shower or a spray of water but not be submerged for an extended amount of time.
The Realme Watch S is powered by Realme's in-house operating system, and no information about the CPU has been released. The on-watch software is really simple to operate. Swipe up to show your apps and features, swipe down to see your messages, and swipe left or right to see widgets for activity monitoring and weather updates.
Best Bluetooth speaker under 10k
4. Xiaomi Redmi Watch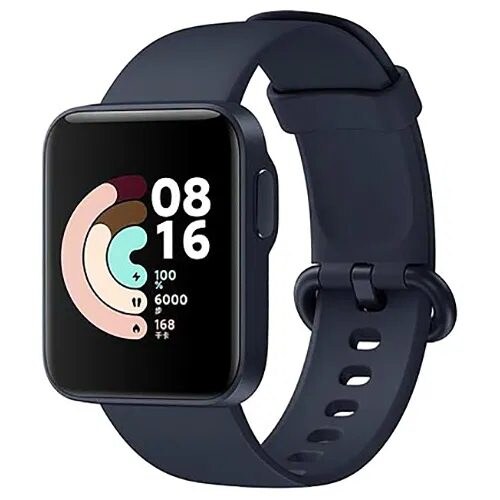 The Redmi Watch is Xiaomi's cheapest smartwatch in India, and it's the company's second smartwatch after the Mi Watch Revolve, which was released earlier this year. In the company's increasing wearable range, it joins the Redmi band.
To begin, the Redmi Watch boasts a straightforward design and an excellent color display. However, it lacks screen protection and the straps are not the standard plug-and-play style, making third-party straps tough to come by. Even on bright days, the display brightness is sufficient for reading, which is a positive indicator.
One area where businesses can't do much for an inexpensive smartwatch is design. The Redmi Watch is a wearable device with a simple design and a secure fit. The watch comes in ivory, black, blue, and olive color variants, with Ivory, Black, Blue, and Olive strap variations. The straps are composed of high-quality silicone and are very light in weight.
The watch module is also composed of plastic. On the device's side, there's a button that comes in helpful in a variety of situations. The button protrudes from the watch, giving it an elegant appearance in our opinion. The straps, on the other hand, are not the standard plug and release system. Each side of the band of the Redmi Watch has a button that, when pressed, releases the strap. This also implies that third-party straps may be tough to come by because the mechanism is different.
The magnetic charging station and heart rate sensor are located on the back of the watch. The watch is 35 grams in weight, and the module is 10.9mm thick. The watch is water-resistant to 5 ATMs, so you can use it throughout workouts and even track open pool swimming.
In this episode, we'll look at one of the most compelling reasons to consider a smartwatch. In comparison to the Realme Watch S (16) and Amazfit Bip U (60+), the Redmi Watch only has 11 sports modes.
Outdoor running, treadmill running, outdoor cycling, indoor cycling, freestyle, walking, trekking, trail running, pool swimming, open water swimming, and cricket may all be tracked with the watch. Apart from that, the Redmi Watch's most notable feature is its built-in GPS, which allows you to track, walk, and run without having to carry your phone with you.
The battery life is usually where the low-cost wearables shine. The Redmi Watch is powered by a 230mAh battery that may last for up to 9 days on a single charge. However, we got about five to six days of battery life in our testing because we used it for notifications, GPS, heart rate monitoring, and other things.
Given the number of activities, we could do before the watch ran out of power, the five to six-day battery life is excellent. It's also worth noting that the more GPS you use, the lower your battery life becomes.
The wearable is said to last up to 10 hours with only GPS mode turned on. In terms of charging, the Redmi Watch comes with a magnetic charging cradle in the box that is quite large in comparison to the Amazfit Bip U series' charging cradle. To completely charge the watch takes a little less than two hours.
Best truly wireless earbuds under 10000
5. Amazfit Bip S
To map all of your fitness data and analytics, a good fitness device does not always have to burn a hole in your pocket. The wearable sector has recently evolved, and we've seen a wide range of smartwatches and fitness trackers on the market.
When it comes to fitness trackers and smartwatches, Amazfit is not a new name. In reality, the Amazfit Bip and Bip lite, two of the greatest cheap smartwatches, are sold under the Bip line. The business debuted the Amazfit Bip S, a new smartwatch in the Bip series, today.
There has been a slew of low-cost smartwatches released in recent months, and the trend is expected to continue. Amazfit has a great exercise tracker, a real-time heart rate monitor, and even GPS for precise tracking.
If you're not a fitness fanatic, it makes a good smartwatch for the money. The method of pairing the Amazfit Bip S with your smartphone is straightforward and painless.
You must first install the Amazfit App on your Android or iOS device. Select "Watch" and then "Amazfit Bip S" from the list by clicking the "+" icon on the right top. You must scan the QR code from the app, which will appear on the watch screen when you remove it from the box. The watch is compatible with Android 5.0 and iOS 10 devices.
Once the Bip S has been located, you must accept the pairing request on the watch screen. After then, the watch will look for an update on its own. During the setup procedure, we received a couple of firmware updates in our situation. After that, the watch is ready to track your actions and use. More watch functions are accessed through the app.
Overall, the watch is quite pleasant to wear, and once it is on your wrist, you will not notice it. A PPG bio-tracking optical sensor for detecting your heart rate and a pogo pin that clamps to the magnetic charger is located in the back. It's also water-resistant up to 5ATM, so it can withstand rain as well as intense gym sessions.
The Amazfit Bip S has a 1.28-inch Transflective color TFT touch screen display with a resolution of 176 x 176 pixels. Although the resolution isn't the best, the Transflective panel allows it to be read even in bright sunlight. The brighter and easier it is to see the display as more light falls on it, and the outside visibility is also outstanding.
The watch comes with five default watch faces, and the app includes an extra 15 watch faces, bringing the total number of watch faces to 20. Huami also confirmed that more watch faces will be added via an OTA update shortly.
You receive five shortcuts: music, status, PAI, heart rate, and weather, as well as a home screen that displays time, date, battery, and other information depending on the face you select. The app's shortcuts can be hidden, but there is no way to create a new one. So you're limited to five shortcuts. Swipe motions are used to access the shortcuts.
Other watch UI features include the ability to control music from apps such as JioSaavn, Gaana, Spotify, and even YouTube. With the music tile, you may skip tracks, play/pause, and even adjust the volume. You can also receive call (silent/reject) notifications, reminders, ideal alerts, find your phone, and goal notifications. In the watch itself, you'll find a timer and a stopwatch.
6. Fire Boltt's Talk
The ability to make or take a call right on the wrist is something that most inexpensive smartwatches lack. If you've been looking for a low-cost smartwatch that can take phone calls on the go, your search is over. The Fire Boltt Talk is the company's newest smartwatch, and it allows you to do just that at a reasonable price. Fire Boltt, a local company, has released Fire Boltt Talk, its third smartwatch in as many months.
The Bluetooth calling feature is the star of the show here, allowing you to answer and make calls directly from your wristwatch. You can pick up the phone and converse while on the move. In addition, the watch allows you to check call history and sync speed dial contacts.
What's more, the watch has a dial pad that allows you to call a contact by manually entering the number. The Fire Boltt Talk has a 44mm large screen display that the firm refers to as a "3D HD display" in terms of visuals. It has an all-metal body with a side-mounted crown button. The wristwatch also has health and fitness capabilities in addition to the calling capability.
The Heart Rate Tracking feature on the Fire Boltt Talk can track vitals in real-time. A SpO2 monitor is also included in the wearable, which measures your blood oxygen level. Surprisingly, the watch also has a blood pressure (BP) monitoring feature, which is uncommon even on high-end smartwatches.
In terms of the user interface, the Fire Boltt Talk, like the preceding Fire Boltt 360 smartwatch, has a spinning UI rather than a list view. The watch can track a variety of sports modes, including walking, running, cycling, skipping, football, basketball, badminton, and swimming, among others. Media management, camera control, notifications mirroring from the phone, and various watch face settings are just a few of the smart features.
The watch is 60 grams in weight and has an IPX7 water resistance rating. Finally, the Fire Boltt Talk's battery life is rated to last up to ten days under normal conditions and up to five days while using the Bluetooth call feature.
iPad Mini 6 Release Date, Price, Features And Specifications