We have compelling reasons to switch to zero-emission vehicles due to rising fuel prices and rising pollution. On a personal level, choosing an electric vehicle will undoubtedly reduce financial strain, though the environmental benefits will take time to manifest.
To encourage the adoption of electric vehicles, the federal government has announced a number of schemes and incentives for both manufacturers and end-users.
Schemes like FAME II not only provide financial assistance for the purchase of all types of electric vehicles, but they also emphasize the importance of establishing an ecosystem, which includes charging infrastructure, supply chains, and other factors. Furthermore, the benefits and subsidies provided by state governments will help sweeten the deal.
Unlike in the past, when there was a push for electric vehicles without any viable alternatives, we now have a wide range of vehicles to choose from. Here's a quick rundown of the top electric two-wheelers now available in India.
15 Best Car Gadgets and Accessories for the Ultimate Road Trip
1. 450X Ather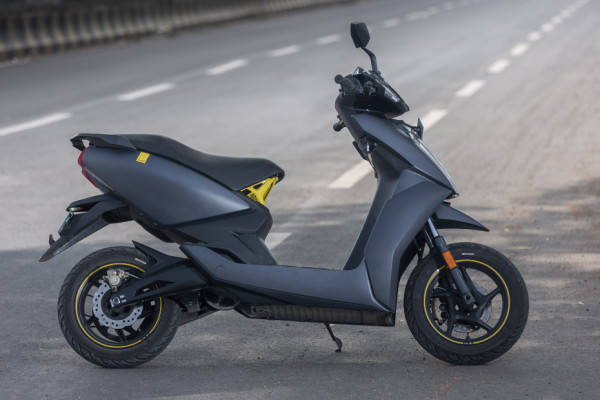 Many people believed that with Tesla's arrival later this year, India would finally get the boost it needed to become a larger electric vehicle market.
However, for anyone who has followed the space, that development is difficult to get excited about because the bigger ripples are expected in the two-wheeler category. Bangalore-based Ather Energy is at the forefront of the EV trend.
In January 2020, it introduced the Ather 450X, its new flagship scooter, as well as intentions to expand to eight more cities beyond Bangalore and Chennai. This was significant since no other luxury electric scooter manufacturer had been as aggressive in its nationwide expansion.
Even though 2020 did not go as planned, the firm was able to avoid serious delays and begin delivery in the majority of the new regions. It intends to grow to a total of 27 cities by the end of this year.
There's no getting around it: the Ather 450X is a high-end scooter that costs nearly twice as much as a standard ICE scooter. Because electric vehicles in India are subject to a variety of subsidies and incentives, determining their true cost can be challenging.
To begin, let me explain the Ather 450X pricing in Mumbai. Mine was pre-ordered last year with a Rs 2,500 deposit. The ex-showroom price is Rs 1,61,726, plus Rs 868 for the RTO fee.
The overall on-road cost is Rs 1,70,030, including the FAME II subsidy of Rs 29,000. Insurance through Go Digit (zero depreciation) costs another Rs 7,436, bringing the total on-road cost to Rs 1,70,030. Please keep in mind that the exact pricing may vary slightly owing to various small considerations.
The Maharashtra government also provides an additional Rs 5,000 subsidy, but you must apply for it, present it in person, and wait for the approval. Due to variances in the subsidies granted by the local government, the real on-road cost of the scooter will vary between states.
For example, the pricing of an Ather 450X in Delhi is over Rs 15,000 less than in Mumbai. Ather Energy also offers two financing alternatives to help with the sticker shock.
IDFC First (11.65%) and Hero FinCorp (9.99%) loans, as well as a 36-month Autovert lease, at the end of which you can keep the car or return it to get your entire down payment back. You'll also get comprehensive insurance and an Ather Service Lite subscription for the duration of the lease.
If you have the money but aren't sure what to do with it, here's something to think about. When you pay the complete money upfront, you get a better deal on the vehicle and avoid the inconvenience of monthly payments.
If your usage will be so heavy that the battery would deteriorate at an extraordinary rate, or if you don't want to buy the 450X for more than three years for whatever reason, the lease option makes more sense because you can walk away with the money.
Then there are a handful of other charges to consider. At no additional cost, you can pick between a home charger (Ather Dot) and a portable charger. The cost of a home charger installation (when done by a firm) is Rs 2,124, although it might be higher depending on the length of wiring required from your meter box to your parking space.
Up to 5 meters are included, although most consumers will find that this is insufficient. The charger may be hung or affixed to any wall or pillar, and the company also sells a pole for individuals who don't have access to a wall (like open parking). You can also get the charger from your dealer and install it yourself with the help of an electrician. For that, a proper handbook will be provided.
When it comes to delivery times, they are currently quite different between cities. Only the Space Grey variety is available in Mumbai, and it takes three to four weeks following payment. For all locations, deliveries of the White and Mint Green variants will take a few more months.
Any discussion of electric vehicles would be incomplete without a mention of range anxiety. While the Ather 450X does not take a brute-force approach by just increasing the range, it does include several useful features that will give you peace of mind.
Although ARAI claims a range of 116 kilometers, Ather prefers to speak in terms of True Range, a proprietary unit that is meant to give a more accurate picture of the predicted range at all times.
There are four driving modes on the Ather 450X, each with a different amount of performance and range. Eco mode offers an estimated range of 85 kilometers on a full charge, followed by Ride at 75 kilometers, Sport at 65 kilometers, and Warp at 55 kilometers.
The top speed, acceleration, and torque all increase dramatically as you go higher. Eco will serve for most local riding, whereas Ride is better suited for a fairly packed highway.
These estimates were generally right in my consumption over a month. The dashboard will display the expected range in your current riding mode based on the battery level at all times. Other factors like gradients, tire pressure, cargo weight, battery temperature, irregular acceleration, and others will reduce your range in all-electric vehicles.
You can completely disregard these factors and not overthink them, as the range reduction is unlikely to be significant enough to require you to keep a tab open in your mind just to maintain your riding stability.
The Ather 450X, like many high-end electric vehicles, supports regenerative braking. When in motion, all electric motors are also generators, creating electricity.
When the scooter is coasting or braking, the kinetic energy delivers power back to the battery via regenerative braking. It is not yet extreme, but it has the potential to become so in the future. Because Ather is always analyzing riding pattern data, it may eventually include a mode where this takes precedence.
Check Out some best Headphones For travelling – 10 Best Surround Sound Headphones in 2022
2. RV400 Revolt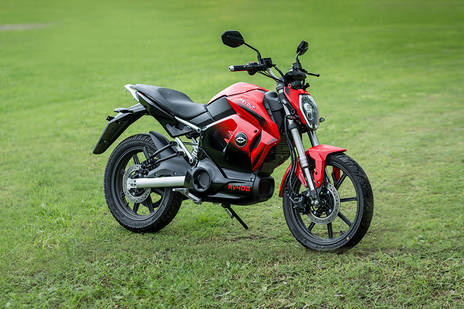 The Revolt RV400, India's first all-electric AI-enabled bike, has finally been unveiled. The business revealed specifics about the range, top speed, charging infrastructure, and batteries at the unveiling. Rahul Sharma, the former CEO of Micromax, created Revolt Intellicorp.
It was originally revealed to the public a few months ago, with the announcement that it would be India's first indigenous electric motorcycle, with features not seen on any other 2-wheeler in this price range.
A single-cradle frame with an aluminum swingarm is used on the RV400. It also includes front-wheel forks that are upside-down, which is unusual in this market. The electric bike is meant to be comfortable for 95% of Indians. This bike has the maximum ground clearance in the segment at 215mm, which helps to make it water-resistant.
The Revolt RV400 is IP67 water-resistant to take care of the rest. The battery pack is situated closer to the center of gravity for greater weight distribution, which adds to the safety. The footrests can also be changed to suit the needs of the rider.
The motorcycle comes with a contactless smart key that can unlock the bike from up to 50 meters away. Not only that but it may also be used to start the engine ahead of time and to set off an alert.
If that wasn't impressive enough, the RV400 may also be started by simply saying "Revolt, start" while wearing the conforming helmet. The Digital Health Monitor console is a full-featured dashboard that displays data such as speed, battery levels, and predicted range.
The RV400 is powered by a 75V battery and a 3KW mid-drive motor. In Eco mode, this gives the bike a maximum range of around 150 kilometers in optimum driving circumstances. When you switch to Normal mode, the maximum speed and range increase to 65kmph and 100km, respectively.
Finally, the Sports mode increases the top speed to 85 mph while reducing the range to 80 kilometers. Rahul Sharma also hinted at a new Nitro mode that will "push the speed to new heights."
The lack of a sufficient charging network is one of the major factors impeding the adoption of electric vehicles in India. Revolt Motors provides a few options for dealing with this problem.
There's standard cable charging, which takes about 4.5 hours to fully charge the battery. When you're out on the streets, though, Revolt's Switch Stations may be utilized to swap out the battery and leave with a fully charged one. These are currently deployed in Pune and Delhi, with the number expected to grow over time.
Because the batteries are removable, they can be taken off the bike and charged separately for users who do not have access to a charging station near their parking space. Finally, the batteries have an SOS Delivery option, which allows you to order a new battery using the MyRevolt app and have it delivered to you.
If that wasn't enough, Revolt batteries are backed by an unrestricted lifetime warranty (up to a maximum of 1,50,000km). This is critical for electric vehicles since lithium-ion batteries degrade over time, resulting in a decrease in range. The bike comes in three different models, all of which may be purchased in monthly installments.
The RV300 costs Rs 2,999 a month for 37 months, the base RV400 costs Rs 3,499, and the premium RV400 costs Rs 3,999. Insurance, a down payment, registration, three years of service fees, batteries, and 4G connectivity are all included at this pricing.
While Revolt did not provide specific pricing for the e-bikes, estimations indicate that the RV300 will cost roughly Rs 1,10,000, the base RV400 will cost Rs 1,30,000, and the premium RV400 will cost Rs 1,50,000. Deliveries for Delhi will begin in September 2019, and deliveries for Pune will begin in October. Bangalore, Hyderabad, Nagpur, Ahmedabad, and Chennai will be included in the following phase, which should take place in the next four months.
Patrons will also be able to visit Revolt Hubs to try out the bikes and perhaps purchase them. The presentation came to a close with a slide displaying the upcoming Revolt electric bike. There was no information about it released, but it appears to be an even more high-end bike, with more power, speed, and range.
Best Budget Smartwatches Under Rs 5,000
3. Ola S1 Pro
From electric to internal combustion engines, the Ola S1 Pro is undoubtedly one of the most eagerly anticipated two-wheelers in the country this year. By now, most of us are familiar with its specifications and features, and Ola has finally allowed us to test it out and tell you what it's like to ride Ola's first electric product in the country.
Let's get started without further ado, shall we? The Ola S1 Pro's bodywork is made up of just five smooth and curvy colored panels, and the smiley-face LED headlight unit gives the scooter a youthful appearance, while the grab handles and an exterior charging port neatly round off the back portion.
It's a shame that the charging port's external cover, as well as the home charger (adapter) for the battery that comes with it, can't be closed and are thus vulnerable to tampering. The S1 Pro's large, comfy seat, as well as its fantastic high-resolution 7-inch TFT touchscreen with sim connectivity and Bluetooth compatibility, are standout features.
The single-sided telescopic fork suspension allows you to have an excellent look at the unusual and beautiful front alloy. Now, a careful eye will detect a couple of holes in the panels, as well as the fact that the rubber mats linked to the footboard do not lie flush on the scooter, which appeared to be a bit wrong. All of the switchgear has rubber-coated buttons that are pleasant to the touch and appear to function properly.
The print quality is good, and I think the matte color option makes the scooters look incredibly classy. The S1 Pro also has a USB charging port and a pair of speakers beneath the handlebar that can be used to mimic the sound of a scooter with a regular combustion engine or to show the world what kind of music you listen to, but we weren't able to test these features out this time because the scooters we rode didn't have these features enabled.
The Pro version also comes with a voice assistant, but we weren't able to use it because it wasn't enabled for us this time. The major reason we were invited to ride this scooter at this time was to offer our thoughts on how to ride and handle it with you.
The S1 Pro is powered by an electric motor with a peak power of 8.5kW and a torque of 58Nm at the motor shaft. The cheaper S1 variant has the same motor, but the Pro has a larger 3.97kWh battery than the normal S1's 2.98 kWh battery, as well as extra features and a longer range. The Pro comes with three riding modes: regular, sport, and hyper, which all affect how quickly this Ola scooter accelerates.
The S1 Pro is bland on Normal mode, making it ideal for beginners and the elderly. The throttle response is sluggish, and the scooter's power delivery is conservative. The S1 Pro comes alive in Sport mode, with a more responsive throttle and a greater inclination to pass other road users. Hyper mode is for when you want to have a good time on the go or when you need to get somewhere quickly.
The scooter will silently transport you away at a fast pace, and you'll notice the numbers on the digital dash quickly grow. The Pro, according to Ola, can speed from 0 to 40 kilometers per hour in 3 seconds, and it appears to be more than capable of doing so.
The S1 Pro is an extremely quiet scooter. The scooter includes auditory indications to let you know it's turned on, entered ride, park, and even reverse mode, but once you're on the move, the S1 Pro is as silent as a mouse. For the most part, you'll just hear wind and road noise, and while there is a slight whine from the motor when you step up the pace, it's not too bothersome.
The S1 Pro has a light feel to it, and it's also incredibly rider-friendly. The tubular chassis of the Ola electric permits it to have excellent road characteristics and a quick, almost easy driving dynamic. It isn't afraid of being thrown into a corner at high speeds. The front suspension is set to be relatively stiff, while the rear suspension is set to be softer, and both function effectively to keep bumps at bay.
The fact that the seat is soft and wide helps matters, even more, making the configuration particularly pleasant for the rider and pillion on short excursions. The Ola S1 Pro appears to be a scooter capable of conquering the best craters and potholes our governments can throw at it, essentially establishing a solid case for itself as a comfortable, speedy, and feature-rich urban runabout with its 162mm of ground clearance.
4. Bajaj Chetak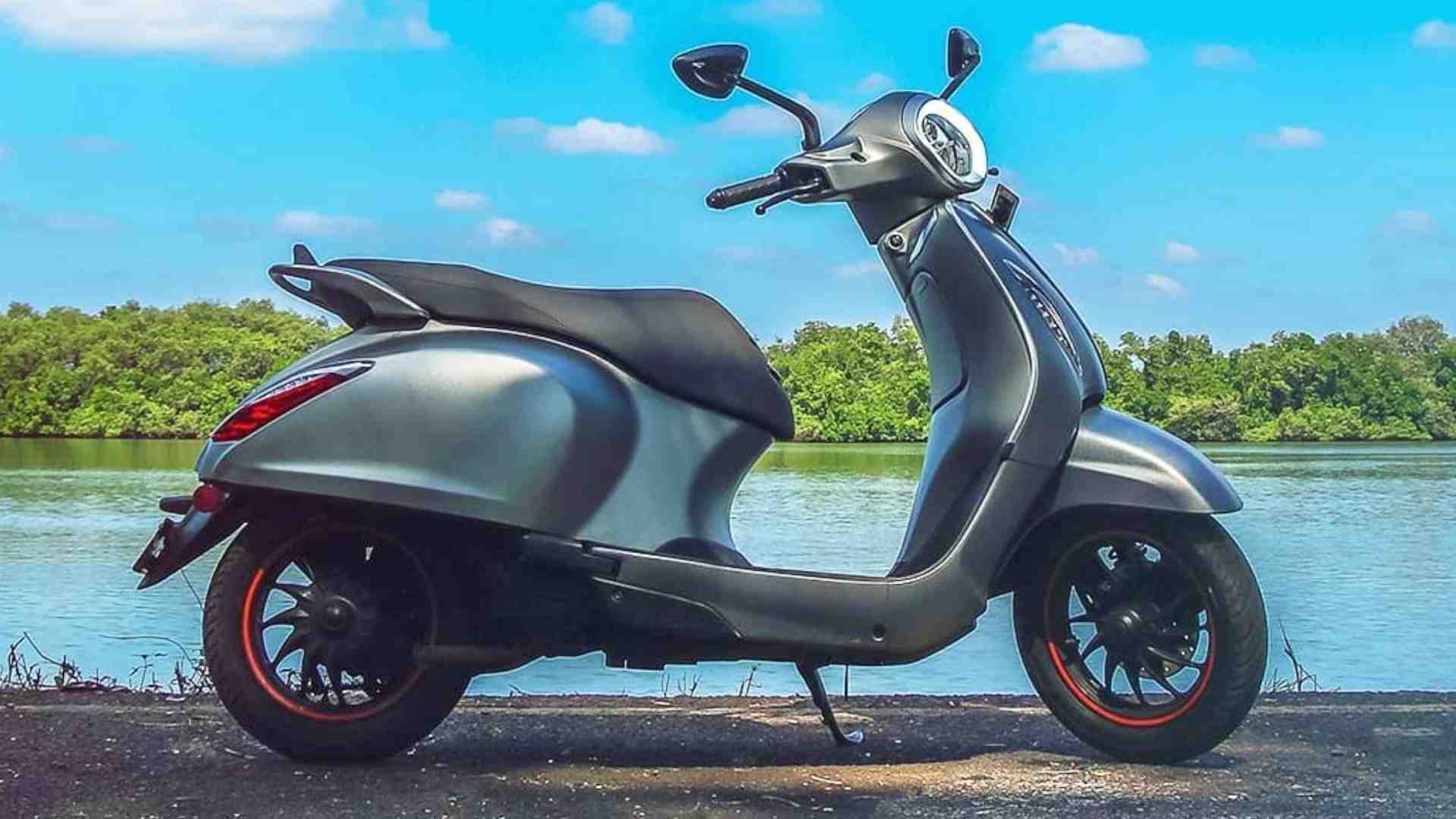 Nostalgia a powerful feeling? It can evoke pleasant memories of a bygone era and elicit that warm, fuzzy feeling. All you need is a trigger to get started. The Bajaj Chetak, for example, has such a memorable name that it conjures up images of a period when a slew of these simple two-strokes whizzed down the road, leaving a thrummy exhaust tone and a plume of smoke in their wake.
It was the trusty workhorse that ruled millions of hearts and struck an emotional chord that few two-wheelers can match these days. Fast forward to now, and it's difficult not to understand Bajaj Auto's choice to resuscitate the Chetak brand as it enters the electric scooter market.
Although it may be the greatest marketing coup of all time, a boardroom decision can only have a limited impact on a product's fate. Beyond that, the product's characteristics, in this case, the Chetak electric's, will determine if it succeeds or fails. A quick spin should provide us with a good notion.
Forget the marketing pitch for a second, for the new e-design scooter's is quite sleek and contemporary, even though the Chetak moniker is steeped in history. Apart from a Vespa, this is by far one of the most beautiful scooters to reach Indian roads, and this alone will attract interest in it.
The design has a natural flow to it, and the way the lines bend around the mostly metal bodywork has an elegance to it. It's awe-inspiringly lovely. The LED DRL inside the headlamp (also LED), a faux grille on the front apron, and a single-piece rear portion all contribute to a design that is free of unsightly panel gaps.
The taillights with integrated, dynamic turn indicators, similar to those found on Audi automobiles, are also stunning. Bajaj's decision to use trailing link suspension in the front and a single-side swingarm in the back is also smart because it highlights the alloy wheels.
The 'Premium' version you see here comes with a front disc brake and metallic grey paint on the wheels and seats that look…well…premium! An Urbane variation with drum brakes on both ends and plain colors is available for a bit less money. The perception of quality, in either situation, remains consistent.
The paint job is also flawless, and this is another area where the Chetak excels. The Chetak creates a sense of familiarity that will make it simpler for those who are converting from traditional scooters to adjust.
It does, however, appear to be a little too familiar, and although it's reasonable that the first Chetak looked exactly like a Vespa (because it did! ), it would have been lovely to see the revived Chetak follow its design route.
The electric scooter is driven by a 3.8kW/4.1kW (continuous/peak power) engine that produces 16Nm of torque, which may not appear to be much on paper but is quite different in practice. When you open the throttle, the scooter accelerates rapidly, making it easy to keep up with city traffic.
The intensity with which the scooter pushes ahead is adjusted by two ride modes – Eco and Sport – but here's the intriguing part. When the scooter is in Eco mode, the ICU (Integrated Charging Unit) features a sensor that senses throttle position.
The system detects the increased demand for power and changes to Sport mode when the rider twists the grip past 85 percent. This is useful for quick overtakes or ascending a flyover because it eliminates the hassle of manually switching settings.
The peak speed has been reduced by Bajaj to keep the range statistic as high as possible, and we noticed 69kph on the dash. While this was not an issue on the roads we rode on today, several key routes in big cities like Mumbai and Delhi have a lot of fast-moving traffic, so we wish the top speed was closer to 75-80kph, as it is on 125cc scooters in these places.