When you're gaming, you need to be able to concentrate on the game at hand. It'll be difficult to concentrate if you're continually shifting around to find a comfortable position.
While you may be able to relax on your couch or in a recliner in your living room, a gaming chair can provide you with a comfortable seat that you can move from room to room, ensuring continuous comfort whether you're playing the PS5 or Xbox Series X on the big screen or at your desk.
Best Microphone For Gaming In 2022
1. Razer Enki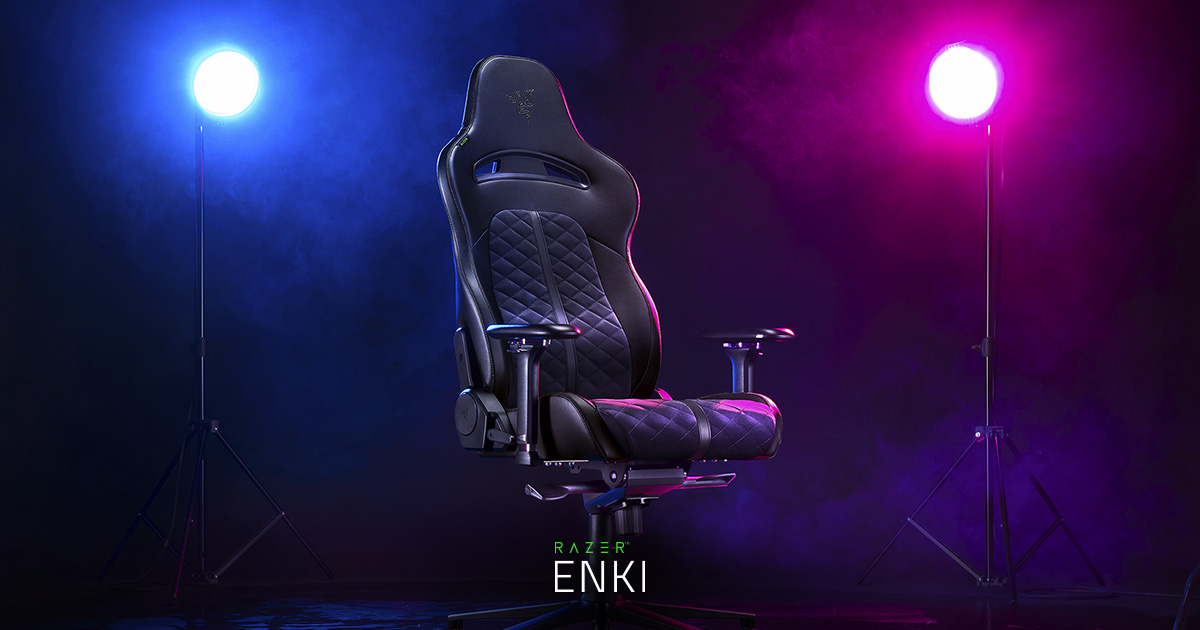 With its second major release, the Enki, Razer follows up on its Iskur gaming chair with something a little more traditional but no less premium. With its snakeskin-like adjustable lumbar support, the Iskur focused on ergonomics and stunning design, whereas the Enki is Razer's take on the classic racing chair.
This gaming chair, which is filled with tiny touches for greater comfort and a premium feel, is one to keep an eye on this Christmas season. The Razer Enki is here to wow you.
At first glance, it may appear to be similar to other gaming chairs, but closer inspection, and especially sitting in one, reveals significant distinctions. To be honest, I didn't expect the Enki to be as luxurious or comfortable as it is. Looks can be misleading, which is a good thing in this situation.
The Enki has a distinctive look that is quite stylish. It is shaped and sized like a traditional racing chair. Razer's environmentally friendly EPU synthetic leather is used on the back and sides of the chair, while a velvety fabric is used in the center. This is the only gaming chair I've seen that does so, and it looks much better and more unique as a result.
This means it'll be more prone to spills and will require more frequent cleaning, but it'll also be more breathable and feel nicer on the skin. A leather strip runs the length of the chair's middle. It's supposed to feel better against the spine, according to Razer. Although I didn't find it, it is a nice aesthetic element.
The Enki isn't exactly office material unless you get the all-black version. Razer Green stitching runs around the bolsters, there features a big Razer logo on the back, and a vinyl three-headed snake on the headrest on the sample I got.
It's a step down from the Iskur, which had "For Gamers. By Gamers." sewn on the front of the seat and snake scales on the adjustable lumbar, but if you're going to use it at the office, expect some stares. Quartz Pink and the aforementioned Black are other options. I found it to be more subdued than the normal gaming chair, which tends to be striped with garishly bright colors, even with the green on the standard model.
Braided Cables VS. Non-Braided Cables
The Enki's overall design is more traditional, but that doesn't mean it doesn't have a few tricks under its sleeve. The lumbar (which isn't adjustable this time) is firm and curves out far enough to fill the space that other chairs leave for pillows. Between the backrest and the seat, Razer uses two distinct densities of foam, with softer foam under your rump and firmer foam to support your back.
The manufacturer also put a lot of thought into the design of its 110-degree shoulder arch, claiming that it would help gamers sit in a better position and distribute their weight more evenly.
It wasn't anything I was consciously aware of, but the Enki did a superior job of keeping me pain-free, even after 6+ hours of sitting on many extra workdays. If you're the type of player who like to sit with their legs crossed, you'll be comfortable to learn that the bolsters have been lowered, allowing you to sit in whichever position you find.
The Enki has the same features as other premium gaming chairs: 4D armrests (height, depth, angle, and width adjustment), adjustable tilt and rocking tension that can be locked in position, and an aluminum wheelbase that won't shatter like cheaper plastic ones. It has a recline angle of 152 degrees, which I found to be just perfect for kicking back with a controller.
It can also support individuals who are 5′ 5″ to 6′ 8″ tall and weigh less than 300 pounds, making it suited for a wide spectrum of users. Even if you've never built a gaming chair before, assembling the Razer Enki is straightforward and quick. In the box, Razer supplies thorough instructions and all of the necessary gear, including a hex key with a hefty plastic handle.
I sped up the process by using a drill, and I was able to complete it in about fifteen minutes, including snapping pictures along the process. To be safe, count on twenty minutes if you're doing it yourself with the provided tool.
The assembly process is made easier than most since, like the rest of the chair, there makes a decent attention to detail. You won't have to guess where any of the screws will go because they've already been pre-inserted. The plastic shrouds that cover the backrest brackets are the only exception.
I also liked how the backrest had a rubber anti-slip plate where they attach, which prevents the screw from moving while you're trying to insert it. When I initially saw the Enki, I believed it would be another racing-style gaming chair. The Enki has that DNA, but it also manages to stand out from the crowd in a number of ways.
I've owned the chair for just over a month and have put it through its paces, from gaming on my PC to kicking back with my consoles, and even spent a week using it at work for actual, long-hour testing. The Enki left me comfortable and free of aches and pains no matter where I needed to rest my buns.
When you're sliding away into your favorite game, the last thing you want is your chair disturbing you, and the Enki's design allows it to provide the support you need while still getting out of the way. I was able to position it precisely how I wanted it, whether I was reclining with a controller or playing Cyberpunk 2077 on my PC, thanks to the armrests, backrest, and tilt's adaptability.
Because of their increased range of motion, the armrests really stand out. They're 4D, which means you can move them up and down, in and out, back and forth, and twist them to different angles, just like many gaming chairs. The range of height adjustment is what distinguishes them.
They extend higher than any other gaming chair I've used. There's no such thing as a "middle ground" when they're a centimeter or two below the level of your desk.
They can be raised or lowered to your exact specifications. This was especially helpful when I was working at my computer, as it allowed me to maintain my elbows a little higher and my upper body more poised for typing or mouse aiming. Although the padding is firmer than I prefer, it did not leave me with painful elbows like other gaming chairs have.
2. Cougar Explore S
Cougar isn't a newcomer to the world of gaming chairs, so it's always worth paying attention when it introduces a new model. I've spent the last two weeks with the Cougar Explore S, the brand's newest racing-style seat built just for gamers. At $269, it's on the low end of the market spectrum for a name-brand chair, but it doesn't skimp on features.
Is it worthwhile to purchase, or should you save your money for something more costly? Let's take a closer look and see what we can find. If I asked the average gamer to imagine a gaming chair, they'd probably think something similar to the Cougar Explore S. This isn't a chair that takes many chances, but given its low price, that's not always a bad thing.
It has the same racing bucket seat design as other gaming chairs, with a high back, side bolsters, and cushion strap cutouts. Orange and black are the two color schemes available. They're both orange and black in actuality, however the all-black version has orange stitching instead of black around the sides.
This low-cost gaming chair is made for "medium"-sized gamers. It has a steel frame, which is a step up from the aluminum chassis found on many lower-cost gaming chairs (or particle board if you're really cheap). This increases the Explore S's long-term durability and, when combined with the piston, allows it to support up to 264 pounds.
This is comparable to the rest of Cougar's lineup, and even somewhat higher than competitor chairs such as the Secretlab Omega. The side bolsters are positioned to cuddle you into the chair, thus this isn't a chair for big and tall gamers. The center of your back is only 10-11 inches wide, making it difficult for individuals trying to fit between the bolsters to be comfortable.
When I first opened the chair, I was surprised to discover that portion of the assembly was already completed. Unlike most gaming chairs, the armrests were pre-attached, saving time during assembly. The bolts that attach the tilt-base and backrest were also pre-inserted, so there was no chance of getting them mixed up.
No tools were needed for assembly because Cougar included a basic combo tool with ends for hex and phillips screws. Overall, I was able to put the chair in under 15 minutes without assistance. It's a pretty basic fair, albeit because to the pre-assembled armrests, it's a little faster.
While the chair is less expensive than many of its competitors, the quality is exceptional. After evaluating more than a dozen gaming chairs, I've developed a keen eye for the price-cutting shortcuts, and there aren't many here. Instead, Cougar appears to have leaned into a couple of sensible trade-offs and put money into the areas that actually matter to make this chair stand out from the crowd.
In terms of overall design, this is a rather basic gaming chair, but it's one that won't compel you to sacrifice comfort and dependability in the name of saving money. It comes with a pair of cushions that are allegedly for neck and lumbar support but are really more for looks, as with most gaming chairs.
Out of the box, the neck pillow is considerably too firm and is positioned far too low. It's still unusably stiff even when positioned behind the neck. The lumbar support is significantly better and far more important to sit comfortably for long periods of time. Outside of the pillow, the backrest is flat and there is no built-in lumbar adjustment. If you've had problems with moving cushions before, the Explore S isn't going to help.
The armrests are also "3D" rather than the more common "4D" found on higher-priced gaming chairs. This means you may adjust the height, angle, and depth of the objects.
Unless you want to crawl under the chair and release the bolts to make the width, it's locked. When typing, I generally keep my elbows closer in than when using a controller, so this made a difference in practical use. The surface is normal fare for gaming chairs, which means it's fairly hard. They're not made of plastic, but of a firm foam that left my elbows hurt after a time.
Cougar did make one upgrade for the money that I found was especially excellent. The wheelbase is made entirely of aluminum. At this price bracket, nylon is far more frequent, and it's a common point of failure, especially for gamers who abuse their gaming chairs. They can snap when they break, causing a nasty mishap and leaving you looking for a new chair. Because of its extra weight, an aluminum base helps to ensure added long-term durability and improves stability.
The Cougar Explore S performed on par with other, more expensive gaming chairs in everyday use. It doesn't feel like a budget chair in the least, and I didn't miss the tilt lock feature because I rarely use it even in chairs that had it. It provides the complete "racing chair" experience for $269, for better or worse.
For both gaming and work, the ability to recline is a big bonus. I found myself sitting at attention with my back upright while typing an email or working on a review. I was able to angle my mouse and keyboard back a few degrees when gaming to adopt a more relaxed position.
While I don't usually fall asleep in my chair, I could have done so with the Explore. Instead, when I wanted to put my feet up and relax with Uncharted 4, I took use of its free recline.
The armrests were also sufficiently adjustable to meet each of these scenarios. The lack of width adjustability was not an issue because the chair is already quite tiny. I enjoyed being able to move the armrests forward to compliment my upright stance when typing. Their stiffness is a disadvantage. My elbows became sore after a couple of hours. They're an improvement over hard plastic, but just somewhat.
3. Cougar Argo
Gaming chairs are becoming more advanced. For years, racing-style bucket seats dominated the gaming industry, but the pendulum has swung the other way, with ergonomics making a big part in what's ahead for gaming chairs. Simply because you've ditched the bolsters in favor of a mesh back doesn't mean your chair has to be dull.
This is when the Cougar Argo enters the picture. Should this $499 gaming chair make it onto your wishlist because of its unique look and suite of comfort customizations? The Cougar Argo is an odd combination, with gaming aesthetics and ergonomic features divided down the middle.
It stands out from most gaming chairs thanks to its ergonomic design, which is similar to that of an office chair but clearly designed with gamers in mind. The big logos and bright orange frame make that evident right away. This isn't a chair you'd bring into the office and expect to fit in (though the black version will come closer).
At the same time, the Argo isn't the first thing that comes to mind when someone mentions a gaming chair. The deep memory foam and full PU leather upholstery are no longer available. The bolsters and racing stripes are no longer present. It gives up those features in exchange for a mesh seat and back, a flexible (and large) lumbar support, and more adjustments to allow you to game comfortably throughout the day.
Even the most expensive racing chairs can leave your body exhausted at the end of the day if you sit at a computer for lengthy hours of time, like I do. Many of them dismiss lumbar support as nothing more than a small pillow tossed into the box. The foam might be hit or miss depending on the brand, and it nearly always holds too much heat. These aren't huge difficulties when I'm gaming in short bursts, but my body feels exhausted and stretched after a long workday.
The Argo takes the opposite approach, replacing memory foam with mesh. The shift felt unusual at first, and I felt the lack of padding after sitting in my Secret Lab Titan XL. After a few days, this went away, and I realized how supportive the mesh is and how nicely shaped the chair is overall.
The cloth flexed slightly beneath my weight but was still taut enough to adjust to my body and support me without feeling overly firm. The seat also includes a waterfall edge to support with circulation in the legs. I've never had an issue with my legs falling asleep at my desk, but any design that helps prevent blood clots later in life is welcome.
This design is helpful for back health, but it means the chair can't support as much lazy sitting as a gaming chair. When I merely want to lay down and prop my feet up, the lumbar support gets in the way, causing me to switch positions several times until I am comfortable. The Argo encourages you to maintain proper posture by making it the most convenient way to sit while typing on a keyboard. It takes some getting used to, but even after eight hours at my desk, I was surprised at how well it worked to keep me awake.
10 Best Surround Sound Headphones in 2022
When it comes to adjustments, the Argo includes most of what you'd expect from an ergo chair, as well as a few surprises. You may adjust the height, lock the recline in three different positions, adjust the rocking tension, and even adjust the seat depth so that your back rests comfortably against the lumbar.
All of them, with the exception of rocking tension, are controlled by triggers on the side of the seat, which was a pleasant surprise. Because you can see the label on each trigger, making quick adjustments is faster and easier than with most gaming chairs. The armrests, which are just soft enough to be comfortable while staying firm, and offer full 4D height, angle, and depth adjustment, particularly pleased me.
However, unlike the Vertagear Triigger 350 or NeueChair, you can't adjust the lumbar height, which could be a make-breaker for some people. Its position worked fine for me at 5″8″, but taller gamers may find it too low. Another disadvantage is the Argo's low seating position.
The maximum height, including the headrest, is 43.1 inches. Although it appears to be a fraction of an inch shorter than the Vertagear Triigger 350 SE on paper, I found it to be too low for the position of my display. My desk is a touch tall, so this may vary amongst settings, but the Triigger handled it admirably, whereas the Argo left me yearning for a taller gas life.
The Argo, like most gaming chairs, arrived in a huge and heavy box. My set was a little battered from shipping, but Cougar's wrapping was outstanding, with each component individually wrapped and delivered in mint condition. At this price, I'm particularly sensitive to finish flaws, yet I couldn't find a single one.
It's a straightforward process to put it together. Although there are a few extra steps compared to some of the more expensive ergonomic chairs on the market, it's still a couple easier than your typical racing chair. I double-checked which screws to use once in the handbook, but it would be impossible to install incorrectly.
Everything has a distinct slot, and the base is pre-attached thanks to the trigger adjustment system. I was done in ten minutes with an electric screwdriver, making it the fastest and easiest chair I've ever built.
For the greater part of a week, I sat in the chair. A typical computer day is 3-4 hours, but most were closer to six. It took some trial and error to find the right "angle of attack" for my back with the seat depth, but once I did, I was able to find a comfortable position that I could hold for hours.
It was occasionally inconvenient to be forced to sit erect when I wanted to slouch, but it also helped me relearn years of bad habits while making me feel more poised and responsive behind the keyboard. This was especially true for shooters, where I found that sitting too much typically resulted in poor performance.
Best Budget Smartwatches Under Rs 5,000
4. Corsair T3 Rush Gaming Chair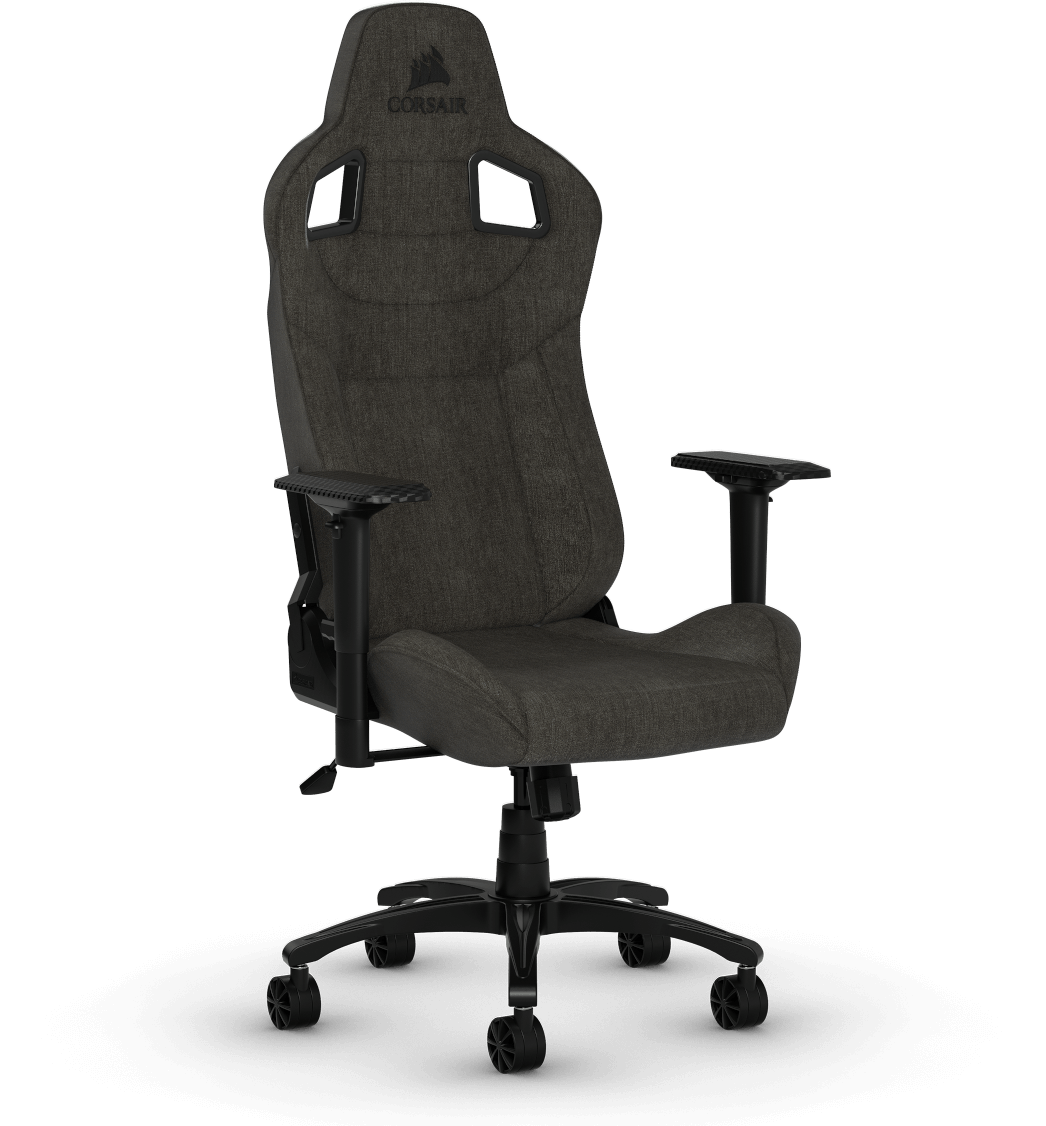 If you're anything like me, you've spent the most of your PC gaming career sitting in inexpensive office chairs from your neighborhood department store. It doesn't take long to learn that you get what you pay for when you go that path. It meant an aching back and a chair that squeaked every time I moved in my case. Upgrading to a gaming chair can be costly, but it doesn't have to be.
The T3 Rush is a gaming chair from Corsair that is laser-focused on delivering huge features for a not-so-large price. The T3 Rush is Corsair's third gaming chair, but due to its fabric finish, it's the most distinctive of the three.
The Rush, as the name suggests, retains the classic race car bucket seat design, but its lack of PU leather detailing sets it apart from its predecessors and the majority of the gaming chair industry. For testing purposes, I received the Charcoal variant, but it's also available in Gray/Charcoal and Gray/White.
The Rush may be gray all day, but that doesn't mean it's uninteresting. I generally prefer the gloss and colors that fake leather offers, but I found up liking it a lot more than I expected. The charcoal fabric looks great and complements the bucket seat design perfectly.
With sleek black stitching and a carbon fiber finish on the armrests, Corsair has done a great job of highlighting it. The Rush appears to be the slimmest of Corsair's models at first glance, thanks to its curved design, but in terms of seating area, it lies between between the T1 and T3 models.
The bolsters on either side of the backrest are deep and slanted to hug you into the chair, but I never felt confined sitting in it as a small guy (5'8″, 160lbs). Because of the thinner foam utilized in the Rush, I wouldn't recommend it for a larger person, although I could imagine those bolsters being uncomfortable if you're a bigger person.
I adore the T3 Rush because it is very adaptable. The Class-4 gas lift allows you to adjust the height of your desk by 10 cm. It also boasts 4D armrests that can be raised and lowered, as well as adjusted in width, angle, and depth.
If you find a lot of time at your desk and need to switch positions from holding an Xbox One controller, typing on a gaming keyboard, or even reclining to put your feet up and binge-watch Netflix, this is a great function to have. While I don't sleep at my gaming desk on a regular basis, doctors do prescribe mid-day cat naps, which the Rush is ready to provide.
The recline ranges from 90 degrees to a full 180 degrees in this room. The first time I leaned back so far, it was a little disconcerting, but the base did its job and kept me firmly planted on the ground.
The T3 Rush, on the other hand, lacks any type of built-in lumbar support. Instead, Corsair has included a lovely black velour-trimmed memory foam pillow. Because it isn't attached to the chair, it will only stay in place when you lean back, which can be inconvenient to adjust every time you lean forward.
A plush neck pillow that attaches to the headrest is also offered, however it pushed my head forward and was quickly tossed to the side, as is typically the case. The Corsair T3 Gaming Chair is a great value for the price. Aside from the oddly scarred handle, the trade-off of slightly less foam and a plastic base for the more expensive elements is worthwhile.
The fabric exterior is great, especially if you don't like imitation leather's heat factor, and the 4D armrests are a huge plus for various gaming styles. This is a chair to think about if you're looking for a fabric gaming chair at a fair price.
5. Secretlab Titan Evo
Even while gaming chairs are more popular than ever, they nevertheless have a terrible rep. Most aren't up to the task of providing all-day comfort and will leave you with an aching back and a bad night's sleep. With its new Titan Evo gaming chair range, Secretlab is looking to shake things up.
They aren't cheap, starting at $429, but they do evolve the Secretlab model in a way that seems truly next-gen. This is a release you won't want to miss if you spend all day at a desk and want to sit in style without paying the price later. The Titan Evo is a brand-new Secretlab release that combines the Omega and Titan lines into one.
It comes in Small, Regular, and XL sizes. If you've ever seen a racing chair before, you'll recognize the overall design. Despite the fact that the Evo series modifies several aspects of the design and adds useful ergonomic features, one thing remains the same: style. These chairs are designed to keep what gamers enjoy about gaming chairs while also improving what they don't.
Whether you prefer fabric or leather, the Evo collection has something for you. Thanks to a resin top layer and fiber-reinforced base, this generation's leather alternative is now called as NEO Hybrid Leatherette, and it promises to be softer and "12x more durable than conventional PU leather."
By adding enhanced yarn and weaving techniques, the Softweave Plus version achieves similar results. The result, according to Secretlab, is a fabric that is three times as durable as the previous generation while also being more breathable for better comfort.
The NEO Hybrid Leatherette version was supplied to me, and it stood true to its word: the new material was instantly softer to the touch. You'd think that keeping a material like this clean would be difficult with four small children, but I've had no issue cleaning it down with a simple wet rag when one of my smallest hops aboard, pressing his grimy face and hands into the seat. Secretlab will release special cleaning cloths for the Softweave Plus version to assist remove stains that occur after months of use.
Google Home Vs Amazon Echo Vs Apple HomePod: Let The Battle Begin!
More customization options are available as a result of the change in materials. The Neo version will come in a variety of hues, including grey, black, and blue. Softweave Plus offers a wider range of colors, including pink, green, blue, and white, in addition to grey and black.
The classic Stealth version, which is black with red and gold stitching, was provided to me. The stitching and embroidery are flawless, as they have been with every Secretlab chair I've tried, with not a single stray thread to be found.
This generation's most significant modification is the greatly enhanced ergonomics. Secretlab informed me during a meeting prior to this review that they had formed an ergonomic advisory group made up of academics, mechanical engineers, and industry specialists to collaborate on the design of this series of chairs.
The end result is a chair that blends ergonomic support with the style and amenities that gamers have come to expect from gaming chairs. The first racing chair that's actually meant for all-day sitting features a redesigned seat base, unique lumbar support system, softer armrests, and less dense foam padding.
Secretlab has been experimenting with magnets, and the magnetic CloudSwap armrest pads are an example of it. Each Evo comes standard with PU foam cushions, but various materials, including a forthcoming Technogel variety, will be available after release. You may not find it necessary to upgrade because the basic pads are softer than I expected and feel more like cushions than somewhat less-hard plastic.
Otherwise, they are the same 4D armrests as the previous generation (movable up/down, in/out, and angle adjustable), but with a new polish and more metal to keep the internals running smoothly. However, the greater use of metal comes with a little additional rattle when making adjustments.
Another cool feature is that the neck pillow is now magnetic. Secretlab has integrated magnets into the pillow and backrest to keep the pillow in place instead of using a strap. You still have a range of motion, so you may make modifications. The magnets are powerful enough that it won't fall as long as it's properly positioned, but it's plush enough that you won't feel them.
If you're like me and occasionally utilize the neck pillow behind your head, the magnetic design has a drawback, thus I wish they had added a strap. The Titan Evo features everything else you'd expect from a Secretlab chair, but it's the confluence of these upgrades that truly makes the chair feel fresh and new (along with a couple of small adjustments to assembly that I'll get to later).
That means you'll be able to recline to a near-fetal position, adjust the tension of your rocking motion, and lock the chair into various angles if you like to put your feet up while gaming.
The Titan Evo is a formidable package when viewed as a whole. The attention to detail in both large and small characteristics makes it apart from the competitors. However, it is the ergonomic enhancements that win the day. Over the years, I've used racing chairs from Vertagear, DXRacer, Maxnomic, and a variety of other manufacturers, and the Evo is the greatest of them all. The construction method is simple and straightforward, especially if you've already constructed a gaming chair.
The Titan Evo comes in a large box with enough of styrofoam to keep the chair secure during shipping. Secretlab comes with a large glossy assembly manual, which is worth reading because there are a few improvements that make the building process easier.
It appears to be fairly compact when everything is unboxed. Inside the accessories box, Secretlab provides everything you'll need to assemble the chair, including a useful screwdriver tool with a swappable tip for the two types of screws required for the build, as well as a long hex key for more leverage.
The screwdriver saved me time by allowing me to change pieces rapidly when needed. The entire build took approximately 20 minutes, with breaks for photos in between, and was far simpler than most other gaming chairs. The armrests were pre-attached, which saved a few minutes, but the backrest was the largest benefit.
To attach each fastener on most gaming chairs, you must get down on the floor and hold the entire backrest at the right angle. To be honest, it's a major annoyance. The Evo handles this in such a straightforward way that you'll wonder why no one has thought of it before: a metal bracket. The backrest is easily put into place and the screws are tightened. Surprisingly, this is just on one side, so some tweaking is required, but it's a far cry from most gaming chairs.