Ahmedabad, Gujarat's commercial capital, is India's seventh-largest city. This Indian business hub has attracted a slew of trend-setters and tycoons from the highly competitive field, resulting in a city that is constantly evolving, innovating, and investing.
Beyond its commercial image, Ahmedabad has a thriving cultural scene that reflects the city's Mughal roots, colonial connections, and a large population of Gujaratis. Kankaria Lake, Sabarmati Ashram, Calico Museum of Textiles, Hathee Singh Temple, Sarkhej Roza, and other tourist attractions can be found in Ahmedabad.
Sultan Ahmed Shah is said to have founded the city, according to legend. Sultan Ahmed Shah came across a rabbit warren on the Sabarmati river's bank while hunting. Surprisingly, the rabbits attacked his hounds and fiercely defended their territory. Sultan Ahmed Shah saw this as a lucky sign and decided to make this his new capital, naming it Ahmedabad after himself.
Ahmedabad has been ruled by several monarchs over the years, beginning with Sultanate rulers in 1487, Mughal rulers in 1573, Maratha rulers in 1753, and finally the East India Company in 1818. Gandhinagar was the capital of Gujarat until 1960.
Ahmedabad, a cultural melting pot with a heady mix of Western and Indian influences, is a cultural melting pot. When visiting Ahmedabad for a vacation, there is a wonderful mix of locations to visit. Ahmedabad is divided into two halves by the Sabarmati River: the old city and the new city. The Old City is located on the west bank of the river and is encircled by a 10-kilometer-long wall.
The old city is a maze of bustling bazaars, wonderfully carved temples, massive monuments, spectacular gates, and a subterranean stepwell. The highlights of Old Ahmedabad include the Bhadra Fort, Jama Masjid, Ahmed Shah's Mosque, Siddi Saiyad's Mosque, and Ahmed Shah's Tomb.
All of the monuments, forts, temples, pols, and havelis in Ahmedabad's western district are testaments to Gujarat's intrinsic visual appeal.
The construction of Ellis Bridge in 1875 and later the more modern Nehru Bridge aided the city's spread to the west side of the Sabarmati during the colonial period. The New Ahmedabad, located on the west bank of the majestic Sabarmati River, houses some of the finest specimens of Le Corbusier's and Louis Kahn's contemporary design architecture.
Almost all of the new city on the west side was created in the last 50 years. Malls, large roads, and several important universities can be found in this portion of Ahmedabad.
Ahmedabad is one of India's most important educational tourism destinations. The city's colleges cultivate the brightest talent in business and art, with educational centers including the National Institute of Design and the Indian Institute of Management.
These two respected organizations have excellent architecture, groomed gardens, and well-stocked libraries, despite not being among Ahmedabad's most well-known tourist attractions.
Ahmedabad is also attracting several industries. The city is Gujarat's main business center and a favorite among India's famed commercial heavyweights. Ahmedabad is regarded around the world as the "Manchester of the East" because of its numerous textile mills.
When Mahatma Gandhi built two ashrams in the city – the Kochrab Ashram in Paldi in 1915 and the Satyagraha Ashram (now Sabarmati Ashram) on the banks of the Sabarmati in 1917 – the Indian independence movement began to take root in the city.
Textile workers burned down 51 government buildings across the city during huge protests against the Rowlatt Act in 1919, in protest of a British attempt to extend wartime laws after the First World War. Textile workers and teachers went on strike in the 1920s, demanding civil rights, higher pay, and improved working conditions. In 1930, Gandhi began the Salt Satyagraha by starting on the Dandi Salt March from his ashram in Ahmedabad.
Large crowds of people came to the streets in nonviolent protests in the early 1930s, and again in 1942 during the Quit India Movement, rendering the city's administration and economic institutions inoperable. Following India's independence and partition in 1947, the city was ravaged by religious violence between Hindus and Muslims.
In 1947, Ahmedabad became the focal point for Hindu migrants from Pakistan, who boosted the city's population and changed its demography and economics.
The capital was moved to Gandhinagar, a newly built city, in the late 1970s. This marked the beginning of the city's protracted fall, characterized by a lack of development. The 1974 Nav Nirman agitation, which began as a protest against a 20 percent increase in dormitory food fees at Ahmedabad's L.D. College of Engineering turned into a movement to depose Gujarat's then-chief minister, Chimanbhai Patel.
In the 1980s, the country implemented a reserve program, which sparked anti-reservation riots in 1981 and 1985. During the protests, there were violent fights between members of different castes. The 2001 Gujarat earthquake had a severe impact on the city; up to 50 multi-story buildings collapsed, killing 752 people and leaving extensive damage.
The following year, the 2002 Gujarat riots, three days of violence between Hindus and Muslims in the western Indian state of Gujarat, spilled to Ahmedabad, with refugee camps set up throughout the city.
The Ahmedabad Municipal Corporation administers Ahmedabad, which is the administrative center of the Ahmedabad district (AMC). The Bombay Provincial Corporation Act of 1949 gave birth to the AMC in July 1950. The AMC commissioner is an official of the Indian Administrative Service (IAS) who is nominated by the state government and has administrative executive powers, whereas the corporation is led by the Mayor of Ahmedabad.
The 192 municipal councilors are elected by the city's population, while the elected councilors choose the city's deputy mayor and mayor. Bijal Patel, the mayor, was appointed on June 14, 2018. Water and sewerage services, primary education, health services, fire services, public transportation, and the city's infrastructure are among the administrative responsibilities of the AMC.
AMC was ranked 9th out of 21 cities for the best movie theaters "In 2014, India's best governance and administrative procedures were identified. It received a 3.4 out of 10 rating, which is lower than the national average of 3.3." Two accidents occur per hour in Ahmedabad.
Ahmedabad hosts several festivals throughout the year. Uttarayan, an annual kite-flying day on the 14th and 15th of January, is one of the many festivals and observances. People perform Garba, Gujarat's most popular folk dance, in venues all across the city for the nine nights of Navratri.
Deepavali, the festival of lights, is marked by the lighting of lamps in every home, the creation of rangoli on the floors, and the lighting of firecrackers. The annual Rath Yatra procession at the Jagannath Temple, the festival of colors, takes place on the Hindu calendar's Ashadh-sud-bij day.
Holi is celebrated on the last full moon day of the winter season, according to the lunisolar Hindu calendar, and the Tajia procession takes place during the Muslim holy month of Muharram.
A Gujarati thali, which was first served commercially by Chandvilas Hotel in 1900, is one of the most popular types of dinner in Ahmedabad.
Roti (Chapati), dal, rice, and shaak (cooked vegetables, occasionally with curry), with pickles and roasted papads on the side. Laddoo, mango, and vedhmi are all sweet meals. In Ahmedabad, dhoklas, theplas, and debris are also popular foods. Buttermilk and tea are among the beverages available. In Ahmedabad, it is illegal to use alcohol.
There are a variety of eateries serving Indian and international cuisines. The city's Jain and Hindu communities have a strong heritage of vegetarianism, hence most of the restaurants serve only vegetarian meals.
In Ahmedabad, the world's first all-vegetarian Pizza Hut opened. KFC, like McDonald's, has a different uniform for serving vegetarian foods and produces vegetarian meals in a separate kitchen. In older areas of Ahmedabad, such as Bhatiyar Gali, Kalupur, and Jamalpur, several restaurants are serving traditional Mughlai non-vegetarian cuisine.
Gujarat is known as the "Land of Legends," and Ahmedabad is no exception. The legendary leader Mahatma Gandhi's second home was Sabarmati Ashram, a peaceful setting on the west bank of the Sabarmati River. His personal belongings, such as his spinning wheel and spectacles, are well preserved in Ashram.
The Sabarmati ashram was the nerve center of India's freedom movement since it was here that Mahatma Gandhi planned several notable national actions such as nonviolence, civil disobedience, and Swadeshi, which shook the British Raj's foundations. Hriday Kunj, Mahatma Gandhi's cottage, has been kept largely as he left it and houses some of his items.
Ahmedabad offers a plethora of riches, including art collections and historic castles. Kite Museum, Calico Museum of Textiles, Auto World Vintage Car Museum, Lalbhai Dalpatbhai Museum, and Vechaar Utensils Museum are some of the most beautiful and historically significant museums in the country.
A tour of Ahmedabad museums can be beneficial to those who want to learn more about the city's unique and colorful culture. Many museums may be found here, ranging from textile museums to automotive exhibitions to utensil displays.
In Ahmedabad, visitors can immerse themselves in a different world in Kankaria Lake or let their hair down. Ahmedabad has a wide range of options for people of all ages and interests.
Kankaria is one of Gujarat's largest lakes and is a popular tourist destination in Ahmedabad. Ahmedabad's opulent multiplexes and shopping malls are well worth a visit. Gujarat's cities come alive even at night. The law garden night market is a must-see for anyone looking to flaunt some distinctive traditional attire.
Anyone can be enchanted by the place's rustic appeal. Ahmedabad is the greatest spot in Gujarat to get bandhani made with the tie-dye process. The shops in Ahmedabad sell bandhani sarees, dupattas, pearl-work outfits, and much more. The Sabarmati riverbank, where one can go for a promenade, is one site that needs special note.
Ahmedabad is also a great place to try some delicious native cuisine. The Gujarati thali, which often includes dal, rice, roti, kadhi, and saag/sabji, is a must-try. Gujarati foods are very well-known over the world.
Ahmedabad, the epicenter of art, shopping, and cuisine, wears many hats. It's a destination where visitors will be stunned by world-class attractions (beautiful parks and spectacular architecture) and will get a glimpse of India's new face.
Ahmedabad has a lot to offer, from mosques to markets to theme parks, spas, and galleries. Ahmedabad, brimming with history, culture, and food, provides all the components for a fun-filled vacation.
How To Reach Ahmedabad
1. By Air
The city's airport, Sardar Vallabhbhai Patel Foreign Airport, connects Ahmedabad to several international and domestic locations. From Terminal 1, which is around 10 kilometers from central Ahmedabad, direct flights are available to cities including Delhi, Mumbai, Bangalore, Chennai, Goa, Pune, and Kolkata, among others. IndiGo, Go Air, Air India, and Spicejet are just a few of the airlines that fly into the airport.
From Terminal 2, Ahmedabad Airport (as it is commonly known) gets flights from foreign destinations like Dubai, Abu Dhabi, Newark, Sharjah, and Singapore. Nonstop flights are available to destinations like Doha, Sharjah, Muscat, and Kuwait.
It's vital to keep in mind that the international airport may not open until late afternoon, and you may not be allowed inside until three hours before your flight. You may have to wait outside the airport for a while if you plan to connect between an international and local aircraft here.
Taxis and cabs are readily available just outside the airport, connecting it to the city. To get to the city, there are prepaid booths and even automobiles that you may hail. Autos, on the other hand, are known for avoiding the meter and charging fixed fees for numerous destinations within the city.
Is It Safe To Travel To Kashmir?
2. By Road
Ahmedabad is well-connected by bus to several cities. Buses run to Ahmedabad from places like Mumbai, Pune, Gandhinagar, Surat, and others. The Gujarat State Road Transport Corporation (GSRTC) and other interstate bus services are both dependable and convenient for bus travel. Geeta Mandir is the principal bus station.
By bus, the travel from Mumbai to Ahmedabad could take between 9 and 10 hours. For long-distance travel, private buses are suggested because they are more comfortable and speedier. There are both air-conditioned and non-air-conditioned buses available, and it's usually a good idea to book buses in advance to avoid congestion.
Traveling to Ahmedabad by car is a terrific idea for individuals who prefer road travel because the road network in Gujarat is good. Whether you're driving your automobile or renting one, the ride will be thrilling. If you're driving from Mumbai to Ahmedabad, you'll need to use NH8, which can take up to 8 hours if there aren't any traffic jams.
However, because the NH8 is notorious for traffic, your journey may take a little longer than expected. The NE-1, a dedicated expressway connecting Vadodara and Ahmedabad, is another option.
3. By Rail
The Kalupur Station railway station in Ahmedabad is about 9 kilometers from the city center. Trains arrive from all over the country, and the station connects several significant towns, including Delhi, Mumbai, Jaipur, and Goa, to name a few. For large cities such as Delhi, Mumbai, Kolkata, and Chennai, there are various express and superfast trains available.
Rajdhani, Ashram Express, Ala Hazrat Express, Saurashtra Mail, and Somnath Express are just a handful of the trains that stop here. You can simply acquire vehicles, taxis, cabs, or even buses outside the station to take you to your desired location in the city.
When is the best time to visit Ahmedabad?
Ahmedabad, Gujarat's former capital and now India's first-ever world heritage city and a UNESCO World Heritage Site, is one of India's most important cities. It's no surprise, however, that this ancient city attracts a large number of visitors, who come to see the wonderful combination of old and new.
Ahmedabad is like a wonderful treasure, just waiting to be explored, from its beautiful Mughal era architecture to the many fascinating museums and delicious restaurants. Ahmedabad tourism is quite spectacular, and it is a must-see destination.
While Ahmedabad has something interesting to offer at any time of year, it's still a good idea to know what the optimum time of year is to visit to take advantage of its various attractions.
After all, Ahmedabad is home to the Sabarmati Ashram, which has served as Gandhiji's headquarters for more than a decade. It is home to the Jama Masjid, as well as beautiful lakes, gardens, temples, and markets filled with gastronomic delights. If you're planning a trip to Ahmedabad, it's a good idea to know when the best time to visit is.
1. Ahmedabad In Winter (November to February)
One of the greatest times to visit the city because of the cold and nice weather. The heat is acceptable, and there are also fresh breezes, so people may enjoy sightseeing in the city without becoming exhausted. The greatest time to see diverse parts of the city is during the winter, when people come out of their houses or rooms to enjoy the pleasant weather by the Kankaria Lake.
There are museums, temples, and other lovely locations to explore, and the best time to do so is in the winter. Because of the many roadside kiosks and open-air restaurants, Ahmedabad offers a whole different experience during this season.
There's a lot of wonderful cuisine here, and you'll have a hard time deciding between khakra, fafda, and khaman dhokla. A single taste of these will entice you to return to the city time and time again. Manek Chowk is one of the best venues to satisfy your passion for street food, where you can sample a variety of traditional Gujarati dishes.
Winter is the finest time to visit Ahmedabad since the days are nice and pleasant, while the nights are no longer stifling and hot. It's an overall delightful experience, made all the more remarkable by the several events held here at this time of year.
The International Kite Festival dubbed Uttarayan, which takes place in January and attracts tourists from all over the world, is one of the most beautiful festivals you can attend. When you walk into Patang Bazaar, you'll be unable to leave because of the many colorful kites on display. This event is only held in the winter and is an added benefit of visiting Ahmedabad in the winter.
Ahmedabad's winters are cold and dry, and it can get rather chilly at night. Winter months tend to be congested with tourists from all over due to the ability to visit various heritage sites and temples during this season. People come from all over the world to attend the kite festival. You are welcome to participate in the kite flying competition if you so desire.
As a result, the cost of plane tickets and hotel rooms skyrockets during this period. If you plan to visit Ahmedabad in the winter, it's a good idea to book ahead.
Because the winters are not particularly chilly, bring some light sweaters or coats with you as a precaution. At night, a scarf or muffler may be useful in combating the bitter winds.
Nonetheless, layering your clothing will allow you to make your wardrobe as warm or as chilly as you require. Lip balm and moisturizers, as well as other winter basics, will come in handy, so don't forget to bring them.
Best Places to see in Coorg (2022)
2. Ahmedabad In Summer (March to June)
Ahmedabad's summers can be extremely hot. However, the heat may subside in the early mornings and evenings, but it can become unbearably hot during the day. May is one of the worst months to visit Ahmedabad because it is the hottest month of the year.
During the summer, wandering around the city is not recommended because there is a high risk of heatstroke. Even if that doesn't happen, the heat depletes your energy, making you feel unable to walk about.
If you're searching for something to do indoors, go to the Calico Museum, where you'll find many gorgeous textiles, both modern and antique, that is sure to fascinate you.
Tourists who visit during this time may feel cheated because they are unable to roam around the city and take in the sights. They can, however, travel to Thol Lake early in the morning and enjoy some bird watching before the sun rises.
During this season, Nalsarovar is also a nice area to visit. The one advantage of visiting Ahmedabad in the summer is that prices are substantially lower because few people desire to visit the city at this time.
If you want to visit Ahmedabad during the summer, be prepared for a blast of heat as soon as you enter the city. The sole advantage to traveling in the summer is that prices are at their most affordable.
Because people aren't interested in visiting the city at this period, hotel prices are reduced, and flights are reasonably priced. This could be a nice option for a budget traveler searching for a unique experience and who isn't too bothered by the heat.
The only way to stay cool in Ahmedabad during the summer is to drink enough water, bring plenty of sunscreens, and dress in light cotton clothing. Stay as far inside as possible, and if you must go outside, wear sunglasses and a helmet or hat to protect your head.
3. Ahmedabad In Monsoon (July to September)
After the searing heat of the summer, the monsoon is a welcome reprieve. However, humidity rises at the same time. Nonetheless, the chilly showers are more preferable to the summer heat.
Rainfall can be light or heavy, with a downpour soaking you as soon as you are caught in it. July is the wettest month, and you can expect rain all of the time, therefore if you don't enjoy the rain, you should avoid visiting during this month.
In India, monsoon is a sensation, an experience, and a way of life that only people who live on the Indian peninsula can comprehend. The refreshing rains that wash away the summer heat, the mist in the mornings, the lashing mid-afternoon thundershowers, and the way greenery springs up all around you are all indicators of monsoon in Ahmedabad.
After the cleaning rains, the air has a new feel to it. Boating on the Kankaria Lake or taking a peaceful stroll along the Sabarmati riverbank is a popular activity. At this moment, the atmosphere in the city is unmistakably different. The Zanzibari Waterfalls are popular among tourists since they only gush and flow during the rainy season.
Ahmedabad is a day trip away from the waterfall. Monsoon is also the finest season for several delectable treats such as roasted bhutta, which can be found all over. This is also the period of Navratri, so the sights are bright and colorful everywhere.
The rains bring relief from the summer heat, and Ahmedabad appears to turn over a new leaf, as the city is newly washed. However, keep in mind that because of the humidity, it can become sticky.
If you don't like humidity, you might want to reconsider your plans. More people travel to the city during the monsoons, especially for Garba, therefore hotel and airline tickets tend to go up a little during this period. So, if you're serious about your monsoon plans, make sure you arrange your vacation far ahead of time.
If you're visiting Ahmedabad during the monsoons, you should carry the appropriate weather gear, including umbrellas, raincoats, and boots. Also, mosquito repellent should be carried with you at all times, as mosquitoes and monsoons seem to go together with no matter where you are in India.
Best Things To Do In Ahmedabad
Ahmedabad can be viewed in two ways: first, as Gujarat's largest city and one of the most important business hubs in Western India, and second, as a city that enjoys having fun while preserving its culture. When you approach the city from a different perspective, you'll find a variety of activities to occupy your free time, ranging from sightseeing and shopping to heritage walks and gastronomy excursions.
After all, the best way to feel the pulse of this ambitious megacity on the banks of the river Sabarmati is to move around and visit its many sites and cultural hubs. Ahmedabad is a city that both teaches and fascinates, being home to the Indian Freedom Movement as well as some of the country's most unique museums.
So, are you ready to travel the length and breadth of the city? This blog is dedicated to you! Here you will find a diverse variety of activities to do as well as an overview of some of Ahmedabad's greatest tourist attractions. Continue reading!
1. Pay a visit to the Sabarmati Ashram.
The Sabarmati Ashram was where Mahatma Gandhi spent many years of his life; while you can't spend days or years here, a few hours are well worth your time. Located on the banks of the Sabarmati River, the site is now a memorial where visitors may view the Mahatma's and the independence struggle's many sad and inspiring relics.
On a visit to Sabarmati Ashram, the on-site museum is a must-see. There are various galleries dedicated to Mahatma Gandhi's life, as well as several artworks and a library with chronicles, books, movies, and other archival materials from the great man's life.
Hriday Kunj is a portion of the Ashram where Mahatma Gandhi spent twelve years with Kasturba Gandhi. His kitchen, bedroom, and other living areas can be seen here, as well as his textile weaver (charkha) and writing desks.
2. Have a good time on the Kankaria Lakefront.
One of the enjoyable things to do in Ahmedabad is to visit the sights near Kankaria Lake. The lakefront offers a wide range of enjoyable activities, with the lake's meandering waves providing a beautiful backdrop. The Kankaria Zoo, which houses rare and indigenous animals, is the most popular attraction here.
As you learn about the wonders of our natural world, tigers and lions, giant constrictors, elephants, and a variety of primate species will keep you engaged and fascinated. The lakefront is a great spot for kids to play. It contains several amusement park rides as well as the Kids City, which is a miniature city with a theatre, heritage center, science lab, prison, and, of course, an ice cream factory.
That's not all, though. There are also toy train rides, water rides, and even tethered hot-air balloon flights available on the lakefront! At the lakefront's target practice zone, you may test your archery skills and get lost in the Mirror Maze, an old favorite that everyone enjoys.
The Kankaria Lakefront holds a variety of events, so don't be surprised if you find yourself in the audience for some live music or traditional ceremonies during your visit.
3. Go to the Sunset Drive-In with Your Loved Ones to See a Movie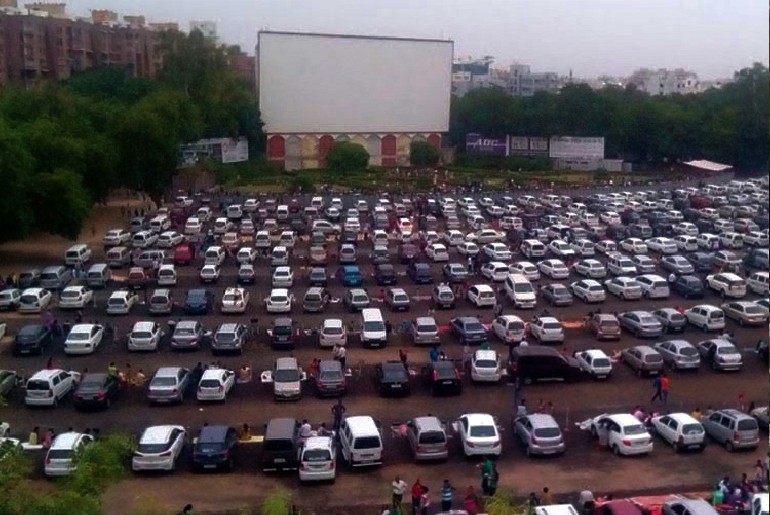 A scenario set in the easygoing environment of a drive-in theatre has appeared in several Hollywood films and television series. It's a terrific way to hang out and socialize with friends, as well as a great date idea for couples looking for something different. This is possibly why going to the movies at Sunset Drive-In is one of the most enjoyable things to do in Ahmedabad for teenagers.
The latest releases are shown on a huge screen with sound equipment installed in each automobile at an open-air movie theater. This is an experience you must attempt when in Ahmedabad, as it is a concept that is relatively new in India.
You can either bring your food or grab a bite to eat at the neighboring food court. The theatre is a local favorite, with shows exclusively performed in the evenings and a pleasant garden setting.
4. Appreciate the Beauty of Vintage Cars at the Auto World Vintage Car Museum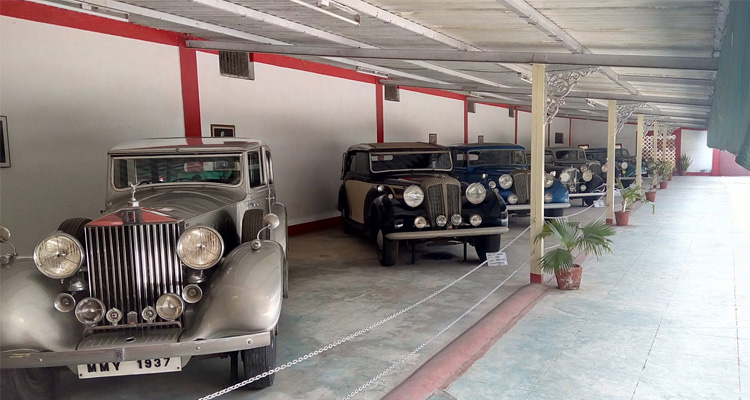 Don't we all adore vintage automobiles? Sleek, ornate, and classy designs that defined the golden age of automotive aesthetics are now extremely rare to see on the road. Visit the Auto World Vintage Car Museum to see a collection of these well-kept classics from around the world.
Rolls Royce, Mercedes, Cadillac, Packard, Lincoln, Maybach, and Lancia are just a few of the main brands represented in this open-air museum.
Many of these wheeled treasures belonged to historical figures and members of Indian royal families from the past. Do you want to take a ride in one of these vintage automobiles? You can get behind the wheel and take a short trip down memory lane for an additional fee.
5. Take in Jama Masjid's Old-World Charm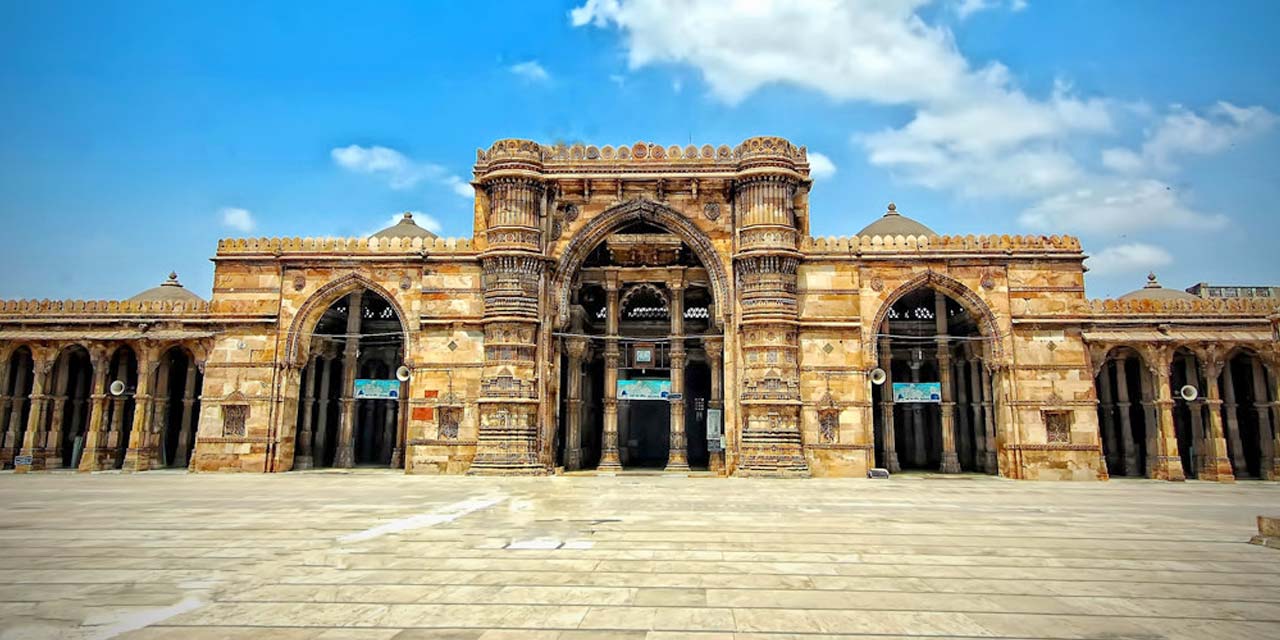 Ahmedabad is a multi-layered city. Aside from the modern attractions, the old town has some significant historical landmarks to discover. Since the 15th century, the Jama Masjid has been one of the city's prominent emblems and is an architectural marvel. This was once the largest mosque in the Indian subcontinent. The sandstone structure is encircled by a rectangular courtyard with perfect symmetry.
For those who enjoy art and architecture, the location is a visual pleasure. For years, design fans have been enthralled by the intricate carvings on the minarets.
Another notable feature of the mosque's design is its minarets. The mosque's grounds are covered in jaali or perforated stonework. The tombs of previous royals of the Gujarat Sultanate can be found close to this lovely cultural monument.
6. Go for a walk around the Bhadra Fort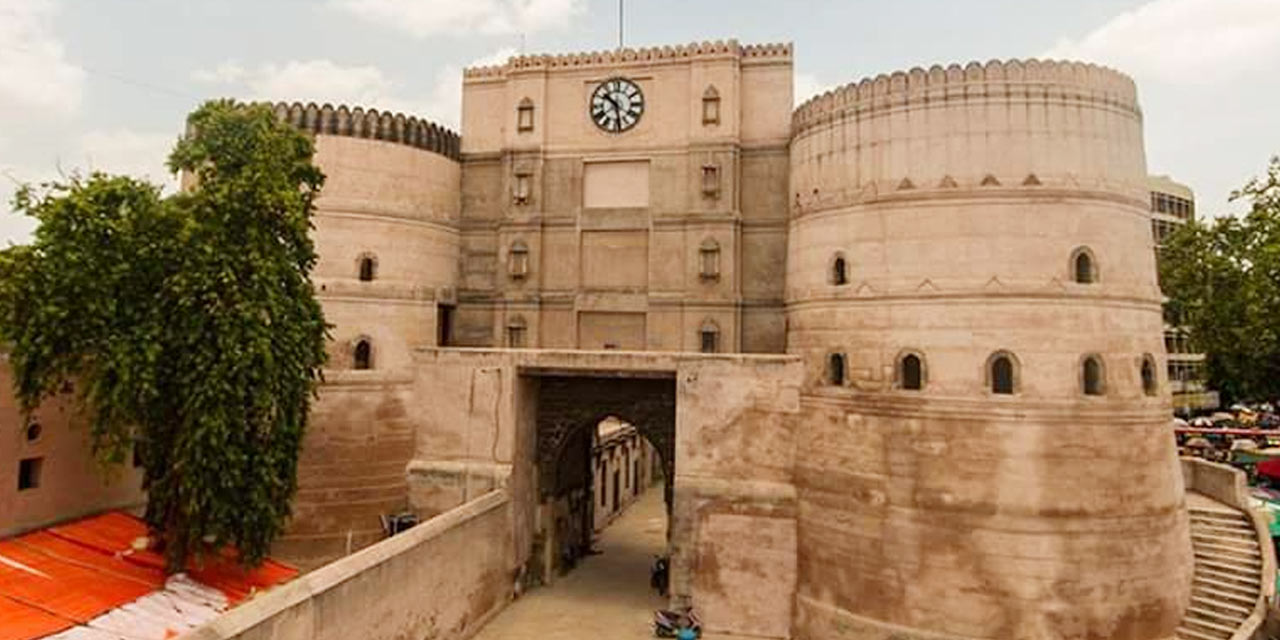 The walled city, which is next to the Jama Masjid and is encompassed by the Bhadra Fort, was established several centuries ago, in 1411. A trip through these streets will present you to Ahmedabad's rustic charm – a historically significant portion of the city.
The Bhadra Fort is best visited in the late afternoons and evenings, and there are numerous historical landmarks in the area. Today, the Bhadra Fort Gate spans a busy road, and the Teen Darwaza is another well-known gateway that serves as a symbol for the city.
The city's officials have taken considerable effort to repair the medieval ramparts and fortifications in a historically accurate manner. If you enjoy taking photographs, the vibrant hues of a typical Indian bazaar can serve as your inspiration. A visit to Bhadra Fort is a must-do on any vacation to Ahmedabad.
7. Visit the World-Famous Calico Museum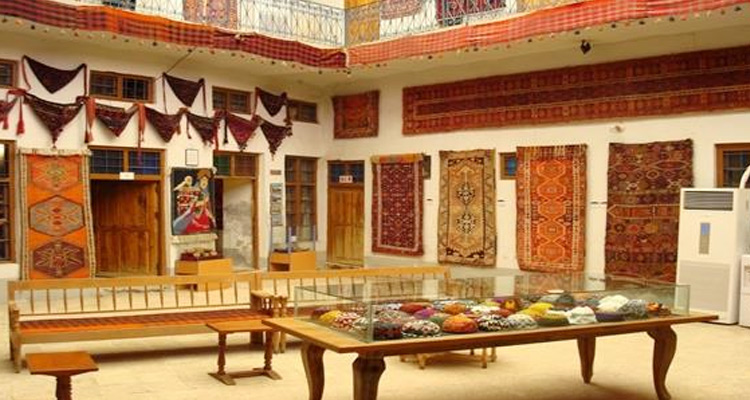 Textile manufacture is the most important chapter of India's early economic ascent, and the Calico Museum in Ahmedabad is an excellent site to learn about the fascinating intricacies.
Exhibits here have been gathered and acquired over decades and track the industry's history. Rich woven and raw fabrics from the Mughal era, as well as regional embroidery, provide a look into the designs and themes of ancient Indian traditions.
Aside from textiles, there are sculptures, paintings, and other crafts from many historical periods on display. Different printing methods, tie-dye traditions, costumes, and textiles created for export are all featured in galleries. The tranquil surroundings of the Calico Museum, which is housed in an antique haveli with intricate woodwork, are another reason to visit.
8. Visit the Law Garden's Night Market for some retail therapy.
Looking for a break from all the sightseeing and museum visits? Going shopping is the best option. What better location to explore your inner shopaholic than Ahmedabad's Law Garden, a public garden, and a night market? If you want to take a piece of Gujarat with you, it's also a great spot to look for real Gujarati clothing and handicrafts. Taking a stroll through the garden and shopping from a diverse selection of things is a lovely experience in and of itself. The fact that you may haggle your heart out while purchasing here adds to the enjoyment of the experience.
This shopaholic's dream has it all, from fashion, accessories, and jewelry to souvenirs and local crafts. Plus, there's more. The market is also well-known for its mouthwatering street cuisine. So shop, eat and shop some more. That sounds like a dream come true for any shopper, right?
9. Visit Manek Chowk to learn about Ahmedabad's culinary culture.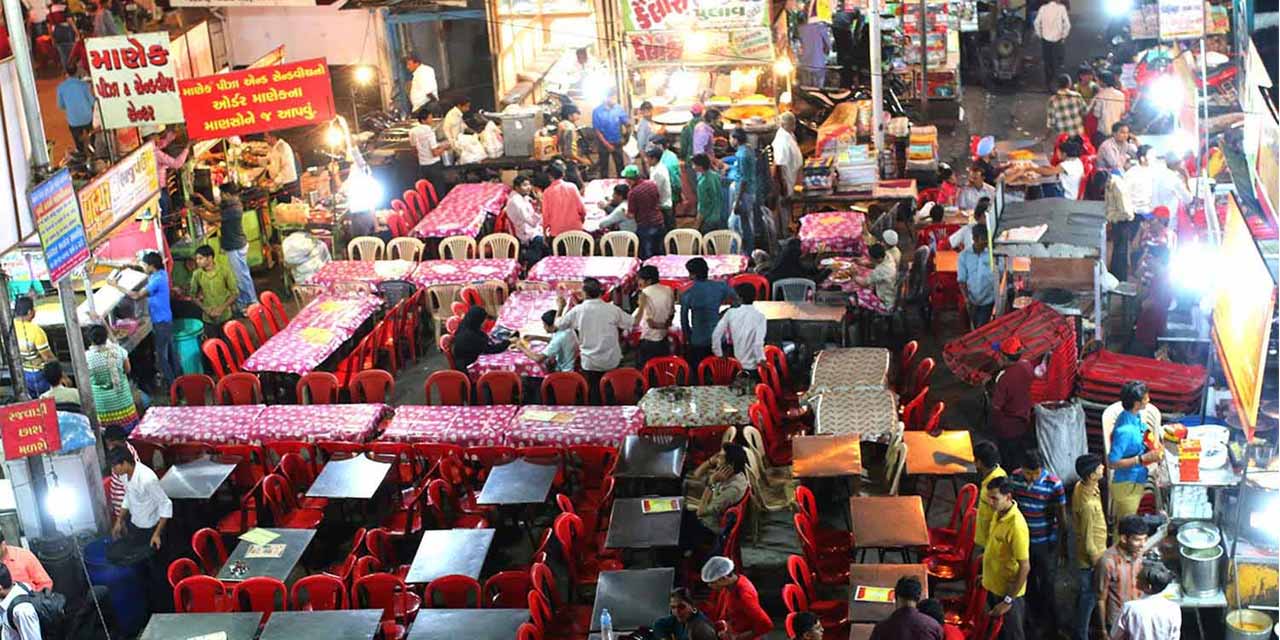 Manek Chowk, a well-known marketplace in old Ahmedabad, is a fantastic spot to sample traditional Ahmedabad fare. As intriguing as it seems, the location functions as a vegetable market in the morning and then transforms into a jewelry market and a food street in the afternoon and evening. One of the coolest things to do in Ahmedabad at night is to explore its street food.
The street is a vegetarian and non-dream vegetarian's come true, serving you some of the tastiest and most genuine Gujarati flavors. It is primarily renowned for a variety of delectable delicacies such as pav bhaji (buttered bread with spicy curry), malai rabdis (a traditional dessert), and pudla, a Gujarati pancake.
10. Visit the Kite Museum to Relive Childhood Memories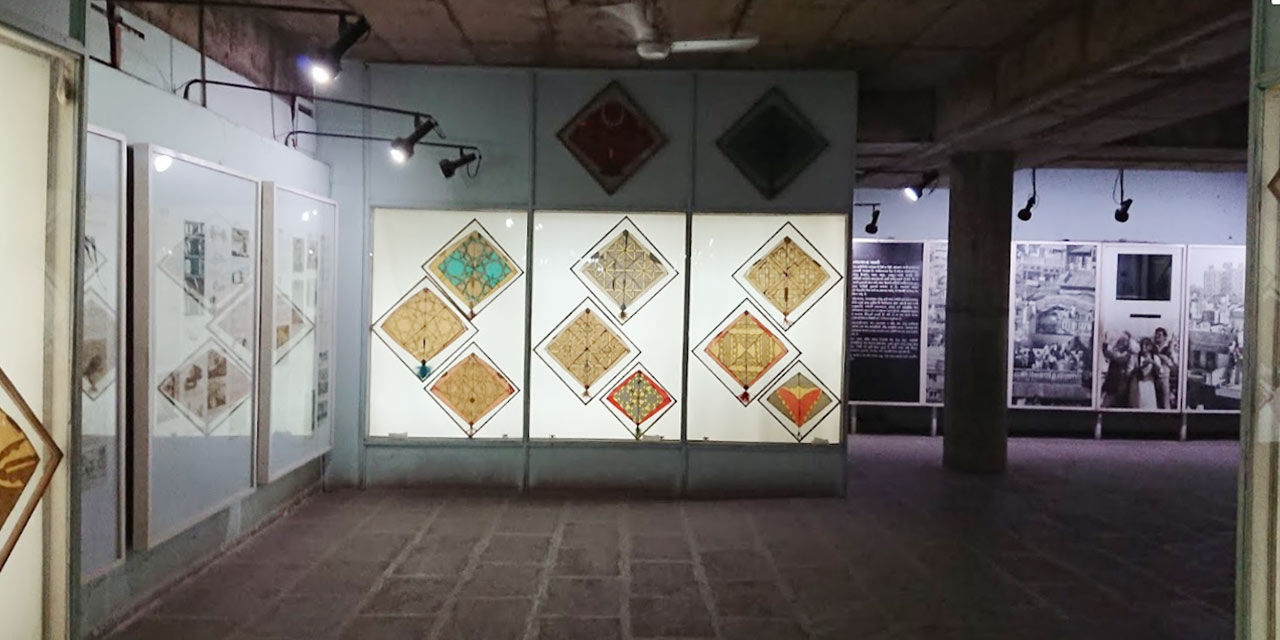 Consider revisiting your childhood, even if only for a few hours. The Kite Museum in Ahmedabad, the first of its type in India and the second in the world, can transport you back to your childhood days of kite flying with your pals. Because the museum is located within the same complex as the Ahmedabad City Museum, you can visit both on the same day.
Japanese kites, mirror work kites, Radha-Krishna kites, block-style kites, and Garba kites, to name a few, are among the uncommon kites in this collection. If you're searching for a unique and entertaining destination to take your kids to, the Kite Museum is a must-see.
11. Take a trip to the Sabarmati Riverfront.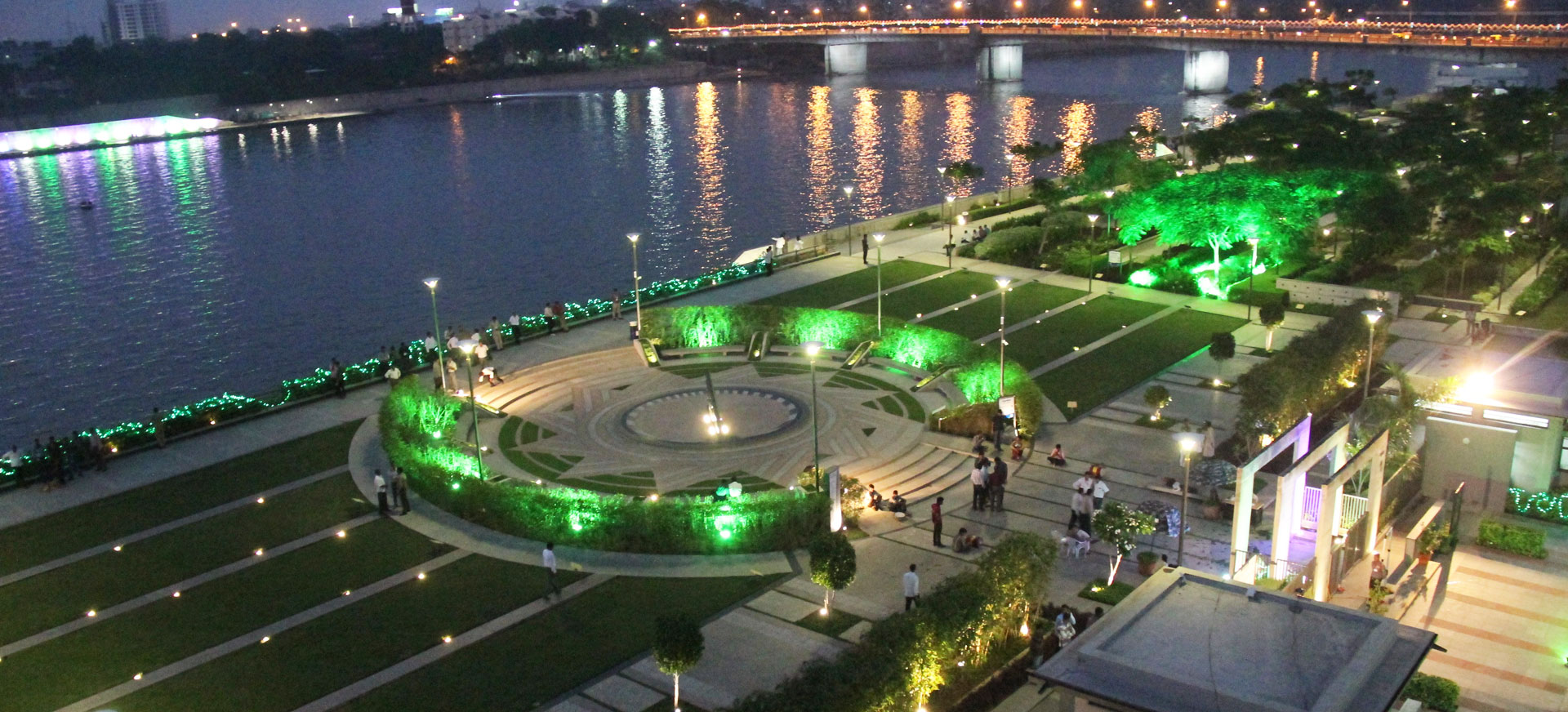 A trip to Ahmedabad isn't complete without catching a view of the Sabarmati River, which has been the city's lifeline since ancient times. The river has been a witness to the city's expansion, surrounded by a rich history and stories of the Indian liberation movement. The Sabarmati Riverfront honors the river's significance to the city.
On either side of the river, there is a spectacular two-tier continuous promenade that provides a long stretch of the unbroken walkway for pedestrians and dedicated cycling paths. Beautiful parks and gardens scattered across acres of land provide everyone with lush green open spaces. The ghats along the riverfront provide a gathering spot for religious and cultural activities.
Water sports stations on the lower-level promenade offer intriguing activities such as paddle boating, jet skiing, and high-speed boat rides, which are at the top of the list of fun things to do in Ahmedabad.
There's also stuff for nature and bird watchers. More than 5000 trees and 120 species of native and migratory birds can be found in Riverfront Biodiversity Park. If you see a Flamingo or a Purple Sunbird peering at you, don't be surprised. Despite its location in the heart of Ahmedabad, the Sabarmati Riverfront will transport you far from the city's commotion and rush.
12. Visit Victoria Garden to unwind.
Victoria Garden, a relic of India's colonial past, is one of Ahmedabad's most popular gardens. The garden, which was built in honor of Queen Victoria, the reigning monarch of British India at the time, has weathered the test of time.
The garden, with its tall trees, beautiful green grass, and well-kept flower beds, is an ideal place to rest and refresh. A life-size statue of Queen Victoria in all her royal splendor may also be found in the garden.
13. Take a look around the Teen Darwaza Market.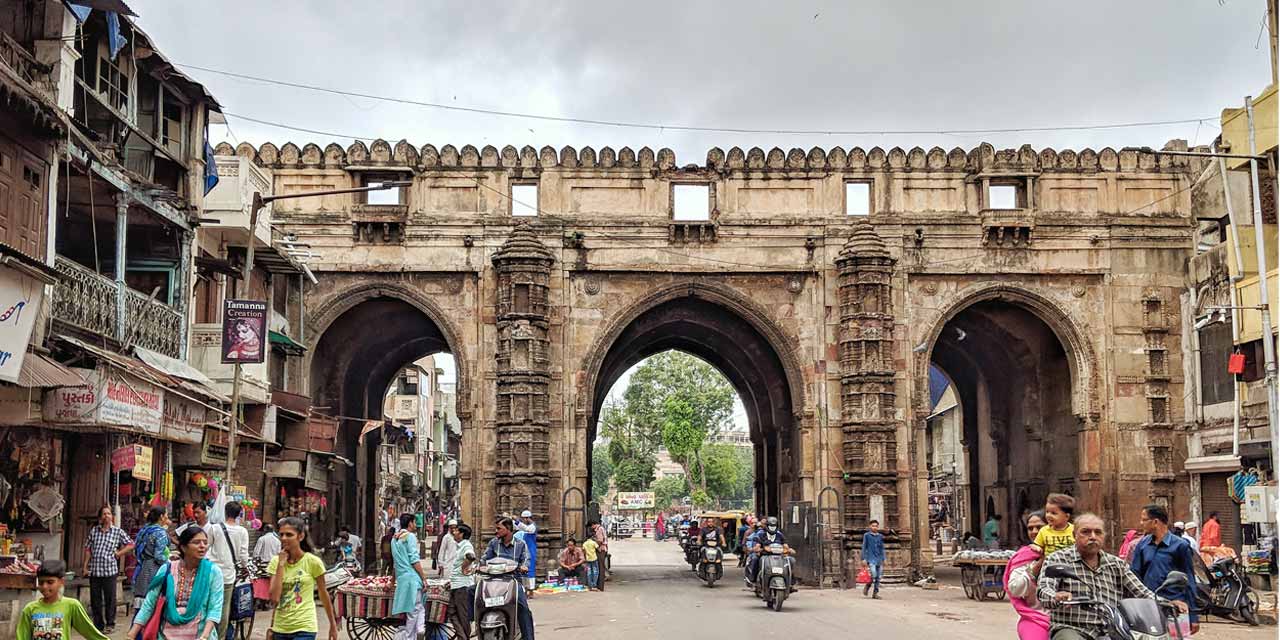 Teen Darwaza provides access to Ahmedabad's history and heart. This triple-arched gateway, built by Sultan Ahmed Shah, the city's founder, is almost as old as the city itself. Teen Darwaza, once a royal entryway, is now a street-paradise. shopper's One of the best things to do in Ahmedabad is go shopping.
Clothing, handbags, and household things – you name it, the market has it, and at very low costs. Outsiders, on the other hand, are frequently quoted a significantly higher price by the sellers. Bargain! This is the time to show off your best haggling talents. You can acquire some amazing goods for less than half the price if you do it right.
Pickpockets and thieves should also be avoided. The market is frequently busy, making it difficult for a first-time visitor to navigate, providing an ideal chance for pickpockets. Bring nothing valuable to the market with you, and be aware of your surroundings at all times.
14. Visit the Adalaj Stepwell to relive history.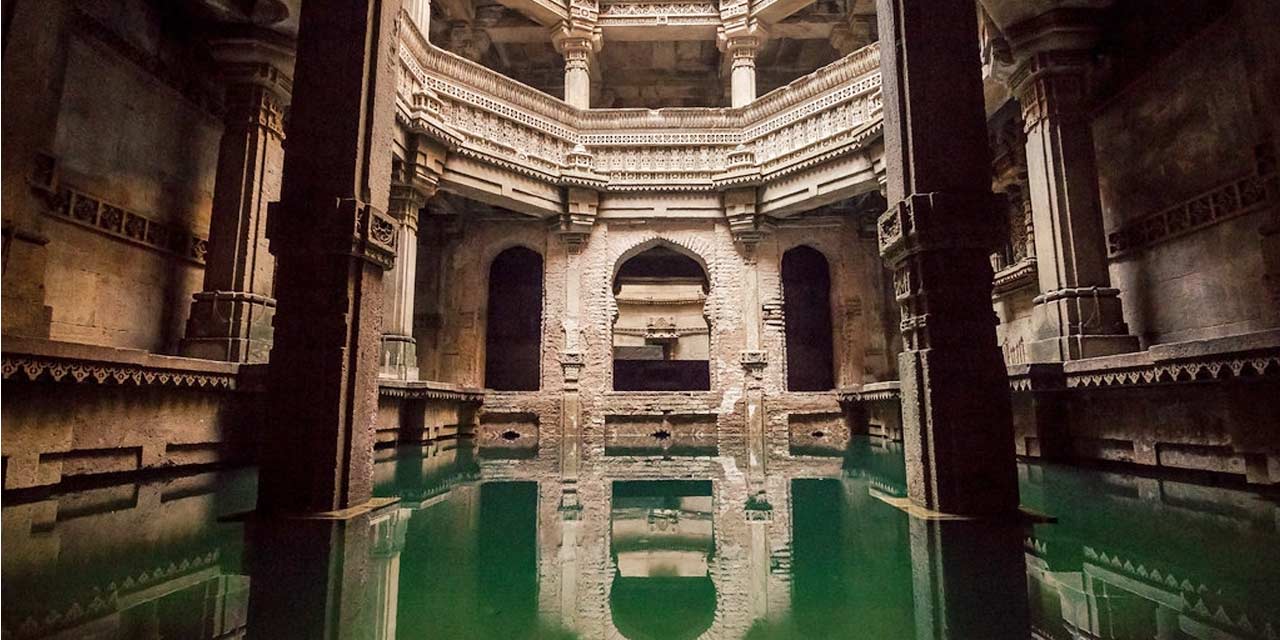 The five-story Adalaj stepwell, locally known as Adalaj Ni Vav, is an outstanding example of Indo-Islamic architecture and design. Every inch of the stepwell combines Islamic design elements like Persian flower patterns with Hindu and Jain iconography seamlessly. The stepwell was erected in the 15th century to hold water, offer shelter for inhabitants and travelers, and serve as a spiritual retreat for those who visited.
The well's fifth floor provides a spectacular perspective of the steps that lead to the cool water shimmering in the sunlight above. As you descend, you will notice that the air becomes cooler, providing relief from the heat outdoors. Adalaj Stepwell is distinctive in many aspects and should be on your list of things to do in Ahmedabad for at least one day.
15. Take in the Awe-Inspiring Beauty of Akshardham Temple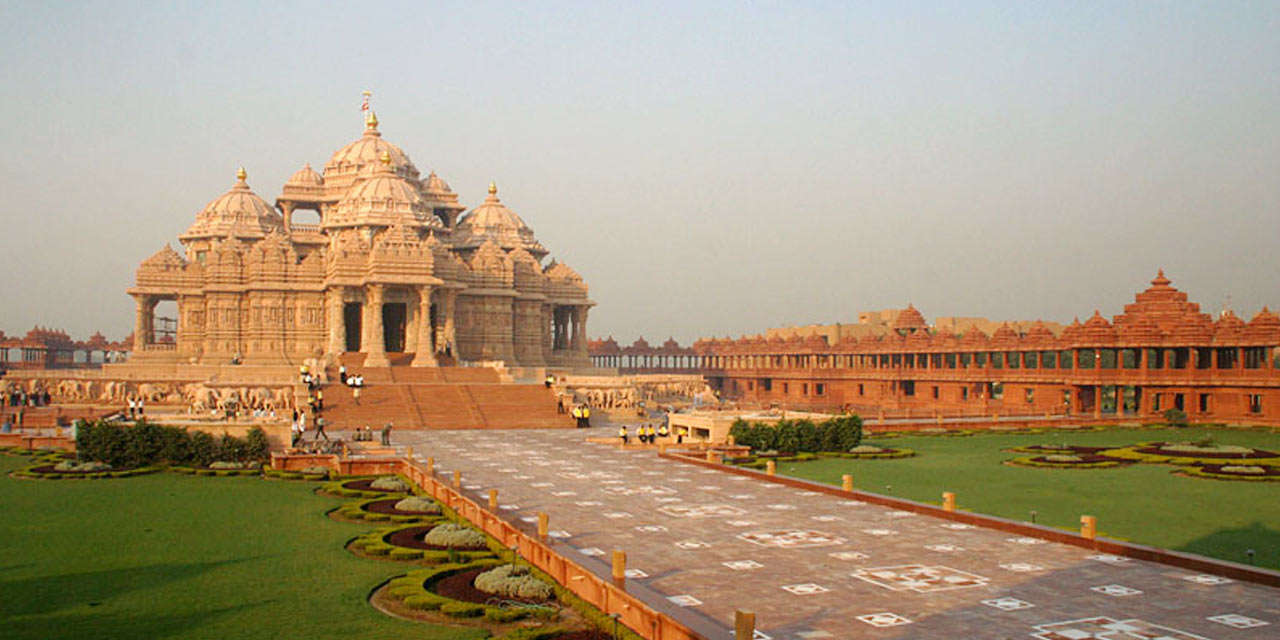 The Akshardham Temple in Gandhinagar is an architectural marvel that lives up to its name of Divine Abode of God. Every part of the temple's construction symbolizes Hindu traditions, ideology, principles of devotion to God, and spirituality, and is dedicated to the spiritual teacher Bhagwan Swaminarayan (1781-1830). The Swaminarayan Akshardham complex includes the pink sandstone Akshardham mandir.
The statues of the presiding deity Bhagwan Swaminarayan and his successors are housed in the beautifully carved temple. The complex's exhibitions combine art, science, culture, and spirituality to provide visitors with a soul-stirring experience. You can participate in the process of bathing the revered figure of young Bhagwan Swaminarayan, known as Neelkanth and offering a prayer at Abhishek Mandapam.
At the outdoor amphitheater, don't miss the 'Sat-Chit-Anand,' or 'Truth-Consciousness-Bliss,' water show. The magnificent 45-minute multi-media presentation uses water, lights, lasers, video projection, and fire to tell a story from the Kath Upanishad.