Thailand's pride is Bangkok, also known as Krung Thep Maha Nakhon. If you visit Thailand, you will notice how bustling the city is and how seamlessly the ancient and new have coexisted to create a unique canvas of experiences. You'll be surrounded by towering skyscrapers, beautiful, lush rivers, highways, open markets, and streets lined with exquisite temples.
Bangkok is frequently regarded as one of the best cities in the world for a reason, and it has to do with the diverse range of activities available. There are numerous cultural places to explore across the city, including museums, temples, royal palaces, and other historic buildings. They also hold passionate festivals now and then, with a reputation for turning streets into funfairs.
Bangkok, on the other hand, is well known for its nightlife. The city never sleeps and is teeming with nightclubs ranging from opulent rooftop lounges to run-of-the-mill taverns. The gastronomy in Bangkok is almost as popular as the city's nightlife. With so many cuisines to choose from and so many locations to eat them, Bangkok travel can be both delicious and adventurous. It's easy to become lost in the kaleidoscope of experiences available in Bangkok. After reading this travel guide, you'll be ready to visit Bangkok!
How To Reach
Traveling to Bangkok and getting around the city is a pretty well-organized process. Depending on where you're coming from, you can travel via air, road, or rail. Once you've arrived in the city, there are a variety of methods to get around, with sky trains being the most popular option because it cuts through traffic while providing a spectacular overhead view of the city. Another great method to see the city is to rent a bicycle, which is a favorite choice among tourists due to its ease of maneuverability.
1. By Air
Bangkok is an important transit center in Asia, receiving aircraft from every major city in the world regularly. The new Bangkok Foreign Airport, often known as Suvarnabhumi Airport, has taken over the majority of international traffic from the older Don Mueang International Airport. Airport Rail Links are frequently utilized to get to and from the airport. Because the rail journey takes only half an hour, it is a popular choice, particularly among tourists.
2. By Road
Bangkok is connected to its neighboring countries of Laos, Cambodia, and Vietnam by roadways. People plan road trips from Laos to Cambodia, but any destination beyond that would take a significant amount of time. Buses run from the rest of Thailand, including Hua Hin, Phuket, and Chiang Mai, as well as Cambodian places like Siem Reap.
3. By Rail
The city's major station, Hua Lamphong Railway Station, is responsible for international and long-distance local trains. All trains departing for various parts of Thailand start here. The station, which is located in the heart of the city, is equipped with ticket counters, lounges, cafeterias, ATMs, and a much-needed information desk due to its size.
Weather In Bangkok And The Best Time To Visit
Regardless of the season, once you arrive in Bangkok, you will immediately note how hot it is. The temperature remains stubbornly high despite being only a few degrees north of the equator, with the only seasonal change being the advent of rain.
1. Summer
Bangkok's summer season begins in March and lasts until May. It's the warmest time of the year in Bangkok, so any rain is a welcome relief. It is not recommended to travel during this time because the temperature increases to a scorching 40 degrees Celsius, making any plans for daytime exploration of the city streets arduous. If you do happen to be in Bangkok during this time, try shark diving at the 'Sea Life Bangkok Ocean World' or visit the 'Trick 3D Museum.' Another fantastic experience to seek out during this time is the Thai New Year, also known as 'Songkran.' At the three-day water fight, keep the heat and humidity at bay.
2. Monsoon
The monsoon season lasts from June to October, with a cloudy sky and thick clouds. September is said to be Bangkok's wettest month. Tourists should avoid Bangkok during this period since commuting within the city is exceedingly uncomfortable owing to flooding, which causes traffic to move at a snail's pace.
If you're searching for a cheap trip to Bangkok, today is the best time to go because the severe rain has forced hotels to reduce their costs by nearly half. Despite the rain and severe winds, many people are seen visiting popular landmarks such as the Buddhist temples Wat Arun, also known as the "Temple of the Dawn," Wat Pho, popularly known as the "Temple of the Reclining Buddha," and Jim Thompson's House, where souvenirs may be purchased.
3. Winter
Bangkok's temperature lowers to a low of 20 degrees Celsius from November to February, with few precipitations and few thunderstorms, catching the attention of travelers and resulting in a sharp increase in hotel fees.
Many people visit Bangkok to escape the severe winters. This is the best time to visit this lovely city because you may comfortably wander through the local markets, enroll in a Thai cooking lesson, or simply go on an exhilarating bicycle tour through the city's back alleys and lesser-known areas. You can also go to the famous flower market and have some delicious street food.
Things To Do In Bangkok
Bangkok, as one of the most popular travel destinations in the world, has something to offer everyone from backpackers to budget family vacationers to luxury seekers. Take advantage of the city's nightlife and visit the royal palace for a glimpse into the past. Some of the most intriguing things to do in Bangkok are listed here.
1. Take a Bicycle Tour in the Evening
Most of us find the prospect of being pushed around in a crowded marketplace in the scorching heat repulsive. An evening bike tour effectively eliminates this issue by allowing first-time visitors to become acquainted with the city's numerous back alleyways and lanes in a considerably cooler climate while avoiding the daytime crowds.
Bikers may see many beautiful Buddhist temples lit up at night, like the 'Wat Arun' (Temple of Dawn) and 'Wat Pho' (Temple of the Reclining Buddha). You may also take a bike ride around the flower market, stopping for refreshments along the way and sampling the distinctive local cuisine available at the various street kiosks. Crickets are considered a delicacy in this country!
2. Participate in Bobble Football.
It's difficult enough to spend quality time with your family as it is, but finding an activity that engages everyone, regardless of age, is nearly impossible these days. Bobble Football is a sport that does just that in Bangkok, and many people are beginning to notice its potential as a wonderful business team-building activity as well.
Being inside a rubber bubble may seem frightening at first, but once they start playing, they'll be smiling and giggling their hearts out. When the entire group wants to be pumped up, bobble football is a terrific way to accomplish so in Bangkok.
3. Go Scuba Diving
Go Scuba Diving with Sharks! Tourists can dive into the aquarium alongside numerous sorts of predators — leopard sharks, tiger sharks, and stingrays, to mention a few – and get startlingly near to them at Sea Life Bangkok Ocean World. Adrenaline enthusiasts will adore this concept.
4. Take a wakeboarding lesson at Taco Lake.
Wakeboarding at Taco Lake is a little-known activity that is growing in popularity among Bangkok visitors. Locals from Bangkok are known to flock to this location on weekends to escape the city's oppressive heat. As a result, travelers should plan and schedule wakeboarding for the weekdays to avoid excessive lines.
This water sport requires no prior experience, making it an ideal pastime for everyone. A little restaurant along the waterfront also serves delectable Thai cuisine as well as cold beverages and beer.
Places to Explore in Andaman and Nicobar
5. Go to the Floating Market in Amphawa
Although it is the second most popular floating market, it is the only one that offers a true taste of what a Thai Floating Market is all about. Along the canal's banks, there are various wooden huts selling souvenirs, pastries, and a great array of seafood. People typically take a tour boat after shopping to watch the fireflies around the river at night, and if they're lucky, they might even see a water monitor swimming around in the river.
6. Khao San Road
Want to spend a relaxing evening in a bustling and exciting part of town? The Khao San Road is the place to go. The street is lined with a variety of eateries and pubs bustling with tourists from all over the world, making it a backpacker's hotspot. This is also where you will find the greatest cheap hotels in Bangkok throughout your vacation. The Khao San Road is a fantastic place to base your vacation in Bangkok because it is never dull.
7. House of Jim Thompson
The Jim Thompson House is a one-of-a-kind architectural fusion of eastern and western influences. The former home of an American silk merchant who settled in Thailand and reconstructed one for himself from the ruins of seven historic Thai residences. The building has recently been converted into a museum. Take a tour of the property and spend a relaxing evening surrounded by Thai culture and American influences.
Where you can Scuba dive in India
Bangkok's Tourist Attractions
Bangkok is everything you'd expect from Thailand's capital: loud, bustling, colorful, exhilarating, frustrating, and causing you to smile. There are temples, ancient buildings, and other tourist things to see, as well as modern retail malls with a kitschy yet high-end atmosphere. Bangkok is a fascinating metropolis that symbolizes Southeast Asia's struggle between developed and developing nations.
Bangkok is also a hub for travel to other places in Thailand. You can fly to Phuket, Chiang Mai, Koh Samui, and other major tourist spots from here. You can also visit national treasures such as Ayutthaya, Lopburi, and many other gems around the country for a small fee by using a train or bus. With this list of the top attractions in Bangkok, you can discover the greatest things to do in this buzzing city.
1. Admire the Beauty of the Grand Palace
This should be your only visit to a significant historical tourist landmark in Bangkok. The royal compound comes up to its name, with opulent mansions that would embarrass even the most extravagant modern monarchs. Wat Phra Kaeo, which houses the Jade (or Emerald) Buddha, is also located here.
The stately palace, which was built in 1782 and is still used for important ceremonies and hosting heads of state, has been the royal residence for decades. When visiting the Grand Palace, dress modestly, which means covering your arms and legs and avoiding sloppy clothing.
Take the Grand Palace and Wat Phra Kaew Tour to avoid any bother and to make the most of your visit. This is a morning or afternoon half-day sightseeing tour with pickup from your accommodation and a local guide to put what you're seeing into context. It's easy to miss crucial aspects or misunderstand the significance of what you're seeing without a guide, and the hotel pickup makes the whole experience that much easier.
One Of The Most Popular Holiday Destination Munnar
2. Wat Pho
If your feet are up for additional walking, Wat Pho, located just south of the Grand Palace precinct, is a fantastic complement to your palace visit.
The temple, which was erected by King Rama I, is Bangkok's oldest. It has long been regarded as a healing center, and it was once known for its pharmacy and as Thailand's first "university," both of which were founded by King Rama III. The traditional medical school on the premises offers Thai and foot massages, but the fees are substantially more than those offered by massage parlors elsewhere in the city.
Today, Wat Pho is primarily renowned for the Temple of the Reclining Buddha, which houses a 45-meter-long and 15-meter-high figure that can only be enjoyed in portions rather than in its entirety. The soles of the feet, which are inlaid with a variety of precious stones, are especially lovely. Look for long earlobes, which represent noble birth, and a lotus-bud formation on the hand, which represents purity and beauty.
3. Arun Wat
Wat Arun is a victorious complex that dates back to the ancient battles between the old Siam and Burma. Ayutthaya was reduced to ruins and ashes after falling to the Burmese, but General Taksin and the remaining survivors pledged to march "until the sun rose again" and to build a shrine here. That temple was Wat Arun or the Temple of the Dawn. It was here that the new king's royal residence and private chapel were later built.
You will be rewarded with a spectacular view as the sun sets over the Chao Praya River if you ascend to the top of the prang right before sunset. Even if you don't intend to climb, twilight is the best time to see this location in all of its grandeur.
PLACES TO SEE IN PHUKET ISLAND
4. Wat Traimit, the Golden Buddha Temple
This attraction is unique due to pure luck (or lack thereof). The East Asiatic Company bought the area around the temple in the 1950s.
The removal of a plaster Buddha statue was a condition of the sale, but the statue proved too heavy for the crane. The wire snapped, and the figure plummeted to the ground, where it remained for the night. It was during the rainy season, and as some monks passed by the next morning, they discovered a gleam of gold showing through the plaster. After the coating was removed, a 3.5-meter Buddha made of 5.5 tons of solid gold was revealed.
All attempts to identify the origins of this expensive statue have failed, although it is thought to be from the Sukhothai period when roving invaders threatened the country and its riches, and it became the customary practice to encase valuable Buddha statues in plaster. Nobody knows how it got to Bangkok, but it's there now, ready to be admired by visitors from all around the world.
5. Suthat Wat
Wat Suthat is one of Bangkok's oldest and most magnificent Buddhist temples, located next to the Great Swing. It was built by three kings: Rama I (the founder of the Chakri dynasty) started it soon after his coronation in 1782, Rama II continued it, and Rama III finished it 10 years later. The temple has some particularly intriguing wall paintings, in addition to its lovely architecture. Because Wat Suthat is less well-known than some of the city's other temple complexes, you'll have a more serene and intimate experience here.
6. Giant Swing
One of Bangkok's most eye-catching attractions is the 27-meter-high teak frame of the so-called Giant Swing, which stands amid the crowded square in front of Wat Suthat. The swing, which was built in the 1700s to be used in traditional Brahmin (Hinduist) ceremonies, was later damaged by lightning and became purely decorative.
This was the focal point of a religious event done every year following the rice harvest in December. Teams of three would take turns balancing on a very narrow board and being flung 25 meters or more from the ground "up to Heaven," where they would try to capture a purse of silver coins between their teeth. Following a series of catastrophic mishaps, King Rama VII canceled the tournament in 1932.
KASOL, ONE OF THE BEST HOLIDAY DESTINATIONS FOR SEAFARERS IN INDIA
7. Wang Na Palace and the National Museum
The national museum is worth at least half a day of sightseeing for history aficionados. This was Thailand's only museum until the mid-1970s, which explains why its collection is so large and eclectic. Fortunately, almost every exhibit is labeled in both Thai and English, and guided tours are also available in English, so you won't miss out on any of Thailand's rich ancient and modern history.
The Wang Na Palace of King Rama I, which is housed within the museum grounds, has remained largely intact and serves as a witness to Thai history. The Viceroy's throne, as well as regalia, religious and ceremonial objects, ceramics, games, firearms, musical instruments, and the Viceroy's seat, all on display, along with an extraordinary collection of Buddha images organized by period.
8. Visit Chatuchak Market for Authentic Souvenirs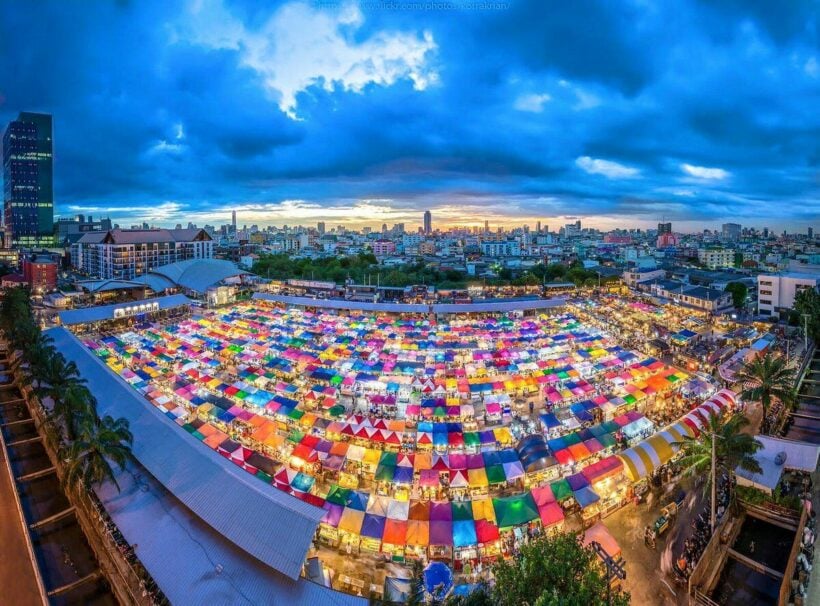 This vast semi-outdoor weekend market is the world's largest and one of the must-see attractions in Bangkok. From jewelry and religious symbols to pet supplies, paper lanterns, and delectable street cuisine, shoppers will find it all here. Chatuchak Market has over 15,000 vendors selling just about anything you can think of–and, even better, any memento you would desire is likely to be cheaper here than elsewhere in Bangkok.
If you want to do this site justice, arrive early and free your schedule for the rest of the day. The market is about a five-minute walk from Mochit Skytrain (BTS) Station and Suan Chatuchak (Chatuchak Park) Station and is near to the Kamphaengpecth Station (MRT).