Coorg, also known as Kodagu, is Karnataka's most popular and sought-after highland station. Coorg's environment, which lies serenely amidst lofty mountains, is misty all year. The Kodavas are the local indigenous people. Apart from Kannada, the hill station's other two primary languages are Kodagu and Kodava.
The optimum time to visit Kodagu is from October to May, with February to May being the peak season for this mountainous station. In India, Kodagu is the major producer of coffee.
It is also one of the places in the country with the most rainfall. This hill station offers stunningly amazing scenic beauty, with undulating hills covered in lush green woods and a landscape dotted with coffee plantations, tea gardens, and orange groves.
The Brahmagiri, TalaCauveri, and Pushpagiri Wildlife Sanctuaries, as well as the Nagarhole National Park, also known as the Rajiv Gandhi National Park, are among the several wildlife sanctuaries and national parks in Coorg.
Michelia champaca, Mesua (Ironwood), Diospyros (ebony and other species), Toona ciliata (Indian mahogany), Chukrasia tabularise, Calophyllum angustifolium (Poon spar), Canarium strictum (Black Dammar), Artocarpus, Dipterocarpus, Garcinia, Euonymus, Cinnamomum, Myristica, Vaccinium, Myr Cardamom, Areca, plantains, canes, wild black pepper, Cyatheales and various ferns, and arums grow in the undergrowth.
The Dalbergia latifolia (Blackwood), Pterocarpus marsupium (Kino tree), Terminalia tomentosa (Matthi), Lagerstroemia parviflora (Benteak), Anogeissus latifolia (Dindigul), Bassia latifolia, Butea monosperma, Nauclea passiflora, and several species of acacia are the most common trees in the forest of the less densely Teak and sandalwood are also found in the district's eastern reaches.
Coorg is normally cool, but due to its thick green cover, it receives a lot of rain during the monsoon. Coorg tourism is fantastic all year, but especially so in the winter. Read on for a full travel guide that will assist you in planning a fantastic vacation to Coorg.
How To Reach Coorg
Coorg is a fantastic holiday location for both domestic and international visitors. Although there are no direct ways to Coorg, the journey is pleasant and scenic. Continue reading for a step-by-step guide on getting to Coorg.
1. By Air
Although Coorg does not have an airport, flying down is the most convenient and fastest method to get to the hill station if you are traveling from afar. The most convenient airport for you will be determined by where the area of the country you are traveling from.
Mangalore International Airport is the closest international airport, located 140 kilometers from Coorg city center. The nearest domestic airport is in Mysore, which is 120 kilometers from Coorg. The Bangalore International Airport, while being 286 kilometers away, is the most well-connected airport near Coorg.
Mangalore Airport serves the Middle East market, with aircraft arriving from all of the region's major cities. Most domestic and international airlines, including British Airways, Emirates, Etihad Airways, Air India, Jet Airways, GoAir, IndiGo, Jet Airways, and JetLite, use Bangalore Airport as a hub. Whatever area of the world you're traveling in from, there's a flight to Bangalore waiting for you.
You can book a cab or board one of the state-owned or private luxury buses that ply between Mangalore and Coorg once you get to the airport, whether you arrive in Mangalore or Bangalore. Keep in mind that August-September is the rainy season, and severe downpours can cause flight delays or cancellations, particularly at Mangalore Airport.
2. By Rail
Coorg, like the absent airport, does not have a railway station. There are a few options if you prefer train journeys and wish to take your time going to Coorg by train. You can take a train to the nearby cities of Mysore or Bangalore, which are both well-connected by train to practically every region of India.
Mysore is the nearest of the two, at only 120 kilometers from Coorg. Because many tourists visiting Coorg alight at these railway stops, continuing your journey will never be an issue. Hire a private taxi or take one of the many state-run or private buses that run between these cities to Coorg.
To avoid being deceived, use a certified taxi service and make sure you understand the fare amount. If you want to travel to Mysore or Bangalore during the holiday season, make sure to reserve your train tickets ahead of time.
3. By Road
Whether you arrive by plane or rail, the final step of your journey to Coorg is on the road. And what a fantastic journey it is! The 4-5 hours it will take you to get to Coorg promises to be an unforgettable experience. The entire road to Coorg is rich with breathtaking views, verdant mountains, and unseasonably warm weather.
The route snakes its way through the hills, and at times it can be steep and difficult. Nothing to be concerned about for a seasoned traveler. The road trip is fun if you are traveling from Ooty, Bangalore, Mangalore, Mysore, or Coimbatore because it is short enough to not be too taxing while still allowing you to enjoy the journey without nodding off.
Weather In Coorg And The Best Time To Visit
What we appreciate best about Coorg, a charming hill station in Karnataka is that it is a year-round place where you may visit anytime your heart wishes. The best time to visit Coorg is from September to June. If you wish to undertake trekking, the best time to visit Coorg is between October to March.
People from all over the world go to the gentle slopes of this charming hill station all year, thanks to its mild climate and breathtaking scenery. Coorg, nestled in the folds of the spectacular Western Ghats, provides huge stretches of coffee farms, lovely flora, and breathtaking landscapes. It's no surprise that it's one of the most popular tourist spots in India's south.
The hill station entices visitors all year round with its tropical weather. The best time to visit this gorgeous tourist destination is from early winter to late summer.
The temperature does not exceed 40°C and does not drop below 10°C. You may enjoy a stroll through this hill town's winding paths, taking in the view without breaking a sweat. The days are beautiful, but the evenings can be chilly. Is it any surprise that it's been dubbed the "Scotland of India"? When you visit Coorg, you may forget about time and troubles.
This picturesque hill town in Karnataka will appeal to your senses and leave you breathless with its many natural and artificial charms, regardless of which season you visit.
1. Coorg During Summer Season (March-May)
Summer is a fantastic time to explore Coorg. Coorg is cold and fresh, inviting people to relax and unwind in its lovely climes while the rest of the plains are scorching and miserable.
Step out into the sunshine and take in the sights of the hill station. Expect a large throng because many others will have the same idea as you. Summer is the greatest time to visit Coorg after winter.
2. Coorg During Monsoon Season (June-September)
The climate of Coorg is tropical, with a strong monsoon. It begins with moderate rainfall early in the season, increasing in strength as the calendar approaches mid-August and early September.
The weather is cooler during this time of year, and severe rain has been known to flood roadways and cake them in mud, limiting outdoor activities. However, this should not deter you from visiting because the hill station is fresh and green throughout this season, and its attractiveness is enhanced much more.
3. Coorg During Winter Season (November-February)
Coorg has a temperate climate, making it enjoyable to visit at any time of year. If you want to appreciate the outdoors while also participating in adventurous activities, the best time to visit is from November to February.
The countryside is bedecked with magnificent white blooms around the end of March and early April.
4. (October to November & March to May)
When summer arrives, it's preferable to escape to Coorg's milder slopes. This highland station provides the ideal cool and calming break from the plains' fierce summer sun. Pack your luggage and prepare to unwind and revitalize while the weather lulls you into a state of blissful relaxation.
It can become a little warm during the day, but nothing you can't manage. When the weather is nice, it's ideal to go out early in the morning or late in the evening. The Western Ghats look lovely in this weather, with a gossamer layer that adds to the charm of the green valleys and peaks.
Make sure to include Abbey Falls and Madikeri Fort in your travel plans. If you are up for it, you can hike up, but there are also easier trails that may be explored by a family with children.
It can get crowded because the weather in Coorg during the summer is ideal, attracting both local and foreign visitors who are anxious to enjoy the beautiful weather of this beautiful hill town.
Don't be put off by this. Sip some Coorgi coffee and take in the scenery as it gently emerges. With its numerous summer activities including funfairs, exhibitions, and other local entertainment alternatives, Coorg welcomes families. Madikeri residents celebrate a festival (similar to Mysore Dasara) in honor of the local deity, 'Theru,' in October, which involves a long procession.
Exhibitions, as well as music and dance competitions, are part of the festival. Puthari is a well-known harvest celebration that occurs between October and November and commemorates the harvest of rice. Coorg residents take to the streets in March to celebrate their culture and traditions.
The teenagers dress up in their traditional garb and go door to door collecting food all night. In the garb of these young men, Lord Shiva is said to visit people's homes.
If you're looking for excitement and thrills, now is the time to climb onboard an open two-seater plane and take to the skies for a 'wind in your face experience. Inquire about nearby clubs that can provide you with an adrenaline boost.
PLACES TO SEE IN PHUKET ISLAND
5. (December to February – Winter Season)
In the winter, Coorg is filled with affection and coziness. Honeymooners prefer visiting Coorg during this season because it has the perfect ambiance and the weather in Coorg in winter is ideal for nurturing romance.
Cupid himself couldn't come up with a greater combination than cool breezes, a warm and crackling fire, and a glass of wine. Winter, on the other hand, is merely a phrase used to define the time of year. The temperature never drops below a comfortable level, and the bright sun is a welcome companion while you walk over the Coorg highlands.
Winter is ideal for outdoor activities, so if you enjoy adventure, now is the time to visit Coorg. Trekking, animal safaris, hiking, and outdoor camping are just a few of the possibilities available to you. This is the ideal time for bird-watching for individuals who want to be outside but aren't interested in roughing it.
If you prefer, you can escape it all and simply relax at a homestay while sampling Coorg delicacies. During the winter, the hill station of Coorg is rather calm, allowing visitors to focus on what interests them the most. Outdoor activities are organized by several travel firms.
Trek up popular routes to reach Coorg's highest points, Pushpagiri and Tadiandamol. This year, try something new and enjoy Christmas and New Year in Coorg. In February, you can also celebrate the New Year with the monks of Coorg in the Kushalnagar Golden Temple Monastery.
During the winter, the weather in Coorg does not get much better. It's ideal for outdoor activities or simply cuddling up next to the fire with someone special. You can relax with a nice cup of coffee or a glass of local wine while reading your favorite book.
KASOL, ONE OF THE BEST HOLIDAY DESTINATIONS FOR SEAFARERS IN INDIA
6. (June to September – The Monsoon)
During the monsoon, Coorg is soaked in pleasant rainfall, transforming this lovely area into a stunning getaway. The Western Ghats is lush green, with waterfalls, swirling mists, and flowering flora luring people in. The clouds practically descend from the sky, draping the ground in their cloak It's raining; it's gorgeous, and it's lovely.
If you appreciate adventure and don't mind getting wet, travel to Coorg during the monsoon for a once-in-a-lifetime vacation. This is also the greatest time to go on a water adventure.
White water rafting, canoeing, and kayaking are all popular activities in the rushing waters of the various streams and rivers that run through Coorg's hills. The best part is that, because it's off-season, you'll have the place almost entirely to yourself.
The monsoon may have descended on Coorg, but it has did not affect the people's spirits. In September, the region holds Kailmahurtha or Kailpoldh, a festival dedicated to the worship of agricultural instruments and the cultivation of their fields. Every household pulls out its knives, swords, weapons, automobiles, and other tools that have been used to make a living in Coorg for generations.
There is a lot of celebration, and the inhabitants of Coorg spend the day eating special non-vegetarian foods and drinking local wines.
Adventure seekers can visit one of the several camps set up solely to provide travelers with the opportunity to get soaked in the chilly, flowing waters of the river Barapole. Navigate class 1-4 rapids before finishing the thrilling journey with a bonfire and a tasty lunch.
Best Things To Do In Coorg
Coorg is known as the "Scotland of India" because of its undulating green hills and brilliant blue skies all year. Coorg is famed for its high-quality coffee, but there is so much more to see and do in this lovely country.
Every type of traveler will find intriguing activities in Coorg, including nature lovers, food aficionados, photographers, adventurers, and culture vultures. Some of the nicest things to do in Coorg, like all good things in life, are entirely free!
When it comes to adventure sports in Coorg, the scenery is breathtaking, covering lush mountains, raging rivers, dense forests, and steep waterfalls. These locations are ideal for a variety of adventure activities in Coorg.
There are various sights worth visiting, making it one of the top things to do in Coorg. We've put up a list of the must-do activities for you to enjoy while you're here:
1. Elephant Camp Dubare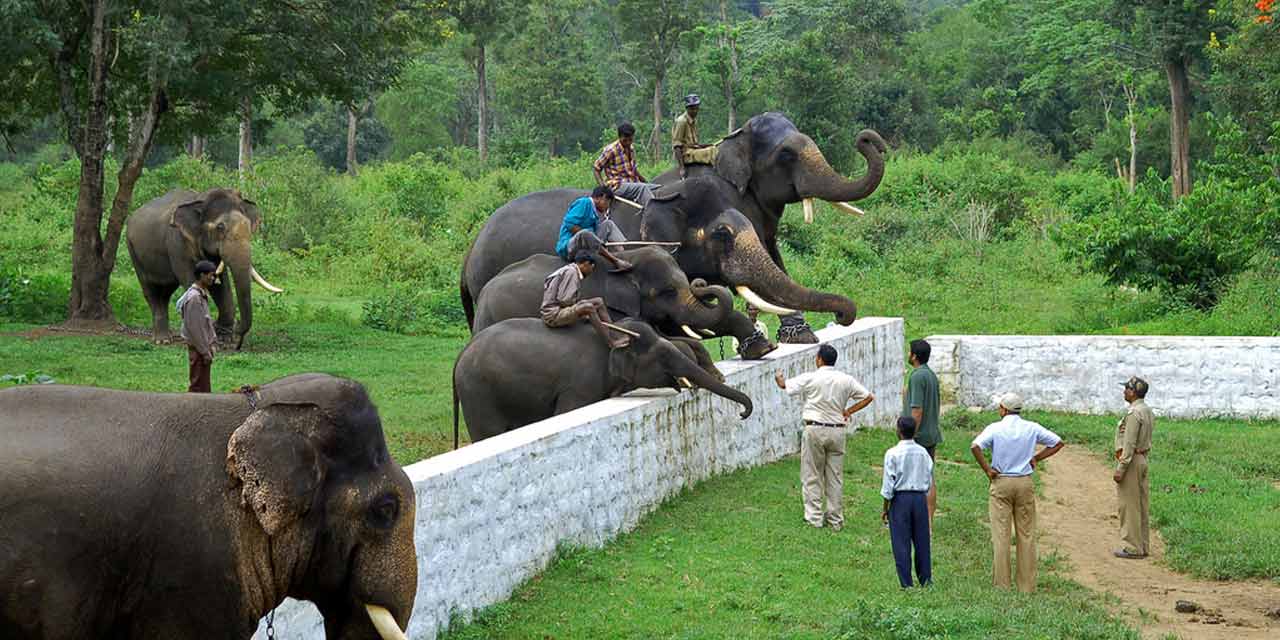 The most enjoyable pastime in Coorg is playing with and caring for elephants. The elephant camp in Dubare, one of Coorg's most popular tourist destinations, contains a big herd of elephants that you may feed, wash, and ride. It's a great place to cool off in the summer and one of the greatest things to do in Coorg in May, thanks to its location on the riverside.
2. Golden Temple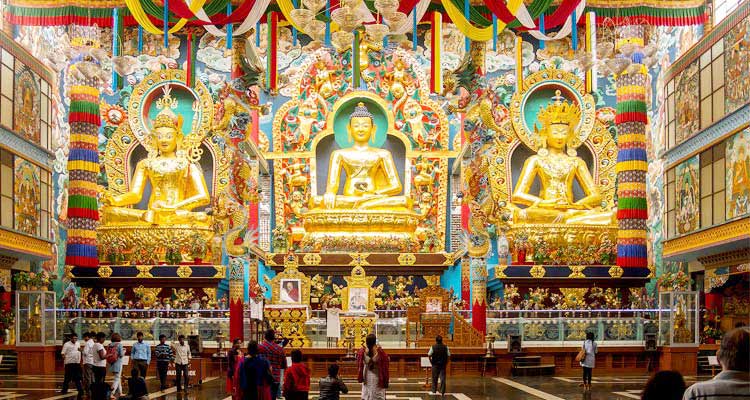 The most amusing pastime in Coorg is playing with and caring for elephants. One of the most famous tourist attractions in Coorg is the elephant camp in Dubare, which has a large herd of elephants that you may feed, wash, and ride. This riverside spot is a great way to cool off in the heat and one of the top things to do in Coorg in May.
3. Dropping of Abbey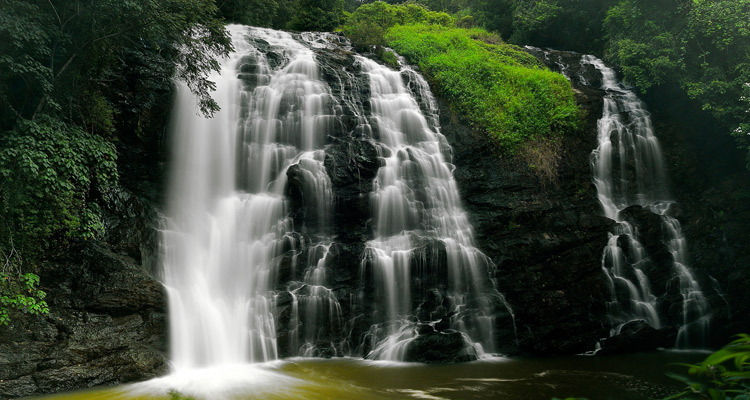 Coorg is rich in natural beauty, and photographing it is one of the nicest things to do there. The milky waterfall in the picturesque coffee and spice plantation makes for a superb Instagram shot. So, if you're wondering what to do in Coorg, simply go to Abbey's Fall! It's one of Coorg's most popular waterfalls.
4. Hiking and trekking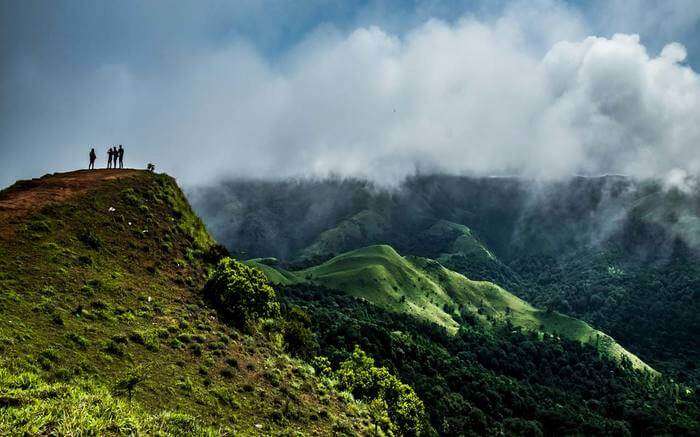 Coorg is surrounded by the verdant Western Ghats, which provide numerous hiking and trekking options. Tadiandamol, Kodachadri, Kumara Parvatha, Mullayanagiri, and Brahmagiri are just a few of the excursions available. Trekking is ideal in the winter when the forests are dry but still green, which is why it is one of the most popular activities in December in Coorg.
5. A Food Tour
Coorg's cuisine is distinct from that of the rest of Karnataka. It's mostly non-vegetarian and made using locally sourced components like forest products, meat, sugar, and beans.
One of the most significant things to do in Coorg India is to try their famous pork or pandi dish. Vegetarians can enjoy akki rotti, nool puttu, and koovaleputtu. If you're looking for something to do in Coorg at night, try one of those dinner dishes while you're there.
Places To See In Andhra Pradesh
6. Coffee Plantation Tour
One of the most enjoyable activities in Coorg is coffee bean picking. The region produces the most coffee, and coffee and spice plantations may be found all over the country. Coffee harvesting normally takes place between November and January. On a one-day vacation to Coorg, you may also take a nature walk among the plantations!
7. Camping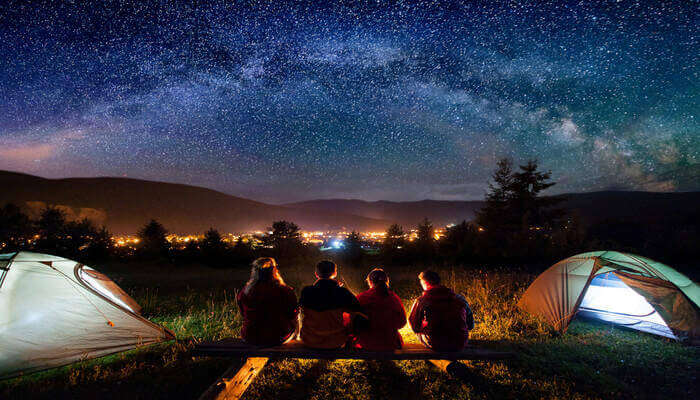 Camping, with a camping vacation, you won't have to worry about what to do in Coorg. You may simply choose, book, and unwind in your tent with a cup of coffee during the day while counting stars at night! One of the nicest things to do in Coorg at night is to go stargazing.
8. River Kaveri
Lakes and rivers abound in Coorg. The Kaveri River, in truth, begins in Talacauvery, near Madikeri, and is abundant in aquatic life and suitable for fishing. Angling and fishing are two of the most popular activities in Coorg. Fishing is one of the best sports in Coorg in June due to the abundance of rivers with food for these fish during the monsoons.
9. Homestays
In Coorg, homestays are a popular way to stay. The majority of coffee and spice estates include colonial bungalows that the owners have turned into houses. Here you can learn about Coorgi culture and eat home-cooked food. If you're lucky, you might be able to attend a Coorgi wedding, which is undoubtedly one of the top Coorg activities.
10. Barapole
River rafting is one of Coorg's most underappreciated hobbies. Coorg is a fantastic area for whitewater rafting, especially during the monsoon season. The Barapole River has grades ranging from I to V, providing the ultimate adventure experience for visitors. River rafting in Coorg is an activity you should add to your list of things to do in August in Coorg.
11. Virajpet Day Trip
After you've seen all of Coorg's tourist attractions, you can book a half-day sightseeing trip in Virajpet. It is a town located approximately 22 kilometers from Coorg. The city's rich green surrounds make it a fantastic place to drive. You can take a half-day sightseeing tour of this gorgeous place by renting a car or taxi.
12. Jeep Safari
If you like to ride, the Jeep Safari is one of Coorg's most popular activities. There are various jeep safari tours available, and you can choose the one that best suits your needs.
The Kabbe Hills, which provide amazing views of the highlands, the Nishani Hills, which is an off-road jeep ride, and the Mallalli waterfalls, which lead to the Coorg Falls, are some of the best spots to visit on a Coorg jeep safari.
13. Hiking trips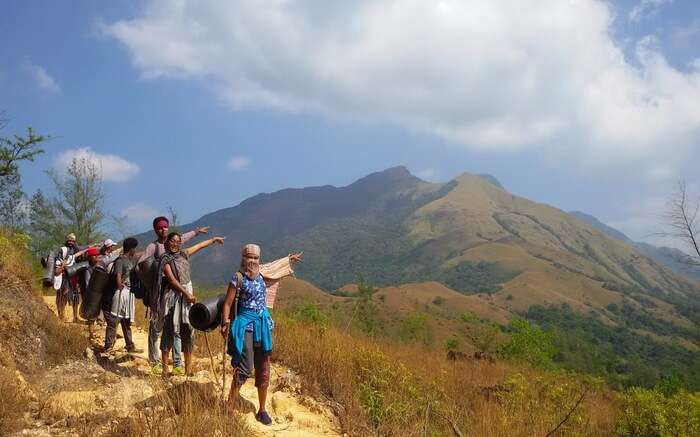 Hiking is another of Coorg's adventurous activities for individuals who enjoy being outside and exploring. Plan a climb to Raja's Seat during your visit to Coorg and enjoy the panoramic views. The location is well-known for its spectacular sunset views, but it is equally worth visiting in the morning.
14. Madikeri Fort
Madikeri Fort is a fascinating heritage structure in Coorg that comes from the second half of the seventeenth century. Within the fort's walls was a palace.
The fort now has a clock tower, a museum, and a park on the grounds. Taking a tour of this fort with your family is one of the greatest things to do in Coorg with family if you're planning a trip with them.
15. Quad Bike
Quad riding is one of the things you must try in Coorg if you enjoy adventurous activities. The best aspect about this activity is that the pathways in Coorg are natural, allowing you to go across the Coorg scenery.
When riding a quad in Coorg, there are steep slopes and paddy fields to maneuver around, which adds to the pleasure and thrill.
Coorg's Best Tourist Attractions
Madikeri or Mercara, Coorg's capital, is a lovely huge hill town in the Western Ghats. The elevation of this hill station is 1452 meters above sea level. The lush greenery, colorful vistas, misty mountains, tumbling falls, dense tropical forest, tea, coffee, and spice plantations made this a nature lover's heaven.
This enchantingly gorgeous region is also known as the "Scotland of India" and the "Kashmir of the South." We've produced a list of the finest locations to visit in Coorg because there are so many attractions in and around Madikeri.
1. Coorg's Abbey Falls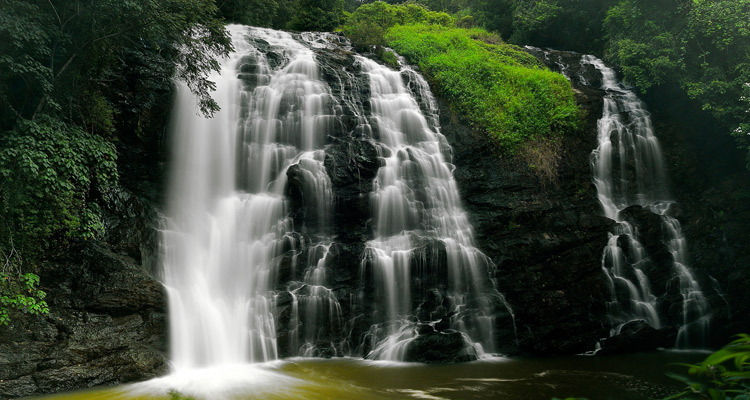 Abbey Falls, also known as Abbi Falls, is located 1 km from Madikeri. The natural splendor of this waterfall is well-known. This is a popular picnic site that was once known as Jesse Falls. Abbey is blessed with beautiful beauty and tranquil calm, as it is nestled amongst the natural greenery of coffee farms and spice fields.
The falls have a natural charm to them. Water cascades into the pool from the rocks. From the road, the thundering sound of the waterfalls may be heard.
The water flow is quite high during the monsoon season and very low during the dry season. There is a hanging bridge here that provides an excellent view of the waterfalls. Early January is the best time to explore Abbey Falls.
2. Coorg's Chiklihole Reservoir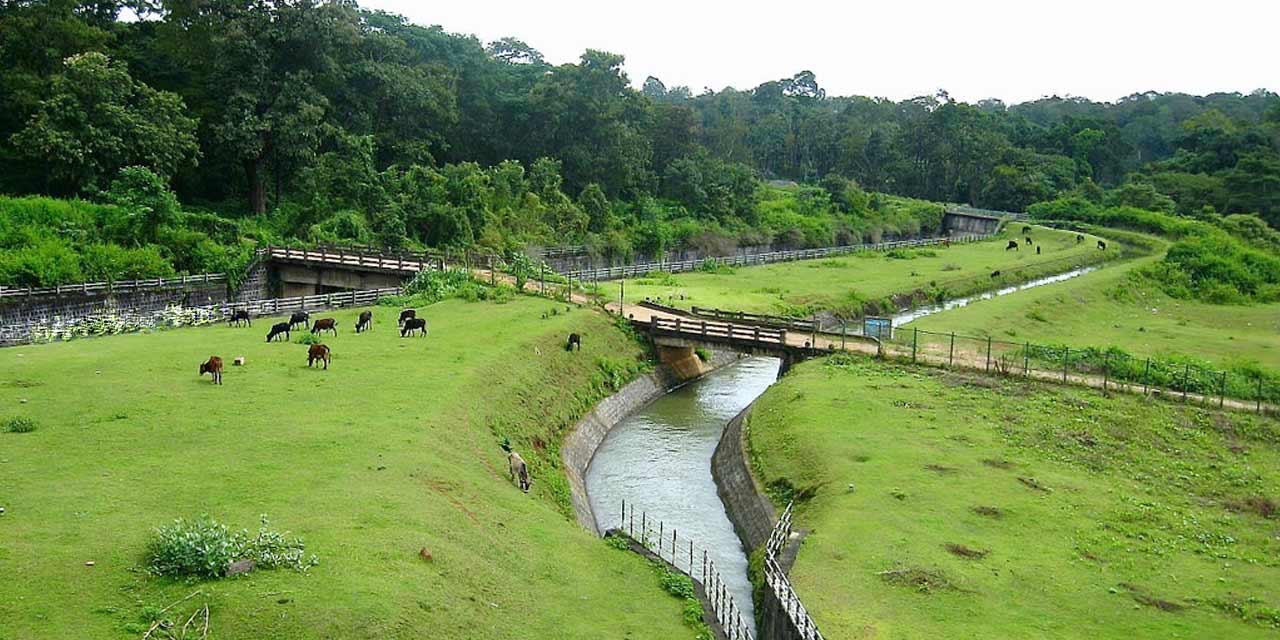 If you have the opportunity, go to Chiklihole Reservoir. The location is away from the normal crowds at popular tourist destinations and provides tourists with a sense of serenity and peace. The rushing water of the dam and the lushness of the surrounding environment creates a relaxing ambiance.
The Chiklihole Reservoir, pronounced 'Chikli-holey,' is located in Coorg district, between the towns of Madikeri and Kushalnagar. The reservoir is about 15 kilometers from Kushalnagar and Madikeri and is the closest settlement to Nanjarayapattana.
The reservoir, which is located on one of the Cauvery River's tributaries, provides guests with isolation and tranquility not found in other tourist destinations.
The deep forest, as well as the diverse flora and wildlife, add to the allure of the location. It's a lovely picnic site and a great place for a family outing. For photographers, this breathtakingly beautiful location is nothing short of a photographer's dream. The sunset view from here is amazing and an experience in and of itself.
Because there are no shops nearby, visitors must bring all of their essentials with them when visiting the reservoir. The greatest time to visit is between June and March when the monsoon and winter seasons are in full swing.
The reservoir is not far from the Dubare forest reserve, which is only a few kilometers distant. The woodland reserve, which provides excellent chances for trekking and nature walks, can also be visited.
3. Coorg's Dubare Elephant Camp
Dubare Elephant Camp is located on the banks of the River Kaveri in Karnataka's Coorg district. The camp is a prominent tourist destination that draws visitors from all over the world, particularly wildlife enthusiasts. It allows visitors to get up close to elephants and participate in numerous elephant-related activities.
The forest department and jungle hotels and resorts collaborated on the Elephant Camp at Dubare initiative. Tourists not only get to interact with elephants, but they also get to enjoy stunning natural settings that include lush foliage and a refreshing environment in which to spend some unforgettable days.
Elephants used to be trained for Mysore Dussehra at this location, but currently, they are largely employed for jungle rides and other purposes. They are educated by naturalists.
Tourists can get information on Elephant history, ecology, and biology from these qualified naturalists. The fact that travelers can participate in various activities with elephants, including a three-hour elephant interaction, distinguishes this camp from others.
They can participate in activities such as giving elephants a 45-minute bath in the River Cauvery and feeding them ragi, jaggery, sugarcane, bananas, and coconuts.
They can then take a 45-minute elephant ride in the bush. Tourist elephant rides are available from 10 a.m. to 12 p.m. and from 4 p.m. to 5 p.m. If you're interested, you can stay in one of the Jungle Lodges & Resorts' cottages. These cottages provide a relaxing vacation in beautiful foliage and a wild environment.
4. Coorg's Harangi Dam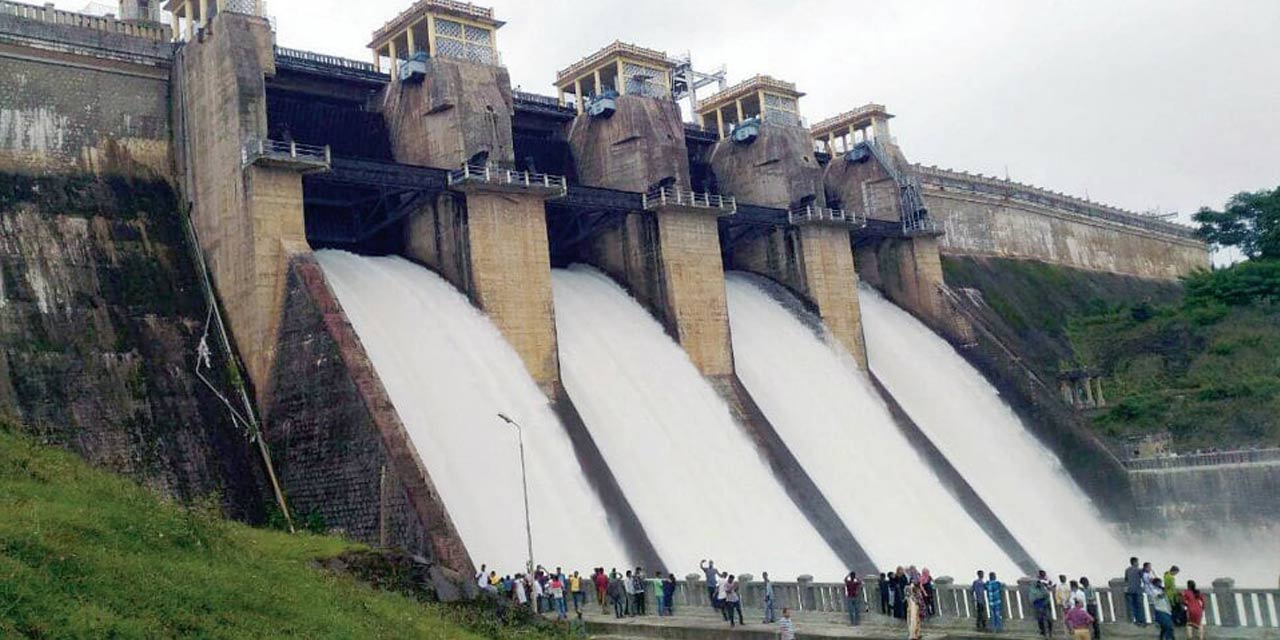 Harangi Dam, a popular tourist attraction in the Coorg District, is located in the Hudgur hamlet near Kushalnagar. Harangi Dam is the first dam erected across the Cauvery River, and it is located on a tributary of the Cauvery River.
It has a height of 47 meters and a length of 846 meters, providing a spectacular view of rushing water. It is a popular picnic site as well as a fantastic place for a family outing where one can unwind and spend some quiet time with loved ones. It is around 36 kilometers away from Madikeri and is easily accessible.
Because it is less congested, it is a nice spot to go if you want some isolation and quiet. So, if you're seeking a departure from the usual tourist traps, Harangi Dam is the place to visit. The tranquil surroundings and mild air add to the pleasure of your stay. The best time to visit the dam is between August and September when the water level in the reservoir is at its highest.
If you want to remain for a night or longer, you can use the lodging options accessible here. Tourists can stay in guesthouses that are available here after making a reservation with the public works department. There is plenty for religious travelers as well as environmental lovers. The Cauvery temple, which is located close to the dam, is well worth a visit.
5. Coorg's Honnamana Kere Lake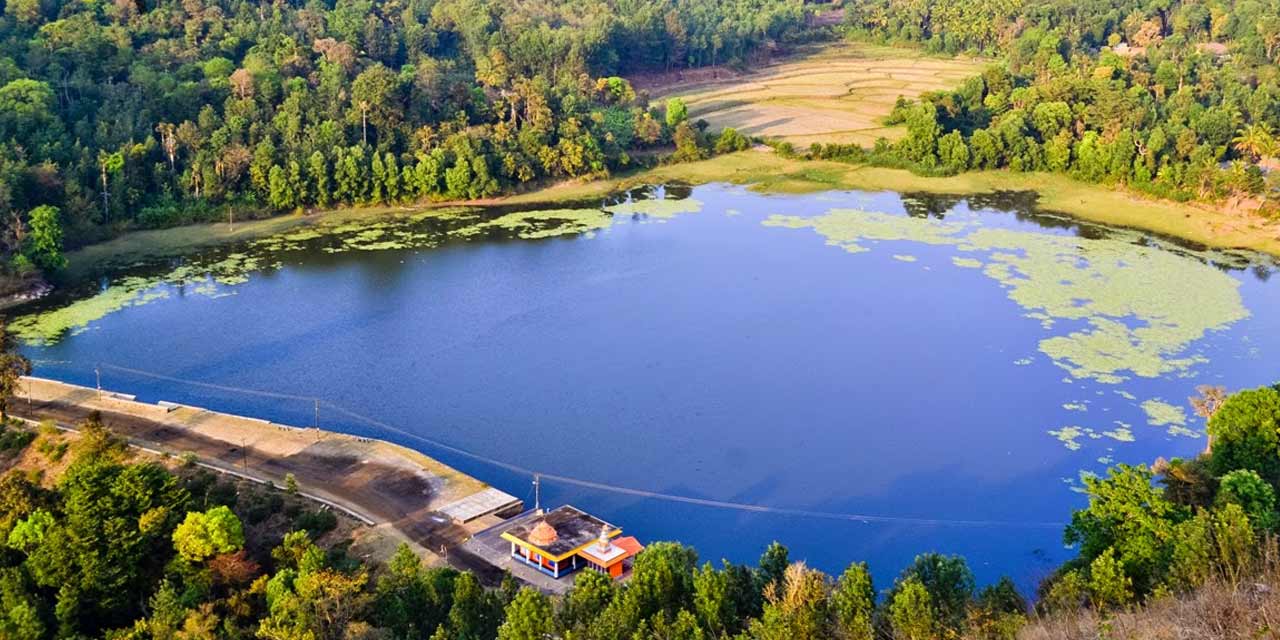 In Coorg, Honnamana Kere (Honnama Lake) is a major tourist attraction. Honnamana Kere, the largest lake in the Coorg region, gets a considerable number of visitors each year. It is situated in Daddamalthe, close to the settlement of Sulimalthe, 6 kilometers from Somwarpet town. Somwarpet is one of Coorg's taluks.
The lake attracts not only nature lovers, but also religious visitors. It is named for the Goddess Honnamma and has religious significance. A shrine dedicated to Goddess Honnamma can also be found near the lake.
Goddess Honnamma is said to have given her life for the good of the people. The temple attracts a large number of tourists, especially during the Gowri Pooja festival. Many newlywed couples come to the lake to make sacrifices and seek the Goddess's graces.
The Lake is also stunningly beautiful from a scenic standpoint. It's a place where people can unwind and spend quality time with their loved ones. Mountains, cliffs, and vast swaths of coffee plantations surround it, as do two hills known as Gavi Betta and Mori Betta. Along with sightseeing, visitors can participate in a variety of outdoor activities such as boating and fishing.
Tourists can explore other attractive tourist destinations in the town of Somwarpet after having a fantastic time at the lake. Mallalli Falls, as well as the Pushpagiri Wildlife Sanctuary, are two destinations worth seeing.
6. Omkareswara Temple, Coorg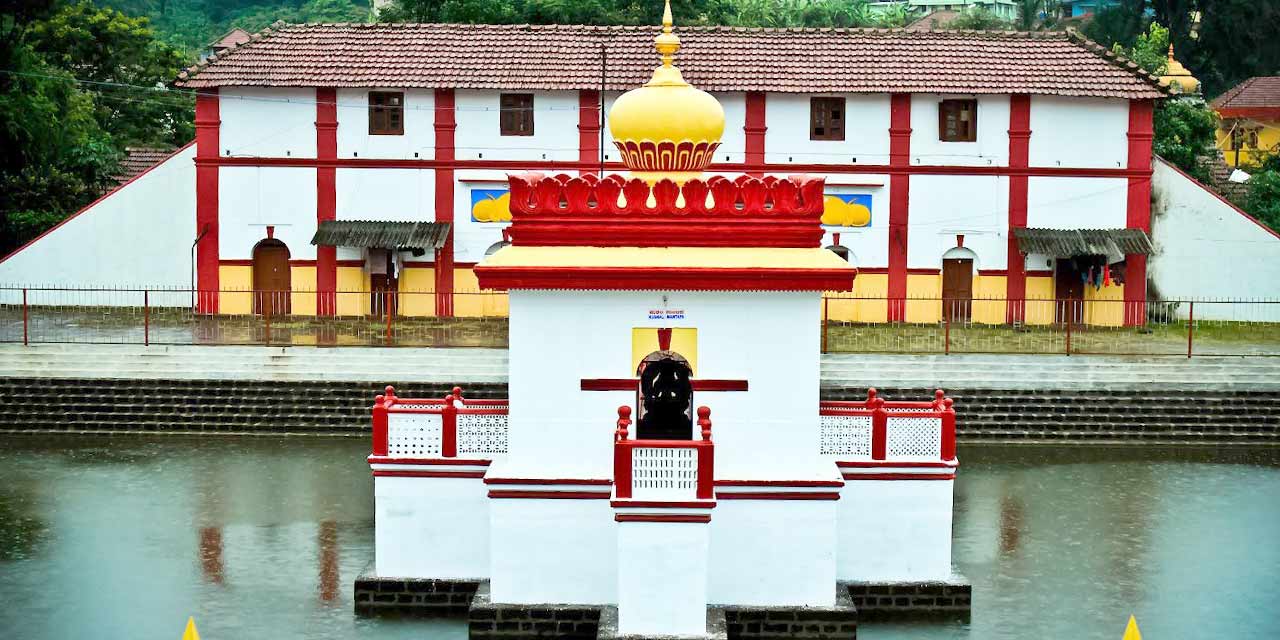 Linga Rajendra erected the famed Siva temple in Madikeri, Omkareswara Temple, in 1820. The temple, which is 1 km from Madikeri, is a work of architectural art.
The temple is built in both Islamic and Gothic styles. In front of the temple lies a beautiful pool. The temple is surrounded by four minarets and has a dome in the center. The Mandap is reached through a pathway. Omkareswara was the name given to the Sivalinga here. Here, ceremonies were done regularly.
7. Coorg's Kotebetta Trek / Peak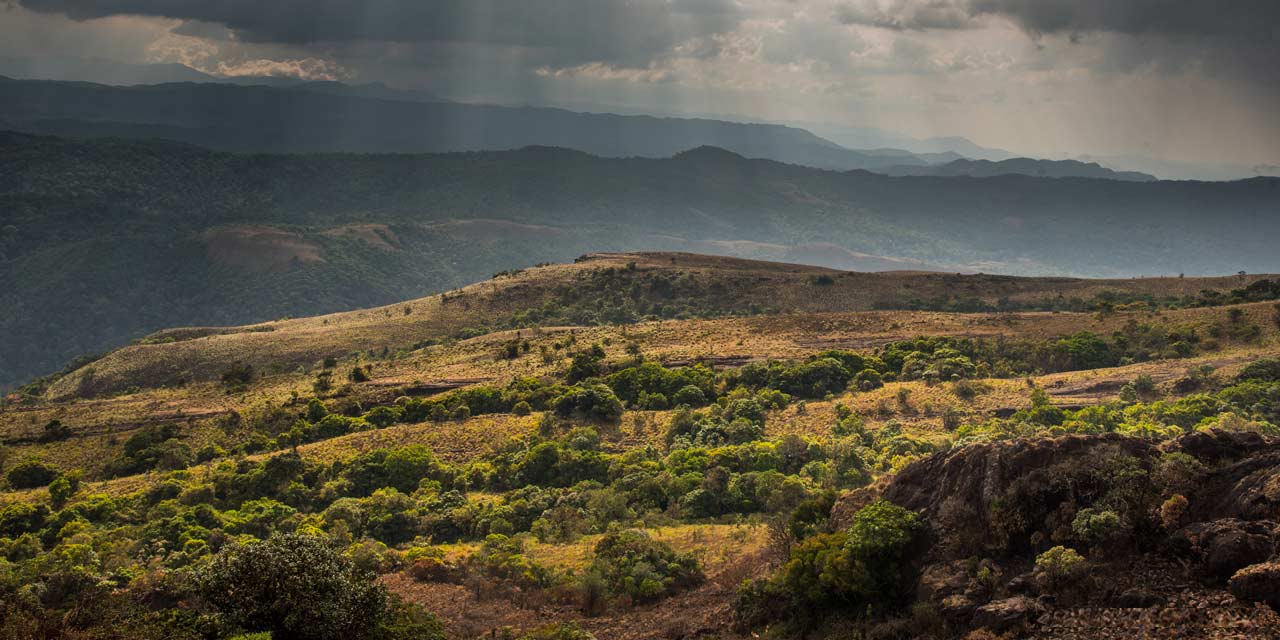 Kotebetta, one of the most famous tourist destinations in Coorg, is the region's third tallest mountain, behind Tadiyandamol and Brahmagiri. Kotebetta is located in Madapur, between the towns of Somwarpet and Madikeri, at a height of roughly 1620 meters above sea level.
It is located on the boundary of the Dakshina Kannada and Coorg districts and is quite easy to visit. Kotebetta gets its name from the word Kote Betta, which means Fort Hill. This is due to the hill's look, which resembles a fort. At the top of the hill, there is also a temple dedicated to Lord Shiva.
Kotebetta provides amazing trekking options for visitors. Hattihole is 10 kilometers away. Tourists begin their journey at Hattihole and end at the summit. On your trip, you will be accompanied by lush flora and, in particular, vast expanses of coffee estates.
Trekking is made even more pleasurable and rejuvenating by the beautiful natural surroundings. The peak provides a breathtaking perspective of the surrounding area, making the climb worthwhile.
The months of October to March are ideal for trekking in Kotebetta. It is not necessary to obtain official authorization from the authorities to go trekking in this area. It is preferable to have a guide with you when going trekking. Carry all necessary equipment, including a torch, appropriate footwear, bug repellents, and a first-aid kit.
8. Coorg's Madikeri Fort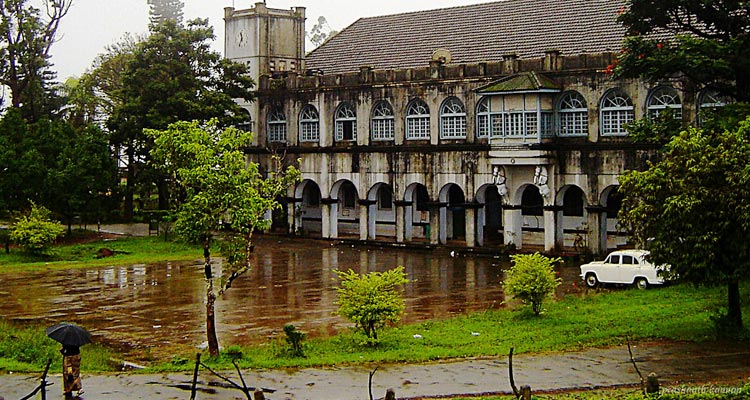 Madikeri Fort is one of the most important tourist attractions in Coorg. Madikeri Fort, which was established by Mudduraja in the last part of the 17th century, was later repaired with stones and bricks by Tipu Sultan, who renamed the fort Jaffarabad. The fort has a long and illustrious history, having witnessed numerous battles and successions. In 1790, it was under the jurisdiction of Doddavira Rajendra.
Later on, King Lingarajendra Wodeyar II rebuilt it. The fort was also rebuilt twice by the British. The British constructed a clock tower and a portico to the fort's compound in 1933 to park the commissioner's car. The Deputy Commissioner's office is now housed in the fort.
Two life-sized elephants fashioned of mortar may be found at the fort's ninth entrance. There was also a shrine dedicated to Virabhadra inside the fort, which was eventually demolished by the British in 1855. They replaced it with an Anglican Church, which is also a remarkable architectural masterpiece.
The Gothic-style architecture of the church is stunning. The church, which is administered by the state archaeology department, is not a museum that displays various types of antiques to tourists. The Mahatma Gandhi Public Library, the Kote Maha Ganapathi temple, and the district prison are all located within the fort. One of the temples that takes part in the Madikeri dasara celebration is Kote Maha Ganapathi.
9. Coorg's Mallalli Falls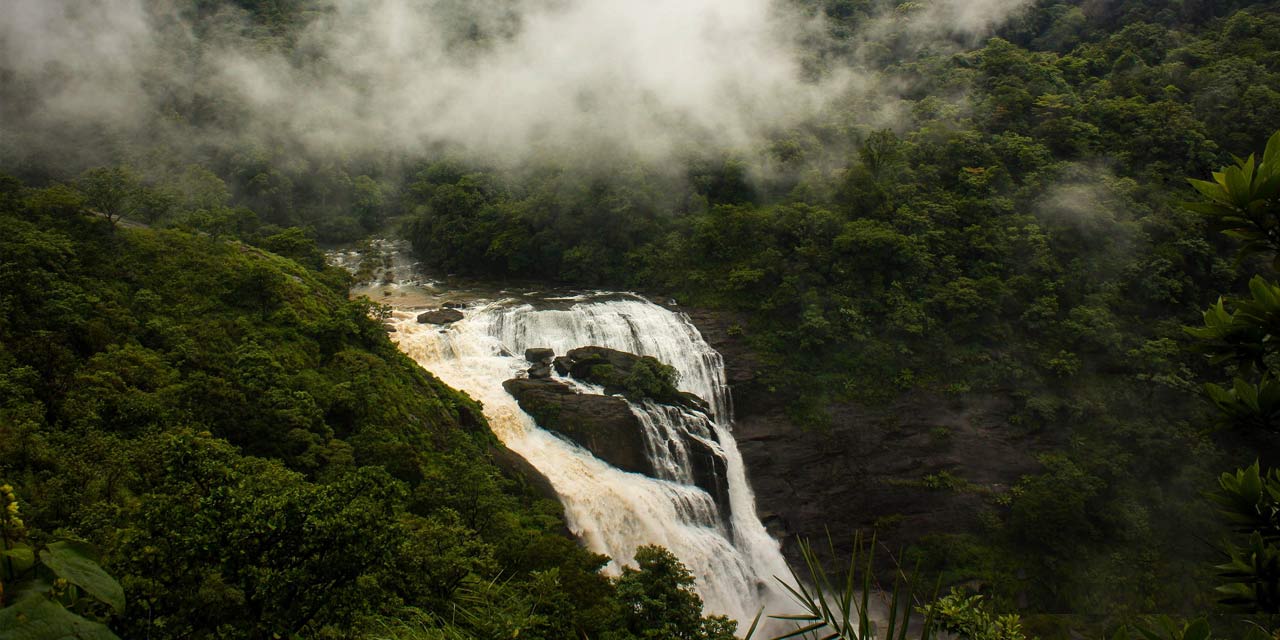 Mallalli Falls, located at the foot of the Pushpagiri Hill Ranges, is one of the best sites to visit in Coorg. It is located in Somwarpet's Bettadahalli Gram Panchayat, which is one of the taluks of the Coorg district. Mallalli Falls are formed when the River Kumaradhara cascades down from the crest of Pushpagiri Peak, which rises to a height of 200 feet.
These falls are also excellent for hiking. Trekkers will come across intriguing paths that are surrounded by stunning scenery, making the experience even more exciting and enjoyable. However, because there are many leeches on the trails, it is best to be prepared while hiking. The falls at the base of Pushpagiri summit, as well as the hike up the peak, add to the whole Coorg experience.
One can hire a private cab from any of the local towns to get to the Mallalli Falls. Somwarpet is 25 kilometers away, and Kushalnagar is 42 kilometers away.
If you don't want to spend money on private transportation, you can use public transportation. You can take a bus from Somwarpet to Hanchinalli, the nearest village to the falls. Bidalli, another village near the waterfalls, is only 2.3 kilometers away and can be accessed from any of the cities.
The monsoon season, which runs from July to December, is the greatest time to view the falls. The falls are more lovely and soothing during the monsoon season since there is more water in them. During this time, even the surrounding foliage is at its peak.
10. Mandalpatti Trek in Coorg
Mandalpatti is about 25- 30 kilometers from Madikeri town and is located 4 kilometers before Abbey Falls. Mandalpatti is becoming increasingly popular among tourists due to its magnificent visual beauty and ideal opportunity to be in the greatest of natural surroundings.
The location provides tourists with some privacy and space away from the regular tourist traps. The location is ideal for those who enjoy trekking, adventure, and the greatest of natural environments.
Trekkers must obtain entrance tickets from the authorities at Mandalpatti's base in order to go trekking. The walk offers breathtaking landscapes as well as a diverse range of flora and fauna. However, there are no facilities along the path. As a result, it is preferable to have supplies such as water and food, as well as other hiking equipment, with you.
Tourists must take the detour road 4 kilometers before the famed Abbey Falls to reach Mandalpatti. Because there is no bus service available to Mandalpatti, one must hire a private automobile. It is best to avoid visiting during the wet season because the route is not fully developed and can be dangerous and slippery.
The months of November to January are ideal for a visit. Even though the area is shrouded in mist at this time of year, Mandalpatti provides a gorgeous environment. The view from the summit of Mandalpatti of the surrounding area will wow you.
11. Coorg's Nalknad Aramane Palace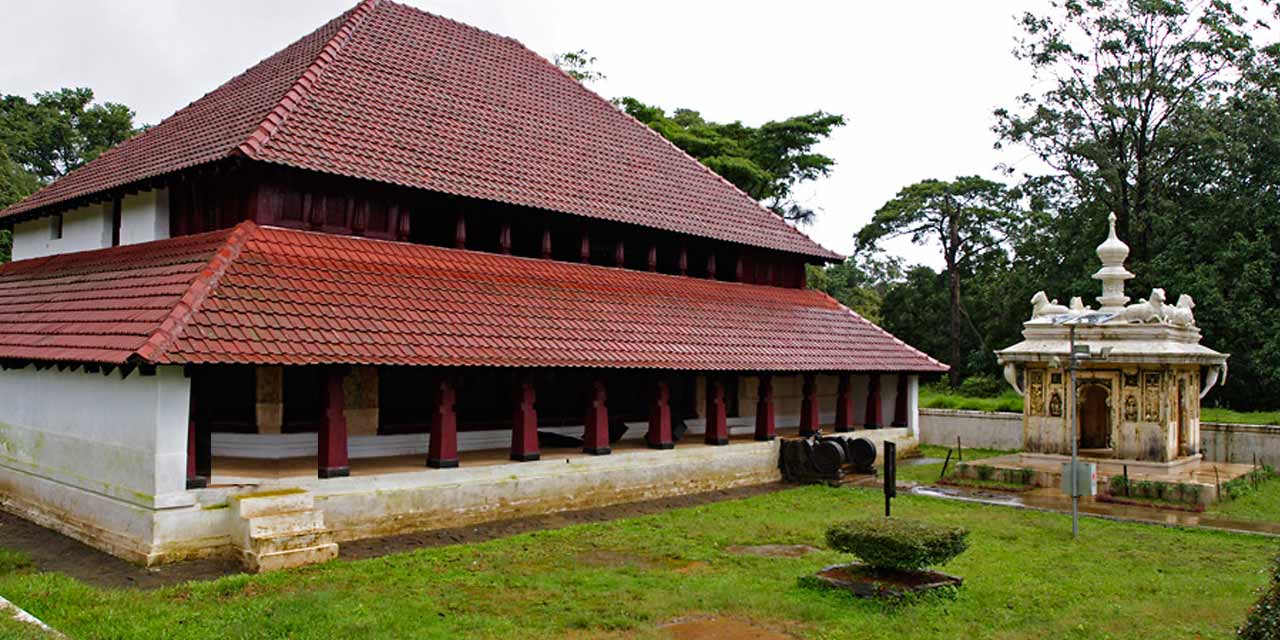 The settlement of Yavakapadi is nearby. Nalknad Aramane is located in the Coorg region's kakkabe town. It is 45 kilometers away from Madikeri town. It was constructed in 1792 by Dodda Virarajendra, who was a Haleri monarch at the time. Dodda Virarajendra married Mahadev Ammaji here in the year 1796.
After escaping the Tippu Sultan's army, he erected the palace, and there is an underground passage inside the palace that runs from here to Madikeri.
The fact that it was situated on a hilltop was also a plus. Many distinct stories about the location exist, each describing a different historical occurrence. During the British invasion of the Coorg area, the last emperor of the Haleri line, Chikkaveera Rajendra, sought refuge.
The palace is a magnificent structure that makes for a fascinating visit. Many old paintings and carvings cover the roofs and walls of the structure. At the location, there is a massive doorway. A Kalyana mandapa, which is a stage for holding marriage rituals, can be found inside the palace.
The place's durbar is charming in its own right. The kings used to hold discussions and attend plays here. Two 'dark rooms' can be found in the palace's basement. These apartments were used by the king as a hideaway.
12. Coorg's Nehru Mantap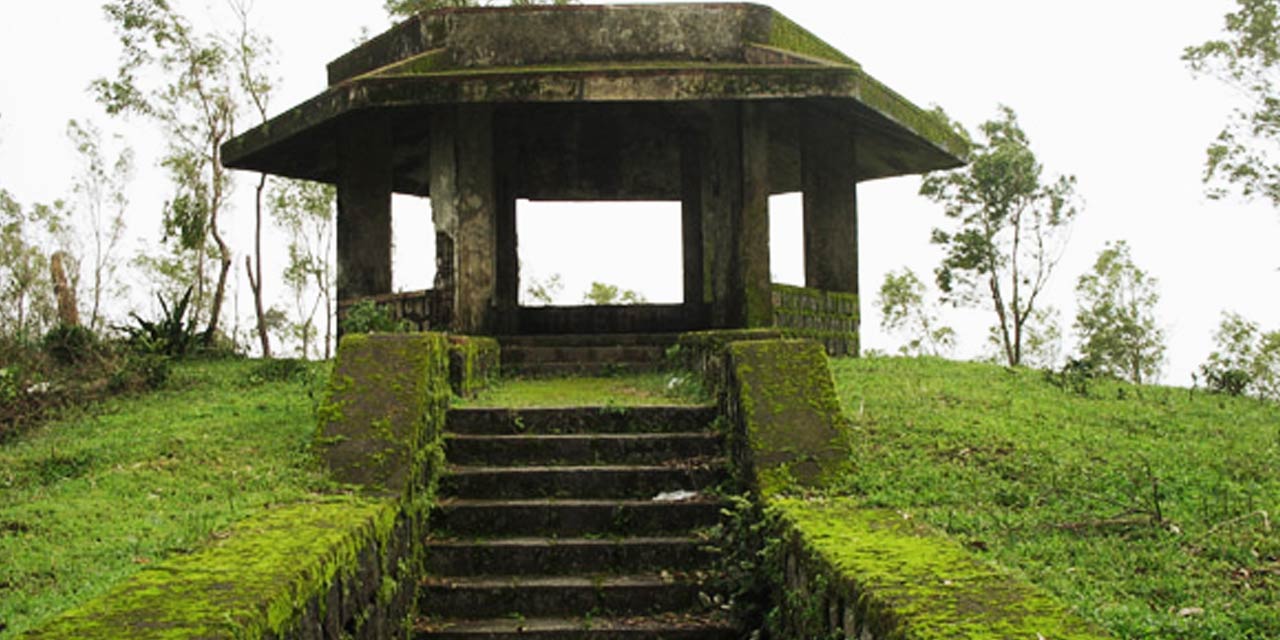 Nehru Mantap, a lesser-known but wonderful tourist attraction in Madikeri, is located near Raja's Seat. The mantap offers a spectacular view of the Madikeri Radio Station. You get a distant perspective of the mountain as well as a stunning glimpse of the town.
The location is well worth a visit, especially for wildlife enthusiasts. Nehru Mantap is the spot to go if you want to spend some time alone or away from the typical crowds and hustle. Enjoy some quiet time in a serene and pleasant environment amidst a refreshing natural setting.
Sunsets and sunrises are particularly gorgeous from this vantage point, and they are well worth photographing. It is rather easy to get to this location, which is situated on a hilltop behind the Madikeri radio station. Climbing roughly 25-30 steps is needed of tourists. It will take you a little more than 10 minutes to walk from Raja's Seat to this location.
The location provides incredible solitude and peace, making it ideal for rejuvenation. It is supposed to be a great area for artists who may sit here and develop their work while being surrounded by nature and no one else. Apart from these, Raja's Seat, Madikeri Fort, Omkareshwara temple, and Abbey Falls/Abbi Falls are all major tourist attractions in Madikeri.
13. Coorg's Padi Iggutappa Temple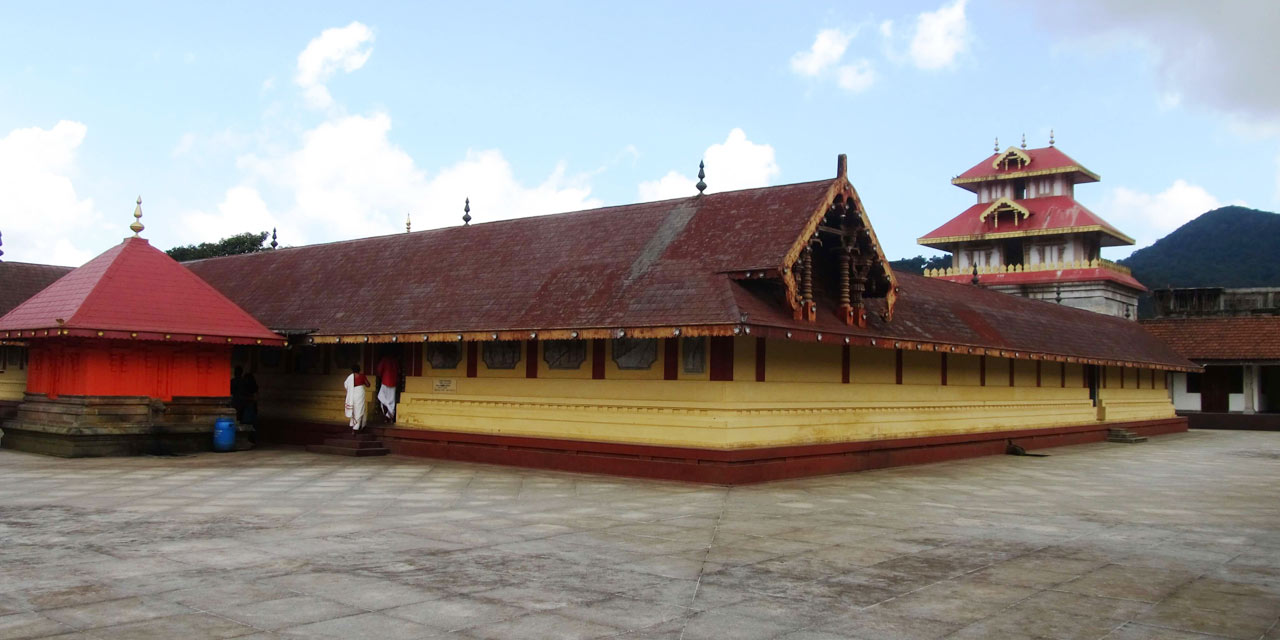 The Padi Igguthappa Temple can be found in Kakkabe. It is one of the most ancient temples and utmost importance among Kodavas, having been built by Lingarajendra in the year 1810.
The temple is 45 km from Madikeri city and towards Virajpet, it is located in the Igguthappadevara Betta in Aiyengeri forest. The temple, which is dedicated to Lord Iguthappa, another name for Lord Subramanya, is architecturally similar to Keralite temples.
In Kodava culture and traditional rituals, the temple is very important. According to the Kodavas, the temple has mystical abilities and grants followers' requests. An annual celebration takes place during March. Devotees gather during the occasion to give special prayers to the deity.
The God is transported to the top of Mallama Betta Hill and afterward restored in the temple in a procession. During the festival, several ceremonial dances and performances are also performed.
At the Igguthappa Temple, devotees balance themselves against fruits, sugar, coconuts, rice, and other items before making an offering. The temple is also very important during the Puthari festival, which is a harvest festival. Private transport services are available to get to the temple.
Numerous private buses go from Madikeri, Virajpet, and Napoklu. However, if additional comfort is required, a private vehicle can be arranged.
14. Coorg's Raja's Seat
Raja Seat, located in Madikeri, is a prominent tourist destination that provides visitors with breathtaking visual beauty and an enticing environment. Raja's Seat, which means "Seat of the Monarchs," was formerly a favorite hangout for Coorg's kings.
They used to come here to gain a beautiful view of the valley and to refresh themselves. The sunset and sunrise views from Raja's seat are breathtaking and should not be missed by visitors. Golden sunlight shining through the lush vegetation creates stunning photographic opportunities. The surroundings are quite pleasant.
The tranquility of the area, as well as its visual splendor, make it an ideal location for morning and evening strolls. Imagine being greeted by lush foliage while being caressed by a pleasant breeze. At Raja's Seat, all of this is achievable. Tourists will enjoy an unforgettable experience here.
The area is now a fantastic park. Gandhi Mantap, to the left of the park, is where Mahatma Gandhi's remains are housed. It's also ideal for a family outing because it has a play area for kids.
There is also a toy railroad that circles the Raja Seat. This is something that appeals to both children and adults. In addition to a lovely trip, tasty snacks are available on the train. The park charges a minimum entry fee of Rs. 5/- each person to enter. Other tourist attractions in Madikeri include the Madikeri Fort, Omkareshwara temple, and Abbey Falls/Abbi Falls.