Gujarat is India's sixth-largest state, with a 1,600-kilometer coastline in the western section of the country (longest in India). It is the country's 9th most popular tourist destination, with 54.4 million domestic and international visitors in 2018.
From the Great Rann of Kutch to the hills of Saputara, Gujarat is blessed with natural beauty. Gujarat is the only spot in the world where you may see pure Asiatic lions. Hindu craftsmanship blended with Islamic architecture throughout the Sultanate's reign, resulting in the Indo-Saracenic style.
This is how many structures in the state are constructed. Shrimad Rajchandra, Mahatma Gandhi, and Sardar Vallabhbhai Patel, three prominent figures of India's freedom movement, were born there. In recent years, the Statue of Unity has become one of Gujarat's most popular tourist attractions. It is the world's highest statue.
Gujarat Tourism has appointed Amitabh Bachchan as its brand ambassador. The celebrity Amitabh Bachchan's 'Khushboo Gujarat Ki' campaign has increased tourism in Gujarat by 14% each year, more than twice the national growth rate.
Ahmedabad, with its central location and well-connected international airport, is regarded as an ideal hub for visiting all of Gujarat's destinations. Ahmedabad, Vadodara, Surat, Rajkot, Jamnagar, Bhavnagar, Porbandar, Kandla, and Bhuj all have airports. Gujarat is one of the country's most industrialized states.
Gujarat is home to many Indian and international businesses, and the state has experienced double-digit GDP growth over the last decade. It's also known as India's "Growth Engine."
Gujarat's government hosts a biennial investors' event called Vibrant Gujarat. The summit is billed as a venue to study and explore business potential in the state, and it is aimed at bringing together business leaders, investors, corporations, thought leaders, policymakers, and opinion-makers.
For many states, it has become a model of economic success. Ahmedabad is ranked 7th in India with an annual GDP of US$59 billion, according to a PricewaterhouseCoopers analysis of the top 10 Indian cities by GDP in 2009.
Gujarat International Finance Tec-City is a city in the planning stages in Gujarat. It will be built alongside the Sabarmati River, 12 kilometers north of Ahmedabad and eight kilometers south of Gandhinagar, the state's political capital. It will be constructed on a 500-acre plot of land.
Its primary goal is to provide high-quality physical infrastructure so that finance and technology companies can transfer their operations from Mumbai, Bangalore, Gurgaon, and other areas where infrastructure is either unreliable or prohibitively expensive.
Gujarat is home to a diverse collection of historic forts, palaces, mosques, temples, and other sites significant in India's war for freedom. To keep tourists close to Gujarat's vivid history, several of these palaces and forts have been turned into heritage hotels.
For example, Vadodara's Laxmi Vilas Palace is said to be the world's largest private residence at the time, measuring four times the size of London's Buckingham Palace. These areas are underdeveloped and have a lot of growth potential. Gujarat also contains world historic sites such as Lothal, Dholavira, and Champaner.
Gujarat is well-known for its diverse cultural heritage. Gujarat's folk arts are an important element of the state's culture. It also keeps alive the rich tradition of music, dance, and drama. Bandhani, Patan patolas, Kutchi work, Khadi, bamboo craft, block-printing, embroidery, woodcraft, metal crafts, pottery, namda, Rogan painting, plethora, and many other handicrafts are among the various handicrafts available. Gujarat's culture has been influenced by Arabs, Portuguese, Dutch, Mughals, British, and Parsis.
Gujarat is home to numerous devotional centers and temples, including Dwarka, Dakor, Radha Damodar Temple, Junagadh, Ambaji, Palitana, Mahudi, Shankheshwar, Hutheesing Jain Temple, Somnath, Girnar, Shamlaji, Bahucharaji, Pavagadh, Kabirvad, Sun Temple, Modhera, Akshardham (Gandhinagar), Shri Swaminarayan Kutch's Ashapura Mataji Madh, Bhuj's Swaminarayan Mandir, Narayan Sarovar, Tulsi Shyam, Sattadhar, Lojpur, and Junagadh's Buddhist Cave Groups, among others.
The Svetambara Jain community considers the Palitana temples of Jainism atop Mount Shatrunjaya, Palitana, to be the holiest of all pilgrimage sites. Palitana is the only mountain in the world with over 900 temples. The Royal Orient Train is an Indian luxury tourism train that travels between Gujarat and Rajasthan, stopping at some of the most popular tourist destinations in both states.
The train began in 1994-95 as a cooperative initiative between the Gujarat Tourism Corporation and Indian Railways. The train has 13 carriages, each named after one of Rajputana's former kingdoms. Passengers can enjoy the amenities of a five-star hotel on board the coaches. Cabins are decorated in a palatial manner and include large bathrooms.
Rajasthani, Gujarati, Indian, Chinese, and continental cuisines are available at multi-cuisine restaurants. The Royal Orient train also features a bar and a lounge in each coach where travelers can read books and periodicals, watch television, listen to music, and socialize with other passengers.
An intercom, channel music, TV, DVD system, and a massage/beauty parlor are among the other amenities. The Royal Orient offers a 7-day/8-night package that takes you to some of Rajasthan's most famous heritage tourism destinations. The train travels from Delhi Cantonment to Chittorgarh, Jaipur, Udaipur, Ahmedabad, Mehsana, Junagarh, Veraval, Sasan Gir, Mandvi, Palitana, and Sarkhej, with stops in between.
Gujarat is also home to the shehenshah e Gujarat Hazrat Syed Ali Meera Datar shrine, which is a government heritage monument.
The shrine of Hazrat Syed Ali Meera Datar Baba is one of the few in India where thousands of people of all faiths come to seek blessings regularly. Shrine devotees think that the spiritual force of the shrine can solve any difficulty or pain in human existence. The shrine is located in Unava(Mehsana), a tiny town about 90 kilometers from Ahmedabad.
Gujarat is home to some of the world's most endangered species as well as a diverse range of animals and plants. Asiatic lions, blackbuck, bears, monkeys, nilgai, paradise flycatcher, chinkara, dolphins, whale sharks, and migratory birds such as flamingos, pelicans, and storks are among the fauna. Khair, sadad, timru, babul, salai, khakro, ber, asundro, and bordi are among the flora. There is also a national park in the state.
Gir National Park, Gulf of Kutch Marine National Park, Vansda National Park, Nalsarovar Bird Sanctuary, Kutch Bustard Sanctuary, Purna Wildlife Sanctuary, and Blackbuck National Park, Velavadar are among the sanctuaries. The Gujarat Tourism Department, in collaboration with the Gujarat Forest Department, maintains several campsites to encourage ecotourism in the state.
How To Reach Gujarat
If you're considering a holiday in Gujarat, you're probably thinking about how to get there most cost-effectively and quickly possible. Because the state is so charming and a popular tourist destination for visitors from all over the world, it is well connected to all of the country's major cities as well as a few international destinations.
Because of the state's excellent transportation links, you may simply go to it by plane, rail, or road, according to your preferences. Taxis and buses, as well as other local transit choices, are readily available. Gujarat, one of India's most beautiful states, is a country of many wonders, and if you want to see everything there is to see, come here for a long holiday.
1. By Air
Gujarat has 17 airports, making it one of the most popular tourist destinations in the country. Ahmedabad's Sardar Vallabhbhai International Airport has good connections to major cities including Delhi, Mumbai, Kolkata, and Chennai. Ahmedabad is 9 kilometers away from this airport.
Since daily and weekly operating planes fly in and out of Gujarat regularly, many other sections of the state, such as Bhuj, Vadodara, Surat, Bhavnagar, Junagarh, and Rajkot, are accessible. Jet Airways, Indigo, Emirates, Spice Jet, Singapore Airlines, and Air India are among the 14 airlines that fly to and from the airport.
The quickest way to get to Gujarat is to fly from Mumbai's Chhatrapati Shivaji Maharaj Terminus Airport to any of Gujarat's states, including Porbandar, Surat, Ahmedabad, and Vadodara. Take a flight to Surat, which will take roughly 55 minutes. Domestic flights are operated by Terminal 1 at Sardar Vallabhbhai International Airport, while international flights are operated by Terminal 2.
This airport is outfitted with first-rate facilities and amenities to meet your every need while you're on the move. While you wait for your flight, there are several options for entertainment. The airport has it all, whether it's shopping or dining. You can use the cab, taxi, or bus services that are waiting outside the airport when you arrive. You can also take the direct Metro rail link from the airport to the city center of Ahmedabad.
Flights to Dubai, Muscat, Kuwait, Abu Dhabi, New Jersey, London, Doha, and Singapore are accessible for international travel. It's best to book your tickets far ahead of time, especially if you're traveling during high season.
2. By Railway
Gujarat and some of its towns are served by rail from major cities. Trains run to and from key cities in Gujarat, including Delhi, Uttar Pradesh, and Punjab. Surat, Ahmedabad, Rajkot, and Vadodara have some of the busiest railway stations. Porbandar, Surat, Gandhidham, Vadodara, Veraval, Rajkot, and Ahmedabad are some of the other prominent railway stations in Gujarat.
The Railway Station in Ahmedabad connects you to various sections of Gujarat as well as significant cities across the country. The Delhi-Mumbai railway route passes through the Vadodara railway station. Ahmedabad has rail connections to Jaipur, Jodhpur, Udaipur, Ajmer, and Jaisalmer. Ahmedabad connects you to Pune, Mumbai, Nagpur, Nasik, Kolhapur, and Nasik via rail if you are traveling to or from Maharashtra. As soon as you exit the train station, buses, taxis, and cabs are available.
3. By Road
Gujarat is well connected to all of the country's main cities because of its extensive network of national and state highways. Multiple bus routes are also available from neighboring states like Rajasthan, Maharashtra, and Madhya Pradesh. To go to and from Gujarat, you can take local buses or nice Volvos.
These two-lane and four-lane highways are a blessing to drive on if you enjoy road vacations. Traveling to Gujarat from Mumbai is a rather comfortable sixteen-hour drive. To get to Gujarat, you can hire a car or a cab, or take one of the municipal or private buses. Consider your options carefully before deciding on a form of transportation, keeping your budget, comfort, and safety in mind.
When is the best time to visit Gujarat?
Gujarat, like any other vibrant Indian region, has much to offer the eager traveler, opening up its treasured past and bejeweled attractions to all who visit. Gujarat is best visited between November and February if you are planning a trip to Western India.
The weather is pleasant, and the warm sun is a welcome companion as you travel from one tourist attraction to another in the chilly air. Gujarat is a wonderful place to visit in the winter.
The monsoon season, which runs from July to September, is the next best time to visit Gujarat after winter. The land is a riot of color, and strolling along lush green roads while taking in the state's beauty is a joy. Be aware that the monsoon has a history of causing havoc. It's possible that if it's raining heavily, you won't be able to go out and explore to your heart's content.
We do not recommend visiting Gujarat in the summer. The heat can be unpleasant at times, and you may not want to leave your air-conditioned hotel room. There is plenty to see and do in Gujarat regardless of the season you come. Just make sure you arrive with enough time to see all of the major natural and man-made sites.
1. The High Season (November-February)
Gujarat's winter lasts from November through February, with temperatures ranging from 12°C to 29°C. The weather in Gujarat during the winter is pleasant enough for you to roam around and take in the sights. The coast and beaches may be chilly in the winter, but that shouldn't stop you from exploring the rest of Gujarat.
2. Off-season (March-June)
Gujarat's summer is a punishing season that lasts from March to June. The weather is harsh, with temperatures ranging from 29 to 41 degrees Celsius. Sightseeing may be tough because it is difficult to venture out in the scorching sun.
Instead, take a hill station holiday to Saputara for a relaxing and enjoyable experience. You can also go temple-hopping in Dwarka and Vadodara at night to experience the cities.
3. The Season of the Shoulders (July-September)
Gujarat's monsoon season begins in July and lasts through September. The weather is comfortable, with temperatures ranging from 27°C to 35°C, giving it a welcome change from the sweltering summer. Gujarat's monsoon weather is spectacular. Soak up the rain-washed land with your senses.
Sit in front of the window and watch the rainfall on the parched ground or flood the already seething sea. Travel to the wildlife sanctuary to enjoy the rain in Gujarat's deep woods. When you're finished, return to a fantastic hot Gujarati lunch.
4. Gujarat in Winter (November to February)
If you don't mind a little chill in the air, you'll like the winters in Gujarat. The greatest time to visit Gujarat is in the winter when the weather is mild enough for sightseeing and walking. With a minimum temperature of 12 degrees and a maximum temperature of 29 degrees Celsius, you'll never be uncomfortable. What brought you to Gujarat in the first place? Perhaps you're drawn to Gir National Park because of its fauna.
Or are you hoping to attend one of the many colorful and exciting festivals? Gujarat also boasts several archaeological sites for those interested in history. Winter is the finest time to visit Champaner Pavagarh Archaeological Park and Dholavira, to name a few. In the winter, Gujarat tourism is at its peak, making it the greatest time to schedule sightseeing tours and cultural excursions in the state's major towns and beyond.
Rann Utsav, Gujarat's largest winter festival, is a much-anticipated and treasured celebration. The festivities are a celebration of life and the Kutch and Gujarati people's rich culture. If you visit Gujarat in the winter, you cannot miss the beautiful colors and vivid energy of the desolate regions of the Rann, which is celebrated for almost two months.
The International Kite Festival is another well-known January event. The degree of enthusiasm that the place bursts in will amaze you. Shops and offices close, and people flock to rooftops, roads, and open spaces to fly kites and celebrate Uttarayan, also known as Makar Sakranti.
There are significant challenges and competitions among neighbors and communities, so it's not simply a pleasant sport. When you've had your fill of kites and Rann Utsav, head to Modhera for a three-day dancing festival at the Sun Temple of Modhera.
Gujarat, with its beautiful weather as a backdrop, serves up a feast of glorious festivities and a rich culture. Gujarat may appear to enjoy pleasant winters. However, it can get chilly at night, so bring plenty of woolens. Make private transportation arrangements ahead of time. Long distances and a lack of public transportation can make getting around difficult, particularly during the tourist season.
5. Gujarat in Monsoon (July to September)
Gujarat is particularly lovely during the monsoon season. While the amount of rainfall varies by location, it does satiate the land's thirst, leaving it wonderfully beautiful. The rain is moderate to heavy over the state, and it comes and goes with a lot of randomnesses.
Rainfall is scarce in the Gulf of Cambay and the Saurashtra region. The Rann of Kutch, a salt desert, is experiencing water shortages as a result of low rainfall, and Gujarat's northern regions receive the most rainfall. Gujarat is less congested during the monsoon, so you can enjoy some of the sights and destinations without being pushed around by other tourists.
When visiting Gujarat during the monsoon, make sure to visit Ahmedabad, Vadodara, Surat, Dwarka, Saputara, Jamnagar, and Rajkot.
You'd imagine that the monsoon implies a drenched land and a restrained population. Gujarati celebrations and activities, on the other hand, continue throughout the year. Gujarat Tourism hosts events like the Monsoon Festival to educate visitors about the state's culture and heritage.
To indulge in adventure sports, travel to the picturesque highlands of Saputara in Gujarat. Explore the state's arts and crafts markets, watch one of the many cultural acts, and sample some delectable Gujarati cuisine. The Tarnetar Fair is a matchmaking event that attracts a large number of Gujarati young men and women.
Gujarat, on the other hand, has been attracting crowds from all over the world for years, and its popularity is only growing. Its highlights include traditional music, dancing, art and crafts, and costumes.
The celebration, which takes place in Tanetar hamlet near Thangadh over three days, offers something for everyone in the family.
The festival that everyone has been waiting for has finally arrived! Navratri fulfills all of its promises and more. This 9-day dance and tradition festival offers a glimpse into Gujarat's vibrant and colorful culture. If you happen to be in Gujarat during the Navratri season, take advantage of the opportunity to participate. The monsoon provides a pleasant break from the heat of the summer, transforming the desert into a lush green wonderland.
You'll be able to enjoy all of the tourist attractions more because there will be fewer tourists around. Carry an umbrella with you at all times since you never know when it will rain. Avoid staying in a tented camp at Tarnetar because the prices are exorbitant. Instead, look for homestays.
6. Gujarat in Summers (March to June)
If at all possible, avoid visiting Gujarat during the summer. The weather is hot, dry, and humid, making the daytime very unpleasant. The nights aren't much better – the temperature may be cool, but the humidity is oppressive. Gujarat, on the other hand, has only one hill station, Saputara, to which you can retreat.
It features lakes, a variety of activities, and a lovely climate all year. Be warned: it's teeming with people, both residents, and visitors. One would think that the inhabitants of Gujarat would stay indoors during the sweltering summer months. However, the sheer number of festivals taking place at this time will take your breath away.
The Dang Darbar Fair is a must-see for anyone interested in learning more about Gujarat's tribal lifestyle and culture. It is hosted in the Saputara highlands, where the beautiful green forests give the ideal setting for immersing oneself in the history of the land's first inhabitants. Holi, India's celebration of colors, is best experienced during the summer. It is celebrated in Gujarat with the same zeal as it is elsewhere in India.
It's the start of the agricultural season, which means it's time for celebrations and good cheer. Bonfires are lighted the night before to symbolize the triumph of good over evil. The occasion is marked with dancing, music, and plenty of delectable cuisines.
Another prominent tribal celebration in Gujarat is the Chitra Vichitra Fair, which is named after King Shantanu's sons, Chitravirya and Vichitravirya. The festival is held in Gunbhakhari, which is located at the confluence of the rivers Sabarmati, Akul, and Vyakul.
The wonderfully decorated temple, as well as the people dressed in traditional garb, are a sight to behold. The famed mango festival in Gujarat is not to be missed. You can't afford to miss the festival hosted at Sasan Gir, Junagadh, with over 1000 varieties of sweet and juicy mangoes to savor.
Although the area is scorching, it compensates with gorgeous festivals and colorful celebrations. It will also be slightly less busy than during the winter tourist season. The weather can get quite dry.
Continue to hydrate yourself. When going out during the day, wear sunscreen and bring an umbrella. The summer sun may be scorching. Always have your camera on hand. Festivals and vibrant costumes are in full swing this time of year. Photographs taken in direct sunlight will be breathtaking.
Best Places to see in Coorg (2022)
Gujarat's Best Tourist Attractions
Winter marks the start of the year's busiest tourist season. With the holiday season in full swing around the world, travelers from all over the world flock to India with their families and friends to explore and discover the country's rich heritage, culture, and natural diversity.
Gujarat is a popular tourist destination for winter tours in India. We bring you the best places to visit in Gujarat to make the most of your winter holidays in India, with Runn Utsav in the offing and pleasant weather making it an ideal time to explore the immense cultural and archaeological wealth.
Gujarat can be visited for a variety of reasons. From indigenous dinosaur fossil fields to Gir, the only home of Asiatic Lions outside of Africa, to Neolithic cave paintings to the stone masonry of a succession of modern and ancient civilized architecture.
Gujarat has it all, from the wonders of Jain architecture to the Hindu temples of Somnath and Dwarka rising out of the Arabian Sea, to the seasonal island of Kutch, which turns into a hardened white salt desert in the summer and where local artisans weave India's finest textiles while battling the inhospitable elements of Little Rann.
With so many options for vacationing in Gujarat, we've compiled a list of the top ten places to visit in Gujarat. Please keep in mind that the best time to visit Gujarat is between October and March when the weather is mild.
1. Junagadh
Junagadh, which translates to "Old Fort," is a fortified city steeped in history. Junagadh, which is dotted with Mosques, Hindu and Buddhist temples, and other ancient sites, was controlled by the Babi Nawabs till India's freedom.
Surprisingly, the Nawab of Junagadh intended to support Pakistan after partition, but because the majority of the population was Hindu, he had little choice but to migrate to Pakistan.
Junagadh is largely ignored by tourists and is primarily used as a base for visiting Gir National Park. However, this city is home to several magnificent historical landmarks. One such example of excellent architecture is Mahabat ka Maqbara. Here's where you'll also locate an Ashokan Rock Addict. Several Jain temples are also close to the city, built on the peaks of Girnar Mountain, and accessible through flights of stairs.
2. Ahmedabad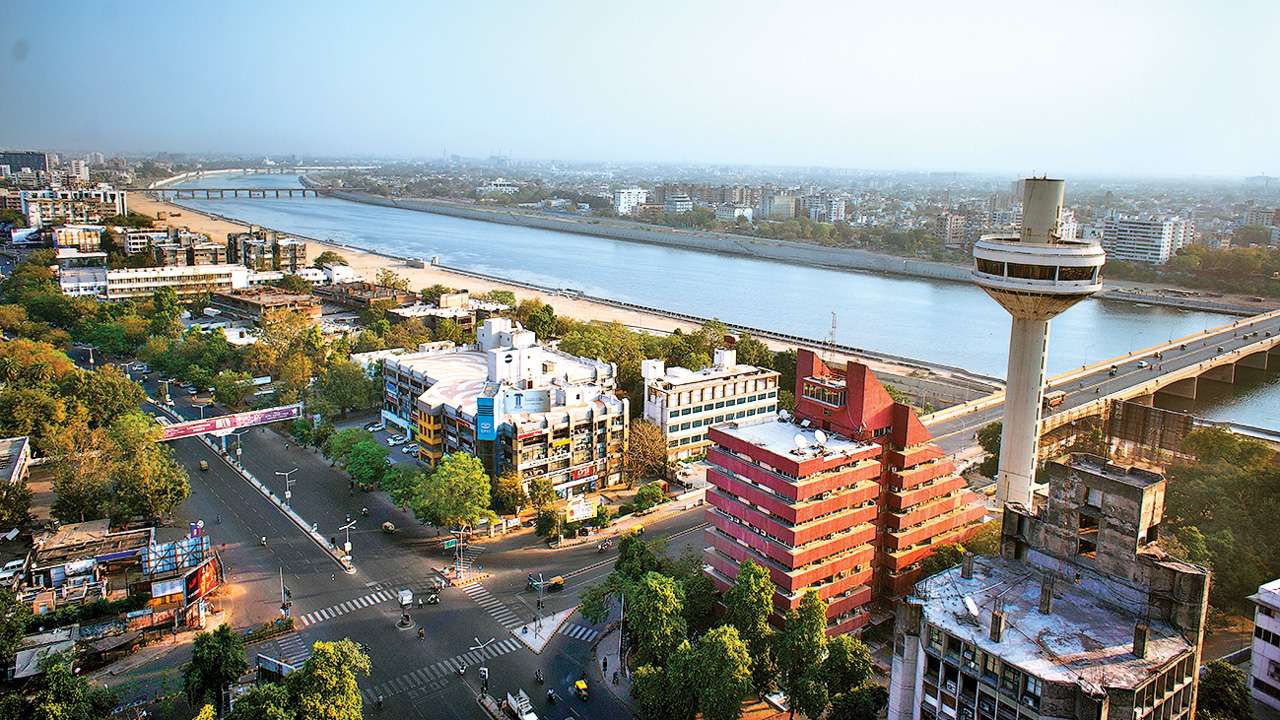 Ahmedabad, India's fifth-largest city, is Gujarat's commercial center and one of the greatest destinations to visit in the state. The city is known for its rich culture, beautiful architecture, and vivacious people. King Karnadev created Ahmedabad in the 11th century, and it was known as Karnawati until Sultan Ahmed Shah attacked the kingdom in 1411 and renamed it after himself.
Bhadra Fort, well-planned ancient structures, mosques, and lakes are among Ahmedabad's tourism attractions. Along with the nearby modern marvel Akshardham Temple in Gandhinagar, Mahatma Gandi's ashram, known as Sabarmati Ashram, is one of the city's primary draws.
The city's historical treasures include Bhadra Fort, Jhoolta (shaking) Minarets, and Teen Darwaza. The green Kankaria Lake and Vastrapur Lake are natural wonders.
Visit Ahmedabad during one of the city's big festivals for a cultural immersion experience. The most well-known festivities here are Uttarayan (Makar Sakranti) and Navratri, which are both celebrated with fervor and gusto. The International Kite Festival is held here with great enthusiasm, and kite flyers from all over the world come to show off their skills.
Ahmedabad is also known for its delectable food. Because of the white revolution and the number of dairy products in the state, the city is known for its ice cream.
The locals' fondness for sweets is well-known. Dhokla, Khandvi, Srikhand, Haandvo, and Bhajiya are some of the Gujarati delicacies. For foodies, Khau Galli in Law Garden and Khan Pan Bazaar in Manekchawk are the places to go for real Gujarati flavors.
3. Baroda/Vadodara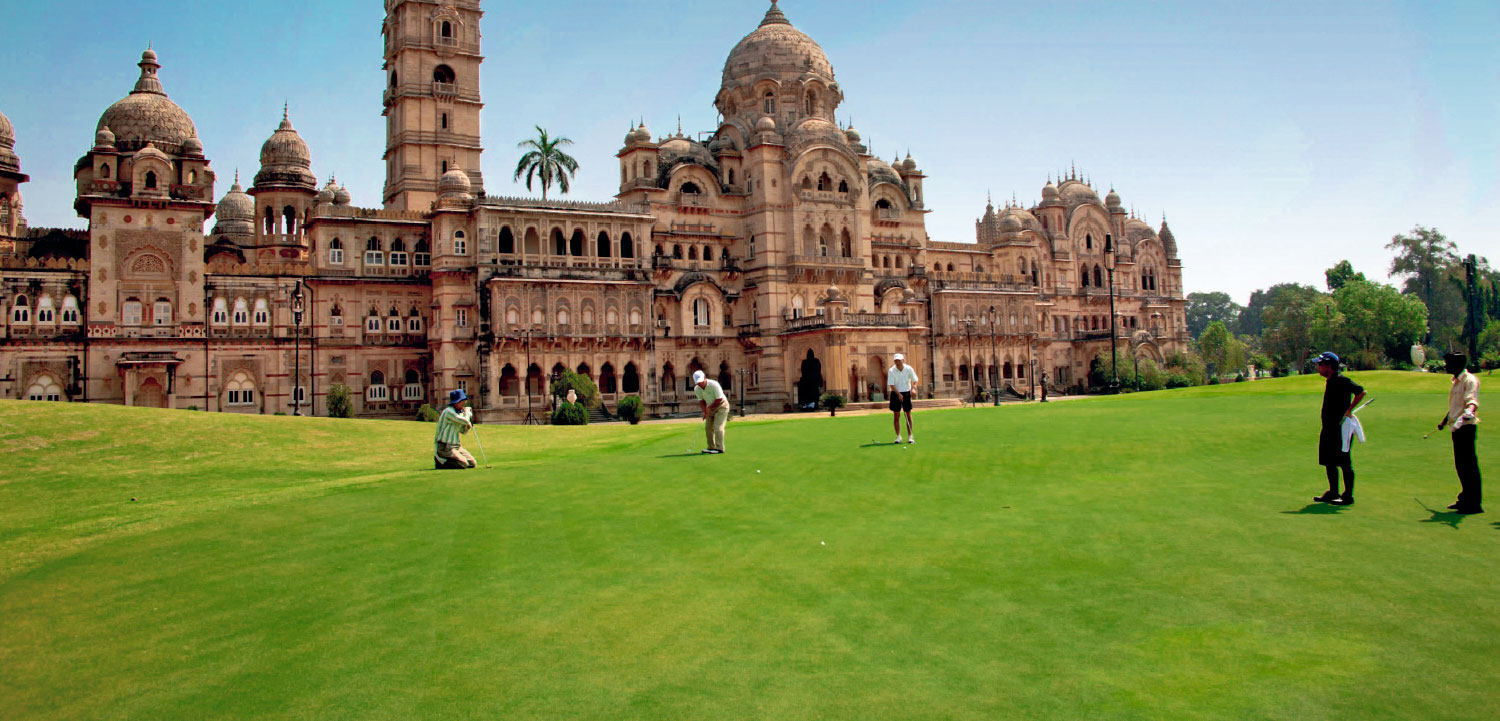 Vadodara, also known as the state's cultural capital, is one of Gujarat's most popular tourist destinations. The local generals of the Marathas established Vadodara as their capital when the declining Mughals were evicted by the Gaekwads.
The city blends the old and current in a seamless manner. Under Maharaja Sayajirao II's leadership, the city grew and developed, and it remained a significant deal of autonomy even throughout British rule in India.
Kadia Dungar Caves, Lakshmi Vilas Palace, Nazarbaugh Palace, Makarpura Palace, Sursagar Talav, and the beautiful Sayaji Baug are some of the things to do in Vadodara.
Maharaja Sayajirao III built Sayaji Baug in 1879 and named it after him. Sayaji Baug, also known as Kamati Baug, is a 45-hectare garden complex that contains a flower clock, two museums, a planetarium, a zoo, and a toy railway.
4. Archaeological Park of Champaner-Pavagarh
The Champaner Pavagarh Archaeological Park is located 50 kilometers east of Baroda City. In 2004, UNESCO designated this historic monument, with its religious structures and remains going back to the eighth century, as a World Heritage Site.
For history fans and those interested in culture and architecture, it is a must-see destination. The site, which includes military, ecclesiastical, and agricultural facilities, was constructed and expanded for 600 years. It is the only pre-Mughal site that has remained intact since it briefly served as the capital of Gujarat under the independent Sultan Mehmud Begda.
The Jama Masjid, which was built under Begda's reign and used as a model for subsequent Friday mosques around India, is a notable example of Indo-Islamic fusion architecture. Residential buildings, military precincts, palaces, agricultural buildings, and water-retention installations are among the remnants at this archaeological site.
On the top of Pavagarh Hill, a significant Hindu shrine known as Kalika Mata Temple attracts a great number of worshipers throughout the year.
5. National Park of Sasan Gir
Sasan Gir National Park, located in the Junagadh District, is one of India's most frequented tourist destinations. It is the only place in Asia where you may see the king of the jungle prowling in the open wild.
The Asiatic Lions are the main attraction, but there is more to this protected region. Hyenas, leopards, marsh crocodiles, antelopes, sambar, and a large number of bird species call the park home, making it a perfect candidate for one of India's finest wildlife sanctuaries. Although many visitors come to see the lions, birding aficionados flock to Gir for one of India's best bird-watching opportunities.
The optimum time to visit Gir National Park is from November to March, but the months of April and May offer the best chances of seeing lions.
6. Dwarkadhish Temple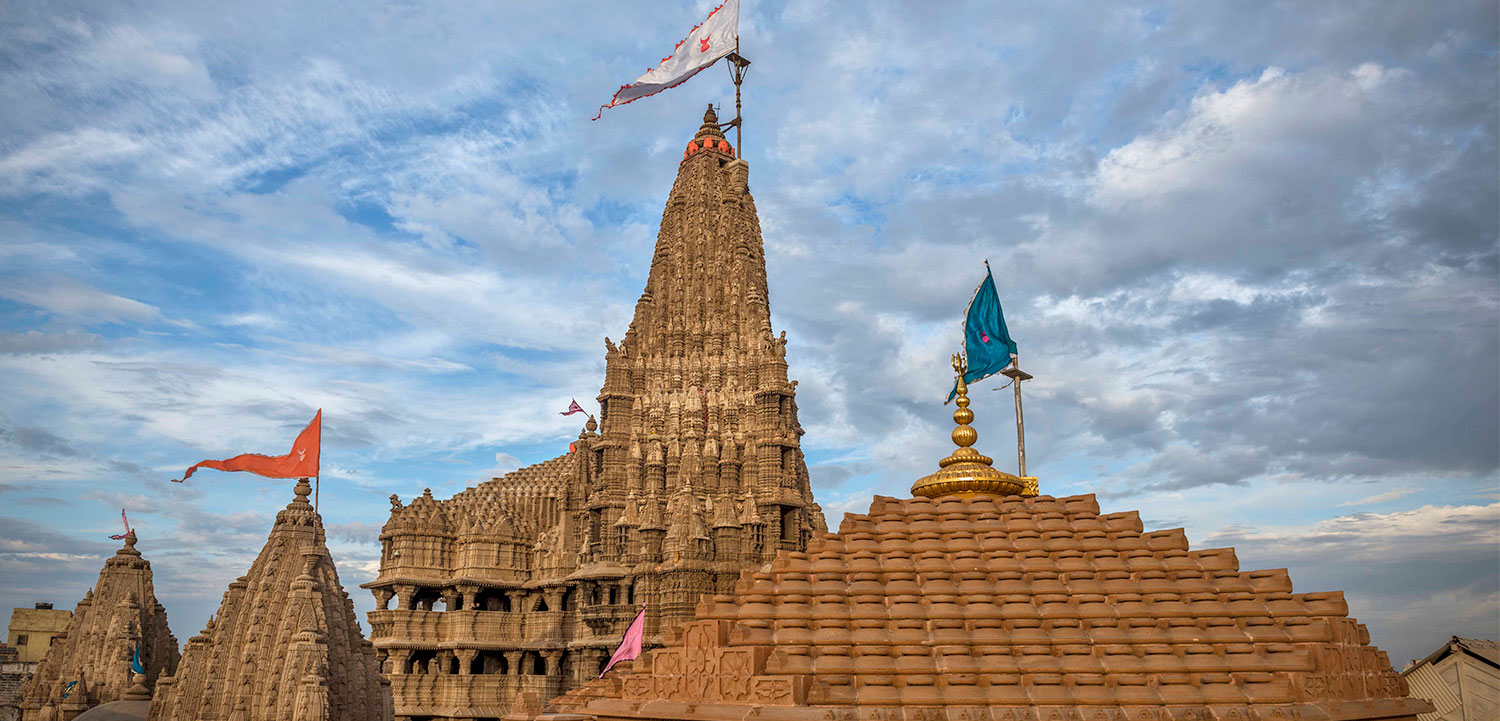 Dwarkadheesh Temple, located on the Gomti Creek, is one of India's most beautiful temples, said to have been erected by Lord Krishna's grandson.
The temple, which appears to rise from the waters of the Arabian Sea, is known for its intricately carved construction. It is one of the holiest Hindu temples and is included in the Char Dham Yatra, the holiest of all Hindu pilgrimages.
According to mythology, Lord Krishna and his Yadava Clan settled in Dwarka. The entire Dwarka Island was flooded in the water when he died as Krishna avatar. Recent archaeological digs have backed up these beliefs, indicating that Dwarka today is one of the six ancient towns that once flourished on this site.
7. Patan's Rani ka Vav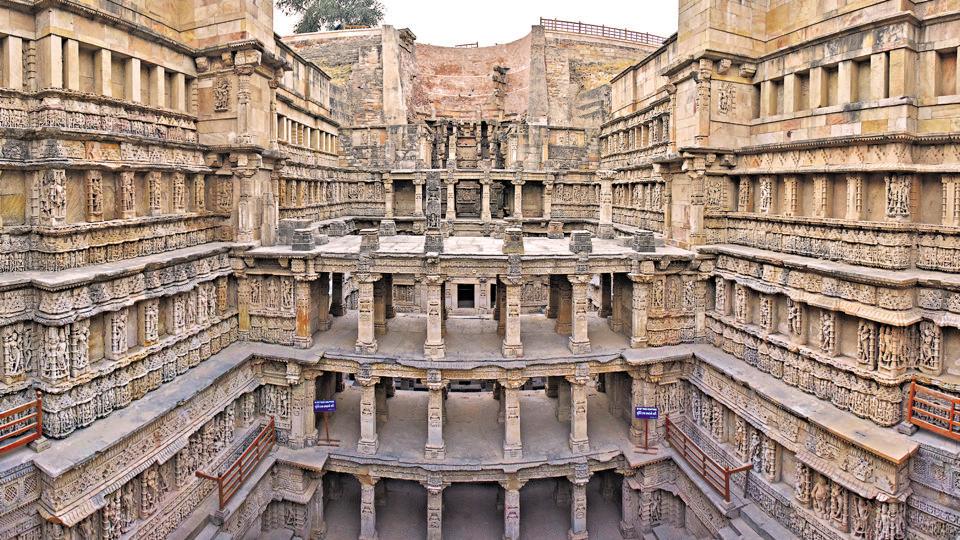 Rani Ka Vav is a stunning stepwell in very good condition, one of the rare monuments created by a queen for her beloved monarch. It was commissioned in 1063 by Rani Udayamati in honor of her late husband, King Bhimdev I.
The stepwell was swamped by water and sediment from the adjacent Saraswati River shortly after it was completed. This Vav was only excavated and resulted in the 1980s by the Archaeological Survey of India (ASI).
The construction that was discovered was a magnificent display of carved sculptures, niches, and pillared pavilions. Rani ka Vav is one of the world's largest and most beautiful step wells, and it is currently on the UNESCO World Heritage List.
This subterranean stepwell descends through a series of stepped passages with pillared pavilions. The Dasavataras, or ten incarnations of Hindu god Vishnu, are the core motif of the beautifully carved statues. Sadhus, brahmins, and apsaras accompany the avatars.
The solar shringar,' or the 16 ways to make up to look more appealing, is represented by the sculpture of apsaras painting their lips and decorating themselves in various styles. In total, there are 400 niches on the walls in this vav that display carvings.
8. Bhuj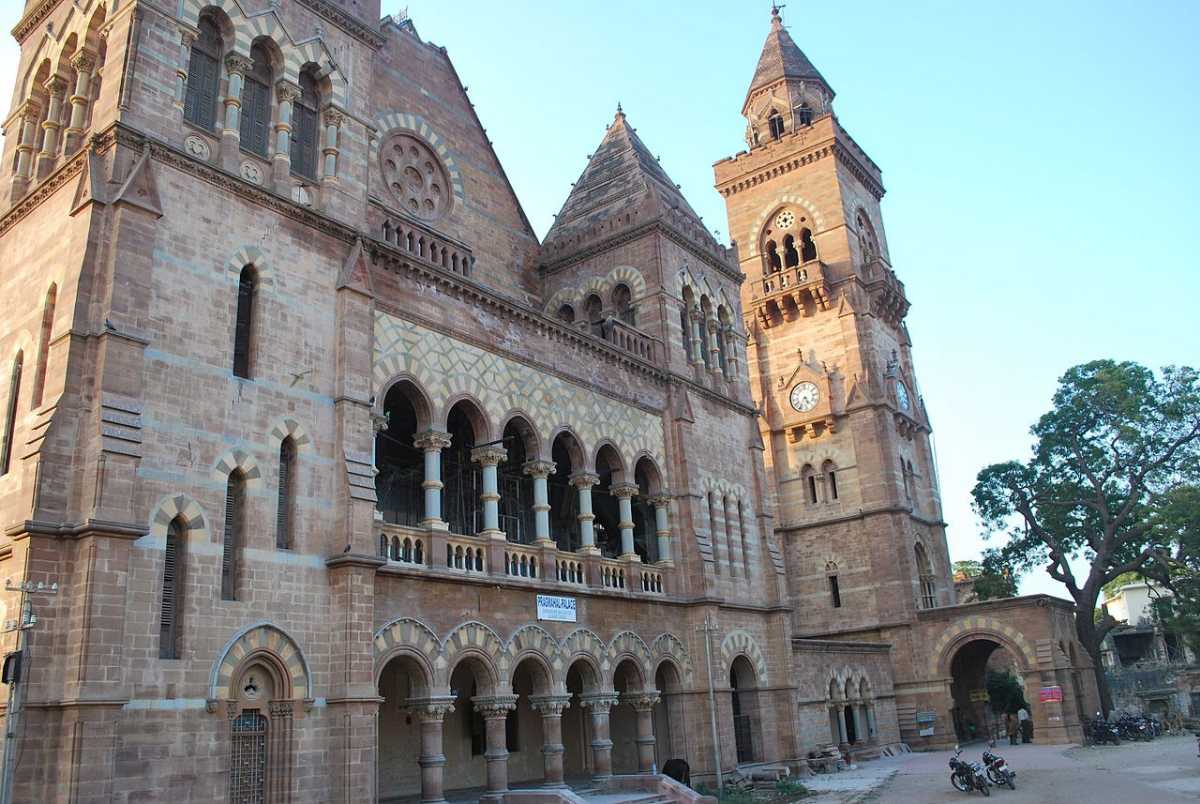 Perhaps the term "steeped in history" was coined to describe Bhuj specifically. Bhuj, with over 4000 years of inhabitation, is a cultural potpourri and one of the best destinations to visit in Gujarat for cultural immersion, with connections to prehistoric ages, Mahabharata, Indus Valley, and Alexander the Great's time, to regional sultans, British, and then modern India.
The Aina Mahal (Mirror Palace), Parag Mahal, Kutch Museum with rare antiques, Ramakunf Stepwell, and Hamirsar Lake are all important attractions in Bhuj.
But Bhuj is more than just a tourist destination; it's the cultural contacts, such as traditional handcrafted textiles and crafts, enameled jewelry, and cultural excursions to nearby villages, that attract the majority of international visitors.
Bhujodi is one such cultural side trip. Bhujodi is a weaving community located 7 kilometers from Bhuj. Ajrakhpur, a village of block printers 15 kilometers from the city, is another place worth visiting. These visits allow you to meet craftspeople, watch demonstrations, and purchase products.
9. Somnath
Somnath is the first and most revered of Lord Shiva's 12 Jyotirlingas. According to tradition, the Hindu moon deity Soma constructed a gold-encrusted temple to honor the Lord's splendor and compassion, and the building became known as the Somnath Temple. According to mythology, Ravana reconstructed the temple in silver, Krishna in wood, and King Bhimdev in stone.
This temple, which sits on the Arabian Sea's coasts, has been demolished and rebuilt several times, most recently after India's independence.
Every year, millions of worshippers flock to Somnath to seek Lord Shiva's blessings, making it one of India's most important sacred sites.
10. Rann of Kutch
In Gujarat, there's a proverb that goes like this: "Kutch Nahin Dekha to kuchh Nahin Dekha," which means "if you haven't seen Kutch, you haven't seen anything." Kutch is a deserving top destination in Gujarat to visit, especially during the Rann Mahotsav.
The Rann of Kutch, sandwiched between the Arabian Sea and the vast Thar Desert, is a stunning symphony of salt and sand. On a full moon night, this white symphony reaches its peak. Kutch is made further stranger by the fact that it is immersed in water during the monsoon.
It's a massive stretch of white salt for the remaining eight months of the year, giving it the appearance of a white desert. Cultural programs reflecting Gujarat's rich culture and traditions are generally held at Dhordo on full moon nights. One of the must-do activities in the Rann of Kutch is a moonlight camel safari.
When winter hits, the Great Flamingos from Siberia flock to the Great Rann of Kutch to breed, giving the white desert a rosy color. Busturds, Blue Tailed Bee Eaters, Ceraneous Vultures, and Demoiselle Cranes are among the many migratory bird species that flock to the area.
Visit the Wild Ass Sanctuary, which is another thing to do in Kutch. Wild Ass Sanctuary in Gujarat, located in the Little Rann of Kutch, is the only area in the world where the endangered Indian Wild Ass may be found.
Dholvira is another must-see archaeological site in Gujarat for history fans. It is one of the current cities that may be traced back to the Indus Valley Civilization period. It is located in the Kutch Taluka of Bhachau.