From the time you enter Jaisalmer, you will be mesmerized by its splendor. Because of the yellow sandstone that makes up the majority of the buildings in this fort city, it is also known as the Golden City of India.
Most tourists visit this scenic city in the middle of the Thar Desert of all the cities in Rajasthan. Its lovely traditions and ancient customs have yet to succumb to the ravages of time. Entering Jaisalmer is like stepping into the past.
Beautiful architecture crosses hands with everyday people, and history follows you wherever you go. Allow Jaisalmer tourism to take you by the hand and show you how the rich of the past lived.
Rajasthan is rife with legends of bravery. In addition, every city and town in the state has a rich history. Jaisalmer is one such district, with a wealth of historical and architectural treasures. The main stately Jaisalmer Fort, with its impressive turrets, is a good place to start exploring Jaisalmer.
This is one of the world's largest forts, and it's a sight to behold, especially at night when it's all lit up. Then there are the elaborate Havelis, which are individually spectacular in their architectural style and unique craftsmanship. Patwon ki Haveli, Nathmal ki Haveli, and Salim Singh ki Haveli are three of the most important Havelis.
Bada Bagh is a breathtaking architectural masterpiece that will provide you with plenty of photo opportunities. Gadisar Lake, Jain temples, and Lodhruva – a historic settlement near Jaisalmer – are among the other attractions to explore in Jaisalmer. There is simply so much to see and absorb here.
The dunes in Jaisalmer are a must-see for anyone visiting the city. Take a camel ride and shout in feigned terror as it navigates the sand's dips and rises. A jeep safari is a faster and more exciting method to achieve the same thing. The gorgeous desert festival may be seen if you visit between February and March.
The vibrant folk dances, camel races, artists, and other traditional fanfare will leave you speechless. Keep your camera charged and ready since every minute brings a new moment to photograph. You can also go to Khuri, which is well-known for its dunes.
If you're feeling a little more daring, how about a journey to Kuldhara, the ghost village? The inhabitants of this deserted village cursed it as they fled in a mass exodus, ensuring that no one would ever return. As you stroll through the abandoned, crumbling walls, you'll be transported back in time.
Jaisalmer provides a unique shopping experience. There are no shopping malls or high-end stores here. All of your stores are on the streets or in small shops tucked away in the city's various alleyways. In Jaisalmer, there are five important marketplaces that you must visit, and we strongly advise that you do so.
Manak Chowk, Pansari Bazaar, Sonoran ka Baas, Bhatia Bazaar, and Sadar Bazaar are all popular shopping destinations in Jaisalmer and can satisfy your desire for souvenirs and shopping. Colorful handicrafts, traditional fabric in bags and clothing, popular puppets, and locally created leather products are all available to purchase. Your shopping trip will be completed with paintings, carpets, jewelry, and shoes.
Unlike other parts of Rajasthan, Jaisalmer's cuisine does not rely heavily on oils and butter. Beans, capers, and other shredded veggies will be more plentiful. Don't let the appearance fool you; the taste will astound you. The meal is mildly spiced, but if spice isn't your thing, you can always ask for a milder version.
If you visit Jaisalmer, you must try the mutton saag at Trio or the murg-e-sabz, a delectable stew of chicken and vegetables cooked in Rajasthani spices. There are lots of options for vegetarians, as Rajasthani cuisine is predominantly vegetarian. Besan fritters are served in creamy yogurt curry in the gatte ki sabzi.
Stop at any roadside eatery for pyaaz ki kachori, a traditional Rajasthani breakfast (dough filled with a spicy onion stuffing). Also, don't forget to try the dal baati choorma. To satisfy the sweet taste, wash down the meal with a makhani lassi and finish with ghotua laddoos.
Jaisalmer rises majestically from the Thar Desert's core, providing an oasis for all who pass through. Living in the city is difficult because it is surrounded by undulating dunes and a rocky and rugged environment. Over the ages, however, the natives have learned to overcome these obstacles.
There is no permanent river, and the only flowing body of water ends in a lake after only 28 meters. The region is hot, dry, and desert due to a lack of rainfall. On the domestic side, Jaisalmer borders Jodhpur, Bikaner, and Barmer, while on the north and north-western frontiers, it borders Pakistan.
How to Reach Jaisalmer
Jaisalmer, also known as the 'Golden City,' is known for its huge fort, which harkens back to a bygone age. Jaisalmer, which is surrounded by the infinite Thar Desert, has long been a popular tourist destination.
It is not difficult to get to Jaisalmer because it is well connected to the rest of India by air, road, and rail. Because the city lacks its civic airport, the nearest airfield serving Jaisalmer is Jodhpur Airport, which is around 280 kilometers distant.
Those traveling by train can book tickets until they arrive at Jaisalmer Railway Station, which is well-connected to major Indian cities. In addition, various governmental and private buses run to Jaisalmer regularly from Rajasthan and Gujarat.
1. By Air
As of now, Jaisalmer does not have a commercial airport. It does have a military airport that only accepts chartered flights, which are not frequently utilized by visitors. Jodhpur Airport is the closest domestic airport, and it is the best option to get to Jaisalmer via air.
Flights to Jodhpur are available regularly from places such as Delhi, Mumbai, Kolkata, Chennai, and Udaipur. It will take you about 5 to 6 hours to go to Jaisalmer from the airport. To get to Jaisalmer from Jodhpur Airport, most people use prepaid taxis or private taxis.
These, on the other hand, can be a touch pricey. Another alternative is to fly to Delhi Airport, which is an international airport with connections to a variety of countries. To get to Jaisalmer from Delhi, you can take the road or the rail.
2. By Bus
There are no direct buses from Delhi to Jaisalmer because the journey takes at least 17 hours and can be too long at times. You can, however, get to Jaipur and change buses.
You can also fly to Jodhpur and then change buses to get to Jaisalmer. Buses to Jaisalmer leave often from Jaipur or Jodhpur, and there are state-run sleeper coaches that you can board to travel to the city. Tickets are frequently limited, so it's a good idea to purchase them ahead of time. There are other buses from Udaipur and Bikaner that can take you to Jaisalmer.
3. By Train
It is a fantastic idea to get to Jaisalmer by train because it is connected to various places. Travelers from most parts of India have a variety of options. Trains from Delhi, Jodhpur, and Jaipur are common, and the Delhi Jaisalmer Express, Howrah Jaisalmer Express, and Lalgarh Jaisalmer Special, to name a few, are among the most popular.
Keep in mind that most of these trains run a bit late, so plan accordingly. Every Sunday, the Palace on Wheels luxury train makes a stop at Jaisalmer. You can hire an autorickshaw or a private cab to take you into town from the station. These are reasonably priced.
The best time to visit Jaisalmer
India's 'Golden City,' perched majestically on the edge of the Thar Desert, attracts intrepid travelers from all over the world. The best time to visit Jaisalmer is between October and March when the weather ranges from 10°C to 27°C in this culturally rich city.
Winter is the finest time to visit Jaisalmer because the sun is ideal for all of the sightseeing that the city is known for. Winter is when Jaisalmer comes to life in all of its glory. Jaipur allows you to share in the wonderful past that it has so graciously shared with the world by showcasing its rich heritage.
The vibrant festivals and celebrations that can't be seen anyplace else in the globe are the main attraction for most visitors. Many outdoor activities and adventures, on the other hand, can be appreciated. Jaisalmer is truly a once-in-a-lifetime experience, and you must be prepared for it regardless of when you visit.
1. Peak Season (October-March)
The winter season in Jaisalmer, which runs from November to March, is the greatest time to visit. The weather is ideal for sightseeing and outdoor activities such as desert safaris and camel rides because the highest temperature does not exceed 24°C. Evenings are cooler, and nights might be a little chilly.
2. Shoulder Season (July-September)
The monsoon is named for the fact that it rains a little in Jaisalmer between July and September, but not enough to ruin your plans. The infrequent showers don't do much to relieve the summer heat, and they can make the season more humid. Monsoon, on the other hand, is an excellent time to visit Jaisalmer and discover some of the old land's mysterious beauties.
3. Low Season (April-June)
Unless you enjoy being burned, avoid Jaisalmer in the summer. The months of April through June will find Jaisalmer under a hot and fierce heat, which is exacerbated by the city's proximity to the Thar Desert.
Because everything shuts down in the summer, there isn't much sightseeing or other tourist activities to enjoy. It's a waste of money to visit Jaisalmer during this time if you can't leave your air-conditioned hotel room.
4. Jaisalmer During October to March – The Winter Season
Desert climates are harsh and arid, with a blistering sun on top of it all. The temperature in Jaisalmer in the winter, on the other hand, is significantly colder and urges you to visit. From October through March, the weather is perfect for sightseeing and being outside. The days are warm and pleasant, while the evenings are cold. Evenings can be chilly, but nothing that a thin sweater or shawl can't fix.
Set your sights on some of the most gorgeous palaces and forts in Jaisalmer this winter, and visit other equally spectacular landmarks at your leisure. Desert excursions and camel rides are available for those who enjoy the outdoors. Return to the hotel at night and huddle up next to the bonfire to keep warm.
In the winter, Jaisalmer comes to life. The Desert Festival kicks off the season. It takes place in January and February, and it transforms Jaisalmer's bleak landscape into a riot of colors and customs. People travel from all over the world to attend this three-day festival, eager to experience the beauty and take part in the celebration of life in Jaisalmer.
This rich Rajasthani culture festival carpets the town with traditional dancers, musicians, painters, and a plethora of adorned animals.
Basant Panchami is a festival that marks the end of winter and the beginning of spring, and it symbolizes new life and new beginnings. The event takes place in February, and every home is filled with the aromas of delectable meals.
The Gangaur Festival takes place in March, and it is a celebration of married women's happiness and the wish for a good spouse for those who are still looking. If you chance to be in Jaisalmer during the festival, make sure to see the procession on the last day, when women dressed in traditional garb walk to the streets singing and dancing.
Excellent weather, enthralling monuments, thrilling adventure, and a vibrant celebration await you in Jaisalmer in the winter. Why would you pass it up?
5. Jaisalmer During July to September – The Monsoon
The monsoon season does not necessarily signal the end of the hot summer, but it does signal the start of a mild and pleasant winter. The peak season begins during the monsoon. Those wishing to avoid the heat and congestion should visit Jaisalmer during the monsoon season. Because the region receives very little rain, don't anticipate the Indian Monsoon to change.
Even while the days are still hot and humid, the nights are becoming cooler. This season, the region will not be at its finest. Monsoon is an excellent time to visit if you're searching for a bargain deal and want to cross Jaisalmer off your bucket list. During this season, there may be fewer tourists in Jaisalmer, but the desert town more than makes up for it.
Bhadon Sudi, a large-scale event devoted to Baba Ramdev, a saint from Rajasthan, takes place in September. The festival is famed for its religious troupes, who entertain audiences late into the night with their songs and bhajans.
Jaisalmer is a city steeped in culture and history. If you're lucky, you might catch a folk dance performance while strolling through the alleys of this old city. This is the ideal time to travel to avoid the hot summer months and to avoid the winter tourist rush. During this season, you will get great hotel deals.
Before you go, keep in mind that Jaisalmer is very humid during the monsoon season, so bring lots of cottons. Even if it doesn't seem like it will rain much, keep extras on hand so you don't run out of dry clothes. Bring an umbrella with you. Even if it isn't raining, the Monsoon brings stronger gusts, and you can use the umbrella to protect yourself from a sandblast.
6. Jaisalmer During April to June – The Summer Season
In Jaisalmer, there are summer months and then there are summer months. It's a season-best avoided, yet there's the no better (or worse) spot to enjoy the sweltering Indian summer than the Thar Desert. Daytime temperatures easily reach the 40s, and it has been known to reach the 50s on rare occasions.
In the summer, the weather in Jaisalmer is unsuitable for travel and sightseeing, as the afternoon temperatures make it practically difficult to leave the house. In the evening, the weather is a little more bearable, although it's still hot. If you're on a tight budget, summer is a good time to visit Jaisalmer.
In the summer, the city may not have many events and festivals to offer. However, you may always take a walk around Jaisalmer's lanes and charming streets to enjoy a true Rajasthani experience. Take a stroll through the market and pick yourself some traditional jewelry or fabrics to take home with you.
With the variety of cuisines that the area is known for, take your taste buds on a delectable culinary tour. The residents of Jaisalmer have transformed plain fare into mouthwatering cuisine, even though the region is not recognized for its vegetation.
If you're traveling on a budget, now is the greatest time to find great hotel discounts. In addition, the area will be conspicuously devoid of tourists, allowing you to visit most attractions at your leisure.
Avoid going out during the hotter hours of the day. Use an extra-strong sunscreen cream as necessary. Bring an umbrella with you. Maintain your hydration. Only bring loose, cotton clothing that will fully cover you.
Jaisalmer is a land of magnificent palaces, massive forts, a thriving culture, and a long history. You must enter into the city's borders and experience it for yourself to properly comprehend how it has managed to cling on to its past while being surrounded by other modern cities.
Best Places To Visit In Jaisalmer
Every historical city has stories to tell, facts to proclaim, originality to marvel at, and a spirit to live by. Jaisalmer, in Rajasthan, is one such city that provides information about brave rulers and residents of the past, tales of unrivaled valor, and an undeterred spirit to keep us alive and kicking.
The city is tucked away in the heart of the famed Thar Desert. If you're planning a trip to Jaisalmer, make sure to stop by the following ten tourist attractions.
1. Jaisalmer Fort
The Jaisalmer Fort is regarded as Rajasthan's Golden Fort. Raja Jaisal, a Rajput monarch, built it in the year 1156 AD. It is one of the world's largest fortifications.
The Fort's golden and yellow blended sandstone gives it a wonderful appearance. The fort, which rises from the desert sands like a mirage, is a sight to behold at night, with its 99 turrets. The Fort stands towering and proud, showing Rajasthani architecture at its best.
Best Places to see in Coorg (2022)
2. Bada Bagh
'Bada Bagh' translates to 'Huge Garden.' It was built during Maharawal Jait Singh's reign, which began in the early 16th century. After his father died, his son Lunakaran finished the work.
The nobles and their families were cremated in the garden, which served as a memorial. The view from the garden is breathtaking. The location is remote. If you go between sunrise and sunset, you will be rewarded with breathtaking views that you will be unable to resist photographing.
3. Patwon-Ki-Haveli (Patwon-Ki-Haveli)
Patwon-Ki-Haveli is in the heart of the city. It was constructed by Guman Chand and his sons, a well-known dealer. This large five-story structure houses five lavishly designed suites. The spacious passageways and ornately adorned walls are great examples of the dominant art form.
Yellow sandstone is used throughout the structure. The monument's magnificence and architecture add immeasurable worth to the city's cultural legacy. One of the Havelis has been turned into a museum. The works of local craftsmen from a bygone age are shown in the third haveli.
4. Sam Sand Dunes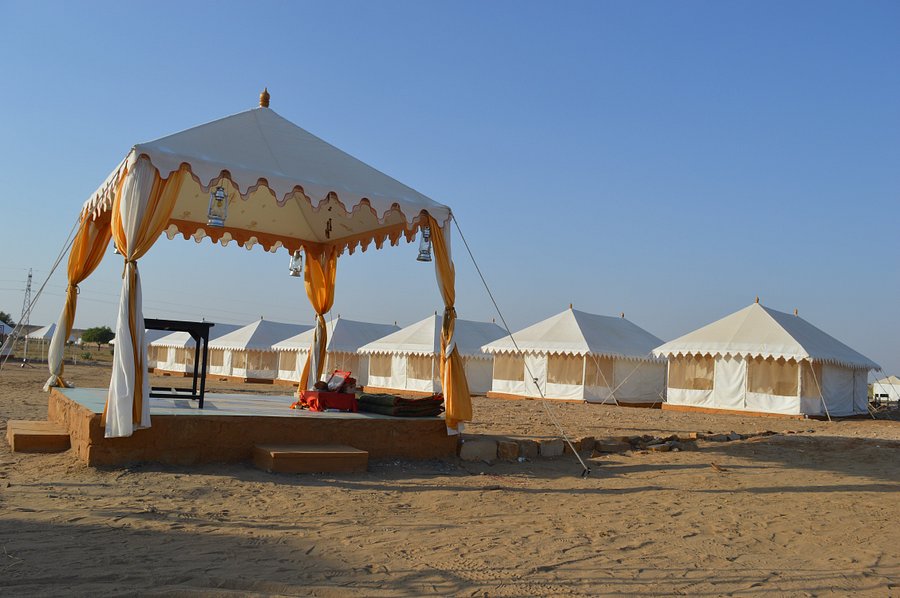 Desert Safari is the best way to get a sense of the desert. Sam Sand Dunes is an excellent starting point for a Desert Safari. You will enjoy the camel safari, which will take you around crests and troughs and allow you to see the beautiful sunset in the desert.
Jeep safaris are also available. In February and March, a desert festival is held. If you happen to be in the area during this time, you won't want to miss the folk dances, camel races, and other cultural events taking place.
5. The Thar Heritage Museum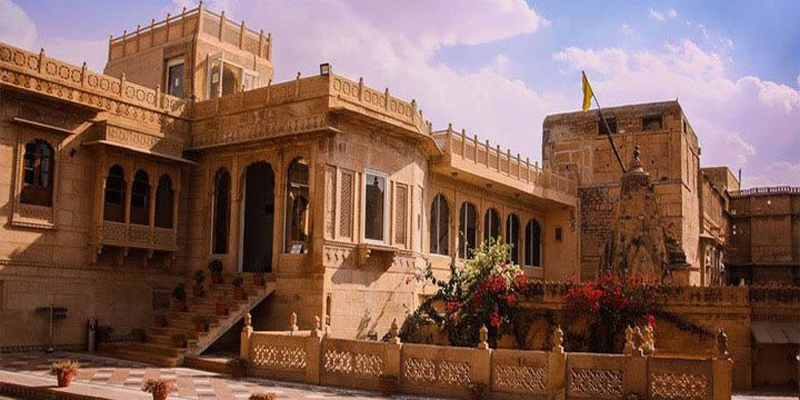 The Thar Heritage Museum is located in the city's main market. This museum was founded by Laxmi Narayan Khatri. The Thar Desert's history, culture, art, and architecture are all on display in the museum.
Sea fossils dating back millions of years reveal how the sea formed the Thar Desert. The museum houses one-of-a-kind desert ships and horse ornaments. This museum's collections include Jaisalmer documents and coinage, ancient texts, and weapons.
6. Gadisar Lake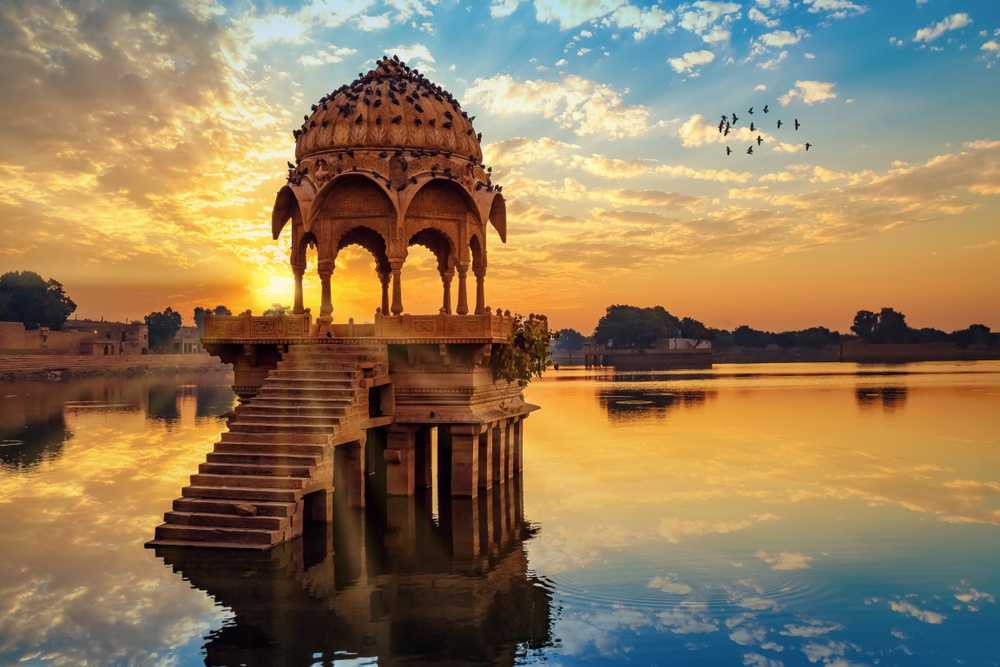 A kilometer away from the fort sits Gadisar Lake. It was built by Raja Rawal Jaisal, the land's first monarch, and then renovated by Maharawal Garsi in 1367 AD. The residents of the desert city relied on this tank for water. The lake's banks are lined with temples, holy shrines, and Chattris. The spectacular view is provided by the finely carved yellow sandstone entrance.
7. Nathmal-ki-Haveli (Nathmal-ki-Haveli)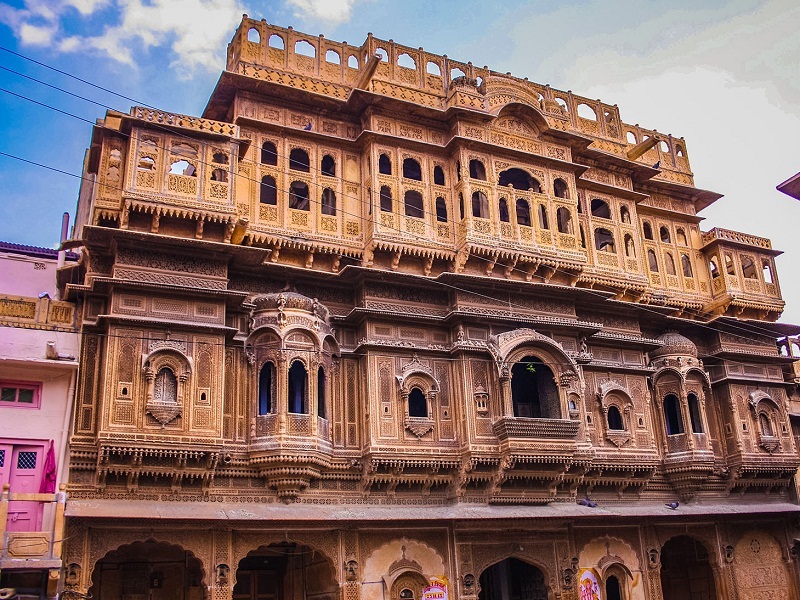 On the instructions of the then-prime minister, Nathmal Ki Haveli was created by two Muslim jewelers brothers rather than stone carvers. The brothers began working on opposing sides of the building, resulting in the left and right sides that were similar but not identical.
This haveli is recognized for its gorgeous interiors, which are packed with paintings and outfitted with modern amenities, in addition to its exceptional outside carvings. Nathmal Ki Haveli, a blend of Islamic and Rajputana architecture, is well deserved as one of Jaisalmer's most magnificent Havelis.
8. Jain Temples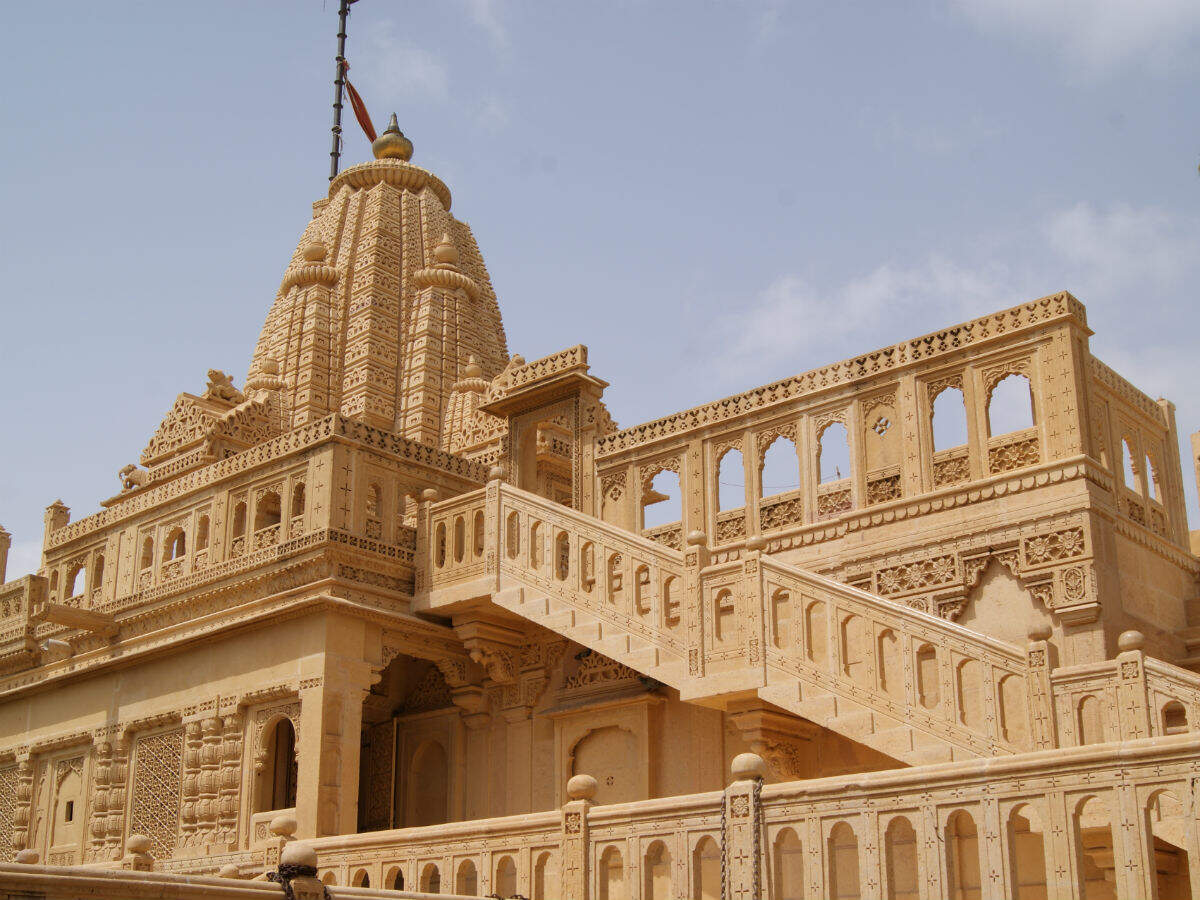 Jain temples, which date back to the 12th century and are located within Jaisalmer Fort, are a succession of temples devoted to Jain Tirthankaras. The temples are noted for their particular architectural style, which is based on Mt. Abu's Dilwara temple. These temples, which are entirely constructed of yellow sandstone and are beautifully carved and interconnected, are a sight to behold.
9. Salim Singh Ki Haveli
Salim Singh Ki Haveli is noted for its unique and eye-catching architecture among Jaisalmer's Havelis. Salim Singh, the minister at the time, intended to build it as high as the fort, but the monarch forbade him. It includes 38 balconies, each with its architectural style, and a peacock-shaped roof. This haveli offers a fascinating look into the past, and images made here would be breathtaking.
Places To See In Andhra Pradesh
10. Kuldhara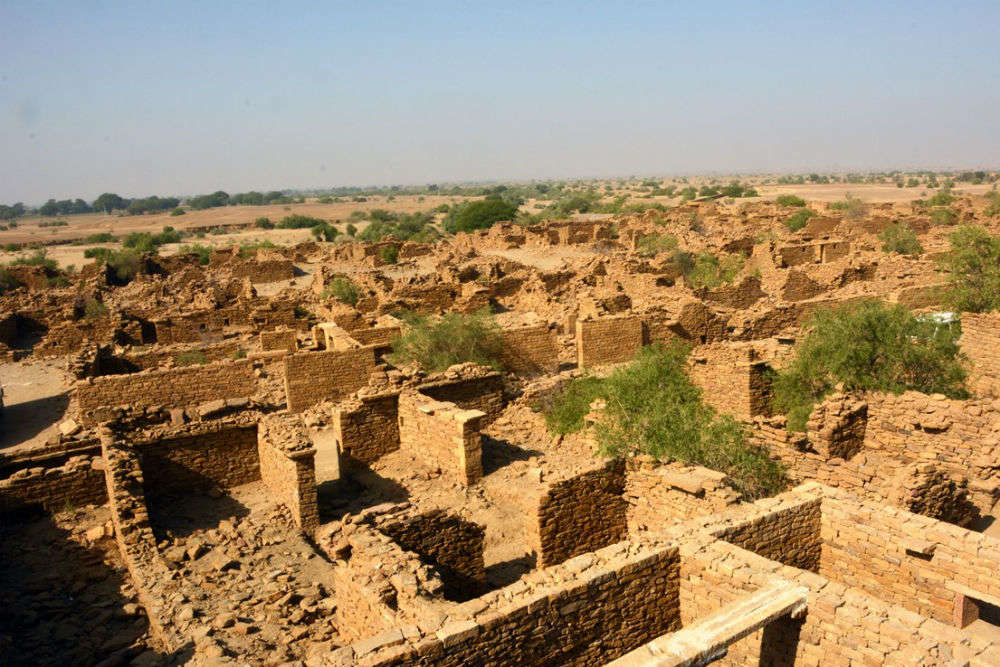 Kuldhara, now an abandoned ghost town, was formerly a flourishing town inhabited by Paliwal Brahmins. The reasons for the city's abandonment in a single night are unknown, however, it is widely assumed that the then-state minister Salim Singh was to blame.
The minister wanted to marry the village chief's daughter, so he gave the village chief an ultimatum to fulfill his requests or suffer grave consequences for the entire community.
Rather than complying with the minister's demands, the entire community decided to relocate. They cursed this land before they left, saying it would never have any type of human settlement, and this has proven to be true to this day. Visit Kuldhara for a glimpse into the past and to be startled by its legends.
Top 5 Things To Do In Jaisalmer
The picturesque Thar Desert is located in Rajasthan's golden metropolis, which stands out with its brilliant sandstone architecture. The greatest time to visit this city is from September to March, and the fact that it is a popular tourist destination adds to the adventure.
There are many notable locations to see in Jaisalmer, like the wonderfully constructed fort and sampling real Rajasthani cuisine, so plan on spending at least a week in this charming city. Here are a few interesting things you can do in Jaisalmer to make your visit more enjoyable.
1. Take a dip in Gadsisar Lake.
The Gadsisar Lake is one of Jaisalmer's most well-known tourist attractions. It was once the entire state of Rajasthan's water reservoir, giving it an even more unique place. Despite the throngs of tourists and occasional disturbances, the lake is serene and quiet. It comprises a temple that is occupied by many devotees throughout the year.
The many colorful birds that fly through the grounds of the many other smaller temples, making this place fairly crowded yet tranquil at the same time, make the lake quite appealing to tourists.
2. Take a Camel Ride
If you visit Jaisalmer and don't ride a camel, you'll be missing out on a lot of fun and adventure. The Jaisalmer desert is ideal for some fun camel rides, and the view from atop a camel is unique.
Discover how ancient people traveled and how the desert ship leaves its imprint on Rajasthan. Camel rides are offered by experts throughout the year, but the best months to visit are October and February when the temperatures are cooler and camel rides in the desert are even more delightful.
3. Go on a tour of the Jaisalmer Fort.
The city of Jaisalmer rose to prominence first as a result of the presence of the magnificent Fort that bears the city's name. This stronghold was built in a typical Rajasthani style, giving it an ever-charming appearance.
The four-layered walls are a true testament to outstanding design, making it an enigma that once housed the famous Rajputs of Rajasthan and a site that should never be missed during a visit.
4. Pay a visit to the Patwon Ki Haveli
Because Havelis are an important part of Jaisalmer's culture, the Patwon ki Haveli is well-known for its unique features. Apart from the fact that it is the city's first-ever haveli, it is also noted for having a collection of five individually distinguishable Havelis all in one, earning it the status of being the largest of Havelis not only in Jaisalmer but also in Rajasthan.
Because its residents, the Patwa family, dealt in gold and silver, the haveli is also known as the 'Mansion of Brocade Merchants.' It's beautifully designed, with finely carved archways and gates that create a fascinating and enchanting sight.
5. Play a game of dune bashing
Dune bashing is popular and daring all around the world, not only in the Gulf. In the Thar Desert, our own Jaisalmer is well-equipped to provide an exciting desert safari or dune bashing.
This ride is not only adrenaline-pumping but also a lot of fun. Sign up for your dune bashing or desert safari tour in the exhilarating and gripping dunes of Jaisalmer's particular brilliance of a dessert if you're an adventure seeker who isn't afraid of a little adrenaline in their life!
Jaisalmer is most known for its array of palaces, forts, and Havelis, which are undoubtedly must-sees for any visitor, but with so many other exciting things to choose from, none should be overlooked.