India is a lovely country. From head to toe, there are fascinating locations. For a long time, Kashmir in the north has piqued the interest of everyone in the world, but that is no longer the case. Anyone visiting India these days seldom hesitates to include Kerala in their itinerary. What's the harm in that? For those planning a vacation to Kerala, here is the comprehensive travel guide to assist you to organize your trip.
Kerala is a beautiful state with a diverse range of natural features, including seas, mountains, and everything in between. So, the next time you visit Kerala, make sure you don't miss out on any of the places listed below.
Kerala Travel Guide
Our Kerala travel guide covers everything from how to get to Kerala to the top locations to see in Kerala, including the must-see Kerala beaches!
When traveling in Kerala, one of the most significant considerations is airport access. Kochi in the north and Thiruvananthapuram in the south are the state's two major airports. So you can either start your journey from the north and work your way south, or the other way around. This way, you'll be able to visit more sites and make the best use of the time you have.
Tourist Attractions in Kerala
It is one of those completely engrossing locations that is well-known for its great tourism infrastructure. You can visit wildlife sanctuaries, bird sanctuaries, lakes, and hill stations, as well as participate in diverse cultural festivals. The remarkable structural design, communities, and courteous people will wow you.
Vacationers also come to the Ayurvedic Treatment & Spa Center to resuscitate. The entire state is, in reality, a postcard-perfect tourist attraction. Kerala, on the other hand, is more than a tourism destination; it is also a place for spiritual and intellectual inquiry.
Kerala's Natural Environment
You'll discover why Kerala is renowned as "God's Own Country" on your trip to the state. Kerala's rich culture and tradition also draw nature enthusiasts from around the world. All other things would appear boring and fade once you enter this wonderful paradise. The good news is that you can take advantage of all of this wealth without burning a hole in your pocket.
Alleppey's backwaters, Varkala's beaches, Thekkady's deep and lush woods, and Munnar's tea fields are all worth seeing. Munnar, a picturesque hill town in Kerala, has a chilly and crisp air to it that provides travelers with a magnificent perspective. Enjoy a nice cup of tea while taking in the pleasant aromas of your surroundings. Aside from these, you can explore the harbors of Cochin, Kumarakom, and Wayanad, which are all spectacular. The vast mountains and dense, deep forests will provide you with an out-of-this-world and one-of-a-kind experience.
Kerala Travel Guide: Kerala's Best Tourist Attractions
Why not have a peek at some of the gorgeous Kerala destinations that are available to visitors? Yes, just dive into some of this paradise's most popular and enjoyed spots!
1. Kochi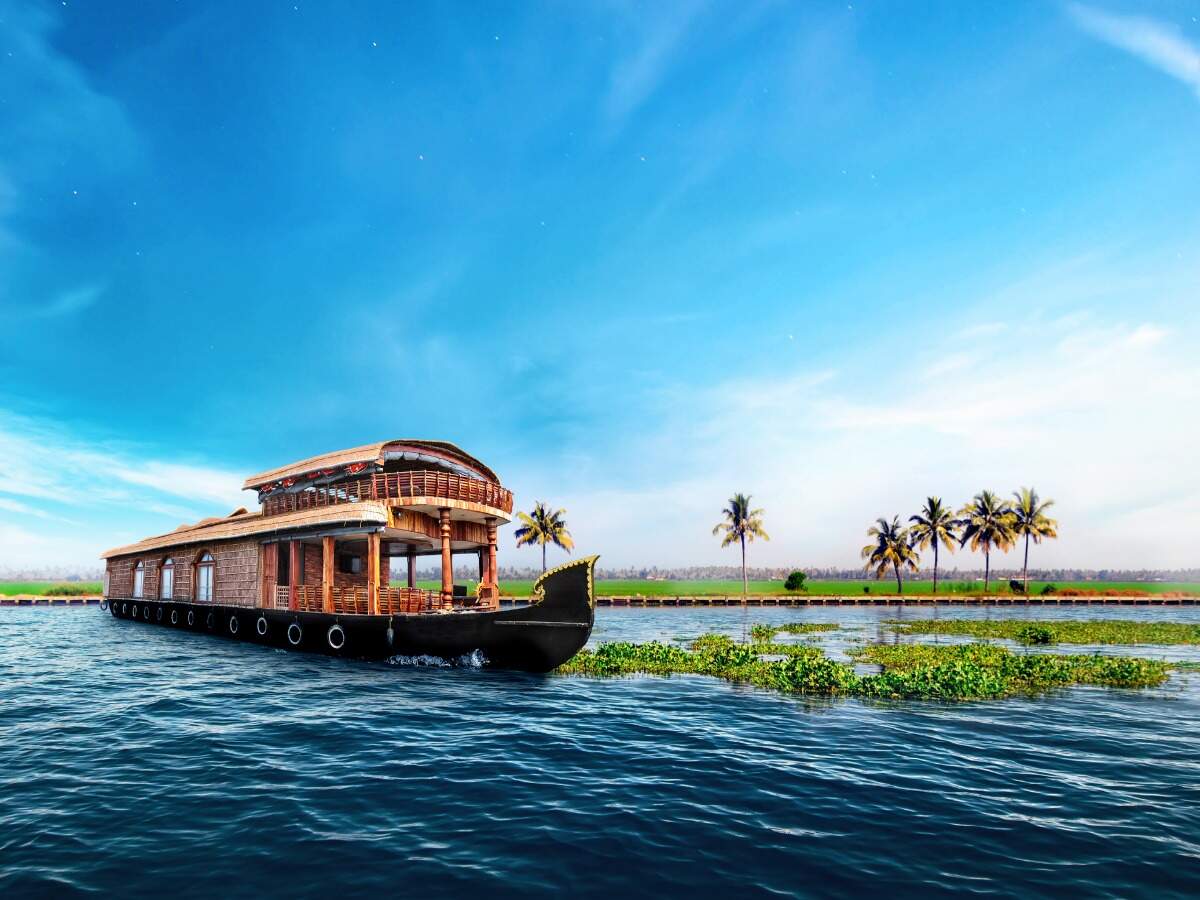 Kochi, commonly known as Cochin, is a port city in Kerala's Ernakulam district. It is a popular tourist destination in Kerala and an excellent starting point for a Kerala Backwaters journey. Kochi is the perfect combination of ancient and modern. The massive ships docked at the dockyards are a sight to behold.
To get a tour of the city, one might take a boat around it. The Mattancherry Palace, the Jew village of Willingdon Island, Fort Kochi, Marine Drive, Bolgatty Palace, and St. Francis Church are among the key attractions. If you visit, you must see the Chinese fishing nets in action. Take a stroll through the streets of Jewtown to learn about the Jewish and Portuguese influences that this area possesses. The Lulu Shopping Mall is also worth a visit.
The strange hill station of Munnar is the next stop on your itinerary. Munnar, in Kerala's Idukki district, is one of the most well-known hill stations. Munnar, popularly known as the Switzerland of South India, is one of India's premier summer getaways as well as one of Kerala's top tourist destinations.
Tea plants cover the upper peaks of the highlands. Simply sit on your hotel's balcony and let the painting-like panorama unfold in front of you. The Rose Garden, Kundala Dam Lake, Echo Point, and Kanan Devan Tea Museums are just a few of the many attractions to see. Tourists are shown how tea is made and the many processes involved in its manufacturing at tea museums. Spices, essential oils, and teas, among other items, are available for purchase. Bicycling tours are very popular in Munnar.
How to Reach Ladakh: By Road, Air, Bike, Bus
3. Allepey
This Kerala attraction is mentioned in all Kerala travel publications, and it is a must-see for anybody visiting the state. Alleppey, the Venice of the East, is a 5-hour trip from Munnar. Kerala's backwaters are breathtaking.
Alappuzha, also known as Alleppey, is a coastal town on the Arabian Sea, near the banks of the Vembanad Lake. Alleppey, sometimes known as the 'Venice of the East,' is the best tourist destination in Kerala. Alappuzha, along with Kumarakom, is one of Kerala's most well-known Backwater getaways.
Alleppey is regarded as one of Kerala's most beautiful tourist destinations. Houseboat stays, wilderness trips, and the serene beauty of this place attract a large number of visitors. Indeed, it is fair to say that it is one of the most well-known places to sample Kerala's backwaters.
Lord Curzon's description of Alleppey as the "Venice of the East" is not exaggerated in the least. Tourists come to this country in search of a houseboat vacation. Alleppey is one of Kerala's most beautiful destinations, with stunning paddy fields, old-fashioned sanctuaries, lakes brimming with water lilies, and unique fishing hamlets.
Alleppey's tourist attractions include Kuttanad, Alappuzha Beach, Mannarasala, Chettikulangara Devi Temple, Mullakkal Temple, and Krishnapuram Palace.
4. Kovalam
The clean and scenic beaches of Kovalam are about a 5-hour journey from Alleppey. Kovalam, on the Arabian Sea's coastlines, is one of Kerala's most well-known beaches, as well as one of the state's most popular tourist destinations. The picturesque Kovalam Beach is also known as the "Southern Paradise." While reaching the beach, Kovalam is literally surrounded by infinite coconut trees, providing stunning vistas.
This is the ideal place to unwind if you've had enough of Goa. The features of Kovalam are two beaches: Havah Beach and Lighthouse Beach. Simply relax and enjoy the beach vibe at one of Kerala's greatest beach resorts.
The finest locations to visit in Kovalam are Lighthouse Beach, Vizhinjam Mosque, Samudra Beach, and Eve's Beach. Ayurvedic therapies and numerous yoga resorts are also popular in Kovalam. Travel to Thiruvananthapuram after Kovalam. PothysCellar Mall is worth a visit, and don't miss the Kathakali shows.
5. Kumarakom
Kumarakom is a group of small islands located on the famed Vembanad Lake in Kerala's lovely state. Kumarakom, located near Vembanad Lake, is a calm little town with interesting scenery, year-round nice weather, and captivating flora and animals. Authentic Kerala delicacies, jungles, fresh breezy air, Keralite warmth, and wonderful fresh coconuts are just a few of the things you may find here.
Kumarakom, also known as the Queen of Vembanad, is the most well-known Kerala Backwaters resort and one of the greatest locations to visit in Kerala. A journey on a houseboat through the backwaters of Vembanad Lake is very unforgettable. Kumarakom tourism attractions include the Bird Kumarakom Sanctuary, Vaikom, Pathiramanal Island, Aranmula Temple, and Erumeli. Kumarakom also has a wide range of lodging alternatives.
6. Thekkady
Periyar Wildlife Sanctuary, one of India's top wildlife sanctuaries, is located in the Kerala town of Thekkady. In 1950, the park was formed, and in 1978, it was designated as a Tiger Reserve.
The Mullaperiyar Dam, which creates a beautiful artificial lake, adds to the park's allure. Asian Elephants, Tigers, Gaurs, Sambars, Wild Boars, Spotted Deer, Barking Deer, Malabar Giant Squirrel, Civet, Nilgiri Tahr, and more animals can be found in Thekkady. Thekkady's tourism attractions include Murikkady, Cellar Kovil, Mangala Devi Temple, Suruli Falls, and Pullumedu.
7. Wayanad
Wayanad is one of Kerala's most beautiful hill stations, as well as one of the state's most popular tourist destinations. The largest towns are Kalpetta, Sulthan Bathery, and Mananthavady, which serve as base locations for exploring the Wayanad district. Wayanad, which is home to various rain forests, is also a fantastic monsoon destination in India.
The greatest locations to visit in Wayanad are Meenmutty Falls, Soochipara Falls, Pookote Lake, Banasura Sagar Dam, Wayanad Wildlife Sanctuary, Brahmagiri, Chembra Peak, Lakkidi, and Edakkal Caves.
8. Trivandrum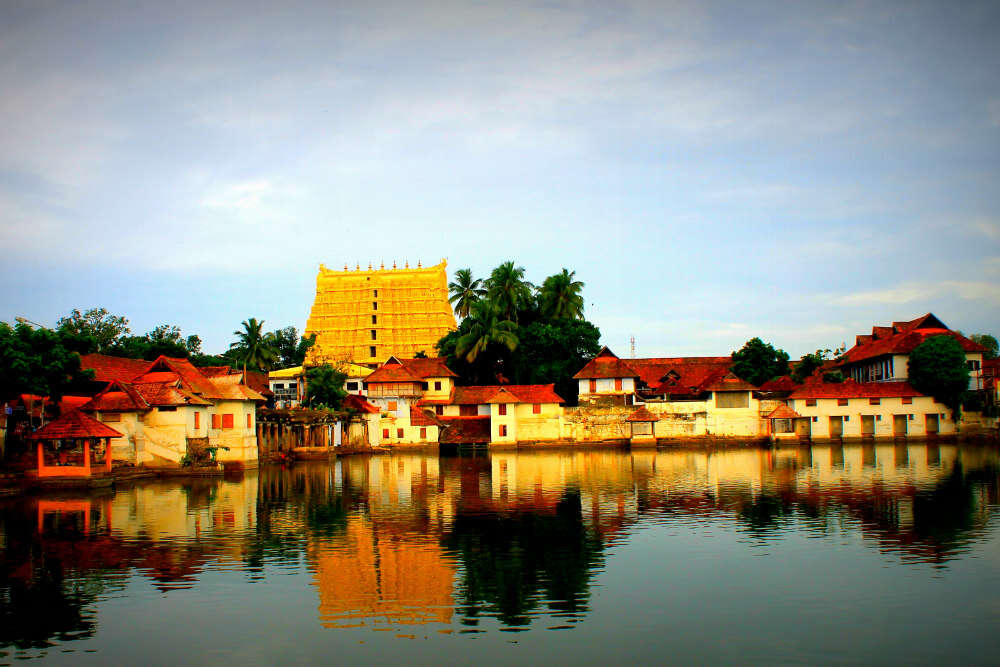 Trivandrum, Kerala's capital, is one of the state's most popular tourist destinations. Thiruvananthapuram, or Thiruvananthapuram, is one of India's cleanest cities. Trivandrum is known for its enticing tourist attractions, like beaches, historic sites, lakes, and uncharted mountain ranges.
Some of the prominent tourist attractions of Trivandrum include Sri Padmanabha Swamy Temple, Napier Museum, Kanakakkunnu Palace, Science, and Technology Museum, Kowdiar Palace, St. Joseph's Cathedral, and Thiruvananthapuram Zoo.
9. Thrissur
Thrissur, commonly known as Trichur, is Kerala's cultural capital and one of the state's most important pilgrimage sites. In April and May, Thrissur holds the world-famous Thrissur Pooram. This celebration is Kerala's most vibrant and magnificent temple festival. Thrissur Pooram has been named the world's most stunning event by UNESCO.
Thrissur's prominent attractions include the Vadakkunathan Temple, Thiruvambadi Sri Krishna Temple, Paramekkavu Temple, Guruvayur Temple, Athirapally Falls, Peechi Dam & Sanctuary, Thrissur Zoo, Vilangankunnu, and Shakthan Thampuran Palace.
10. Athirapally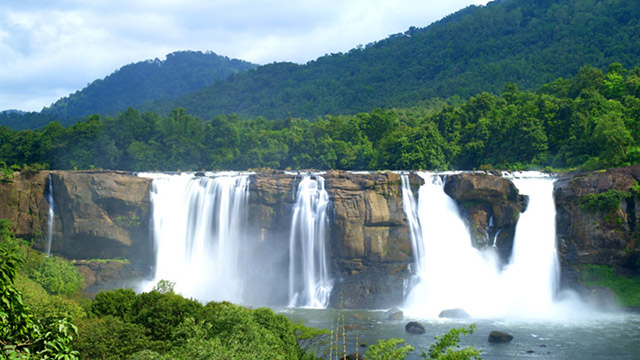 The Athirapally Waterfall is one of India's most prominent waterfalls and one of Kerala's most popular tourist destinations. The waterfall, which was formed over the Chalakudy River, drops from a height of 80 feet over various streams, providing considerable visual splendor.
During the rainy season, the water flow is at its peak, and all of the streams combine to form Niagara Falls. This is Kerala's largest waterfall. Athirapally is close to the Vazhachal Waterfalls, Chapra Falls, and Sholayar Dam in Valparai.
Places to Explore in Andaman and Nicobar
Kerala Travel Guide: Kerala's Best Beaches
Kerala is known for its backwaters and hill regions, but the state also has some lovely beaches. Apart from Kovalam Beach, renowned beaches in Kerala include Alleppey Beach, Varkala Beach, Bekal Beach, Cherai Beach, and Kozhikode Beach.
1. Bekal Beach
Bekal Fort Beach is a beautiful and scenic beach located in Kerala's Kasaragod region. The backwaters, forts, and picturesque magnificence of the seashore are well-known. The Bekal Resorts Development Corporation has turned a magnificent stretch of shallow beach into a unique beach spot (BRDC). The beach provides a spectacular view of the majestic Bekal Fort, which stands on the Arabian Sea's borders. Bekal Beach has grown into a popular tourist destination and one of Kerala's most well-known beaches.
2. Varkala Beach
Varkala is a prominent seaside town in Kerala as well as a pilgrimage site. Varkala Beach, also known as Papanasam Beach, is one of Kerala's most beautiful and popular beaches, as well as a popular tourist destination. The cliffs adjacent to the sea, from which mineral water with vital therapeutic properties rushes forth, are one of the features of this beach.
Water skiing and surfing are two of the more adventurous sports available at the beach. The 2,000-year-oldbeachJanardhana Swamy Temple, dedicated to Lord Vishnu, and the nature care facility on the shore are also worth seeing.
3. Kozhikode Beach
Kozhikode Beach is one of Kerala's most prominent beaches and tourist destinations. Kozhikode Beach has beautiful landscapes and a relaxing, refreshing atmosphere. The sound of crashing waves, the vast Arabian Sea, and the clear azure waters draw visitors from all over the world. The antique lighthouse, as well as two collapsing piers that plunge into the water, add to the beach's attractiveness and help it keep its old-world charm. Sunbathing, windsurfing, parasailing, beach walking, fishing, and other usual beach sports are available.
Where you can Scuba dive in India
4. Cherai Beach
Cherai Beach, near the north end of Kochi's Vypeen Island, has become a famous tourist destination due to its magnificent beauty. It's also known as Kerala's Golden Beach and the Princess of the Arabian Sea. The Chinese fishing nets that line the far end of Cherai Beach provide a pleasant view. Water scooters, speed boats, snorkeling, and canoe rides are among the water sports available at the beach. Cherai Beach is a popular tourist destination in Kochi and a must-see in Kerala.
5. Alleppey Beach
Alappuzha Beach, commonly known as Alleppey beach, is one of Kerala's top attractions and one of the best places to visit. Alleppey, sometimes known as the "Venice of the East," is one of the most renowned Kerala Backwaters locations. Alleppey's beach is also ideal for a variety of water sports such as a motorboat cruise, surfing, diving, parasailing, and swimming in the Arabian Sea's azure seas. The Nehru Trophy Boat Race, which takes place every year in August, is another notable attraction on this beach.
That concludes our Kerala travel guide. You can start organizing your Kerala itinerary now that you know the greatest sites to visit in Kerala.