The crowned Princess of hill stations, Kodaikanal, is centered on a star-shaped lake and bordered by the verdure of evergreen forests.
I had set out for Kodai with a bag full of warm clothes and high hopes. I had no idea that this beautiful swath of hills, shrouded in mist, would exceed all of my hopes. The hill station located in the Western Ghats is unquestionably mysterious.
The hill station, which is set against a backdrop of beautiful granite cliffs, has a touch of charm in every detail. I went old school and explored the beauty of this valley on bicycles, rowing boats, and rickshaw rides while listening to Tamil classics. It was a completely different vibe and experience for me, but it had the most welcome aura about it.
Location :-
It's one of Tamil Nadu's most beautiful hill stations, and one of a kind. The Palani hill ranges surround Kodaikanal, which is administered by the Dindigul district.
Why it's a must-visit?
There are two things that will always draw you back to Kodaikanal. The rare Kurinji blossoms and the handcrafted sweets
Kurinji only blooms once every twelve years and spreads across a broad area. They can be found growing around the Kodai lake and the mountainous terrain, speckled in bluish and purple colors. The name "Nilgiri hills" was given to the area because of its bluish look (Blue mountains). You may be able to see Kodaikanal in full bloom during the Kurinji year if luck is on your side.
The finger-licking delicious handcrafted chocolates, on the other hand, have no such time constraints. Get yourself a box of these delicious chocolates that are inexpensive.
One Of The Most Popular Holiday Destination Munnar
How to reach?
1. By air
Madurai Airport is the closest airport to Kodaikanal. In addition, there are three other international airports in the state, all of which are close to the hill station. Regular flights, both international and domestic, land at these airports regularly. From there, you'd be guided via a well-connected public transportation network.
2. By train
The nearest train station is located on Kodai road, around 80 kilometers from the hill station. Another convenient option is the Dindigul station, which is located closer to the city. Because it is a larger city with more connected public transportation, going around is easier from here.
Around Coimbatore and Madurai, there are also stations with more regular trains. Almost all important cities are connected, including Bangalore, Chennai, Trivandrum, and Hyderabad.
3. By road
Because tourism is one of Kodaikanal's main sources of revenue, the town has well-paved roads and a well-developed road network. The highways also pass through several well-known tourist spots, including Palani, Theni, Madurai, Kumuli, Chennai, and others.
Kodaikanal is a 7-8-hour journey from major cities such as Bengaluru and Kochi. If you choose to take public transportation, inquire about the various alternatives, schedules, and costs to ensure a smooth ride. Buses are the most convenient and cost-effective mode of transportation.
When is the best time to travel?
Kodaikanal is a tour that may be scheduled at any time of year. The subtropical highland climate with cold weather that is distinctive to Kodaikanal is a result of the high altitude. Even when the low-lying plains of Tamil Nadu are scorched by the sun, Kodaikanal remains cool and pleasant.
As a result, you could base your travel on other considerations, such as the festive month. December to May is a suggested ideal travel period based on that.
Summer blossoms are reflected in the winters and heavy rainfall. The Annual Summer Festival, which is embellished with flower exhibitions and thrilling boat races, is set to begin in May, and it promises to be an entertaining experience.
PLACES TO SEE IN PHUKET ISLAND
Top 10 Tourist Attractions
1. Bear Shola falls

This pristine waterfall flows gracefully in the Reserve forest of Kodaikanal. The purity of these waters has long been a source of the legend. It's thought that a bear would come here from the woods to drink the freshwater. This story was thereafter commemorated, and the name of the falls was changed to reflect it.
The falls are fed by the Parappar river, which is also a great place for hiking. Pay a visit during the monsoon downpours to see the tiered cascade at its most lively state. It'd be a spectacle that would knock you off your feet, no doubt.
2. Lake Berijam
One of Kodaikanal's cleanest and most unpolluted lakes. While the lake is available to the masses of tourists, it retains its natural beauty by being one of the few plastic-free areas in the area.
Because it is located within forest regions, this lake requires prior permission to access, limiting the number of visitors. It's a soothing sight for tired eyes and one of Kodai's most tranquil locales. Berijam Lake is also an excellent location for boating and fishing.
KASOL, ONE OF THE BEST HOLIDAY DESTINATIONS FOR SEAFARERS IN INDIA
3. Lake Kodai (Kodaikanal Lake)
This man-made wonder, shaped like a star and located approximately 3 kilometers from the major bus hub, is shaped like a star. Sir Vere Henry Levinge's vision, spread across 60 acres of land, was built to be the main tourist attraction in the area.
It's a timeless beauty that may be discovered at any time of day. Mornings can be spent horseback riding around the lake, evenings can be spent rowing a boat across it, and evenings can be spent lounging by the lake's reflections. The unique beauty of Kodaikanal Lake is guaranteed to fascinate you. The foggy fog rolls in during the winters, making the lake look like a dream come true.
4. Bryant park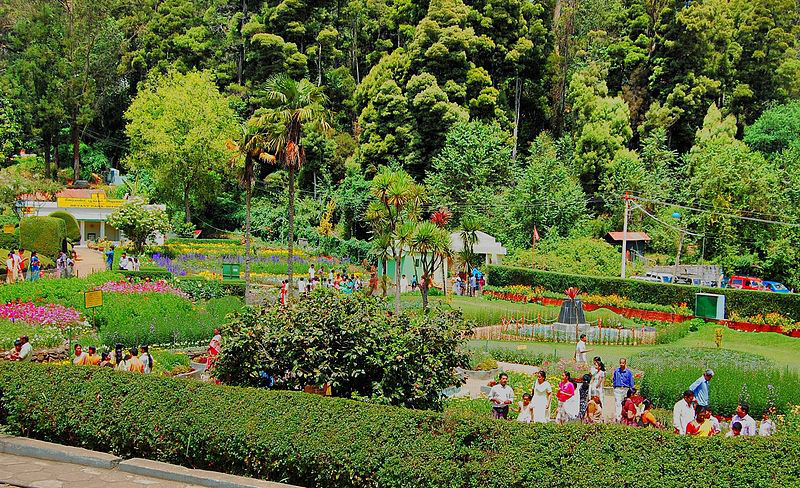 Apart from tourism, Kodaikanal places a high value on agriculture and vegetation. Take a trip to Bryant Park to learn more about this and to see the Kodaikanal blossoms.
The park's kaleidoscope views are only a 10-minute stroll from the lake. The glasshouse, which houses various exotic florals, ferns, and other attractive plants, is the park's main feature.
Even if you want to learn more about these plants, the park will provide you with everything you need to know. You'll get familiarized with operations like as pruning, budding, grafting, and so on since it serves as a demonstration center for Ornamental Horticulture. Relax among the soothing greens and blooms while learning everything there is to know about them.
5. Coakers Walk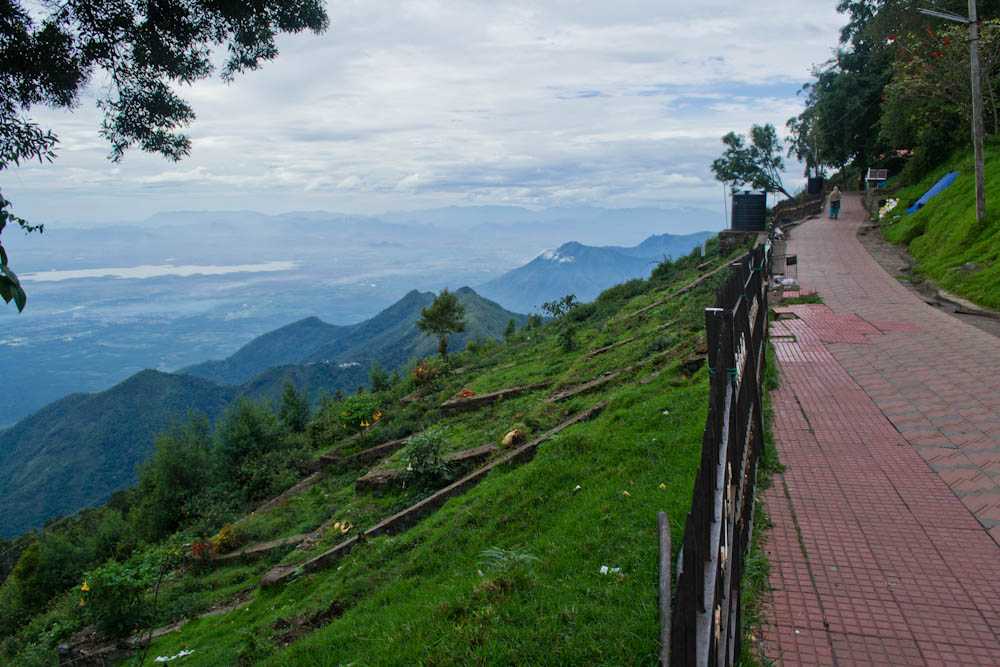 A trail through Kodaikanal's cotton-like clouds. Built in the 1870s, this structure appears to be a ladder to heaven. Take a walk here early in the morning to capture the first rays of the sun peeking through the clouds.
Covering the entire stretch at an altitude of 7000 feet provides you with an unrivaled aerial view of the valley, making it ideal for morning and evening hikes. This features views of Theni, Madurai, the Dolphin's Nose, and the Pambar River Valley in the distance. Take a look through the telescope near the main entrance if you happen to come by on a clear sky day.
6. Dolphin's Nose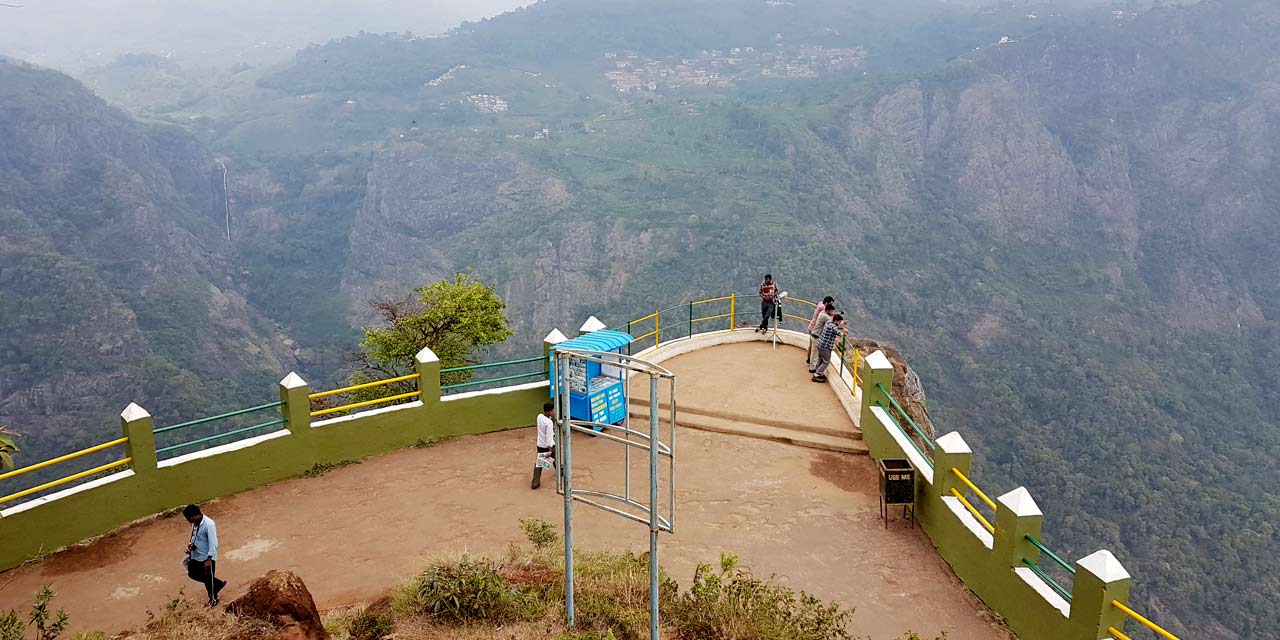 Another vantage point that provides a bird's eye view of the mountains and beautiful greenery. It's a short hike up to the granite escarpment formed like a dolphin's nose, which is at a height of 6600 feet.
It is breathtakingly lovely, with pure azure skies above you and a vast emerald landscape below. If you go with a knowledgeable guide or a native, they can point you to the Periyakulam valley and the perennial Vaigai Lake.
7. Pillar Rocks viewpoint
This is an adventurer's paradise. Huge, vertically aligned cliffs amid lush, foggy rainforests. Pillar Rocks Viewpoint is a one-of-a-kind edifice that stands 400 feet tall and looks out over the sky. It's mostly shrouded in a thick blanket of mist and clouds.
As the clouds lift, you'll be treated to an even more breathtaking view of the summit and the cross atop the mountain. The rocks have a strange aura about them, and every nook and cranny of this vista will reveal new joys. The tiny area of garden surrounding it with vibrantly colored flowers is one such view that adds color to this ethereal cavern.
8. Guna Caves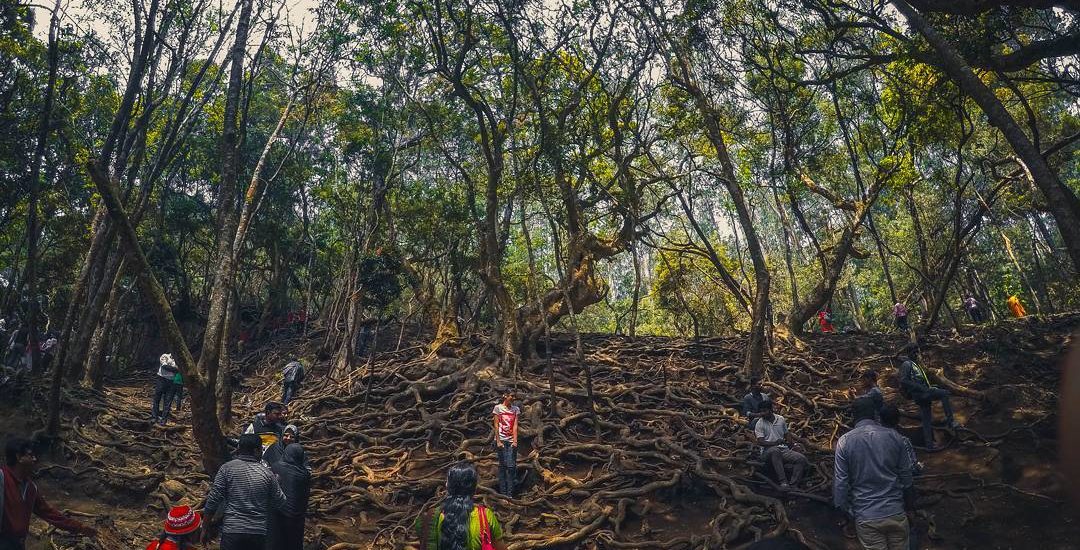 After the Tamil film Guna, this cave became well-known. People gathered in droves to see the beautiful but deadly caves, and they were not disappointed.
It was previously known as Devil's Kitchen because of its eerie overtones and proximity to Pillar Rocks Road. The narrow ravines, which were formed naturally between the rocks of the mountains at a height of 2230 meters, are currently closed to the public due to the risk of a free fall.
The pinewoods and roots that remain entwined around the caves can still be explored. It serves as a warning about the kinds of things you might find if you walk down the cave. It's a live haunted home with everything from blind spots to bats, and it's the most terrifying experience you'll ever have.
9. Green Valley View (Suicide Point)
When it comes to free falls, the old suicide spot has to be at the top of the list. But for all the right reasons. It was renamed the Green Valley View to modify people's perceptions about the area, and it's now one of Kodai's most beautiful sites. The precipitous descent from 5000 feet provides an unrivaled aerial perspective of the Vaigai Dam lowlands.
It has been securely confined by fences, and thorough monitoring has been carried out to ensure that the valley's function as a vantage point is maintained. Visit early in the morning to see it mystically wrapped in the morning mist.
10. Silver Cascade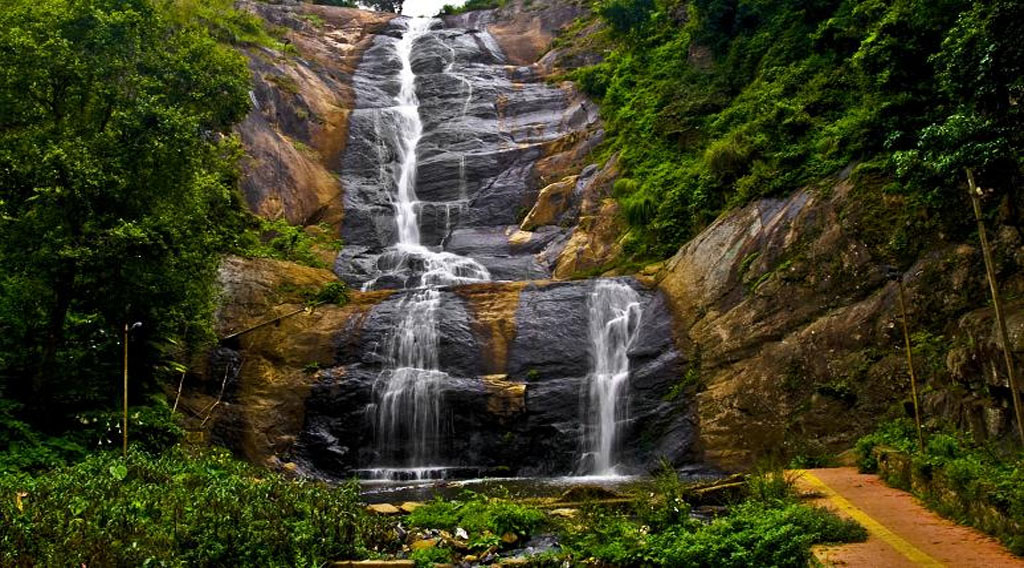 This waterfall, which was formed by the overflowing Kodai Lake, is the perfect way to end the day. Many people come here to be fascinated by the silver threads that cascade elegantly. The waterfall is a refreshing pit stop for travelers because it is positioned just along the roadway. Take a swim in these chilly waters and let your muscles relax for a time. Of course, this is before you splash it around and challenge your pals to the finish line!
Several roadside booths provide freshly picked fruits and vegetables that you may eat while relaxing and admiring the falls.
Travel Tips in Kodaikanal :-
Here are some crucial Kodaikanal travel recommendations to keep in mind before you travel to Kodaikanal to ensure a safe and enjoyable trip. Check it out!
1. What to Bring
If you're looking for travel recommendations to Kodaikanal, you should be informed of the local weather, as Kodaikanal's temperature is typically cold. Throughout the year, the weather is frigid. Woolens should be brought with you regardless of when you want to visit Kodaikanal. Woolens may be required during the summer months when hiking or trekking on high cliffs.
It's also a good idea to bring a raincoat, as Kodaikanal is prone to surprise showers. It's also a good idea to bring an umbrella in case of unexpected rain. When you are at a greater altitude, your body may become dehydrated. It is best to keep oneself hydrated by carrying a moisturizer when you are at the top of the mountains. You may also want to bring a hat in case the sun becomes too bright.
2. Investigate the Culture
In Kodaikanal, there are three well-known temples. It is also recommended that you visit such temples because it is part of the Kodaikanal culture to visit any of these temples regularly. Kurinji Temple is one of Kodaikanal's most popular temples. It is located 5 kilometers from the Kodaikanal bus station. According to Tamil Nadu tradition and literature, this temple is devoted to God Muruga, who was known as the god of Hills. From the top of this temple, one may get a beautiful view of the Palani hills and the Vagai Dam.
Subramanya temple, dedicated to God Subramanian, is another well-known temple in Kodaikanal. It is one of the most well-known temples in South India, and it is situated at a height of 135 meters. In this temple, the major South Indian festivals of Tai Pusam and Pangumi Uttaram are held in grand style. The Village Temple of Kodaikanal is the last temple in Kodaikanal that is well-known throughout the world. Visiting all three temples is worthwhile, and it creates a lasting memory.
3. Adhere to the customs
Following the customs is one of the most crucial Kodaikanal travel recommendations. The residents are quite polite and cordial, and they extend a warm welcome to their visitors. Locals' feelings should be respected by reacting with a kind attitude and observing local social conventions. Social traditions include things like how people dress and how they interact with people of other genders, so if you follow these rules, your vacation will go off without a hitch.
As a result, men in Kodaikanal are required to keep a safe distance from women they don't know, while women are encouraged to dress modestly, especially when visiting Kodaikanal's religious sites. Giving gratuities is not recommended, but if you must, just give 10% of the total bill to restaurants and cab services.
4. Avoid Visiting a Few Places
Green Valley View, also known as Kodaikanal's suicide point, is not suggested to be visited before 10 a.m. or after 3 p.m. It is believed that this is an odd time to visit because the valleys are covered in mist at this time, and the visitor will be unable to understand the depths. Monkeys are around most of the time, which adds to the pandemonium of visiting this location.
Another site to avoid is the Kodaikanal Lake water samples, as the samples have been proved to be tainted after extensive research. With lichens and mosses, the mercury levels in the contaminated water samples are higher. As a result, you should try to avoid and disregard using these water samples as much as possible.
It's also a good idea to stay away from touts and agents, who will often approach you when you're enjoying a peaceful stroll around Kodai Lake. On the road, numerous fraudulent astrologers may try to pass you off as a palm reader or fortune teller. It is preferable to disregard such charlatans. These Kodaikanal travel guidelines will keep you out of a lot of danger.
5. Make adjustments as the weather changes
This location can be visited at any time of the year. However, the best time to visit this town is in the winter, from October to March. This is when the weather is at its most pleasant. Summer and monsoon weather in April to June and July to September is an excellent time to come. As a result, the best time to visit Kodaikanal is during the winter months. The days are pleasant during this time of year, and the nights are very cold, making for a nice and refreshing stay among the towering mountains of Kodaikanal. It's also a good idea to go around January because this is when the place's largest celebration, Pongal, takes place.
6. There is no airport in Kodaikanal.
If you're considering a trip to Kodaikanal, keep in mind that the hill station lacks an airport. This is one of the most useful travel advice for Kodaikanal. Travelers arriving in Kodaikanal from abroad or from any other Indian city must disembark at the Madurai Airport, which is 120 kilometers from Kodaikanal. To get to Kodaikanal, one can take a bus from Madurai. Many daily buses run to Kodaikanal from Chennai, Madurai, and Pondicherry.
When you arrive in Kodaikanal, you may either take a private taxi from the taxi stand or request one from your hotel's travel department. The taxis you hire will bill you by the hour. It's best to set and agree on taxi costs with the drivers ahead of time, as they can often charge much more than intended. You can also travel to Kodaikanal by train, as the nearest railway stations are Coimbatore Junction and Madurai, both of which have good connections to other Indian towns. The road system in Kodaikanal is excellent.
7. Places Worth Visiting
The magnificent Palani Hills make Kodaikanal a popular tourist destination. When visiting Kodaikanal, be sure to take in the splendor of the tranquil lakes, lush forests, and cascading waterfalls. The Kodaikanal Solar Observatory offers a panoramic perspective of the universe, while the Shembaganur Museum of Natural History features Jesuit monks who trace the origins of life on Earth.
8. Not To Be Missed Culinary
Kodaikanal's economy is based on a significant number of tourists. Numerous restaurants serve cuisines from all around the world. However, south Indian cuisine is Kodaikanal's most well-known cuisine. South Indian cuisine is well-known in Kodaikanal, and they specialize in vegetarian dishes. The primary food of Kodaikanal is the Buttery Dosa pancake, which is a local favorite and is served with sambhar dal and coconut chutney; however, non-vegetarians can choose meat or chicken dishes.
A rice dish with jaggery or natural sugar cane sugar is another famous dish. In some places of Tamil Nadu, liquor is not regarded as a part of the food or a part of the south Indian culture. And it's only available if the restaurant owner has obtained a certain license.
YOU MAY LIKE-