Most people on the earth have heard of Los Angeles, thanks to Hollywood. The City of Angels, also known as Tinseltown or simply "La-La Land," is home to the world's film and entertainment industry, as well as the Beverly Hills palaces, Sunset Strip, the original Disneyland, the Dodgers and Lakers, and a beach culture that influenced California's modern surfing boom in the 1950s.
However, first-time visitors should expect some surprises, starting with the huge expanse of the town, which is difficult to comprehend until you arrive, making deciding where to stay a challenge. Although LA is merely America's second-largest city by population, it is connected by an elaborate network of roads that span a thousand square miles of radically disparate architecture, social strata, and cultures.
Los Angeles has a diverse and thriving economy, with companies operating in a wide range of professional and cultural disciplines. It also boasts the world's busiest container port. After Tokyo and New York City, the Los Angeles metropolitan region had a gross metropolitan product of over $1.0 trillion in 2018, making it the world's third-largest city.
Los Angeles held the Summer Olympics in 1932 and 1984, and will again in 2028. Los Angeles has a diverse and thriving economy, with companies operating in a wide range of professional and cultural disciplines. It also boasts the world's busiest container port.
After Tokyo and New York City, the Los Angeles metropolitan region had a gross metropolitan product of over $1.0 trillion in 2018, making it the world's third-largest city. Los Angeles held the Summer Olympics in 1932 and 1984, and will again in 2028.
Franciscan monk Junipero Serra oversaw the construction of the Mission San Gabriel Arcángel, the area's first mission, in 1771. On September 4, 1781, a group of forty-four settlers known as "Los Pobladores" founded the town of El Pueblo de Nuestra Seora la Reina de Los Angeles, which means "The Town of Our Lady the Queen of the Angels."
The settlement's original name is contested; the Guinness Book of World Records gave it the name "El Pueblo de Nuestra Seora la Reina de Los Angeles de Porcincula," while other sources have given it a shorter or different name. The current city is home to the United States' largest Roman Catholic archdiocese. Mestizo or mulatto, a combination of African, indigenous, and European heritage, made up two-thirds of the Mexican or (New Spain) settlers.
For decades, the hamlet remained a modest ranch town, but by 1820, the population had risen to around 650 people. The pueblo is commemorated today in Los Angeles' historic neighborhood, Pueblo Plaza and Olvera Street, which is the city's oldest quarter.
Los Angeles was the first city in the United States to pass zoning legislation. The Los Angeles City Council established residential and industrial land use zones on September 14, 1908. The new legislation created three single-type residential zones where industrial uses were prohibited. Barns, timber yards, and any industrial land use involving machine-powered equipment were all prohibited.
After the event, these laws were applied to industrial properties. These prohibitions were in addition to existing regulations that dealt with nuisances. Explosives warehouses, gas operations, oil drilling, slaughterhouses, and tanneries were among them. In addition, the Los Angeles City Council established seven industrial zones within the city.
However, between 1908 and 1915, the Los Angeles City Council introduced several exceptions to the sweeping prohibitions that applied to these three residential zones, allowing some industrial uses to arise. The 1908 Residence District Ordinance and succeeding zoning rules in the United States differ in two ways.
First, unlike the 1916 New York City Zoning Ordinance, the 1908 rules did not create a complete zoning map. Second, the residential zones made no distinction between types of dwelling, so apartments, hotels, and detached single-family homes were all handled equally.
Los Angeles is 502.7 square miles in the city, with 468.7 square miles of land and 34.0 square miles of water. The city stretches 44 miles north to south and 29 miles east to west. The city's perimeter is 342 miles long.
Los Angeles is flat and hilly at the same time. Mount Lukens, located at the northeastern edge of the San Fernando Valley, is the city's highest point at 5,074 feet. The Los Angeles Basin is separated from the San Fernando Valley by the eastern extremity of the Santa Monica Mountains, which spans from Downtown to the Pacific Ocean.
The Mt. Washington neighborhood north of Downtown, eastern areas such as Boyle Heights, the Crenshaw district around the Baldwin Hills, and the San Pedro district are all mountainous areas of Los Angeles. Much higher mountains surround the city.
The San Gabriel Mountains, immediately to the north, are a popular recreation location for Angelenos. Mount San Antonio, also known as Mount Baldy, is the highest point in the area, reaching a height of 10,064 feet. With an elevation of 11,503 feet, San Gorgonio Mountain is the highest point in the Greater Los Angeles area.
The principal drainage channel is the Los Angeles River, which is mostly seasonal. The Army Corps of Engineers straightened it and lined it with 51 miles of concrete to serve as a flood control channel. The river begins in the city's Canoga Park district, flows east from the San Fernando Valley along the north edge of the Santa Monica Mountains, then swings south through the city center before reaching its mouth at the Pacific Ocean near the Port of Long Beach.
At Playa del Rey, the smaller Ballona Creek empties into Santa Monica Bay. Los Angeles has a diverse range of environments, including beaches, marshes, and mountains, which contribute to the abundance of native plant species. Coastal sage scrub, chaparral shrubland, and riparian forest are the most common plant groups. California poppy, matilija poppy, toyon, Ceanothus, Chamise, Coast Live Oak, sycamore, willow, and Giant Wildrye are examples of native flora.
Los Angeles has a Mediterranean climate with just enough annual precipitation to keep it from being categorized as semi-arid. Throughout the year, daytime temperatures are normally mild.
In the winter, temperatures average around 68 degrees Fahrenheit (20 degrees Celsius), giving it a tropical feel, yet it is a few degrees too cool to be considered a real tropical climate on average due to the cool night temperatures. With only 35 days of measurable precipitation on average each year, Los Angeles receives plenty of sunshine all year.
On a dozen or so days during the year, temperatures in the coastal basin exceed 90 degrees Fahrenheit (32 degrees Celsius), ranging from one day per month in April, May, June, and November to three days per month in July, August, and October, and five days in September.
The San Fernando and San Gabriel Valleys have significantly higher temperatures. Daily temperature variations are significant; in inland locations, the difference between the average daily low and the average daily high is above 30 degrees Fahrenheit (17 degrees Celsius).
The sea's average annual temperature is 63 degrees Fahrenheit (17 degrees Celsius), ranging from 58 degrees Fahrenheit (14 degrees Celsius) in January to 68 degrees Fahrenheit (20 degrees Celsius) in August. The number of hours of sunshine per year exceeds 3,000, ranging from an average of 7 hours per day in December to an average of 12 in July.
International trade, entertainment (television, motion pictures, video games, music recording, and production), aerospace, technology, petroleum, fashion, apparel, and tourism all contribute to Los Angeles' economy. Finance, telecommunications, law, healthcare, and transportation are all important industries.
Los Angeles was ranked the 19th most competitive financial center in the world and the sixth most competitive in the United States in the 2017 Global Financial Centres Index. Los Angeles is commonly referred to as the "Creative Capital of the World" because one out of every six citizens works in the creative business, and the city has more artists, writers, filmmakers, actors, dancers, and musicians than any other city in history.
Given its glamorous reputation, it's no surprise that la Angeles is one of America's culinary hotspots when it comes to fine dining. While Mexican food is the closest thing to an indigenous LA cuisine, with a tacquera on every other block, purveyors of East Asian cuisine and gourmet street carts have also exploded in recent years.
California cuisine, the distinctive style of top-notch LA dining, combines French-styled food with fresh local ingredients in an eclectic, harmonious brew, is served at many of the city's higher-end restaurants.
The Cobb Salad, invented in Hollywood's Brown Derby restaurant, the French-Dip sandwich, invented in the early twentieth century by either Cole's Pacific Electric Buffet or Phillippe's—both of which still exist downtown, the ice blended coffee drink by Coffee Bean & Tea Leaf, and Original Tommy's Hamburger are all Los Angeles creations.
The city's scene is strong in "ethnic" dining, and it is regarded as one of the most active in terms of breadth and depth in the globe. Los Angeles boasts a huge selection of restaurants. Soul food restaurants like Roscoe's House of Chicken and Waffles can be found in the largely African-American communities.
Los Angeles "remains the United States' primary city to eat regional Mexican food," according to the Oxford Encyclopedia of Food and Drink in America. Glendale is the city of one of the country's biggest concentrations of Armenian eateries.
Because of its proximity to Asia and the ongoing influx of Asian immigrants, Asian cuisine has a strong presence in Los Angeles. Restaurants serving Japanese, Chinese, Vietnamese, Korean, and Thai cuisine are plentiful. With restaurants like Urasawa in Beverly Hills, Nobu in Malibu, and Koi in Hollywood, Japanese cuisine is a cornerstone of Los Angeles' haute cuisine scene.
Asian seafood, as well as Mediterranean culinary, are thought to have had a big effect on California cuisine. Food festivals like 626 Night Market in Arcadia, where merchants offer traditional night market dishes like stinky tofu and skewers as well as modern fusion cuisines like ramen burgers and pho tacos, have sprung up as a result of Asian food's popularity.
El Pueblo de Los Angeles, a historic enclave centered on the old plaza directly across Alameda Street from Union Station, was the birthplace of Los Angeles. The Plaza was the location of the city's first settlement in 1781, and the plaza chapel La Placita, 535 N Main St, is the city's oldest, a modest adobe edifice with a gabled roof dating from 1822.
Olvera Street, which runs north of the plaza and was designed in part as a fictitious Mexican town market, with a cheerful assortment of food and craft vendors. Avila Adobe (daily 9 am–4 pm; free) is one of the city's historic landmarks, however, it was almost totally reconstructed out of reinforced concrete following the 1971 Sylmar earthquake. The home is furnished as it may have been in the late 1840s, and the tourist center is located in the courtyard outside.
How to Reach Los Angeles
1. How to Reach Los Angeles from India
There are no direct flights between India and Los Angeles. However, connecting flights are accessible from practically all international airports, with some arriving from the west and others from the east. These routes are served by major international airlines such as Cathay Pacific, Lufthansa, Qatar Airways, Emirates, and others.
2. How to reach Los Angeles by flight
The Los Angeles International Airport (LAX) is one of the busiest in the United States. With flights from all of the world's major countries and towns, it is extremely well connected to the rest of the country and indeed the rest of the world.
There are four more airports in Los Angeles: one each at Long Beach, Burbank, Orange County, and Ontario. These airports primarily service domestic routes, with LAX typically offering lower rates.
3. How to reach Los Angeles by road
From adjacent cities and towns, LA is easily accessible. Numerous routes and freeways are leading into the city from the LA Metropolitan Area. Interstate 10, which connects the east and west coasts of the United States to Florida; Interstate 5, which runs south through San Diego to Mexico and north through Sacramento, Portland, and Seattle to Canada; and US Route 101, which connects it to San Francisco, are the most popular.
4. How to reach Los Angeles by train
With trains coming at Union Station, LA is well connected to adjacent places. Union Pacific, Amtrak, and Burlington Northern Santa Fe are just a few of the train companies that connect Los Angeles to the rest of the country.
5. How to reach Los Angeles by bus
Long-distance buses, shuttle buses, and airport buses all provide reliable connections between Los Angeles and the surrounding cities. Several bus companies, including the well-known Greyhound, Bolt Bus, Megabus, Santa Barbara Airbus, and others, run along these routes to destinations such as Las Vegas, San Francisco, San Diego, San Jose, Oakland, and others.
6. How to reach Los Angeles by Waterways
The Port of Los Angeles and the Port of Long Beach are the city's two main ports. Several international cruise lines and yachts dock in these ports, making Los Angeles one of the most popular destinations on the west coast of the United States, as well as in the Pacific area.
7. Local transport in Los Angeles
LA's public transportation is adequate, but not particularly outstanding. The Metro Rail and public buses are the two most common modes of public transportation in this city. The city's bus system is handled by several different companies, while the subway system has eight lines.
The most convenient way to pay in these modalities is using a TAP Card. It's a reloadable card that may be used on buses and metros. Renting a car is the best method to move about LA. In the city, it is simple to work, and the roads are not confusing.
However, keep an eye out for traffic and avoid traveling during peak hours. Cabs are also available around the city, however, they must be reserved in advance. As a result, getting around the city takes a long time and is highly expensive, therefore renting a car is still the best option.
Best Time To Visit Los Angeles
Los Angeles is best visited between March and May, and then again between September and November. These months provide comfortable temperatures and improved air quality, as well as far fewer visitors. The beautiful sky makes sightseeing and viewing all outdoor attractions a breeze.
Summer's scorching temperatures, combined with dense smog, tend to keep visitors away during this time. Surprisingly, the summer months are when Los Angeles attracts the most tourists. The months of December and February see a lot of rain, and the months of January to April are the quietest in this Southern California metropolis.
1. Peak Season / High Season in Los Angeles
The best months to visit Los Angeles are March, April, September, and October. It's the ideal time to visit the beaches of Los Angeles because the weather is mild, not too hot, chilly, or damp.
During these months, temperatures range from 70 to 75 degrees Fahrenheit, making them great for getting out and about in the city. The city's outdoor and indoor activities draw tourists from all over the world.
2. Shoulder Season in Los Angeles
May, June, October, November, and December are considered the shoulder months for visiting Los Angeles. Christmas and New Year's celebrations are held in December, Halloween is celebrated in October, and there are other parades and events held across the city. During these months, many tourists can be seen walking around the city.
3. Off-Season in Los Angeles
The months of January, February, July, and August are considered to be Los Angeles' offseason. Even though these months have unfavorable weather, such as severe rains in February, the city still has a lot to offer.
The Chinese New Year attracts a large number of tourists in January, and tourists also flock to Los Angeles to celebrate the Fourth of July. You shouldn't hesitate to visit L.A. during these months, but remember to bring your raincoat.
4. Wet Season in Los Angeles (November – February)
The 'wet' season in Los Angeles runs from November to February. The start of November is supposed to be the start of the winter rains in Los Angeles. This does not imply that it rains every day or that storms are common. Temperatures in November and December range from 18 to 12 degrees Celsius, while they dip to 12 degrees in January and February.
Many bright days and comfortable temperatures can still be found in November and December. From late December to early February, the weather is chilly, dreary, and wet. During the rainy season, tourists and locals forsake the beach and theme parks in favor of indoor activities in Los Angeles.
Flights, hotels, and resorts all offer amazing prices during the off-season months of January and February, so take advantage of them. Don't forget your raincoats for the upcoming rainy season!
5. During the Dry Season in Los Angeles (March – October)
The dry season in Los Angeles begins in March and lasts until the end of October. Because of the beautiful skies and warm and pleasant temperatures, this is the best time to visit L.A. During a few months, the humidity rises, yet it's not unbearable for touring the city.
Temperatures range from 21 to 26 degrees Celsius during these months. During these months, tourists from all over the world rush to Los Angeles to sunbathe, surf, or let their inner child loose at Disneyland. Hotels and resorts fill up quickly, so make your reservations early. March, April, September, and October are likely to be the most expensive months for flights, so plan.
Best Places To Visit In Los Angeles
Los Angeles, in Southern California, has long been known internationally in the film and entertainment industry, particularly for Hollywood, which has attracted aspiring actors and actresses from all over the country for over a century.
Today, la Angeles is a culturally diversified metropolis with a reputation as America's creative capital. A vibrant culinary scene, amazing shopping, outstanding museums, and engaging family attractions await visitors.
Sunseekers will find lots to do and intriguing neighborhoods to visit while enjoying the warm climate and beaches. Recent improvements to the public transportation system, as well as the establishment of a Metro Bike Share station in downtown la Angeles, have made getting around and visiting the attractions easier than ever.
For families, the adjacent Disneyland and Universal Studios are must-see attractions that are frequently revisited. See our list of the best tourist attractions in Los Angeles to help you plan your sightseeing itinerary.
1. Universal Studios Hollywood
Universal Studios Theme Park is famed for its incredible rides based on blockbuster films, but it is also a functional movie studio and a family-friendly attraction. For most visitors, the ever-changing array of rides, which includes everything from simulations to roller coasters, is the highlight.
The Wizarding World of Harry Potter, The Walking Dead, The Simpsons, Transformers, Jurassic World – The Ride, and Despicable Me Minion Mayhem is among the most popular movie and television-themed attractions and sets.
Consider getting a Skip the Line: Front of Line Pass at Universal Studios Hollywood to save time standing in long lineups. This convenient ticket grants you one-time rapid entry to all rides, attractions, and shows at the park, as well as behind-the-scenes access to select attractions.
When you've had your fill of thrills, head to CityWalk, a three-block entertainment district with shops, restaurants, and theaters. A guided tour of the studios is another option for going behind the scenes of some of Universal's most popular movie sets. The VIP Experience gives you access to sets and areas that are not exposed to the general public.
2. Griffith Observatory and Griffith Park
Griffith Park, located on the eastern side of the Santa Monica Mountains and comprising 4,210 acres, is California's largest state park. The Los Angeles Zoo, Griffith Observatory, a planetarium, a Greek theater, a riding facility built for the 1984 Olympic Games, golf courses, tennis courts, hiking trails, and other attractions are all located there. Views of the city and beyond are available via hiking paths and picturesque drives into the mountains.
The Griffith Observatory is one of the city's most exciting interactive attractions, and it's all free. Exhibits and telescopes can be seen on the grounds. A glance through the Zeiss telescope, which is used to see the moon and planets, is the main attraction.
Each evening when the facility is open, you can use the telescopes for free. Solar telescopes for viewing the sun are also available on-site.
The park and observatory are named after Griffith J. Griffith, who donated the majority of the parkland to the city in 1896 and left funds for the observatory's construction in his will.
3. Disneyland Resort
Disneyland, located just outside of Los Angeles, has been luring visitors since the 1950s and is California's top family vacation destination. When most people think of Disneyland, they think of rides and experiences situated in beautifully constructed theme parks.
With seven lands based on movie themes, the Disneyland California Adventure Park, which was built during one of the expansions, offers even more action and adventure.
Several Star Wars-themed rides are relatively new to the scene. Star Wars: Rise of the Resistance and Millennium Falcon: Smuggler's Run are two of them. The rides are in the new Star Wars Galaxy Edge section, which features shops and eateries themed after the Black Spire Outpost on Batuu's planet.
The resort offers a full complement of attractions and services for a complete holiday, in addition to rides and Disney characters roaming the streets. Disneyland Resort offers hotels, restaurants, shopping, and a variety of entertainment opportunities.
4. Hollywood
Hollywood, a Los Angeles suburb, is a destination in and of itself, with its distinct history and renowned landmarks. The film industry and the glitter of the silver screen are intimately intertwined with the attractions in Hollywood.
Some of the greatest spots to visit include the hillside Hollywood sign, Hollywood Boulevard, and the Chinese Theatre. You might even see a star or two out shopping on Rodeo Drive if you're lucky. Finding all of your favorite celebrities' stars among the 2,500+ on the Walk of Fame is a great family activity in Hollywood.
Best Places to see in Coorg (2022)
5. The Getty Center
The Getty Center, designed by Richard Meier and situated on 110 acres on a hilltop in the Santa Monica Mountains, is a massive edifice encompassing 0.75 square miles.
This excellent museum is perfectly situated in its unique structure and beautiful grounds. European paintings, drawings, sculpture, and decorative arts, as well as 19th- and 20th-century photography, are among the works on display.
The views of Los Angeles from the museum grounds are breathtaking. Book a table at The Restaurant for a relaxed lunch while taking in the sights.
The J. Paul Getty Museum, founded by the late oil mogul J. Paul Getty, has two locations: the Getty Center and the J. Paul Getty Museum. The Getty Villa is a museum dedicated to art from the Stone Age through the end of the Roman Empire, housed in a reconstructed Roman country home.
6. Petersen Automotive Museum
The Petersen Automotive Museum has an extraordinary collection of automobiles that car enthusiasts will not want to miss. Over 300 vehicles and motorcycles, ranging from wonderfully preserved pieces from 1886 to concepts for the twenty-first century, are displayed over four levels in a combination of permanent and temporary exhibits.
The museum has undergone extensive renovations and is currently one of the most modern in its field. The building's outside facade is a striking architectural masterpiece. A 90- or 120-minute guided Vault tour, which provides extra information on rare and uncommon cars, is available for an additional cost.
A regular series of special exhibits at the museum features new, old, and unique cars from the past, as well as ones that may appear in the future.
7. Santa Monica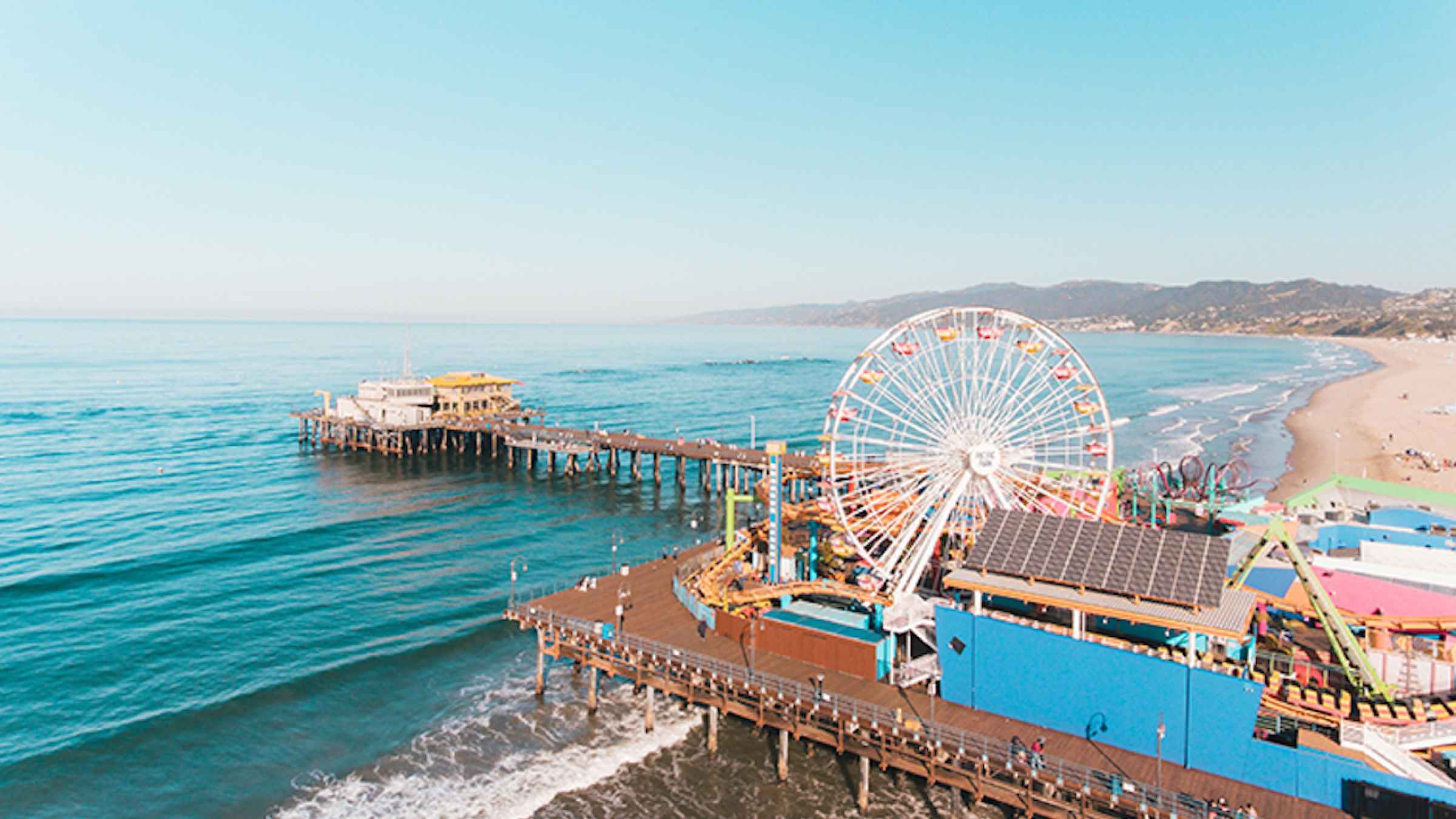 Santa Monica is a distinct destination that is both trendy and laid-back, with a diverse population that includes surfers, skateboarders, and yoga practitioners, as well as techies and businesspeople.
The famous Santa Monica Pier, with its iconic Ferris wheel, and the magnificent stretch of golden sand along the coast are what most tourists come to see, but this beachside community near LA offers a variety of experiences.
From quirky and vintage stores to high-end boutiques, shoppers will discover a variety of selections. Check the 26-mile bike route along the waterfront for some exercise, or stroll down Third Street Promenade to view street performers, shop, and people-watch.
Since the opening of the new Expo Metro line, which connects downtown LA to Santa Monica, getting to Santa Monica has been considerably easier.
8. Los Angeles County Natural History Museum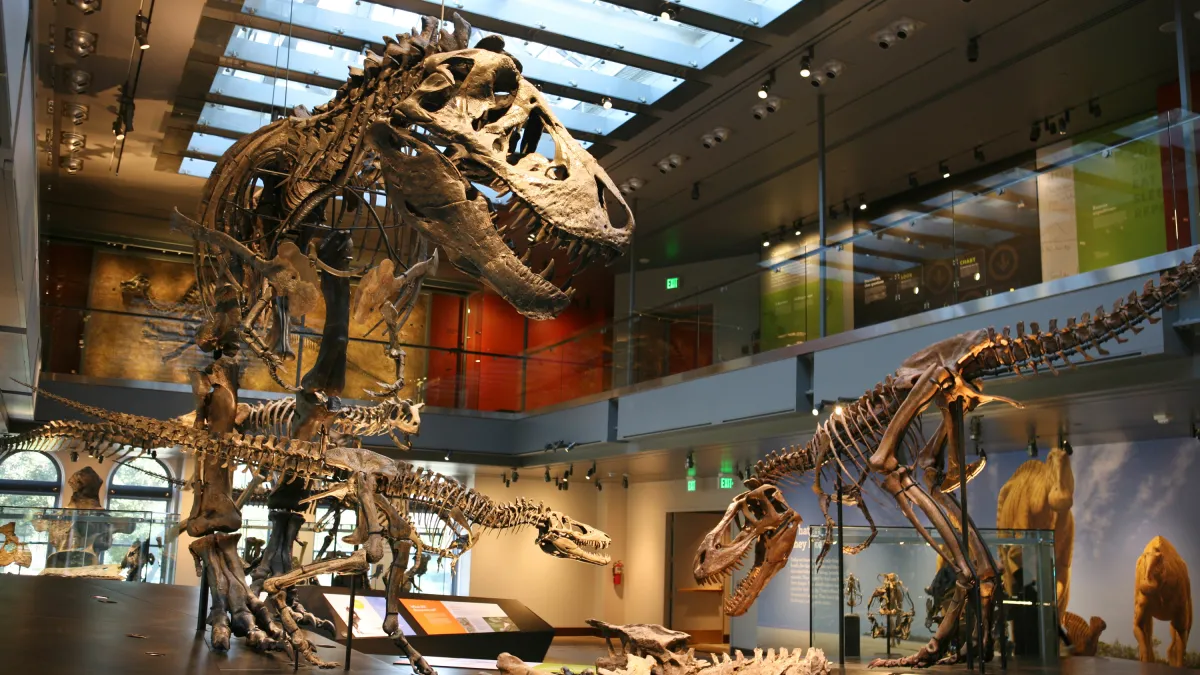 The Natural History Museum is most known for its dinosaur collection, which comprises multiple halls and a huge permanent collection covering a wide range of topics.
The 14,000-square-foot Dinosaur Hall houses an impressive collection of dinosaur skeletons, including the growth sequence of Tyrannosaurus rex fossils, which includes three entire skeletons ranging in age from baby to adult. A Triceratops and a Stegosaurus are also on show.
The museum focuses on natural history in California and other parts of the world. Another must-see exhibit is Becoming Los Angeles, which looks at Southern California's history over the last 500 years. Hands-on experiences abound in the Discovery Center and Insect Zoo, which are especially appealing to younger visitors.
9. California Science Center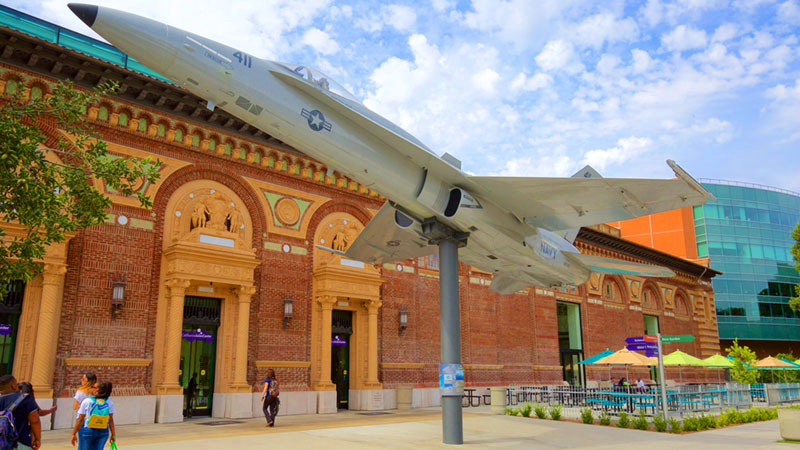 The Space Shuttle Endeavour, as well as other notable exhibits, are housed at the California Science Center, which is free to the public. While the new Samuel Oschin Air and Space Center is being developed, Mission 26: The Big Endeavour is on exhibit at the Samuel Oschin Pavilion.
You may visit the space shuttle, as well as relics from the voyage, and learn everything there is to know about it and the individuals who worked on it.
Other exhibits in the Science Center focus on the living world, technology, and ecosystems, among other things. A magnificent 188,000-gallon kelp tank, as well as living plants, animals, and fish, may be found in the Ecosystems' display. In addition to permanent exhibits, the California Science Center hosts special exhibits, ensuring that there is always something new to view.
10. The Broad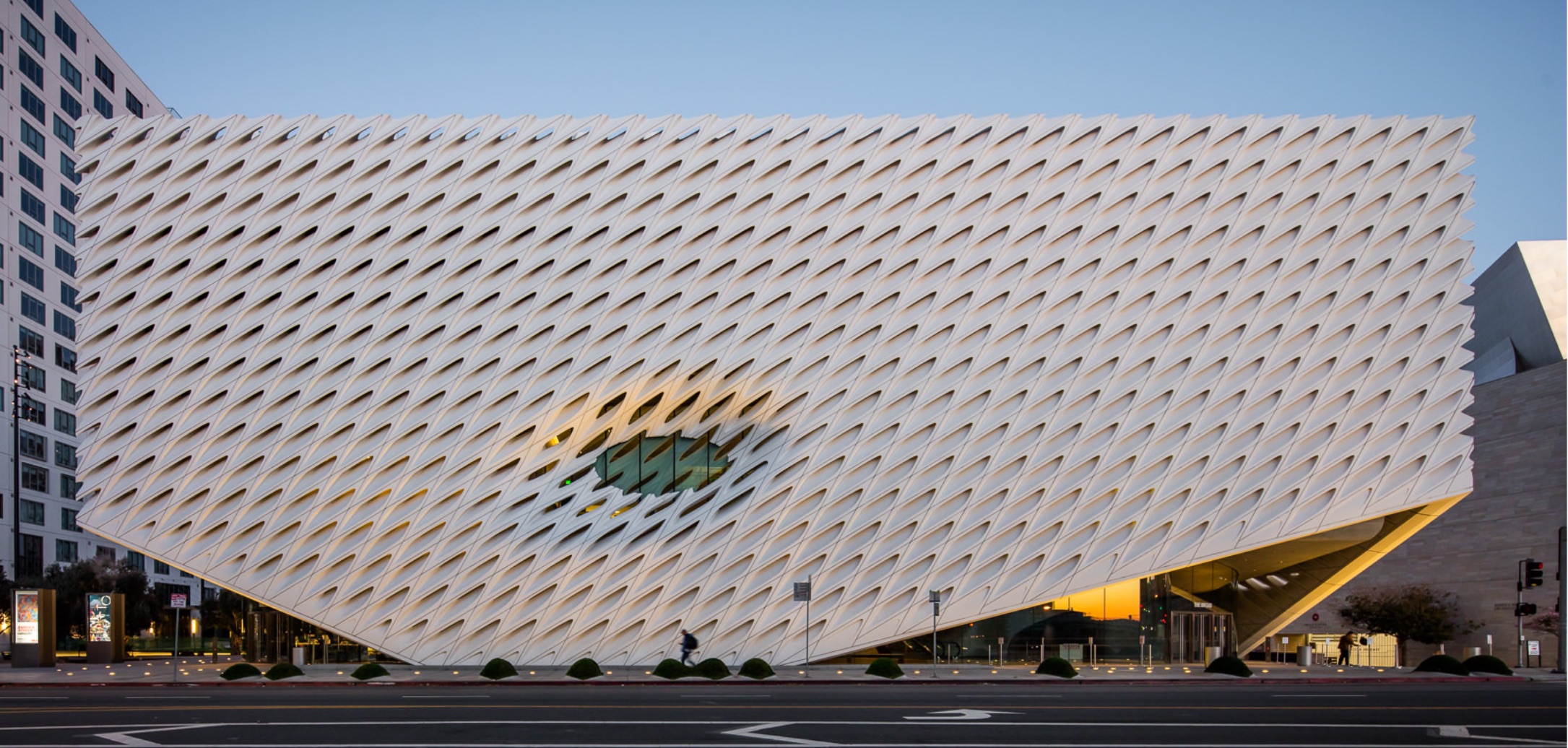 The Broad began in late 2015 to immediate acclaim and has remained popular ever since. With several big and spectacular installations, the museum concentrates on contemporary and postwar art. This one-of-a-kind structure with a "veil-and-vault" idea houses almost 2,000 works of art.
General admission tickets are free, but they are frequently sold out in advance. On the day of the entrance, standby tickets are available on a first-come, first-served basis, but expect to spend some time in line, especially on weekends. Some exceptional exhibitions charge an admission price.
Eli and Edythe Broad, who have long been collectors of postwar and contemporary art, founded the museum.
11. The Original Farmers Market
The Los Angeles Farmers Market began in 1934 as a small operation born out of the hardships wrought by the Great Depression. During the Great Depression, eighteen farmers banded together and put up stalls on a vacant lot along Wilshire Boulevard to sell their products directly to the public.
The market continues to grow as a result of this experiment's success. It was mostly a fruit and vegetable market at the time, but the market has expanded over time to accommodate an increasing number of sellers.
The market now houses vegetable and other food vendors, as well as restaurants and specialty businesses. Everything from jewelry and fragrances to kitchenware and toys may be found here.
If you're looking for things to do in Los Angeles at night, the market offers a range of activities, including free evening music on Friday nights during the summer.
12. Los Angeles County Museum of Art (LACMA)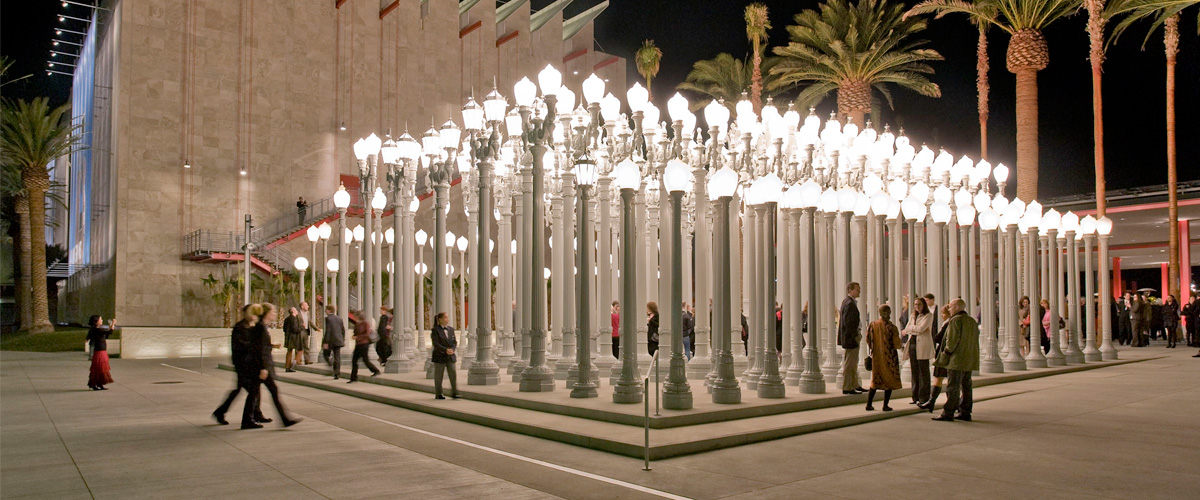 With about 130,000 items from antiquity to present times, the Los Angeles County Museum of Art claims to be the largest art museum in the western United States. The great collections of Asian, Latin American, and Islamic art are particularly noteworthy.
The sprawling complex is made up of a variety of individual structures that have been bought and rebuilt over time. The Transformation, the most recent development, saw the opening of numerous new structures built by the Renzo Piano Building Workshop on the western part of the site. On museum row, the LACMA is located near the La Brea Tar Pits.
13. Venice Beach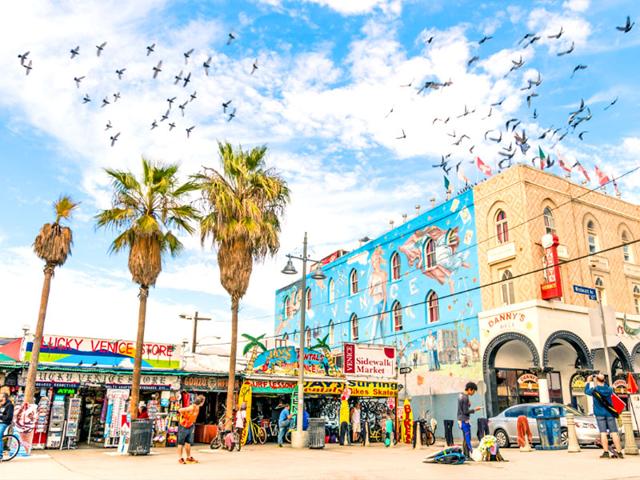 Although the region has its distinct ambiance, Venice Beach merits its reputation as a destination to see and be seen, making it ideal for people watching. The Venice Beach Boardwalk and this stretch of golden beach are always bustling with people walking, cycling, rollerblading, and jogging.
The sidewalk is lined with eclectic stores and street entertainers of various kinds. Some of the greatest skateboarders in the area frequent the Skatepark, which is located close to the beach, and there are a lot of imaginative art projects nearby. People pump iron in the scorching California heat at Muscle Beach, as the name suggests.
You'll feel like you're going through a fairground with food kiosks selling everything from shaved ice to kettle corn and funnel cakes. There are also some excellent restaurants in this area. This isn't your standard family beach, but it's well worth a visit.
14. La Brea Tar Pits
La Brea Tar Pits in Hancock Park provides a rare opportunity to watch active fossil excavations and learn about the process. The Tar Pits were created 40,000 years ago when oil leaked through the rock, trapping passing animals. The tar then maintained the fossils throughout time, providing an incredible window into another era.
The museum in the La Brea Tar Pits (previously the George C. Page Museum) displays reconstructed prehistoric animal fossils as well as the fossil recovery technique. You can observe the preparation of bones and discover what happens behind the scenes before skeletons can be presented.
The museum has fully recreated fossils of mammoths, saber-toothed cats, dire wolves, and other creatures that lived between 40,000 and 10,000 years ago on display.
Extinct animal representations are on display in an outdoor area. A makeover and a new design are in the works. In the hopes of revitalizing this distinctive attraction, the Natural History Museum of Los Angeles County is considering architectural proposals.
15. Battleship Iowa Museum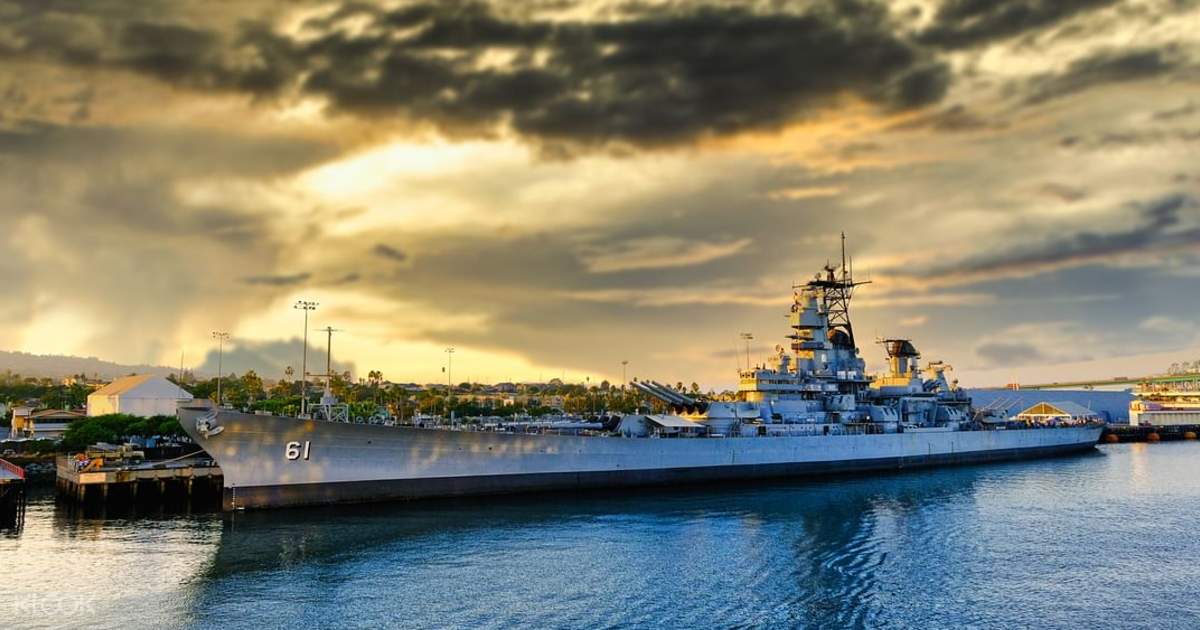 The Battleship Iowa Museum is a terrific family activity and is located on the waterfront near the Port of Los Angeles. You may walk around this gigantic battleship and imagine what life was like at sea for the sailors on board.
A self-guided tour of the ship's history is included in your admission price. A peek at the big 16-inch weapons is one of the attractions. Kids can take part in a free scavenger hunt around the ship to find Vicky, the ship's dog, in her ten secret locations (displayed on posters or in augmented reality).
For a price, you can take the Full Steam Ahead Guided Tour, which gives you access to the ship's inner workings, including the engine room, boiler room, and Combat Engagement Center, among other prohibited places. This tour's dates and numbers are limited, so make your reservations as soon as possible.