Lucknow, Uttar Pradesh's capital, is one of the country's most populous cities. Its history dates back hundreds of years to the time when the Nawabs ruled the Awadh Kingdom. They were enormous fans of literature, art, dancing, music, and gastronomy, and as a result, this city is brimming with cultural riches.
Lucknow is currently known for its delicious cuisine, vivid embroidery, classical structures, British bungalows, beautiful gardens, and beautifully crafted spectacular monuments, all of which contribute to the city's rich past. The regal culture of this city may still be seen in the people's behavior and way of life. It's no surprise that Lucknow is known as the "City of Nawabs."
The city is located at a height of 123 meters (404 feet) above sea level. Lucknow city had a 402-square-kilometer territory until December 2019, when 88 villages were added to the municipal borders, bringing the total area to 631 square kilometers.
Lucknow is located on the northwestern bank of the Gomti River, bordered on the east by Barabanki, on the west by Unnao, on the south by Raebareli, and on the north by Sitapur and Hardoi.
There were 110 wards in the city in 2008. There are three distinct morphological divisions: Hazratganj, Aminabad, and Chowk make up the Central Business District, which is a completely developed sector. The inner zone is surrounded by cement dwellings, while the outer zone is made up of slums.
Lucknow was historically the capital of the Awadh area, which was ruled by the Delhi Sultanate and then the Mughal Empire. It was handed over to the Awadh Nawabs. The British East India Company dissolved local administration in 1856 and assumed entire control of the city, as well as the rest of Awadh, in 1857, when it was handed to the British Raj.
Lucknow, like the rest of India, gained independence from Britain on August 15, 1947. It is the 17th fastest growing city in India and the 74th fastest expanding city in the world. Lucknow, along with Agra and Varanasi, is part of the Uttar Pradesh Heritage Arc, a network of survey triangulations established by the state government to stimulate tourism.
Lucknow's main geographical feature, the Gomti River, meanders across the city, dividing it into the Trans-Gomti and Cis-Gomti areas. The city is surrounded by rural towns and villages, including Malihabad, Kakori, Mohanlalganj, Gosainganj, Chinhat, and Itaunja, which are located in the middle of the Indus-Gangetic Plain.
Barabanki is to the east, Unnao is to the west, Raebareli is to the south, and Sitapur and Hardoi are to the north. The city of Lucknow is in seismic zone III.
Lucknow has a humid subtropical climate with cool, dry winters (mid-November to February) and dry, hot summers (March to mid-May) with plenty of sunshine. More than nine-tenths of the annual rainfall falls between June and October, when the city receives an average of 827.2 millimetres (32.57 in) of rainfall from the southwest monsoon winds, though frontal rainfall from the northeast monsoon occurs on rare occasions in January.
In the winter, the highest temperature is around 25 degrees Celsius (77 degrees Fahrenheit) and the minimum temperature is between 3 and 7 degrees Celsius (37.4 and 44.6 degrees Fahrenheit). From mid-December to late-January, fog is extremely common. Lucknow occasionally has colder winters than towns like Shimla and Mussoorie, which are located well up in the Himalayas.
Lucknow experienced temperatures below freezing on two days in a row during the extreme winter cold wave of 2012-2013, with the minimum temperature hovering around freezing for more than a week. Summers are extremely hot, with average maximum temperatures in the high 30s Celsius and temperatures ranging from 40 to 45 °C (104 to 113 °F).
Aeronautics, automotive, machine tools, distillery chemicals, furniture, and Chikan embroidery are among the prominent sectors in the Lucknow urban agglomeration. Lucknow is one of India's most prosperous cities.
It houses the National Milk Grid of the National Dairy Development Board, the Central Institute of Medical and Aromatic Plants, the National Handloom Development Corporation, and the U.P. Export Corporation, all of which are research and development centers.
In a ranking of India's ten fastest-growing job-creating cities, Lucknow is rated sixth. According to an Assocham Placement Pattern research, Lucknow's economy used to be based on the tertiary sector, with the majority of the workers employed as government servants.
In comparison to other northern Indian state capitals such as New Delhi, there are few large-scale industrial establishments. IT, manufacturing and processing, and medical/biotechnology are all contributing to the economy's growth. Institutions that promote business, such as the CII, have established service centers in the city.
Marble, handicrafts, art pieces, jewels, jewelry, textiles, electronics, software, computers, hardware, clothes, brass products, silk, leather goods, glass items, and chemicals are all major export items. Lucknow has pushed for public-private partnerships in areas like energy, roads, and expressways, as well as educational initiatives.
Lucknow has only 5.66 percent forest cover, which is significantly lower than the state average of roughly 7%. The following trees are grown here: Shisham, Dhak, Mahuamm, Babul, Neem, Peepal, Ashok, Khajur, Mango, and Gular. Several varieties of mangoes, particularly Dasheri, are produced for export in Malihabad, a district of Lucknow near to the city.
Wheat, paddy, sugarcane, mustard, potatoes, and vegetables like cauliflower, cabbage, tomato, and brinjals are the principal crops. Sunflowers, roses, and marigolds, for example, are grown over a large region. Many medicinal and herbal plants are also produced here, and common Indian monkeys can be found in and near city woodlands like Musa Bagh in patches.
The Lucknow Zoo, one of the country's oldest, was founded in 1921. It is home to a diverse array of creatures from Asia and other continents. Visitors can also enjoy fun toy train rides in the zoo.
A botanical garden, which is a zone with a wide range of botanical diversity, is also located in the city. The Uttar Pradesh State Museum is also housed there. It houses sculptural marvels going back to the third century AD, such as finely carved Mathura sculptures depicting everything from dancing girls to scenes from Buddha's life.
Lucknow, like other Indian metropolises, is a cosmopolitan and multilingual place. Many of Lucknow's unique cultural qualities and rituals have become living legends. The city's current culture is the product of a fusion of Hindu and Muslim monarchs who governed the city at the same time.
This is due to the Nawabs of Awadh's secular and syncretic traditions, which took a strong interest in all aspects of life and fostered these traditions to reach an unusual level of sophistication. Visitors observe that modern-day Lucknowites speak in a pleasant and refined manner.
Lucknow's residents are known as Lucknowites or Lakhnavi. It also represents a melting pot of globalization, with the legacy of the Nawab's culture continuing to be reflected in the city's old Hindi lexicon, as well as better opportunities for modernizing.
The Nawabi cuisine of the Awadh region is peculiar. Under royal patronage, the Bawarchis (chefs) and Rakabdars (royal chefs) have achieved tremendous elegance in cooking and culinary presentation for centuries. This gave rise to the skill of slow cooking (or Dum style cooking), which has come to be associated with "Awadhi" cuisine.
To the traditional "Awadhi" dastarkhwaan, these Bawarchis added artistically prepared foods such kababs, kormas, kaliya, Nahari-kulchas, zarda, sheermal, roomali rotis, and warqi parathas (feast of dishes).
Biryanis, kebabs, and bread are some of the most well-known delicacies from this region. Kebabs are available in a variety of styles, including kakori, galawati, Shami, boti, patili-ke, ghutwa, and seekh.
Tunde ke kabab restaurants are known for a type of soft kebab created for a Nawab who had lost his teeth by a one-armed chef (thus the name Tunday). The popularity of Lucknow's kebabs is not restricted to the city's residents; the meal also draws visitors from other towns and nations.
Chaats, street cuisine, kulfi, paan, and sweets are also popular in Lucknow. Nahari, a mutton-based meal, is popular among non-vegetarians. Sheermal is a sweet bread (paratha) that is popular in Lucknow.
Makkhan-malai is another sweet Lucknow delicacy that is only available during the winter months. Some of the city's restaurants are over a century old, and there are numerous high-end restaurants, bakeries, cafes, and pubs catering to the rich class and international visitors.
How To Reach Lucknow
Lucknow, the Nawabs' cultural capital, is recognized for its historic structures, rich history, and delectable Mughlai food. Those wondering how to get to Lucknow need not fear, as the state capital of Uttar Pradesh is well connected to the rest of the country via a robust network of aircraft, trains, and buses.
The Amausi Airport in Lucknow connects the city to the rest of the world via a variety of aircraft. Those who prefer to go by train can obtain tickets up to Lucknow's Charbagh railway station. To go to Lucknow, you can take state and private buses from adjacent cities and towns.
1. By air
Lucknow Airport, also known as Chaudhary Charan Singh International Airport, is located 15 kilometers from the city center and serves all major Indian destinations. T1, which serves international flights, and T2, which serves domestic flights, are the two terminals here.
Delhi, Mumbai, Patna, Bangalore, and Hyderabad are served by Air India, Air India Express, GoAir, IndiGo, and Jet Airways. Oman Air, flydubai, and Saudia airlines operate flights to international destinations such as Abu Dhabi, Muscat, Riyadh, Jeddah, Doha, and Dubai. Travelers can hire prepaid taxis or cabs or take the bus to get about Lucknow from outside the airport.
2. By road
It is also possible to go to Lucknow by vehicle from nearby cities. Several luxuries, deluxe, Volvo, and state buses run daily from Kanpur (90 km), Delhi (550 km), Agra (366 km), and Varanasi (320 km) to Lucknow. From Delhi, take a Volvo bus from ISBT Anand Vihar on the Taj Express Highway/Yamuna Expressway, which takes about 9 to 10 hours.
3. By rail
Lucknow is connected to the rest of the country by train through the Charbagh Railway Station, which is located in the city's center. New Delhi, Kolkata, Patna, Kolkata, and Chennai all have regular trains to Lucknow.
One can ride the Jan Shatabdi from Delhi, which takes about 6 to 7 hours. In addition, multiple AC special trains run from New Delhi to Lucknow, taking approximately 9 to 10 hours.
Lucknow Weather And Best Time To Visit Lucknow
Lucknow, the Nawabs' capital, is located in Uttar Pradesh, India's northernmost state. Since the city was ruled by Nawabs, it is claimed to have a profusion of cultural literature, music, dance, arts, and crafts, and people from all over India rush to this location all year to enjoy and learn about Lucknow's cultural legacy.
Lucknow's weather is classed as a mild subtropical climate, making it a wonderful spot to visit at any time of year. While the summers are scorching, the monsoon and, especially, the winter months are cooler, making it one of the best times to visit Lucknow. The seasons experienced by the region of Lucknow are listed here, so you can decide when the best time to visit this wonderful city is.
Is It Safe To Travel To Kashmir?
1. The season of summer (April-June)
Summers in Lucknow are extremely hot and dry, resulting in a severe climate. The heat begins to sneak in during the last week of March, peaking in April and continuing through June. During this season, temperatures range from 30°C at night to a scorching 45°C during the day, especially in the afternoons.
This temperature is accompanied by scorching winds known as Loo, which blow throughout the season, making sightseeing rather stuffy and uncomfortable. This may not be the greatest time to visit if you don't enjoy hot weather.
2. Monsoon season (July-September)
The monsoon season begins with gentle showers in July, bringing some relief to the inhabitants of Lucknow. The season lasts until September, and at that time, there is a lot of rain and the temperatures start to decrease. During the monsoons, temperatures range from 32°C during the day to 25°C at night, with cool winds.
Given how beautiful the weather is at this time of year, it could be an excellent time to visit Lucknow. Even though the humidity is at its highest and the roads are wet and slick, the region sees a high volume of tourist traffic during this time.
3. The season of winter (October-March)
With the arrival of winter in Lucknow, the region begins to experience a substantially cooler environment than it did earlier in the year. This is one of the greatest times to visit Lucknow because the weather is cool, pleasant, and ideal for sightseeing. Winter temperatures range from 24°C during the day to 5°C at night, making it ideal for a relaxing and comfortable trip.
Because the weather is pleasant, this is an excellent time to visit Lucknow's various attractions. From October through March, there are many festivals, which fill the streets with excitement and enthusiasm. Make sure you have appropriate gear with you because some nights can be cooler than others.
Things To Do In Lucknow
Lucknow is a city that has a surprise waiting for you around every corner, with stunning forts, Mughlai cuisine, and memorials that will transport you back in time. That's a pleasant surprise! And if you get lost in this large and lovely city, don't be afraid to ask the kind natives for directions; you won't find such 'tehzeeb' anyplace else in India.
Lucknow is an explorer's pleasure, with its kaleidoscope of new structures and British-style markets and squares. Large and winding boulevards, decaying but enlightening monuments, gardens, and a plethora of booths serving excellent kebabs can all be found in Central Lucknow.
If you're impressed by the grandeur of this region, wait till you see our list of activities to do in Lucknow. The city has everything to entice you, from putting ittar on your wrists to savoring exquisite tunday kebab.
1. Soak in the Grandiose of Rumi Darwaza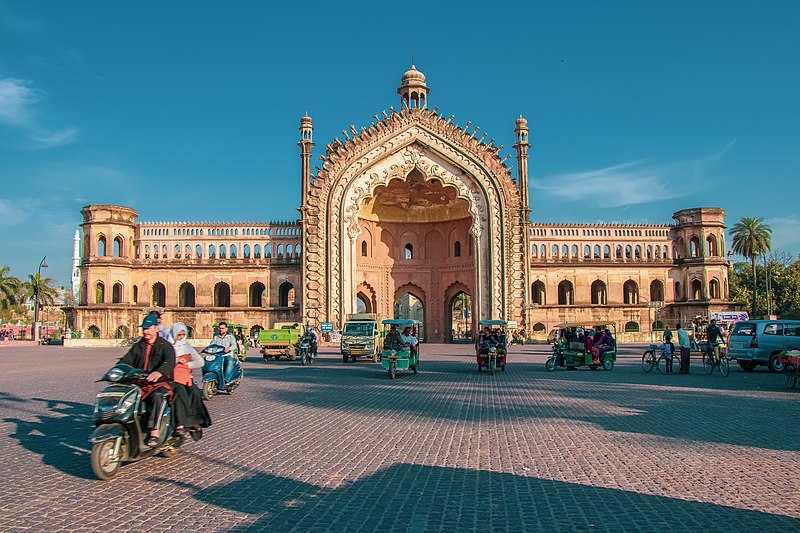 Despite the addition of iron and steel fittings to maintain its spectacular construction, the iconic archways of Rumi Darwaza stand tall and in all their splendor to this day.
It is one of Lucknow's most spectacular historical sites, having been built in 1784. The Darwaza is an exceptional representation of Awadhi architecture, filled with flowers and other elaborate details, and is similar to the grand entrance gates of Constantinople (modern-day Istanbul).
The complete construction is 60 feet tall, with a tower space where lights previously lit up at night to illuminate the pathway below. While you can visit it at any time of day, seeing it at night is one of Lucknow's must-do activities. The image is even more strange on full moon days.
Best Places to see in Coorg (2022)
2. Get lost in the magnificent Bara Imambara
Colonial remnants can be found in practically every section of the country. From street names to structures and terminals, Bara Imambara is an iconic monument that is a true example of Mughal and Awadh architecture, devoid of any influence from European features.
This massive edifice has two entrances, both of which lead to the same huge plaza in the center. Spend a whole day visiting the mosque's enormous courtyards, majestic gateways, and fascinating step wells, or simply kneel before Allah. The Imambara's central hall is one of the world's largest (15 meters in height).
One of the courtyard's pathways leads to the famed labyrinth, Bhool Bhulaiya. If you want to explore the alleys and 489 similar-looking doors, keep your flashlights handy.
You will be rewarded with a breathtaking panoramic view of the entire city if you are fortunate enough to find your way out of this maze (and to the top)! The entire edifice is also thought to have hidden passages and passageways with treasure trunks.
You now have a better idea of what to look out for. Apart from these wonders, there are several additional aspects of this Imambara that make it a must-see attraction in Lucknow.
3. Pay a visit to the beautiful Chota Imambara.
It is impossible to visit Bara Imambara without also seeing Chota Imambara. Visiting this location is always one of the most enjoyable things to do in Lucknow.
The tomb of Muhammad Ali Shah is housed in this ornate and spectacular 19th-century edifice. The attention to detail and calligraphy on the walls can keep one occupied for several hours. The scarlet crown and silver throne of Muhammad are the most fascinating of all the precious relics.
A park, a water tank, and two copies of the great Taj Mahal are also part of the complex. While there are many intriguing things to visit here, the Clock Tower opposite the Imambara is a must-see. If you enjoy visiting art galleries, the famous Hussainabad Picture Gallery is located adjacent to the complex.
The gallery features enormous and exquisite pictures of Nawabs, however, it is not one of Lucknow's most well-known attractions. It was built on the site of a former summer palace and overlooks an artificial lake, making it incredibly scenic.
4. See the living remnants of the rebellion of 1857 at The Residency
If you're interested in history, particularly the period around the rebellions that sparked patriotic nationalism, the 1857 British Memorial, which is part of The Residency, is a must-see. Visiting the planetariums, memorials, and museums in Lucknow is one of the top things to do.
And what better way to travel back in time than to see these historical sites? Everything began among the gardens and numerous remains of the structures within this vast complex.
The First War for Independence from the British Raj began with the Uprising of 1857. The Siege of Lucknow, which took place here, was a crucial phase of that insurrection. The entire incident lasted 147 days and claimed thousands of lives.
The Residency has not been renovated or altered in any way to bring the past back to life and remind you of everything that happened here. The bullet and cannonball marks on the walls will be with you for the rest of your life.
The museum, which is located within the main complex, is open to the public and will answer the majority of your inquiries about the independence movement, particularly during this period.
5. Visit the Indira Gandhi Planetarium to learn about astronomical objects and planets.
Do intergalactic stars and the universe pique your interest as a space nerd? The Indira Gandhi Planetarium is the next attraction to see in Lucknow. Unlike other planetariums in India, this one is designed to look like Saturn.
That's right, you read that correctly. The entire structure's construction was created to imitate this gorgeous planet, complete with all of its outer rings.
The planetarium, which opened in 2003, is popular with not only schoolchildren but also young people and tourists. You'll feel as if you've been transported to another planet thanks to their air-conditioned complex and cutting-edge projection technology.
Their daily screenings and shows are a must-see attraction in Lucknow for everyone curious about our infinite, enormous, and enigmatic cosmos. The museum is open daily from 10 a.m. to 5 p.m. The screenings are scheduled for 1 p.m., 3 p.m., and 5 p.m.
6. Visit Ambedkar Park to see stupas and statues that are larger than life.
The huge monuments of numerous leaders who dedicated their entire lives to humanity and social service in the pursuit of the greater good may be found in Ambedkar Park, which was erected completely of red sandstones imported from Rajasthan. Narayan Guru, Jyotirao Phule, Kanshi Ram, Birsa Munda, and Bhimrao Ambedkar are among the statues.
While the colossal statues are impressive, the museums and galleries should not be overlooked. The 62 elephant statues constructed right outside the entryway, however, have become the place's main USP and attraction.
7. Visit the Lucknow Zoo and State Museum to learn about biodiversity.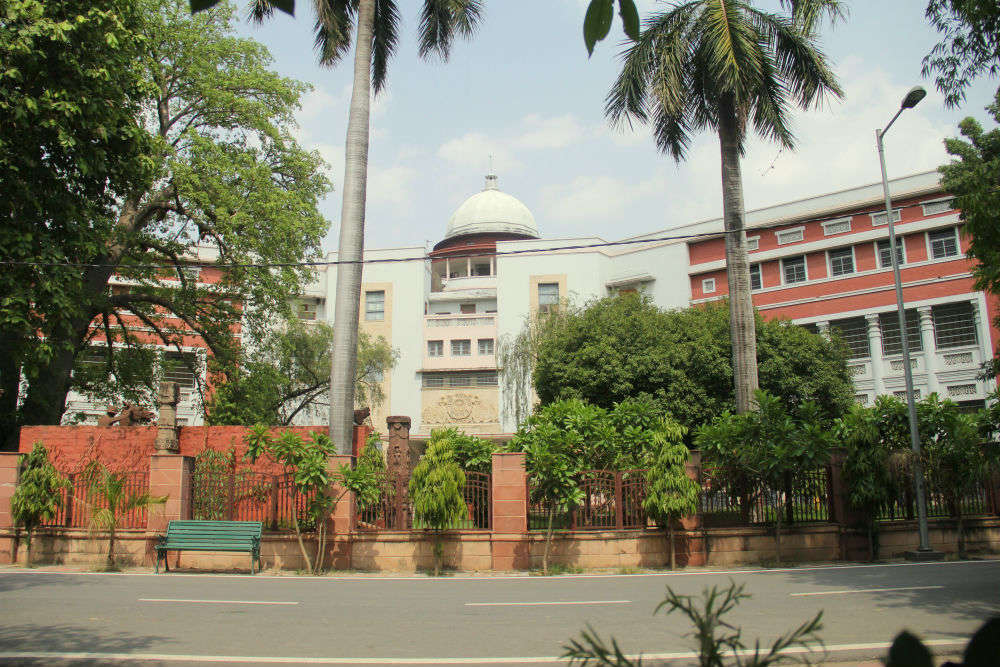 Lucknow Zoo and State Museum is a famous tourist destination in the city, with 447 animals, 57 reptiles, and 347 bird species. The zoo is critical in informing residents, particularly schoolchildren, about the need for environmental preservation and ecological balance.
Among the various wild species found here are the Royal Bengal Tiger, Indian Rhino, Wolves, and Himalayan Black Bear. The zoo's 'Touch Table Program' is one of its most well-known efforts to educate visitors about animal skins and other relevant topics. Every Friday, it takes place inside the zoo.
You can spend some time in the State Museum, which is part of the Zoo, once you've finished exploring the zoo. The museum, contrary to popular belief, provides an insight into the city's history.
Relics dating back to the third century AD can be found here. There are also several sculptures and statues of dancing girls on display. The museum is open daily from 9 a.m. to 6 p.m.
8. Go to Jama Masjid for comfort.
Jama Masjid, with its 4,950 square meters of space, is one of the city's most renowned mosques and a must-see attraction. Since its completion in 1423, the mosque, which was commissioned by Sultan Ahmed Shah, has stood tall.
It is made completely of yellow sandstone and is a stunning sight to behold. The mosque boasts a lot of gorgeous carvings and detailing that will mesmerize you.
9. Go shopping for all the Lucknawi must-haves.
Eating and shopping will always be at the top of the list of the best 10 things to do in Lucknow. And it's for this reason that we can't end this list without providing you with some useful and intriguing information about all the goods you'll need to buy in Lucknow. Of course, we'll also tell you where you can get them.
The City of Nawabs has it all for the shopaholic in you, from beautiful chikan work and ittar at Hazratganj and sarees, suits, and lehengas at Aminabad to lampshades and other home décor goods and Nagra footwear at the Chowk (near to Bara Imambara).
10. Indulge in delectable local fare
Now for the most crucial part of the entire blog — legendary Lucknow delicacies that you must taste! You know, all the shopping and other enjoyable stuff you do in Lucknow will be for naught if you can't brag about eating tunday, galawati, galoti, and kakori kebabs.
If you tell them you didn't eat these foods, they might not believe you went to Lucknow. Of course, if you go on an exclusive food trail across the city, you'll come across a hundred different variations.
Because it is a labor of love, each piece will truly melt in your mouth. The soft inside is compensated for by minced meats, while the exterior crust is generally crispy. These go well with rumali roti or sheermal. The latter is a Kashmiri meal that is a sweetened variant of the popular naan. Several booths in Hazratganj, Aminabad, and Chowk will fill your stomach.
Best Places To Visit In Lucknow
Most people know Lucknow as the home of Tunday Kababs, Nihari, and Tehzeeb. However, this location is immersed in the city's rich history, culture, and tradition and offers much more.
Take your time to appreciate this cultural treasure trove. From Nawabi historical sites to British architecture, Lucknow has something from the past in every nook and cranny. Discover the warmth and hospitality of a friendly culture here, unlike other touristy sites.
1. Bara Imambara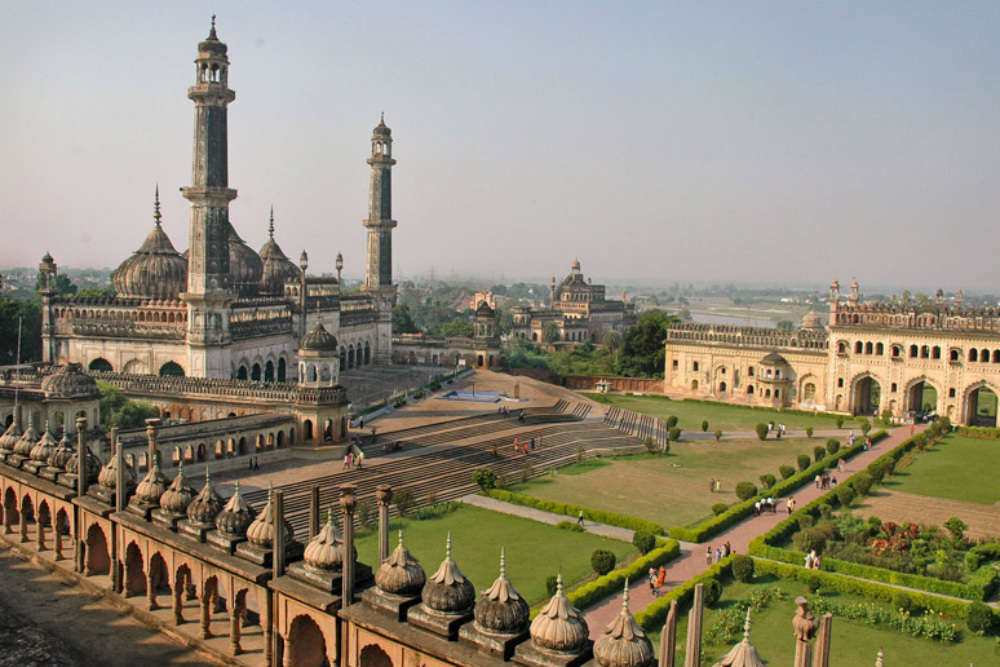 The Bara Imambara is a good site to start your tour of Lucknow's sights. The Bara Imambara, also known as the AsfiImambara, was built by the Nawab of Lucknow and is named after him. The Imambara is the world's largest structure that does not require any external support.
This makes it an engineering marvel and another illustration of Mughal architecture's excellence. Here are some facts about the construction to help you appreciate its beauty: The entire structure is constructed of lakhauri bricks, which are smaller than standard bricks and are bound together by lime plaster.
The entire structure is devoid of either metal or wood. The Bara Imambara's central hall is said to be the world's largest arched hall. The maze of corridors known as Bhul Bhulaiya, however, is the star of the show in this edifice.
Visitors can only enter the maze with the assistance of a guide who is familiar with the maze; otherwise, they risk becoming lost in the maze for the rest of their lives.
2. Chota Imambara
The Chota Imambara, located near the Bara Imambara, is one of Lucknow's most beautiful buildings and a popular tourist attraction. Muhammad Ali Shah, the third Nawab of Awadh, and his mother, who is interred beside him, are buried at the Chota Imambara.
The building is a beautiful example of Persian and Indo-Islamic architecture. The external walls of the monument are covered in Quranic verses, and the internal walls of the monument are also covered in the same delicate refinement.
During the festivals, the Imambara comes alive at night and is a photographer's and tourist's dream. The Imambara is best visited at any time of the year. The mosque within the monument complex will not be open to non-Muslim visitors. It is a good idea to hire a guide to help you grasp the history of everything in the complex.
3. Rumi Darwaza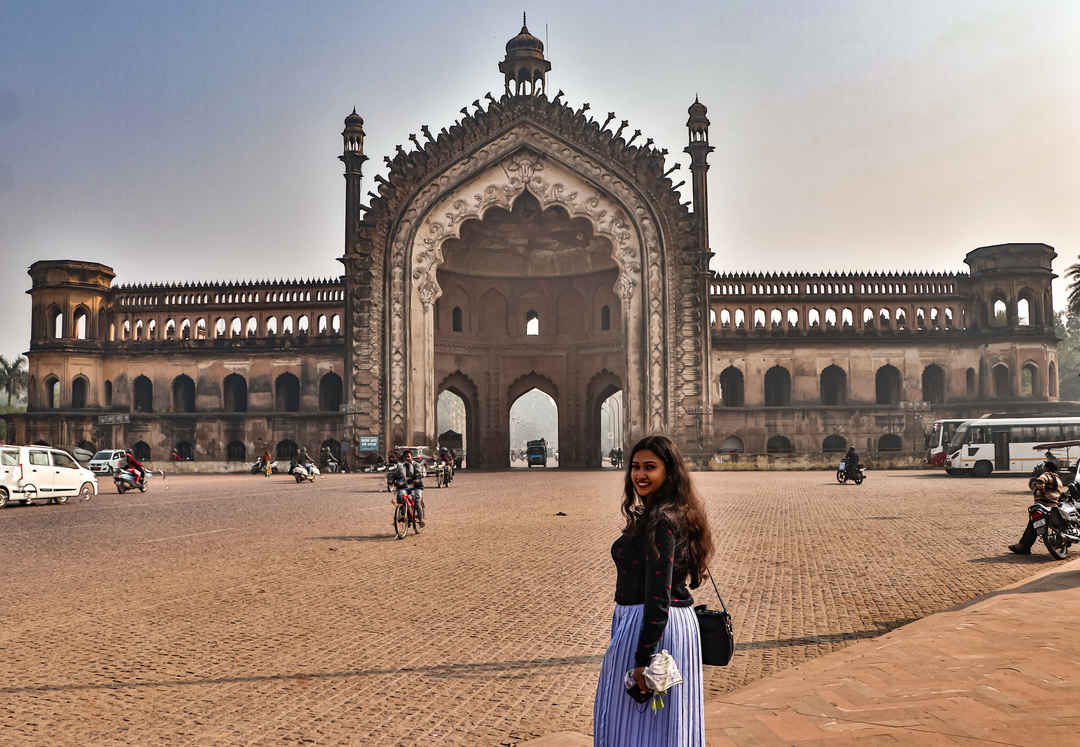 The Rumi Darwaza, which stands sentinel during daily traffic and bustle in Lucknow, is another example of Awadhi grandeur from bygone days. It is a near-perfect reproduction of a comparable edifice that had stood in the Byzantine Empire. The Rumi Darwaza is fascinating not only because of its appearance but also because of its history.
It was built in 1748, during a famine in this section of the country. The Nawab of Lucknow determined that in exchange for building this structure for him, he would give daily meals for the people.
It may appear to be lost in the city's dust and grime now, but it still stands tall and strong. It is better to see the Darwaza at night when it is illuminated. Don't forget to take pictures of Lucknow's famous ancient landmark.
4. Hazratganj Market
The Ganj, as it is known in Lucknow, is a well-known market and practically everyone's favorite hangout location. In terms of vitality and vibrancy, it can be compared to Delhi's Connaught Place and Bengaluru's MG Road. You have the option to eat, shop, window shop, or simply sit around and do nothing.
Enjoy specialties at local hangouts like Royal Café and Chedilal, or binge on the famed Paanch Pani Ke Baatashe (also known as Golgappas in North India).
The Ganj, like many other areas in Lucknow, is best visited in the evening, after seeing adjacent attractions such as the Residency and the Dilkusha Kothi. This is one of Lucknow's most distinctive tourist attractions.
5. The British Residency
One of Lucknow's most popular attractions is the British Residency. It was once home to the British Resident General, and it protected Britishers during the Sepoy Mutiny of 1857, but now it largely houses the remains of mansions and graveyards of British men, women, and children who died during the Sepoy Mutiny.
This region, which was once a hotbed of violence and brutality, now exudes a sense of tranquility and calm that will soothe your senses as well.
6. Lucknow Zoological Garden
If you want to spend a day in the middle of nature with your family and friends, Lucknow Zoo is the place to go. It is spread out over 72 acres of land. Exotic animals such as the royal and white Bengal tigers, Gray wolves, Asiatic lions, swamp deer, Asiatic elephants, Himalayan black bears, and others can be found at the zoo.
A British-era locomotive and a State Museum are also on display at the zoo. Coins, sculptures, paintings, and a natural history collection can all be found here.
7. Chowk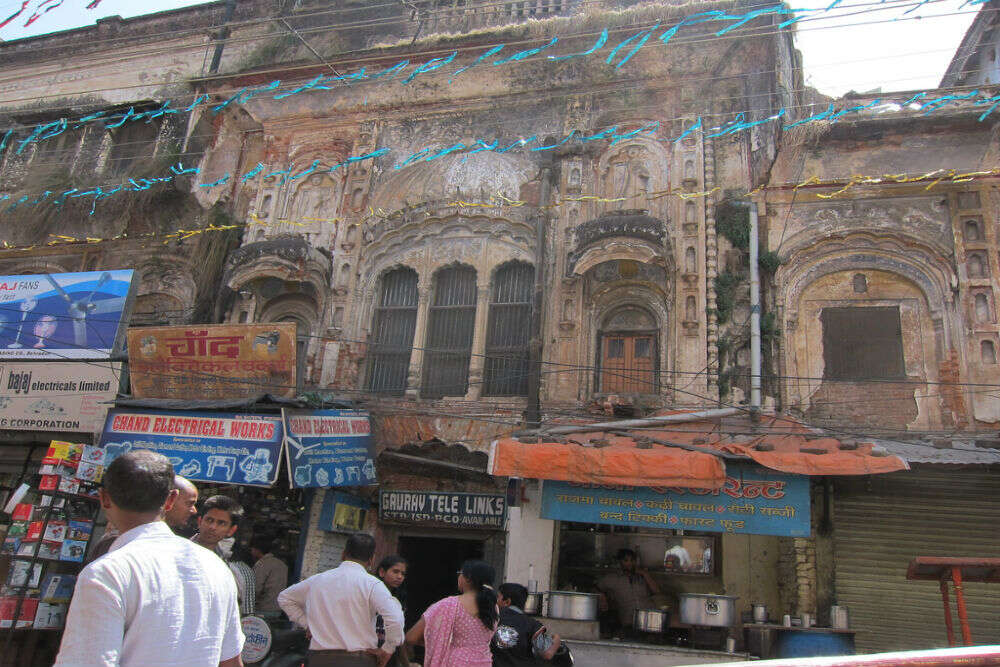 Lucknow's Chowk area is one of the oldest markets in North India and one of the city's most interesting sights. The Chowk is said to be as old as Lucknow, dating back to the time of the Nawabs and Kings who governed the city.
Chowk market provides everything you need, from the iconic Chikan and Zardori outfits to traditional jewelry, nagara shoes, ittar perfume, and mouth-watering tunday kababs.
Summer treats like mango kheer and Makhan malai should not be overlooked. These are well-known at Radhey Lal Sweets. Take a bite out of a malaai pan or simply savor the delectable kachoris and shahitukda.
8. Dilkusha Kothi
Major Gore Ouseley, a British commander, built Dilkusha Kothi as a holiday home in 1800. It was also planned to be a hunting lodge. During the Sepoy Mutiny of 1857, it was extensively destroyed, as were many other structures in Lucknow. It still exists today, albeit only with a few turrets and walls.
Although not as well-known as the other destinations on this list, this location is worth seeing and is quickly becoming one of Lucknow's top tourist attractions.
9. Zoological Garden of Nawab Wajid Ali Shah
Nawab Wazid Ali Shah Prani Udyan or the Lucknow Zoological Garden, also known as the Prince of Wales Zoological Gardens, is a fantastic area for little treks.
Within the park, there are established pathways that will lead you on these walks. Apart from the regular tourists, nature photographers and zoology aficionados have a field day here. The garden is open from 9:00 a.m. to 6:00 p.m. every day.
10. Janeshwar Mishra Park
Janeshwar Mishra Park is a park dedicated to the late political politician Janeshwar Mishra, which was built in 2014. The park contains all of the amenities of a city park, and its purpose is to provide a recreational space for the city's residents. The park is one of Asia's largest recreational parks, and it is open from sunrise to sunset every day.
11. Aminabad
The Aminabad Market, another prominent market in Lucknow, is one of the most popular shopping destinations as well as a popular hangout for locals. The finest thing about the Aminabad Bazaar is the wonderful tunday kebab and kulfi on offer. Pratap Market and Mohan Market are well-known for sarees and outfits, in addition to outstanding Lucknow cuisine.
12. Ambedkar Park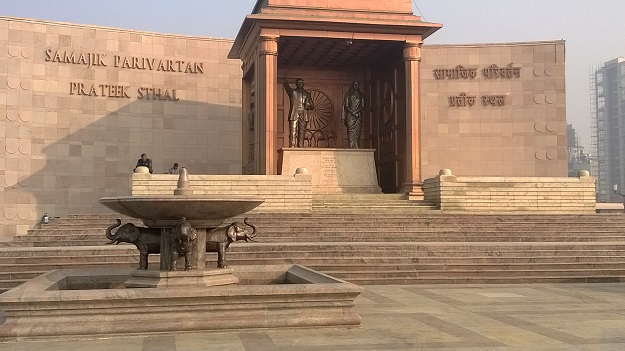 The Ambedkar Park is a stunning modern building dedicated to the lives of Jyotirao Phule, Shahuji Maharaj, Bhimrao Ambedkar, Birsa Munda, Narayana Guru, and Kanshi Ram, all of whom lived during different times of human history but dedicated their lives to humanity.
Mayawati was the Chief Minister of Uttar Pradesh at the time, and this memorial was built during her tenure. In 2008, it was made available to the general public. The Pratimb Sthal is the park's main entrance, which is flanked on both sides by 62 elephant statues. There is no better site in Lucknow for a pleasant evening stroll than this tourist attraction.
Lucknow is one of those places where tradition and modernization coexist, with neither taking the lead. This particular mix is what gives this bustling metropolis its appealing personality. If you want to see one of the theatres of Indian freedom and rich legacy in one spot, don't miss out on the places to visit in Lucknow.