Mjuli or Majuli (mazuli) is a river island in Assam's Brahmaputra River that was designated as India's first district in 2016. It once covered 880 square kilometers (340 square miles) before the turn of the twentieth century, but erosion has reduced it to 553 square kilometers (214 square miles) as of 2014. Majuli has diminished in size as the river that surrounds it has expanded in size.
The Brahmaputra River in the south and the Kherkutia Xuti, a Brahmaputra anabranch joined by the Subansiri River in the north constitute the island. Mjuli island is reachable by ferry from Jorhat. The island is around 300–400 kilometers (186–249 miles) east of Guwahati, the state's capital. It was formed by the river Brahmaputra and its tributaries, particularly the Lohit, changing course. The Assamese neo-Vaishnavite culture is centered in Mjuli.
Majuli has been on the UNESCO Tentative List for World Heritage Site nomination since 2004. The island was a long, thin strip of land known as Majoli (land in the middle of two parallel rivers), with the Brahmaputra running north and the Burhidihing flowing south till they met at Lakhu.
Ratnapur was the capital of the mighty Chutia kingdom and was originally known as Ratnapur. Frequent earthquakes between 1661 and 1696 paved the way for a devastating flood in 1750 that lasted 15 days and is documented in historical texts and tradition. Part of the Brahmaputra spilled southward into what was the Burhidihing's lower channel as a result of the flood, forming Mjuli island.
The Burhidihing's point of confluence shifted 190 kilometers east, and the Burhidihing's southern channel became the Burhi Xuti. The Luit Xuti became the northern channel, which was previously known as the Brahmaputra. The Luit Xuti's flow diminished through time, and it became known as the Kerkota Xuti, while the Burhi Xuti increased owing to erosion to form the major Brahmaputra River. The main languages spoken by the population are Assamese and Mising. A few people also use the Deori language.
According to written documents chronicling the arrival of Srimanta Sankardeva, a 16th-century social reformer, Mjuli has been the cultural centre of Assamese civilisation from the 16th century. Sankardeva, a forerunner of the medieval neo-Vaishnavite movement, taught Vaishnavism, a monotheistic version of Hinduism, and established satra, or monasteries and hermitages, on the islet.
With the development of these satras, the island quickly became the primary seat of Vaishnavinism. Majuli was under British authority after the entrance of the British until 1947, when India attained freedom. It is the world's largest river island as of 2016. The tribals, non-tribals, and scheduled castes make up Majuli's population. The Misings, Deoris, and Sonowal Kacharis are among the tribal communities. Koch, Kalitas, Ahoms, Chutias, Keot, Yogis, and other non-tribal communities are among them.
The Mising community, which originated in Arunachal Pradesh and relocated to Majuli years ago, has the greatest population on the island. Mising, Assamese, and Deori are the languages spoken. There are 144 communities on the island, with a population of over 150,000 people and a density of 300 people per square kilometer. Majuli and Jorhat are connected by a ferry service that runs six times a day. Guwahti to Majuli through Lakhimpur is served by night super buses.
Despite the inherent disadvantages, modernity has made an impact on this island, with the establishment of medical clinics and educational institutions. Housing has also transitioned from traditional bamboo and mud building to concrete construction.
The Ali aye ligang festival is held in mid-February and is marked by a lot of pomp and circumstance. It is observed for five days, beginning on the second Wednesday of February and ending the following week (first Wednesday of fagun month ) Purang apin (rice wrapped in unique leaves), apong (rice beer), and hog, fish, and chicken meals are among the local specialties.
Every hamlet performs the traditional Mising dance Gumrag Soman to honor the almighty Donyi polo (mother sun and father moon) and ask for a bountiful harvest year.
Other festivals, such as Christmas, are observed by the majority Christians of the Mising tribe in upper Majuli, with Jengraimukh hamlet serving as the epicenter. For the past 500 years, Majuli has served as the cultural capital and cradle of Assamese culture. The satras established conserve antiques like as weapons, utensils, jewelry, and other culturally significant things.
Pottery is created in Mjuli from beaten clay and baked in driftwood-burning kilns, in the same way as the ancient Harappan Civilisation did. Sociologists have emphasized the importance of preserving these unique peoples' culture and dancing styles, which have been unspoiled by modernism. These tribes' hand-loom work is well-known around the world.
The three-day raas celebration, which depicts Krishna's life, is attended by almost everyone on the island. This celebration attracts visitors from hundreds of kilometers distant, including a number of expatriate members of the community. The satras have polished a number of art and craft traditions that are now unique to this region. Mask-making is still practiced in Natun Samuguri Satra, for example, and the finest boats are built in Kamalabari Satra.
The famed Assamese saint Srimanta Sankardeva and his disciple Madhavdeva founded the Assamese neo-Vaishnavite civilization on the island in the 15th century. Many of the saint's Satras, or monasteries, still stand today and showcase the vibrant Assamese culture. The saint sought sanctuary in Mjuli and spent a few months in Belguri in West Mjuli, which was a magnificent setting for the momentous and auspicious event known as 'Manikanchan Sanjog,' when Sankardeva first met Madhavdeva.
Sankardeva founded the first satra in Mjuli, Belguri. Sixty-five satras were established after the "Manikanchan Sanjog." Only twenty-two of the original sixty-five are still working today. Sixty-five of Assam's original six hundred and sixty-five satras were located in Mjuli.
Mjuli, a wetland, is a flora and fauna hotspot, home to numerous rare and endangered avifauna species, including migrating birds that visit throughout the winter season. The greater adjutant stork, pelican, Siberian crane, and whistling teal are among the birds seen here. Wild geese and ducks fly in groups to distant destinations after dark. Because of the lack of polluting industries and factories, as well as the island's constant rainfall, the island is almost pollution-free.
The island is threatened by substantial soil erosion along its shores. The huge embankments built in neighboring cities upriver to prevent erosion during the monsoon season, when the river distends its banks, are the cause of this scale of erosion. As a result, the turbulent Brahmaputra's fury reverberates on the islet, eroding the majority of the region.
According to sources, Mjuli's entire area was 1,150 km2 in 1853, and around 33% of that landmass was lost in the latter half of the twentieth century. Over 35 communities have been swept away since 1991. According to surveys, Mjuli will go extinct in 15–20 years.
The Union Government of India has allocated US$55 million to the island's protection in order to rescue it. For the past three decades, the water resource department and the Brahmaputra Board have been attempting, but failing, to fix the island's erosion problem. Only a four-lane highway shielded by a concrete mat along Majuli's southern edge, as well as the excavation of the Brahmaputra River's riverbed, have been proposed as solutions.
Two flood gates for the Kherkatia Suti, a tributary of the Brahmaputra, are also part of the project. The government has yet to implement the Brahmaputra River Restoration Project. Mjuli, on the other hand, has been nominated to be declared a World Heritage Site by UNESCO.
To fight erosion on the island, local environmental activist Jadav Payeng established the Molai Forest, a 550-hectare forest. Much of the island was once barren sandbars subject to erosion, but now it is a lush forest thanks to Payeng's afforestation. Elephants, tigers, deer, and vultures have all taken up residence in the forest. Agriculture is the principal industry, with paddy being the most important crop. Mjuli has a long and varied agricultural history, with up to 100 different types of rice being farmed.
After agriculture, fishing is another important sector. The Komal Saul, a unique type that can be eaten after immersing the grains in warm water for 15 minutes and is usually eaten as a breakfast cereal; the bao dhan, which grows underwater and is harvested after ten months; and the Bora saul, a sticky brown rice used to make the traditional cake with fish known as pitha, are among the fascinating arrays of rice produced. Other key economic activities include fishing, dairying, ceramics, handloom weaving, and boat building. Handloom weaving is a popular vocation among the village's distaff population.
Despite the fact that it is mostly a non-commercial activity, it keeps many of the residents busy. With the use of a range of colors and textures of cotton and silk, especially Muga silk, weaving is elegant and complicated. On November 4, 2017, Assam Chief Minister Sarbananda Sonowal announced the commencement of 647 projects totaling Rs. 246 million to help Majuli develop.
Majuli Port operates a roll-on/roll-off (RORO) ferry service with two low-draft vessels managed by the Inland Waterways Authority of India (IWAR) on National Waterway 2 (NW2) with a capacity of 200 passengers, four automobiles, and two trucks. The foundation stone for the two-lane Brahmaputra bridge between Majuli (North Bank) and Jorhat (South Bank) that would connect Neematighat (on the Jorhat side) and Kamalabari was laid on February 18, 2021. (on Majuli side).
Majuli (Vidhan Sabha constituency) is part of Assam's 126 legislative assembly seat. Mjuli is one of the Lakhimpur Lok Sabha constituency's nine assembly segments. It is a seat designated for Scheduled Tribes (ST). It is governed by the Mising Autonomous Council, which has three constituencies. Rajiv Lochan Pegu [2001–2006 & 2006–2011, 2011–2016] served in the Assam Assembly as an MLA (Member of Legislative Assembly) from Mjuli until 2016.
In the Government of Assam, he was Minister of State (Ind. ), Water Resources Development, WPT & BC. Former Chief Minister of Assam, Sarbananda Sonowal, won his constituency in the 2016 Assam Legislative Assembly election. Sarbananda Sonowal won the elections again in 2021, this time by a margin of 71,436 votes. He defeated INC's Rajib Lochan Pegu.
Majuli Island was an important part of Assam's literary environment. Madhavdev, a literary doyen and Neo Vaishnavite preacher, met his mentor Shankar Dev, the founder of Neo Vaishnavism, on the island of "Mani Kanchan Sanjog." Madhavdev contributed to Assamese literature by writing Namghosa, Borgeet, and Bhatima, among other works. Satra institutions fostered the writing of plays and devotional songs, following in the footsteps of Vaishnavite leaders.
In 1871, Majuli established the second Assamese newspaper, Asom Bilasini, which was instrumental in bringing blank verse into Assamese poetry. Dr. Dhruba Jyoti Borah, poet and critic Rajib Borah, bilingual critic and writer Bhaskar Jyoti Nath, Juri Borah Borgohain, Deba Bhusan Borah, historian Dr. Dambarudhar Nath, novelist Gobin Khound, and poet Danny Gam are just a few of Majuli's literary icons. The island is rich in art and literature, and it has made a great contribution to Assamese literature.
How To Reach Majuli island
Majuli is India's largest river island, located in the state of Assam on the upper levels of the Brahmaputra River. Majuli, located about 200 kilometers from Guwahati, once covered an area of 483 square meters but has since lost a significant amount of land owing to erosion. It now covers 163 square meters and has a population of 1.6 lakhs.
Majuli, which is home to tribal people, has become a center for Assamese Vaishnavite culture. To get to this enchanting tiny island, you must first travel to Jorhat. Continue reading to learn more about how to go to Majuli.
1. By Air
Jorhat Airport, also known as Rowriah Airport, is served by regular flights from Guwahati and other eastern and north-eastern locations. Tourists can take a bus or hire a taxi from Jorhat to Neemati Ghat, which is 14 kilometers away. There are ferry services available from Neemati Ghat to Majuli for tourists. Each day, two ferries run from Neemati Ghat to Majuli. 10:00 a.m. and 3:00 p.m. are the times.
2. By Rail
Majuli does not have any railway stations. Tourists can reach Majuli by train by taking trains from Guwahati to Jorhat, which is the nearest railhead. Buses and taxis will take tourists from Jorhat to Neemati Ghat, where ferries will take them to Majuli.
3. By Road
Majuli is a river island with no roads connecting it to any major cities or villages. As a result, buses and taxis are unable to transport guests to the small island. Jorhat is accessible by road. Tourists can travel to Jorhat in 7 hours by bus from Guwahati. Passengers can also hire a private cab to take them to Jorhat. They will have to rely on ferries to get to Majuli from here.
4. Surviving in Majuli
Majuli is a little island in the middle of a river. Majuli has no taxis, buses, or vehicles available for transportation. To explore the island and the river, tourists must rely on boats. Renting bicycles or simply strolling down the island are both options for getting about.
Weather On Majuli Island And The Best Time To Visit
Majuli is a beautiful tiny river island in the Indian state of Assam. Majuli, with its picture-perfect environment, has recently emerged as a significant ecotourism destination, attracting visitors from all over the country. Because Majuli lacks a significant airport or railhead, ferries are the only way to get there from Jorhat. However, not every season is suitable for a trip to Majuli. Let's look at the weather pattern on Majuli and the best time to visit the small island.
1. The season of summer (March to June)
During the summer, Majuli's temperatures can reach dangerously high levels. It's hot, humid, and steamy, and many are getting nauseated from the constant perspiration. Moving around and sightseeing becomes difficult when the temperature exceeds 30°C. It is best to stay away from here during the hot months.
2. Monsoon season (July to September)
The weather improves dramatically when the monsoon arrives. The rains bring a sense of freshness to the environment and give it a new lease of life. The weather is still good, with temperatures hovering around 20 degrees Celsius. Rains, on the other hand, cause floods across Assam, and Majuli, as a river island, is particularly vulnerable to the effects of flooding. As a result, taking a tour of the island can be unpredictable.
3. The season of winter (October to February)
These are the best months to go to Majuli Island and explore it. The climate is pleasant and moderate, with temperatures rarely exceeding 20 degrees Celsius. Late fall, winter, and spring are wonderful times to visit Majuli and take in the scenery. This period also coincides with Lord Krishna's Raas festival, which takes place on the full moon day in November. It's certain that you'll have a good time at Majuli.
Tourist Attractions in Majuli Island
Majuli, India's largest river island, is the meeting point of many things. People come here to see the breathtaking beauty of nature, to participate in cultural customs such as borgeet and Chaali dance, and to watch the sunset. It is, and has been for a long time, the seat of Neo Vaishnavite tradition. It is also the home of 22 Vaishnava Satras. There is something for everyone who visits this lovely tiny place named Majuli, from nature to culture, religion to spirituality. Continue reading to learn about the tourism attractions in Majuli.
1. Kamalabari Satra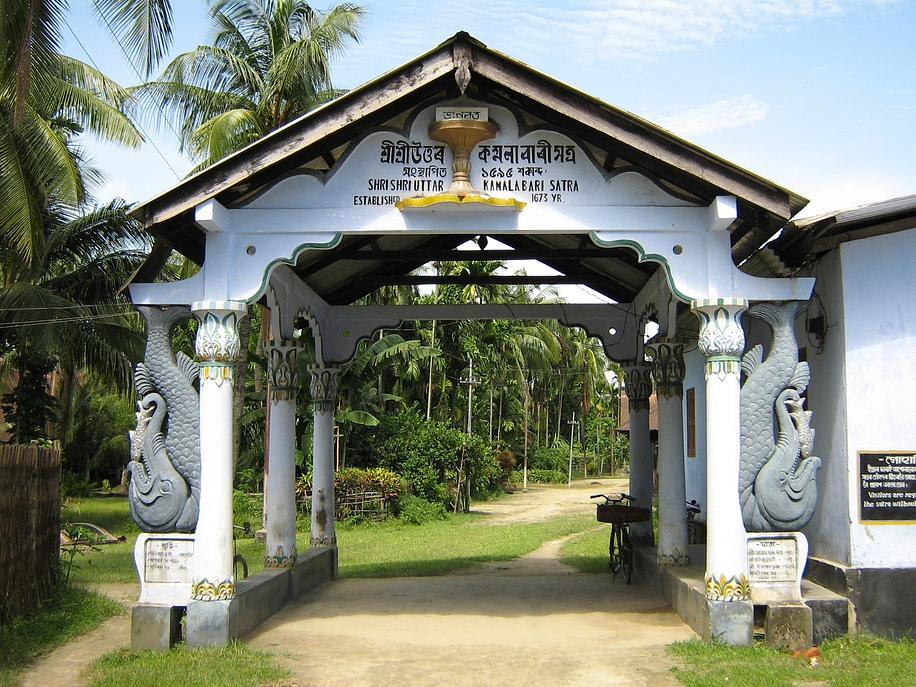 Majuli's artistic, musical, cultural, and religious life revolves around Kamalabari Satra. Even though it is deteriorated, the structure is a testament to the magnificent craftsmanship of the past. The beautiful paintings on the walls are equally vivid. Images of Goddesses and Gods adorn the ceilings. If you want to learn more about Assamese history and culture, a trip to Kamalabari Satra is a must.
2. Dakhinapat Satra (Satra of Dakhinapat)
This is yet another magnificent Majuli monument of religious and cultural importance. Rasotsav is celebrated with much pomp and show in this city. Raasleela is performed by performers on the full moon day in November. Once again, the Dakhinapat Satra sheds significant light on Assam's cultural past.
3. Garmur
The Vaishnavite tradition is centered on this holy location. It has some ornate pillars that protect the praying area. Garmur houses Vaishnavite artifacts and literary works, and it is the place to visit if you want to understand more about this religion and their history.
4. Auniati Satra
Niranjan Pathakdeva founded Auniati Satra, which houses some unique Assamese antiques, utensils, and jewelry. The Apsara and Paalnaam dances that are performed here are also well-known. The Satra, with its ornately etched yellow entrance, is another notable cultural and heritage site in Assam.
5. Tengapania
This golden temple is a testament to the Ahom dynasty's architectural brilliance. Tengapania, which is located on the banks of the Brahmaputra River, features several stunning pillars and statues across its grounds. The temple, as well as the nearby river, provide a popular picnic place for visitors.
6. Chetia Gaon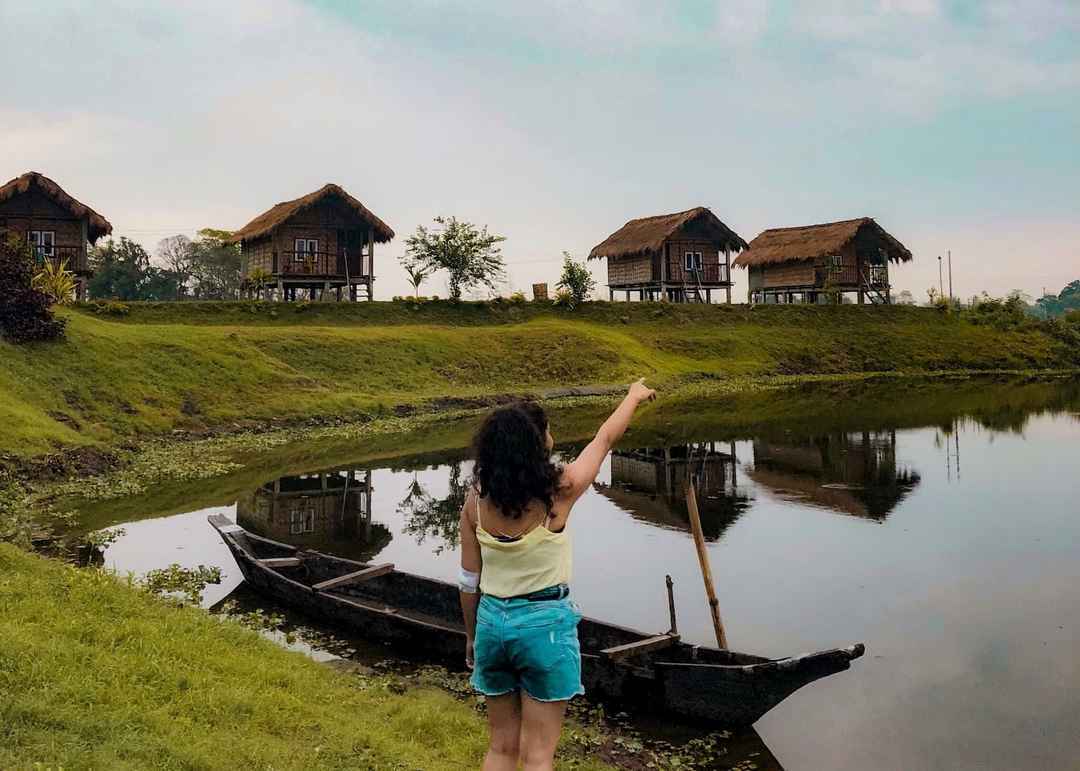 Chetia gaon, in north Lakimpur near Majuli, is known for its natural beauty. The River Subansiri runs through the area, adding to its splendor. Chetia Gaon, with its diverse flora and wildlife, is an ideal location for trekking and hiking. Enjoy the tranquility of the surroundings while indulging in Chetia Gaon's delectable local cuisine.
7. Bangalpukhari
Bangalpukhari, located near Naali in Jorhat, is another site to visit from Majuli. It is well-known for the lovely water reservoir it shelters. Rupsingh Bangal, according to legend, built this tank.
He erected it using the money he received for assassinating the region's governor, Badan Barphukan. The water in this tank, on the other hand, was never used because it was created using money obtained by killing someone. It grew in popularity as a tourist destination throughout time.