Ootacamand, or Ooty, is a popular tourist destination in India. In India, it has long been known as the "Queen of Hill Stations." It's a place of stunning natural beauty and dense forest cover. Ooty is a lovely spot to relax and unwind, with its pleasant climate, the Nilgiri Mountains in the background, and a plethora of other tourist attractions.
Everyone, regardless of age, will have a great time at this location.
This is an Ooty travel guide to assist you in planning your trip. It includes background information on Ooty, directions for getting there, the ideal time to visit depending on the season, and what to do once you arrive.
Continue reading…
For your information, here's a little bit about Ooty…
Any trip guide to Ooty would be inadequate if it did not begin with the city's history. The British were responsible for the discovery or creation of many of India's hill stations. The British would set up camps and dwellings in hilly areas with a greater altitude, always on the search for spots that provided relief from the punishing heat.
During this time, the phrase 'hill station' was coined, based on the stations regularly that the British overlords established throughout the land for rest, military depots, supply storage, and housing.
They were perfectly satisfied to spend their summer vacations in hill towns such as Ooty, Mussoorie, and Dehradun, to name a few. In the early 1800s, Ooty was developed as a hill station. In 1812, the District Collector of Coimbatore ordered two Englishmen to investigate the area; the pair hiked the Nilgiris up to the Kallati hills, which are now known as North Ooty's lower plains. However, two others, NW Kindersley and JC Whish visited the area in 1818 and recognized Ooty's topographical and tourism potential.
As a result, in 1819, a suitable route from other locations heading to Ooty was built. The first long route, connecting Nilgiri and Coimbatore, was built in 1821. Similar paths were constructed until 1872regularlywhen the first 25-kilometer semi-concrete road was built between Kallar and Coonoor.
John Sullivan, an Englishman, erected the first residence in the hill station. Following that, many British families followed suit, building the first lovely cottages and bungalows in the area. Ooty continued to attract more and more Englishmen, as well as Indian tourists, as its popularity grew. It is now one of India's most popular tourist destinations.
PLACES TO SEE IN PHUKET ISLAND
How Do I Get To Ooty?
There are three ways to get to Ooty, though most people choose to travel by car. Consider the following to get there:
1. By Air: Ooty lacks an airport or a landing strip. Coimbatore has the closest airport. You can fly to Coimbatore and then drive to Ooty, which is around 86 kilometers away. Private taxis are available for hiring directly outside the airport, or you can request a car from your resort. You can also fly in from Bangalore Airport (265 kilometers away). Bangalore Airport receives more flights from all around the country than the other two airports.
2. By Road: Most people like the drive to Ooty, which is packed with beautiful scenery and a well-kept road. From places such as Chennai, Mysore, and Bangalore, there are numerous alternatives for both state and private buses to Ooty. There are also overnight bus trips available. Alternatively, take the special State transport bus from Calicut, which departs at 5 p.m. and arrives in Ooty in 6 hours. From Bangalore, you can drive to Ooty via Chamarajanagar or Mysore.
3. By Train: Because Ooty does not have its own railway station, you will have to disembark from the train at Mettupalyam. It's around 40 kilometers from Ooty, and there are trains from Mysore, Bangalore, Coimbatore, and Chennai on a regular basis.
When Is The Best Time To Go To Ooty?
Knowing when to visit Ooty is the next thing on our Ooty travel guide. We've broken down the best times to visit by season:
1. Visiting Ooty in the summer: Ooty's summer season runs from March to early June. The summer heat is seldom unbearable here because it is a hill station. However, don't expect any cool days. The daytime temperatures are tolerable and mainly pleasant, and light cotton clothing is appropriate. In March and April, it may be a little chilly at night, but not too chilly. However, many tourist attractions are open at this time, and sightseeing can be done at any time of day. Late-night campfires and lounging around talking and drinking hot chocolate are great throughout this season.
2. Visiting Ooty during the monsoon season: The monsoon season in Ooty lasts from July to September. During this season, the temperature drops dramatically both during the day and at night. The rain showers can be extremely heavy, even if the rainfall isn't torrential. When it rains, visibility on the roadways is also reduced, especially because the valley is blanketed in a thick mist. You may need to reschedule your tourist plans or wait till the rain stops before venturing out. Because the small pests come out in droves during this season, bring mosquito and insect repellent cream or spray with you.
3. Visiting Ooty in the winter: Many people believe the winter season to be the greatest time to visit Ooty. Winter in this part of the world lasts from late October to early February. The weather is cool but not oppressive.
The sunlight isn't too intense, and visibility is good. You would like to visit Ooty during this wonderful season, especially with honeymooning couples. During this season, you can even camp out under the stars or embark on long excursions and treks. We strongly advise traveling around this season because there are so many things to see and do in Ooty, as well as so many places to shop and eat. However, because this is the busiest tourist season in the area, make sure to book your flights and accommodations ahead of time.
Places to Explore in Andaman and Nicobar
Best Places TO Visit :-
Ooty, also known as Udagamandalam, is a popular tourist destination in Tamil Nadu's southern state Tamil Nadu, nestled in the beautiful Nilgiri Hills. This 'Queen of Hill Stations' is located at 2,240 meters above sea level and enjoys a pleasant environment all year, making it a mountain lover's dream destination.
Ooty has a charm like no other hill station, with its beautiful mountain routes, lush green scenery, never-ending meadows, crystal clear lakes that stretch for miles, and tumbling waterfalls that appear out of nowhere as you round a hairpin turn. Have a wonderful vacation.
Ooty is one of those tourist destinations that you can't speed through to get to the next stop on your agenda.
With its cool tranquil backdrop, awe-inspiring hills, winding rural lanes, perfumed tea gardens, appetizing bakery goods, and a pleasant journey on the miniature toy train that breathes fresh air into the spirits of weary passengers, this wonderful place stands tall and can enchant anyone.
1. Botanical Garden
The famed Ooty Botanical Garden is located in the heart of this stunning scenic hill resort.
It is one of the most popular attractions in Ooty. The gardens, which cover 55 acres of land, are home to hundreds of different plant and flower species. Built-in 1847, this beautifully landscaped garden is divided into several sections, including the Lower Garden, New Garden, Italian Garden, Conservatory, Fountain Terrace, and Nurseries, and contains a large variety of both indigenous and exotic plants, shrubs, ferns, herbal, orchids, and bonsai species, all of which create a natural colorful endearing sight.
A moderate environment is good for a wide range of plants, shrubs, ferns, and bonsai in the garden. A special two-day flower exposition is conducted here throughout the summer month of May, with many flower-related activities and prizes awarded to the best display. All of this adds up to a delightfully scenic feast for the senses, making it one of the greatest spots to visit in Ooty.
2. Lake Ooty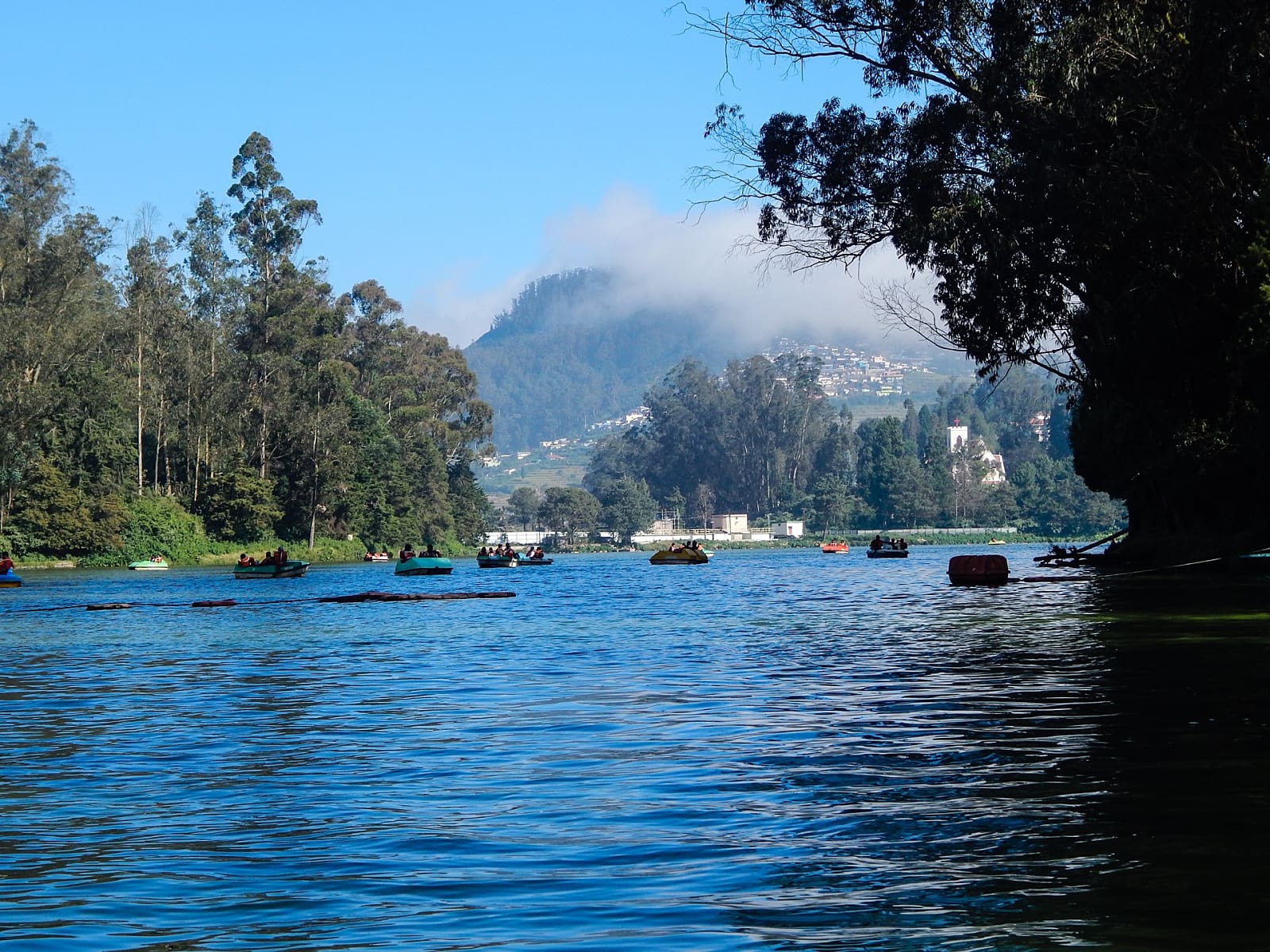 This man-made lake was originally built for fishing but has now become one of Ooty's most prominent tourist attractions. Paddle boats, motorboats, and rowing boats are available for rent at the boathouse on this lake, which is particularly popular for boating. A relaxing and rejuvenating ride on the tranquil seas is a favorite activity for families and honeymooners.
Another popular activity among visitors is cycling and horseback riding around the lake. There is also a mini-train for the youngsters to take for a little journey around the lake.
The lovely lake, which covers 65 acres and is bordered by Eucalyptus trees with little streams flowing down the hills around it, is flanked by stores offering local products as well as exquisite shawls and stoles. It is one of the best sites in India for great sightseeing.
Don't forget to pay a visit to the Wax Museum, which is located just close to Ooty Lake. The stunning wax statues stationed inside the 130-year-old Colonial Mansion in Ooty leave children in amazement, and a visit to this museum is not only informative but also fascinating.
Numerous wax statues of notable figures from Indian history and culture can be found. This summer, stay at Ooty's inexpensive hotels to have a terrific time.
3. Hillpoint Needle View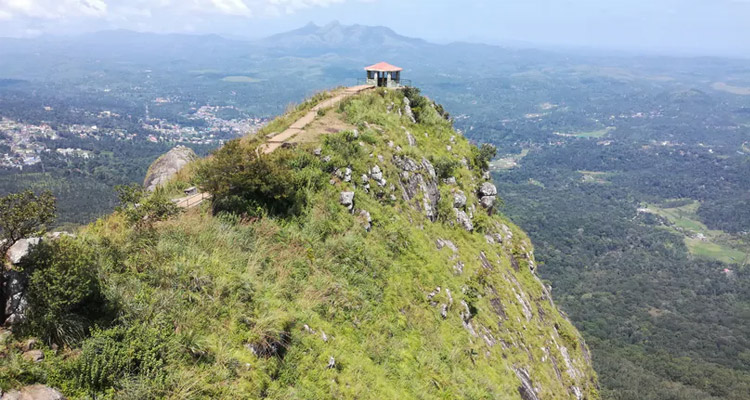 Needle View Hill Point, also known as Oosi Malai, is a great place to soothe your soul and spend quality time in the lap of nature with your loved ones, away from the rush and bustle of city life. Climbing up the cliffs provides a panoramic view of the beautiful surroundings all around.
The cold wind, setting sun, and a 360-degree view of the surrounding terrain add to the overall pleasure and romance of the event. Needle View Hillpoint gets its name from a cone-shaped rock that inhabits the area, but it's much more than a perspective.
It's miles far from a typical sunrise and sunset spot, and it's extremely distinct from other sunrise and sunset spots. Another major draw is the drive from Ooty to this location, which offers tourists breathtaking views of grasslands and the Nilgiris valley. Nature lovers will find it enthralling, and such circumstances will transfer them to another planet.
4. Nilgiri Mountain Railway
A vacation to Ooty isn't complete without taking a ride on the Nilgiri Mountain Railway's Toy Train, which offers passengers a once-in-a-lifetime experience as it chugs through beautiful scenery, deep forests, and glittering rivers with the sun shining brightly above them. It is one of the places in Ooty that can be visited in a single day.
The British built the Toy Train, which is considered to be Asia's steepest track. As the train climbs higher in altitude, you can see how valuable Nilgiri is, and from your seat, you can see sparkling blue waterfalls, lush green forests, steep hills, plunging ravines, fragrant tea plantations, and breathtaking scenery.
You will not regret spending 5 hours on this 46-kilometer track at the end of the excursion because it is an unforgettable experience. The journey begins in Mettupalayam and ends in Udagamandalam, crossing 250 bridges and 16 tunnels along the way.
It also passes through Coonoor, Kellar, Wellington, Lovedale, and Ootacamund. The Nilgiri Mountain Railway, with the Nilgiri Mountains in the background, was used to film the hit song 'Chaiyya Chaiyya,' starring Shahrukh Khan and Malaika Arora Khan dancing on top of a train.
Nature lovers and photographers would adore being immersed in such settings that transport them to another world. It is a popular tourist destination in Ooty.
5. Rose Garden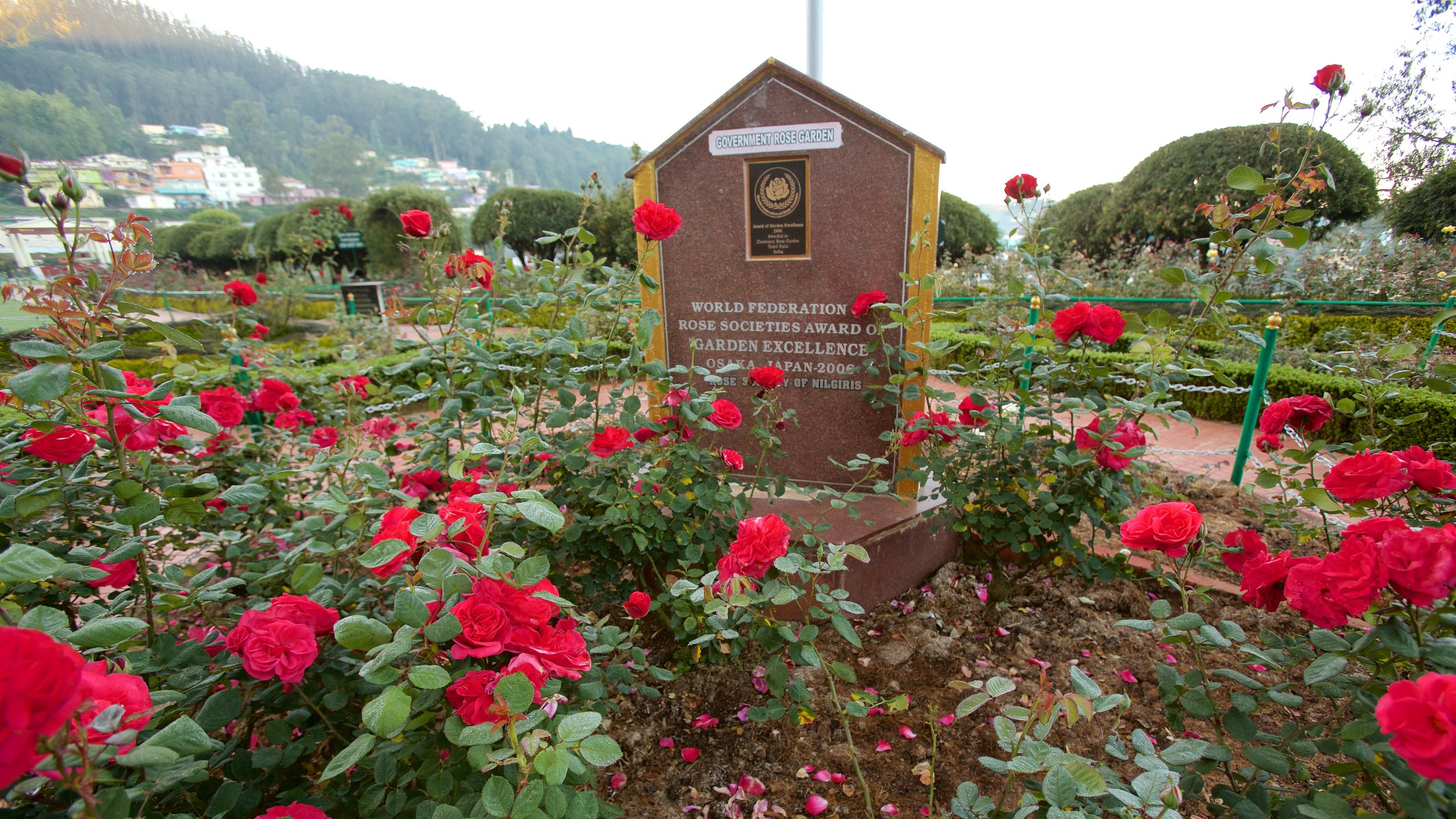 This mesmerizing garden, located in the heart of Ooty on the slopes of the Elk Hills, is one of the most beautiful places to visit in Ooty and will not fail to take your heart away.
It is known by many names, including Centenary Rose Park, Jayalalithaa Rose Garden, and Nootranju Roja Poonga, and it is a true paradise for nature lovers who are enchanted by its lush gardens with areas dedicated to fragrant roses. As you walk through the garden, you'll feel as if you've entered another world.
This is one of the famous botanical gardens maintained by the Horticulture Department of Tamil Nadu, covering a vast expanse of over four hectares on the hill slopes, and was built in 1995 to commemorate the Centenary Flower Show. Roses of all colors, sizes, local, non-local, and hybrid varieties can be found.
Here, couples and families with children can be seen having a good time. Visitors can purchase saplings or beautiful bouquets for their loved ones during the annual flower show when the garden produces the most colorful and fragrant roses.
The garden's layout includes bowers with rose creepers, Pergolas, and Rose Tunnels, as well as a Nila Madam observation center from which tourists can get a beautiful view of the entire garden. It contains one of India's largest rose collections, with over 20,000 roses and 2,800 plants.
6. Emerald Lake
Emerald Lake, located in Emerald Village, a short distance from Ooty's main city, is part of the Nilgiri District's Silent Valley National Park. Away from the bustling crowds, this calm lake with its gorgeous surroundings, verdant Nilgiri slopes, and magnificent tea plantations is the ideal location to relax and unwind in the lap of nature.
It is one of the untouched and virgin areas of this South Indian hill region, with few tourists. It's a great site for families to have a picnic, and it's also a great subject and composition for nature photographers, bird lovers, ornithologists, and landscape artists. A variety of colorful local birds can be found in the azure blue water of this picturesque lake and the trees surrounding it.
Trekking and mountain biking around the lake are great ways to get a better sense of the area, or simply sit and relax with a book or a fishing line and take in the spectacular scenery.
Another must-do activity for city people and tourists is strolling through the Tea Gardens near the lake. Nilgiri tea is well-known for its strong flavor and is readily accessible at shops around the lake, where one can be assured of its quality and authenticity.
7. Wenlock Downs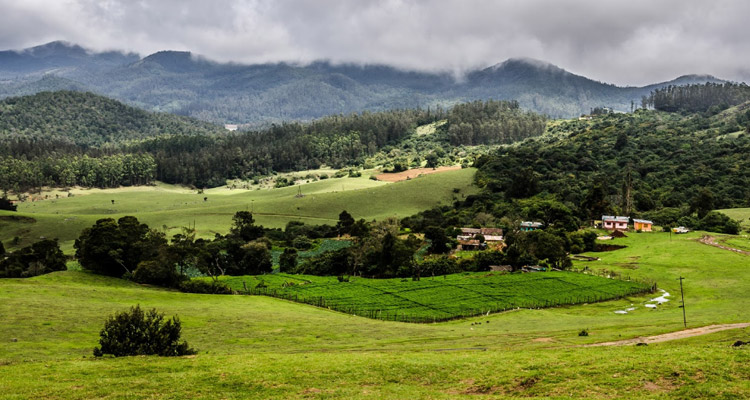 Have you ever seen those wide-open spaces in Bollywood flicks where the hero and heroine frequently dance? The scene was most likely shot in Wenlock Downs. On the outskirts of Ooty, the downs are a popular picnic location.
There is a large stretch of lush green meadows here, and depending on the season, horseback riding is available. The downs currently occupy 8000 hectares between Ooty and the Pykara district, and the name is originated from a British soldier named Baron Wenlock.
The area was also used as a hunting ground by the British at the time, and it is still known as Shooting Point because it has been the location of many blockbuster Hindi films. Even today, the meadows are used for event photography. It's a wonderful area to get away from the city's chaos and enjoy some peace.
The climate is nice throughout the year, though temperatures can drop significantly at night. The romantic atmosphere is enhanced by foggy and misty mornings. During the weekend, dozens of nature enthusiasts and photographers flock here.
8. Kalhatti Falls
Bellikal's Kalhatti Falls is recognized as a Bird Watcher's Paradise and is only 1.5 hours away from Ooty. The Kalhatti Falls in Bellikal is located on the Sigur Plateau and is approximately 400 feet tall.
The majestic Falls are the main draw here, and the beautiful foliage all around as the falls wind their way through the hills is a sight to behold. It's one of the best places in India to see unique birds and learn about their culture. The vegetation and wildlife are as varied as it gets.
When it rains, the weather is nearly always quiet and pleasant, creating a very dreamy environment. The falls also serve as a source of fresh drinking water for the local community. The elephants who frequent the falls for a drink are the most thrilling part of the journey, especially if you have youngsters with you.
The area is a walker's paradise, with numerous pathways winding through the lush vegetation. The falls offer a spectacular perspective of the Nilgiri Mountains from a high vantage point, and they also play an important role in wildlife conservation.
9. Tiger Hill
Tiger Hill is located in the lower portion of the Doddabetta Peak, in its slopes, and is only 6 kilometers from Ooty City Center. It is one of Ooty's most popular and stunning vantage points, with visitors flocking here first thing in the morning to watch the sunrise and sunset.
The location is ideal for taking amazing photographs, and there are flower meadows all around. On top of Tiger Hill, there is an ancient cave that explorers frequently visit. This cave is the subject of a variety of local stories and myths. Trekking from Ooty to Tiger Hill is a popular activity, and the trail will enchant you with its beauties at every turn.
A freshwater reservoir is also located here. A British-era cemetery is also located here, which many travelers come to pay their respects or learn about the region's history. The marble statues across the property are particularly impressive.
10. Dolphin's Nose
Dolphin's Nose is a popular tourist attraction in Ooty, located about 1500 meters above sea level. It takes around two hours to drive there, and the vista of the Nilgiri Hills along the way is breathtaking.
The peak, which resembles a dolphin's nose, gives the location its name. The region features massive rock formations, as well as canyons and valleys on either side that are lush with vegetation and home to a diverse range of flora and fauna. From here, one may obtain a good view of the Catherine Falls.
Although there are numerous tea plantations here, the most thrilling element of the ride is navigating the numerous hairpin curves that appear along the way.
A wonderful view of the hill towns spread around the valleys of the Blue Mountain may be had from the summit. The scenery is stunning, and the dance of clouds and mist adds a new layer to the scenery.
11. Kamraj Sagar Lake

This picturesque lake in the Ooty suburbs is surrounded by a magnificent dam and is a favorite picnic place in the area. There's also a nearby wooded area that's great for exploring.
There are also a few bushes and wild herbs to be discovered here, and the area makes for some lovely backdrops for family vacation photos. The region is also a popular filming location, with numerous Hindi and South Indian films having been shot there. The lake is also a nice spot for some peaceful fishing.
The fish business is thriving here, and once you've arrived, you can sample some delicious fish dishes served with traditional rice dishes.
12. Kotagiri
This small Panchayat hill city in Coonoor is just a few hour's drive There from Ooty and is a wonderful place to relax. The hill city is known for its tea plantations, which are among the Nilgiri Hills' most prominent.
The tea factories here are also a draw, and visitors may take a tea tour to learn more about how premium tea is created. The location is located at an elevation of 1985 meters above sea level and is a renowned trekking destination. There are several boarding schools in the area that date back to the British era.
Tourist traffic has decreased in recent years, but this has only aided in the preservation of the area's scenic beauty, and those looking for a place to visit that is not overrun by commercialization will find this to be the ideal location. Climbers and hikers flock to this location regularly.
The weather is usually always good here, even during the monsoons, which bring heavy rain. Even yet, the thick flora adds to the charm of the location.
13. Doddabetta Peak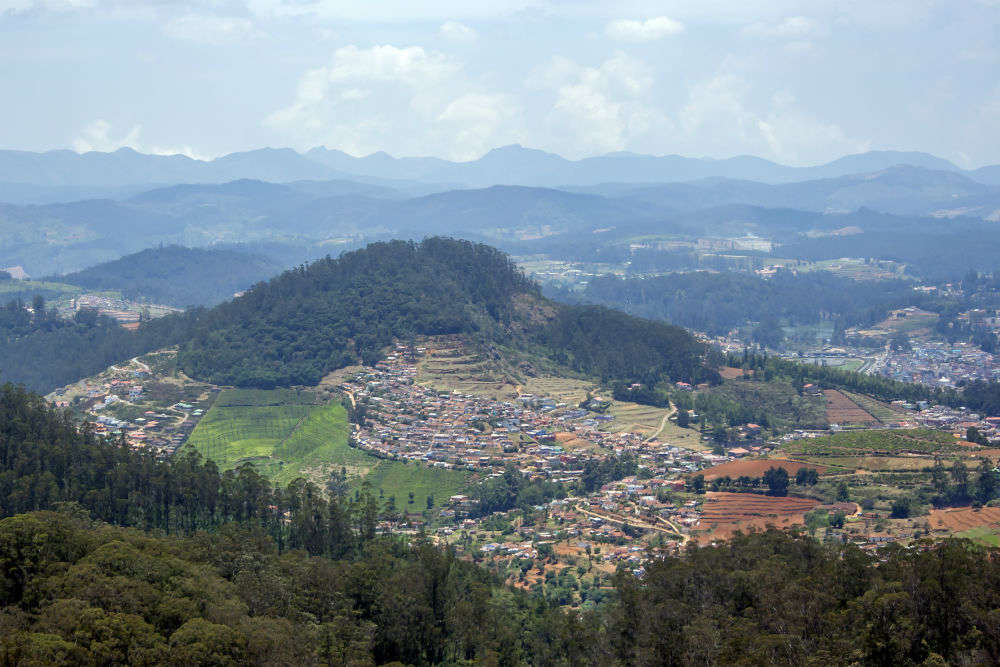 The Doddabetta, which translates to "Big Peak," is Ooty's tallest peak, rising to a height of 8650 feet. It's a fantastic spot for views, and the 10-kilometer hike up the hill attracts hikers from all over the country. When the weather is clear, the top provides spectacular vistas, with views as far as Mysore city.
Because of the peak's strategic placement between the Eastern and Western Ghats, the entire Nilgiri range may be seen from here.
Vehicles may also access Doddabetta Peak, so don't be concerned if you're traveling with your old parents. The surrounding scenery is breathtaking, and there are several lodges and motels in the peak's slopes where you can stay for a few days while exploring the area.
14. Droog Fort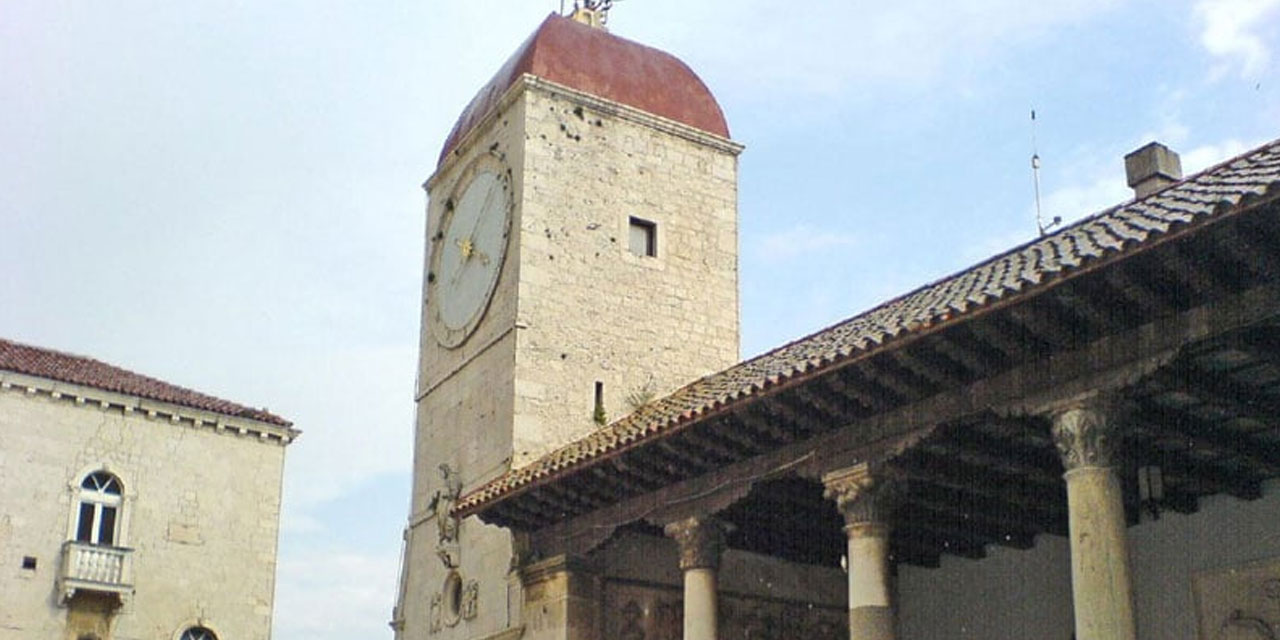 The Droog Fort is located approximately 15 kilometers from the Nilgiri foothills, and legend has it that the demon Bakasura once resided here. The location also has a significant historical past, as Tipu Sultan used the fort here during his conquests in the 18th century.
Because the fort is located roughly 1800 meters above sea level, visitors can enjoy some breathtaking views of the surrounding area from the fort's high watchtowers.
There are many coffee and eucalyptus plantations here, and the air is always fragrant as a result of them. During the winter, the woodlands around the fort are home to a great variety of local and migratory species, attracting bird watchers. Trekkers frequent this location to enjoy the journey up to the fort.
Malabar squirrels and foxes can also be observed here, particularly late at night. It's crucial to keep a watch out for bison, which frequently emerge from the woods. Other attractions here include the Nonsuch tea estate and the Law Falls, both of which are beautiful scenic places for day outings.
15. Upper Bhavani Lake and Avalanche Lake
The beauty of the two lakes in the Avalanche region is practically breathtaking. The waters of the lakes, which are located high on the hills, reflect the blue hills that surround them.
The name Avalanche Lake comes from a big landslide that happened in the area in 1863, however, the topography is currently stable.
The area is beautiful with flowers and meadows, and horseback riding and jeep safaris are available near the lake. At certain seasons of the year, boating on the lake is also permitted.
Upper Bhavani Lake is similarly well-known for its beauty, but it is nestled in a nook of the highlands and has long been overlooked.
It has steadily garnered the attention of tourists, and a slew of new activities have lately been added, while visitors are reminded to respect the lakes' ecological balance.
Don'ts of OOTY!!
1. Avoid staying in a commercialized area:
We like to book hotels that are reasonably close to the market while traveling alone or in a small group of girls, or when the prospect of fast market access is appealing. I made the same error.
Even though the hotel was decent and not exactly in the market, it ruined the whole experience of being in a hill station. Look for a motel deep in the woods, a little higher up on the hill. It makes no sense to go to a hill station and stay in the middle of mayhem.
2. Do not hire a tuk-tuk or a cab from the hotel where you are staying: The hotel manager will appear to be so generous that they will organize a tuk-tuk/auto or cab for you and let you haggle the price, but the price is already set. If you hire a tuk-tuk or a cab for a day trip from a bus stop or a local market stand, you will obtain better deals.
3. Don't buy local booze: Local alcohol stores are hard to come by, and those that do exist will only sell the local brand of whisky or beer. Don't fall for it. It smacks you in the face. There is only one government-approved liquor store where you can purchase alcohol.
4. Avoid traveling from Bangalore to Ooty at night: If you're traveling from Bangalore to Ooty, you'll have to pass through Bandipur Wildlife Century, which is closed every night from 9 p.m. to 6 a.m.
5. Don't count on finding a hotel when you arrive: Ooty is a popular tourist destination. It will be crowded at any time of the year. Make careful to book your hotel rooms ahead of time, as there have been multiple instances where individuals have ended up spending the night in their automobiles.
6. Don't anticipate much from the tourist attractions: Ooty's main tourist attractions, such as Doddabetta Peak, the tea factory, the rose garden, and the Ooty lake, are all positioned in a single line. The cab will take you to Doddabetta Peak first, and then will show you all of these locations on the way back. The downside is that all of these palaces are extremely crowded and not worth your time.
Advice for People Traveling Taking a trip to Ooty :-
Tall pine trees, the scent of tea plantations, winding roads, beautiful scenery, and clean air to breathe are just a few of the features that define Ooty, a captivating hill town. The hotels in Ooty that give a soothing atmosphere amidst pure natural pleasure are not to be missed. The village is a pleasant hill retreat for anyone wishing to recharge their batteries.
If Ooty is on your bucket list and you've decided to spend your next vacation there, here are some travel suggestions to keep in mind.
1. Make that you have all of the necessary items.
Regardless of the month of your vacation to Ooty, you must pack a piece of warm clothing in your suitcase to combat the chill you may experience there at any time. Ooty is a year-round hill station with frigid winters and a breezy atmosphere even in the summer. So bring a sweatshirt, a shawl, or a light jumper to keep you warm on cold nights and early mornings.
Also, if you are visiting Ooty between May and September, when the hill town receives light rainfall, it is a good idea to bring an umbrella or a raincoat to protect yourself from the unexpected precipitation.
Those who are prone to illness while traveling to the hills or who become uncomfortable while driving on curving roads should bring their medication with them. Whether you're taking the Ooty toy railway or a local cab, you're in for a ride full of twists and turns. The curves can make your stomach turn, so keep some candy or prescribed medicine in your pocket.
2. Reserve a seat on the toy train ahead of time.
If you wish to enjoy a lengthy toy train ride, you should book the Nilgiri Mountain Railway from Mettupalayam to Ooty via Coonoor well ahead of time. The 46-kilometer trail winds through a magnificent terrain that features waterfalls, woodlands, and a variety of other natural wonders.
If you are in Ooty and want to take a brief toy train trip, you can purchase a ticket from the Ooty railway station counter for Coonoor station and return.
Because of the high volume of tourists during the peak season, it is recommended that you purchase your train ticket a day ahead of time. Otherwise, you'd have to pay for the black seat, which may or may not guarantee you a berth on this train.
3. Beware of taxi/bus drivers that press you to book a specific hotel.
Be wary of taxi or bus drivers who try to persuade you to stay at a specific hotel in Ooty or to eat at a specific restaurant. It's possible that their actions are motivated by a desire to make money. It is recommended that you book your accommodation in Ooty in advance online or visit the resort before checking in.
YOU MAY LIKE –