Patna, formerly Pataliputra, is the capital and largest city in the Indian state of Bihar. According to the United Nations, Patna has a population of 2.35 million people in 2018, making it India's 19th largest city. Its urban agglomeration is India's 18th largest, covering 250 square kilometers (97 square miles) and housing about 2.5 million people.
Patna is the seat of the Patna High Court. Vaishali, Rajgir, Nalanda, Bodh Gaya, and Pawapuri are Buddhist, Hindu, and Jain pilgrimage centers nearby, and Patna City is a sacred city for Sikhs because Guru Gobind Singh, the tenth Sikh Guru, was born here. The current city of Patna is primarily located on the Ganges' southern bank. The Sone, Gandak, and Punpun rivers run through the city. The city has a length of 35 kilometers (22 miles) and a width of 16 to 18 kilometers (9.9 to 11.2 miles).
Patna was founded in 490 BCE by the king of Magadha and is one of the world's oldest continually inhabited cities. Through the Haryanka, Nanda, Mauryan, Shunga, Gupta, and Pala dynasties, Patna, also known as Pataliputra, was the capital of the Magadh Empire. Pataliputra was a center for education and the beautiful arts.
Many astronomers and scholars lived there, including Aryabhata, Vtsyyana, and Chanakya. It had a population of roughly 400,000 people during the Maurya dynasty (around 300 BCE). During the Maurya and Gupta empires, Patna was the seat of power and the political and cultural centre of the Indian subcontinent. Patna's splendour faded with the fall of the Gupta Empire. The British resurrected it as a centre of international trade in the 17th century. Patna became the capital of Bihar and Orissa Province after the division of Bengal presidency in 1912.
It was a major trading and commercial center in India till the 19th century. There were a few downturns after independence, but the economy remained solid. Jharkhand's glory faded when the separation was split from Bihar. Trials are now being conducted in order to develop the city. In 2011-12, the Directorate of Economics and Statistics (Government of Bihar) projected Patna District's nominal GDP to be INR 63,176.55 crores.
Patna had a per capita gross domestic product of INR 1,08,657 in 2011-12, well exceeding that of several other Indian cities and state capitals. According to a research by the City Mayors Foundation, Patna is the 21st fastest growing city in the world and the 5th fastest growing city in India, based on projected average annual growth numbers.
Patna grew at an annual growth of 3.72 percent on average from 2006 to 2010. Patna's GDP per capita was INR 1,08,657 in 2011-12, with a 7.29 percent growth rate. Patna was ranked second in India (after Delhi) for ease of launching a business by the World Bank in June 2009.
Ajatashatru, the king of Magadha, intended to move his capital from steep Rajagrha (today Rajgir) to a strategically planned place to better confront the Licchavis of Vaishali, according to traditional Buddhist literature. He chose a location on the Ganges' bank and fortified the area. In the final year of his life, Gautama Buddha visited this place.
He foresaw a bright future for this place while also foreseeing its destruction due to floods, fires, and feuds. According to Dieter Schlingloff, Buddhist accounts may have presented Patna's grandeur as a prophecy, and its wooden fortifications, unlike those of other early historic Indian cities, suggest that it is much older than previously thought; however, only archaeological excavation and C14 dates of its wooden palisades, both of which are currently lacking, can confirm this.
Patna is located on the Ganges' southern bank. Patna has a total area of 250 km2 (97 sq mi). The municipal area accounts for 109.218 km2 (42.169 sq mi). A area of 140.782 km2 is covered by the suburbs (54.356 sq mi). It is 53 meters above sea level on average (174 ft). The confluence of major rivers is a distinctive element of Patna's landscape.
Patna was part of the Bengal Presidency during the British Raj. Patna was purged of all hilly terrain after Nalanda district was created out of Patna district in 1976. It's a flat, alluvial expanse of land. The district's land is overly fertile and nearly fully cultivated, with no woodland cover. Rice, sugarcane, and other foodgrains thrive on the alluvial soil found here.
Mango orchards and bamboo groves can be seen across the farmland. Weeds including ammannia, citriculari, hygrophile, and sesbania flourish in the fields along the Ganges' banks. Near habitations, however, palmyra, date palm, and mango orchards can be found. In settlements far from the rivers, dry patches of shrubbery can be seen.
Bel, siris, jack fruit, and the red cotton tree are all common trees. Patna is remarkable in that it is surrounded by four huge rivers. It is the world's largest riverine city. According to the Patna City Development Plan of 2006, the topography of Patna is saucer-shaped. Mahatma Gandhi Setu, the longest river bridge in India, spans the Ganges River and is 5575 meters long.
Patna is located in India's seismic zone IV, which means it is susceptible to major earthquakes, however earthquakes have not been prevalent in recent history. Patna is extremely vulnerable to flooding and cyclones. Patna has a humid subtropical climate with extremely hot summers from late March to June, the monsoon season from late June to late September, and cool winter nights and foggy or sunny days from November to February, according to the Köppen climatic classification (Cwa).
The highest temperature ever recorded was 46.6 degrees Celsius (115.9 degrees Fahrenheit) in 1966, the lowest was 1.1 degrees Celsius (34 degrees Fahrenheit) on 9 January 2013, and the heaviest rainfall was 204.5 millimeters (8.05 inches) in 1997.
In Patna, pollution is a major issue. According to a CAG report presented to the Bihar Legislative Assembly in April 2015, the city of Patna's respirable suspended particulate matter (PM-10) level (355) was three-and-a-half times higher than the prescribed limit of 100 microgram per cubic metre, owing to high vehicular and industrial emissions as well as construction activities.
In May 2014, a World Health Organization survey ranked Patna as India's second most polluted city, trailing only Delhi, with airborne particulate matter levels in the state capital's ambient air measuring 149 micrograms, six times higher than the acceptable limit of 25 micrograms.
The city's severe air pollution has caused in an increase in pollution-related respiratory illnesses such lung cancer, asthma, dysentery, and diarrhoea. Every year, the high smog in Patna during the winter season causes major aviation and rail travel problems.
Patna has traditionally been a major agricultural crossroads and trade centre. Grain, sugarcane, sesame, and medium-grained Patna rice are the most popular exports. In and around Patna, there are various sugar mills. Eastern India's most prominent business and luxury brand centre. Since 2005, Patna's economy has been growing at a steady growth.
Growth in the fast-moving consumer goods industry, the service sector, and green revolution firms has boosted the economy. Patna was named the second best city in India to start a business by the World Bank in 2009. Patna's GDP per capita was INR 1,08,657 in 2011-12, with a 7.29 percent growth rate.
Patna is the world's 21st fastest growing city and India's fifth fastest growing city, with an estimated annual growth rate of 3.72 percent. Bander Bagicha, Exhibition Road, Gandhi Maidan Marg, Frazer Road, Indrapuri, and Maurya Lok are the city's major business districts.
Patna was formerly a major textile city and an international commerce hub. When a silk factory was established here in the 19th century, numerous foreign traders came to see it and earn money. The economy remained stable after independence. Many crops and vegetable oils were produced in the city after independence.
Up to the 1980s, the economy fluctuated. Patna, on the other hand, did not get any global funding or international investments until the 1990s, when India's liberalisation began. The trading and economic environment had been completely obliterated. Fertilizer factories and sugar mills were plentiful. However, the company suffered losses this week and was forced to close. Many corporates had a presence in the city while Jharkhand was part of Bihar. However, after the separation, all of the corporates relocated to Jharkhand.
Patna is around 100 kilometers south of the major East-West Highway. The city is crossed by three highways: NH 30, NH 31, and NH 2. The major corridors include Ashok Rajpath, Patna-Danapur Road, Bailey Road, Harding Road, and Kankarbagh old bypass Road. Patna was one of India's first cities to adopt horse-drawn trams for public transportation. Buses, auto rickshaws, and local railroads provide public transit. The city's lifeline is said to be auto rickshaws. BSRTC has begun operating city buses on all of Patna's major routes. Within the city, an app-based cab service is offered.
Lok Nayak Jayaprakash Narayan International Airport, also known as Patna Airport, is a restricted international airport. In recent years, the introduction of several low-cost carriers and a number of new destinations, as well as an improvement in law and order, have caused in a growth in air traffic.
In a survey of 46 airports around the country, the airport came out on top in terms of percentage growth of domestic passengers and domestic aircraft movement from April to December 2009. The Airport Authority of India (AAI) has proposed that a civil enclave be built at the Bihta Air Force Station to serve as Patna's new airport. The military airfield is located at Bihta, 40 kilometers (25 miles) southwest of Patna.
Patna's native language is Magahi or Magadhi, which is derived from the ancient Magadhi Prakrit, which was developed in the ancient kingdom of Magadha, whose core was the area of Patna south of the Ganges. It is thought that Gautama Buddha spoke this language. Patna has a thriving Bengali culture as well, with numerous Bengali legends, like Bidhan Chandra Ray, the first Chief Minister of post-independence West Bengal, being born here.
The many Bengali-speaking Patnaites have made significant contributions to the fine arts, culture, education, and history of Bihar and Patna in particular. However, Magahi was the official language of the Mauryan court, and it was in this language that Ashoka's edicts were written.
Magahi is derived directly from the word Magadhi Prakrit, and educated Magahi speakers prefer to refer to it as "Magadhi" rather than "Magahi." Many of Patna's structures feature Indo-Islamic and Indo-Saracenic architectural influences. Several well-maintained colonial-era major buildings have been designated as "heritage structures," while others are in various degrees of ruin.
The Patna Museum, was opened in 1917 as Bihar's first museum, includes extensive collections of Indian natural history and art. Patna's historic public libraries include the Khuda Bakhsh Oriental Library and the Sinha Library.
The Bhartiya Nritya Kala Mandir, the Rabindra Parishad, Premchand Rangshala, and the Kalidas Rangalaya, which houses the Bihar art theatre, are all located in or near the city's central home. The Patliputra Natya Mahotsav, a dance festival, is also held at Kalidas Rangalaya. However, commercial theatres have lost favor in the city over the last two decades.
The Patna School of Painting, also known as Patna Qalaam or Company style, is an offshoot of the well-known Mughal Miniature school of painting that flourished in Bihar from the early 1800s to the mid-1900s. The practitioners of this art form were descended from Hindu Mughal painting artisans who fled persecution under the Mughal Emperor Aurangzeb and sought shelter in Patna via Murshidabad in the late 1800s.
The Patna painters differed from the Mughal artists in that they painted bazaar scenes, depictions of Indian daily life, local officials, festivals and events, and nature scenes in addition to monarchy and court scenes. Watercolors on paper and mica were used to create the paintings, however the style was often hybrid and unremarkable.
The foundation of the College of Arts and Crafts, Patna, under the direction of Shri Radha Mohan, which is an important centre of fine arts in Bihar, was inspired by this school of painting.
Sattu paratha (roasted gram flour parathas), "sattu ka sharbat" (a spiced drink with roasted gram flour as the major ingredient), chokha (spicy mashed potatoes), fish curry, Bihari kebab, postaa-dana kaa halwaa, malpua, dal pitha (similar to momos), kheer makhana (fox nut), and thekua/ (a type of snack). Patnaites enjoy street cuisines such as samosas, chaat, jalebi, litti chokha, phuchka (a deep-fried crêpe with tamarind sauce), as well as South Indian and Chinese cuisine.
Traditionally, Bihari women wore cotton saris, but shalwar kameez and other western wear are gaining popularity among younger women. Although the traditional dhoti and kurta are worn during festivals, western dress has gained widespread appeal among metropolitan men. Chhath, also called as Dala Chhath, is a major Bihar celebration.
It is observed twice a year: once during the summer, when it is called as Chaiti Chhath, and again around a week after Deepawali, when it is called as Kartik Chhath. Patna's other major festival, Durga Puja, takes place in September–October and is marked by lavish celebrations.
Saraswati Puja, Eid, Holi, Christmas, Vishwakarma Puja, Makar Sankranti, Raksha Bandhan, and Rath Yatra are among the city's notable festivals. The Patna Book Fair, Patna Sahib Mahotsav, Patna Film Festival, Bihar Diwas, Rajgir Mahotsav, Vaishali Mahotsav, and the Sonepur Cattle Fair are all cultural festivals held in nearby towns.
How To Reach Patna
Patna's history may be traced back over the last 3000 years. Patna is the capital of Bihar State in India today, but it was once known as Pataliputra and was affiliated with two of the world's oldest religions, Buddhism and Jainism. The Mauryan, Shunga, and Gupta dynasties all had their capitals in Pataliputra at the time.
Following that, it was a significant part of the Delhi Sultanate, which was followed by the Mughal Empire. Patna was ruled by the Bengal Nawabs, then the East India Company, and finally the British Raj. It was a key player in India's war for independence, and after Kolkata, it became the most populous city in the country.
Pataliputra was formerly the world's largest city during Ajatshatru's time. As a time, Patna is rich in history dating back thousands of years. Air travel is the most convenient way to get to Patna. Patna, on the other hand, is well-connected by road and rail. Let's take a closer look at these points.
1. By Road
Patna is connected to all of the major cities in the area through highways. The quality of these roads, however, varies. There is a plan to build a highway between Delhi and Patna that will take 11 hours to complete. This 1100km journey has been completed by at least one brave soul. He traveled for 32 hours and rested for 12 hours in Allahabad.
He claims that if the driver takes two dinner breaks and two tea breaks, he may complete the journey in less than 24 hours. The distance between Patna and Mumbai is 1800 kilometers, and driving one trip might take more than a day and a half.
The highway one would be on is NH27. However, reports indicate that the road between Patna and Gaya, a distance of around 110 kilometers, is in poor condition. Before traveling, it is a good idea to examine the state of the roads.
2. By Rail
Patna Junction, which was opened for service in 1862, is now one of India's busiest railway stations. Because Patna is on the route between Delhi and Kolkata, it is served by a great number of superfast and mail/express trains from all of the country's major stations. As a result, rail travel to Patna from most of India's major cities may be safely planned.
3. By Air
Bihar's major airport is Patna's Jai Prakash Narain Airport. It was built in 1973 and is now one of the country's 22 busiest airports. Domestic and international flights are available at the airport. Patna has daily flights to Kolkata and Delhi, as well as Pune, Chennai, Mumbai, Goa, and Indore, to name a few.
4. Getting Around
Within the city of Patna, there are a variety of types of transportation to choose from. Auto rickshaws are a practical and inexpensive option. When traveling small distances, rickshaws are also available.
There are city buses as well, however reports indicate that they are frequently overcrowded and unreliable. Taxis can also be hired, which, according to reports, do not operate on a meter but rather on the time spent or distance traveled. The Patna Metro Rail project has not yet been executed.
Weather And Best Time To Visit Patna
Patna's history dates back to roughly 490 BC, when the king of Magadha relocated his capital from today's Rajgir to Pataliputra, as Patna was then known. Patna, one of the world's oldest continually known cities, was once blessed by Lord Buddha's footfalls, who had visited the city a year before his mahaparinirvana.
During its turbulent history, Patna has seen the Mauryan Empire, the Gupta and Pala Empires, and the Mughal Empire. The weather in Patna is really harsh. Summers are hot, while winters are freezing. The winter is the finest time to visit Patna. Let's take a closer look at this.
1. The season of summer (March-June)
Summers in Patna are hot, with temperatures reaching 41°C and daytime temperatures hovering about 28°C. Tourists should avoid this season since they may be affected by the dreaded loo, which is prevalent throughout summer in India's parched plains.
2. Monsoon season (July-September)
Because of the presence of the Himalayas nearby, monsoons in Patna are usually rather heavy. Bihar's monsoons have become increasingly irregular in recent days. There have been drought years as well as years with exceptionally abundant rainfall. This irregular behavior could be caused by tree cutting, rapid industrialization, or a combination of the two.
During the monsoon season, Patna is particularly lovely. However, due to excessive rainfall, the street scene might become very wet and slushy. Visitors should avoid visiting Patna during the monsoon season.
3. The season of winter (November-February)
Patna's winter season begins in November. It is not uncommon for the temperature to dip to 12°C during the winter, and there are even days when the temperature drops to 0°C. Patna is lovely at all times of the day and night, though visitors should wear heavy woollens.
Tourist Attractions in Patna
Patna is one of the world's oldest continually inhabited cities. At the time of the Mauryan period in 300BC, Patna had a population of around 4 lakhs. Patna was India's power center at the time.
With the demise of the Gupta Empire, Patna's splendour faded. Bihar's capital is home to one of the country's top museums, the Bihar Museum, which houses antique coins and some beautiful bronze statues. There is also a casket that is claimed to hold Buddha's ashes. Patna offers a variety of tourism attractions. Let's take a look at a few of them right now.
1. Patna Museum
The Patna Museum, which was built in 1917 during British administration, is only about a kilometer from the city's center. The museum, known as Jadu Ghar, was constructed in the traditional Rajput and Mughal architectural styles. The museum houses a variety of stone and metal sculptures dating back to the Gupta and Maurya times.
There's also a WWII gun and a 16-meter-long, 200-million-year-old tree fossil, which is considered to be the world's longest tree fossil. Paintings depicting the life of our first President, Dr. Rajendra Prasad, as well as the British Empire, are on display. Aside from Chinese art, there are wonderful Jain imagery and Buddhist sculptures.
2. Takht Sri Patna Sahib
Gurudwara Patna Sahib, also known as Takht Sri Patna Sahib, is a Sikh gurudwara built to Guru Govind Singh, the tenth Guru of the Sikhs, who was born on this precise spot on December 22, 1666. The magnificent Gurudwara was built by Maharaja Ranjit Singh, the Sikh Empire's first Maharaja, exactly on the banks of the River Ganges.
In the eastern portion of India, Gurudwara Patna Sahib is also known as the epicenter of Sikhism. Several items belonging to Guru Govind Singh can be found here, including his cradle, sacred sword, and sandals.
3. Mahavir Mandir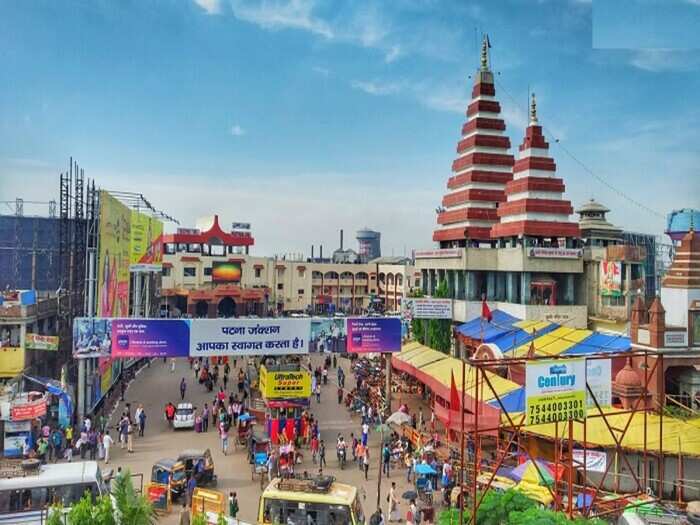 Lord Hanuman is the patron god of the Mahavir Mandir, one of Bihar's most well-known temples. Swami Balanand, a Ramanandi Sect devotee, is reported to have founded this temple around 1730AD, which was discovered during the British occupation.
The temple features kalas or brass shrines that are visible on the roof top, displaying various idols such as those of Krishna Arjun, Shiva family, and Lord Ganesh, as well as Lord Buddha and goddess Durga.
4. Kumhrar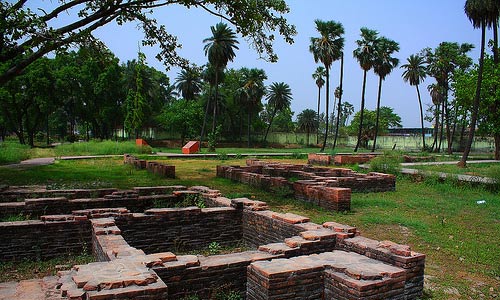 Kumhrar is the ancient Pataliputra's historic city, and it depicts the ancient remains of the strong Mauryan Empire from 600BC to 600AD. The ruins of Pataliputra are about 5 kilometers from the train station, and excavations have revealed many structures dating from the Mauryan era.
During the years 1912-1915, an Assembly Hall with eighty pillars was unearthed, and these may now be viewed. The Buddhist brick monastery Anand Vihar, the temple of Durakhi Devi, and Arogya Vihar, which was supposed to be maintained by Dhanvantri, a renowned physician credited with being an Ayurveda pioneer, are also visible.
5. Gandhi Maidan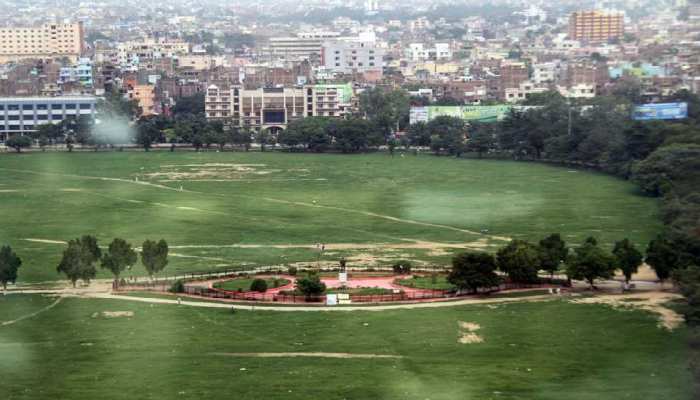 Patna Lawns used to be known Gandhi Maidan. It is as popular today as it has always been as a spot that witnessed several independence movements, including the 1942 Quit India movement.
Mahatma Gandhi and Rajendra Prasad, as well as Sardar Patel, Nehru, and Maulana Azad, have all visited the Maidan's hallowed grounds and delivered speeches that have enthralled thousands of people. Today, this place is used for a variety of commercial purposes, including mass prayers and private celebrations, as well as trade fairs.
6. Buddha Smriti Park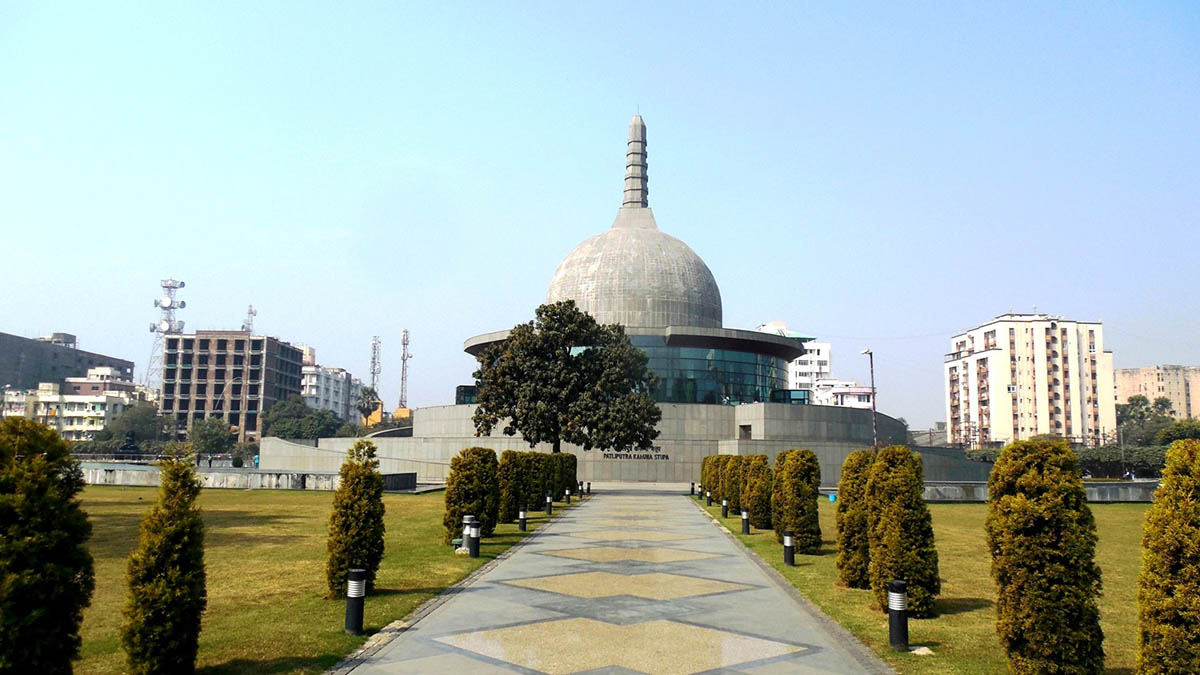 The State Government of Bihar created Buddha Smriti Park to commemorate the 2554th Birth Anniversary of Lord Buddha. The park, which was located by the Dalai Lama, is constructed on the place of the former Bankipur Central Jail. Two saplings of the sacred Bodhi Tree were planted on these grounds on the 27th of May, 2010.
The Pataliputra Karuna Stupa, which stands 200 feet tall and houses a pot containing Buddha's ashes, is located in the park's centre. A museum in the park houses Buddha relics from other nations, including Thailand, Sri Lanka, South Korea, Myanmar, and Japan. In the park, there is also a meditation hall. It has a huge Buddha statue.
7. Sri Krishna Science Centre
Near the Gandhi Maidan lies the Sri Krishna Science Centre, which was built in 1978. This is a science gallery named for Dr. Sri Krishna Singh, Bihar's first Chief Minister. It is a centre that has been established as one of the country's many Science Museums. The Fun Science Gallery is one of the science centre's most popular attractions.
This gallery hosts exhibitions on various theories in mathematics and physics on a regular basis. The centre is a fascinating place that emphasizes various physics principles such as 3D images and illusory images, as well as virtual imaging.
8. Sanjay Gandhi Jaivik Udyan
The Sanjay Gandhi Jaivik Udyan, one of the country's largest zoos, was founded in 1973. Patna Zoo, as it is known, is a large zoo that encompasses over 620,000 square meters. There are roughly 800 animals here, representing over 100 different species. Leopards and tigers, as well as black bears and zebras, are among the creatures that have been separated according to their species.
There is also a botanical garden here, which holds hundreds of different tree, herb, and shrub species. Aside from a rose garden and an orchid house, there is also a nursery to visit. There are 35 different fish species, as well as snakes, can be found here.