Despite the fact that Andhra Pradesh and Telangana together cover a large swath of eastern India, stretching over 1200 kilometers along the coast from Odisha to Tamil Nadu and extending far inland from the fertile Godavari and Krishna river deltas to the semi-arid Deccan Plateau, most foreign visitors simply pass through en route to their better-known neighbors. This is understandable given the scarcity of points of interest, but the sights that the two states do offer are compelling enough to warrant at least a quick detour.
A brief history of the state of Andhra Pradesh :-
The Andhras are mentioned in the earliest chronicles of the region, which date back to the third century BC. From their second capital at Amaravati on the Krishna, the Satavahana dynasty (second century BC to second century AD), also known as the Andhras, grew to control most of central and southern India.
They were big supporters of Buddhism and had a lot of international trade. Following it, the Pallavas, Chalukyas, and Cholas all ruled. The Kakatiyas of Warangal was constantly threatened by Muslim raids by the thirteenth century, and the Hindu Vijayanagars ultimately relocated their activities to Chandragiri near Tirupati after the fall of Hampi.
The establishment of the Muslim Qutb Shahi dynasty in the mid-sixteenth century was the next notable event. The Mughal emperor Aurangzeb's son took Golconda in 1687. Hyderabad's viceroy declared independence five years after Aurangzeb's death in 1707, establishing the Asaf Jahi nizam dynasty.
In exchange for siding with the British against Tipu Sultan of Mysore, the nizam dynasty was given some autonomy long after the British had taken control of India.
In Andhra Pradesh, relations between Hindus and Muslims deteriorated throughout the independence fight. The nizam wanted to join other Muslims in the soon-to-be-created state of Pakistan, so partition brought things to a head.
In 1949, riots erupted in the capital, the army was sent in, and the state of Hyderabad was admitted to the Indian Union. Andhra Pradesh was constituted in 1956 from Telugu-speaking areas (although Urdu is commonly spoken in Hyderabad) that were previously part of the Madras Presidency on the east coast and the princely state of Hyderabad on the west coast.
Today, about 90% of the population is Hindu, with Muslims concentrated primarily in the capital. In 1999, the pro-business Telugu Desam party wrested power from the Congress, and the city of Hyderabad saw massive development over the next five years, including the world-famous HITEC City.
Rural areas, on the other hand, were overlooked, despite the fact that drought and economic hardship had resulted in thousands of farmer suicides. Although Congress reclaimed control of the state government in 2004, they were also chastised for not doing enough to assist farmers, and while suicides have continued to be a problem, the number of suicides has decreased in recent years.
In 2009, the Indian government caved to pressure from the Telangana Rashtra Samithi (TRS) party and announced intentions to carve a new state, Telangana, out of northern Andhra Pradesh, following a high-profile hunger fast.
Despite widespread demonstrations, strikes, and political resignations, a panel was established to look into the practicalities of the situation, and in July 2013, Congress unanimously approved the bifurcation. On June 2, 2014, Telangana officially separated from Andhra Pradesh to become India's twenty-ninth state, with Hyderabad serving as the capital of both states until the new Andhra capital at Amaravati is completed, in a fairly convoluted arrangement.
How Do You Get To Andhra Pradesh?
Andhra Pradesh is located in the south of India. The state is politically, economically, commercially, and culturally significant. Andhra Pradesh, as one of India's fastest-growing states, offers good flight, rail, and road connectivity.
The best and most convenient way to get to Andhra Pradesh is via train, while aircraft are still the most expensive but fastest mode of transit. Let's take a closer look at them.
1. By Train
Trains provide a practical means of getting to India. Numerous trains connect various cities in Andhra Pradesh with the rest of the country. Vijayawada Junction, Visakhapatnam Junction, Tirupati, and Dharmavaram Junction are some of the state's most important railway stations.
Vijayawada Junction and other important cities in Andhra Pradesh have direct access from Mumbai, Delhi, Kolkata, Chennai, Ahmedabad, Bengaluru, Lucknow, Bhopal, Hyderabad, Agra, and Jaipur.
2. By Road
Andhra Pradesh is incredibly well connected to the rest of India's cities and states. The state has some of the best and most well-kept roads in southern India. Interstate connectivity is provided by several two-lane, four-lane, and six-lane routes.
A 1,000-kilometer stretch of National Highway 16 runs parallel to the ocean, and the state capital has numerous ring and radial roads. The Andhra Pradesh State Road Transport Corporation (APSRTC) is the state's road-transport controlling body, and it oversees and manages many government buses. Bus services are also provided by private bus companies.
3. By Air
In Andhra Pradesh, international and domestic flights are available. The state has six airports, with Vishakhapatnam, Vijayawada, and Tirupati serving as international airports and the other three as domestic airports.
The Airports Authority of India or the state's Andhra Pradesh Airports Development Corporation Ltd manages and operates all of these airports (APADCL). These airports provide excellent connections to Mumbai, Delhi, and other Indian cities.
4. Finding Your Way
When you arrive in your chosen city in Andhra Pradesh, the next concern for first-time travelers is figuring out how to get around. Andhra Pradesh is one of the most well-known states in India, and it is a popular tourist destination for millions of people who visit its cities.
As a result, the state government has made getting around in the cities a lot easier and more comfortable. Auto-rickshaws, local city buses, private cabs, and rental cars are also options for getting to cities. These choices are available and can assist you in moving about most cities and visiting the most well-known tourist attractions.
Weather Conditions And The Best Time To Visit :-
Andhra Pradesh's climate is tropical. Andhra Pradesh, like the rest of India, has three distinct seasons: summer, winter, and monsoon. Summers are hot but not oppressive.
Some states get a lot of rain, and the winters aren't particularly chilly. Summer is a difficult time to visit, whereas winter is the greatest time to visit anywhere in Andhra Pradesh. Let's take a quick look at the three seasons.
1. The season of summer
The state's summer season typically begins in March and lasts into June. The temperature isn't too hot in March, but it gradually rises as we progress through April, May, and June. Summers are generally hot and humid, but they are tolerable. The months of May and June are the hottest, with temperatures reaching 40° C in some areas and 45° C in others.
During the summer, the average temperature in the state is 31° C. To get away from the sun, visitors and residents prefer to spend their summer vacations in hill stations. These highland stations provide relief from the heat, particularly during the hot summer months.
2. Monsoon season
The monsoon season begins in late June and continues until September. Even in October, some locations receive rain. Two types of monsoons bring rain to the state: southwest and northeast monsoons. During the monsoons, especially in July and August, the state receives a lot of rain.
As a result, we strongly advise you to check the weather prediction before planning any journey during this time. The tremendous rain transforms the entire state into a green Eden. The state's greenery comes to life and adds to the attraction. Treks and outdoor excursions are so recommended.
3. The season of winter
Andhra Pradesh's winter season begins in October. It rains during the start of the season in various sections of the state. During this period, the weather in the state becomes exceedingly nice.
This spectacular season lasts through February. Many parts of the state become breathtakingly gorgeous at this time, and tourists travel to the state to see the natural beauty and learn about the state's rich history. Because of the long coastline, the winters are mild and the weather is nice throughout the year.
Things to Do :-
Andhra Pradesh, India's fourth-largest state, is located on the country's southeastern coast. Telangana, a new state constituted from a portion of the state, has been established.
The state is known for its many temples, sacred rivers, mountains, beaches, and hill stations, as well as its natural riches. There are many activities to do here as a visitor, and you will love every minute of your stay in Andhra Pradesh.
1. A Tirumala Spiritual Walk with a Guide
Tirumala, also known as Tirupati, is one of the most popular tourist destinations in Andhra Pradesh. Sri Venkateswara Swamy is revered by millions of people. In terms of donations, this is one of the wealthiest holy places on the planet. This temple is dedicated to a manifestation of Lord Vishnu and is built in the Dravidian style.
This old temple has a long and illustrious history, and many followers have been flocking to it for centuries. You can take a leisurely journey up to the temple and simply marvel at the magnificent architecture. You can do the 11 kilometers (6.8 mi) pilgrimage route if you are a fervent believer. Visiting this deeply spiritual shrine in Andhra Pradesh should therefore be at the top of your bucket list.
2. Take in the Awe-Inspiring Scenery at the Serene Beaches
Andhra Pradesh is home to a plethora of stunning beaches. Summer in India is hot, and spending your vacations at the beautiful beaches of Andhra Pradesh is a great way to make the most of your time off. Cities like Vishakhapatnam are ideal for admiring the gorgeous sights of Andhra Pradesh's tranquil beaches.
Barua Beach in Srikakulam, Bheemunipatnam or Beemili and Yarada beach near Vizag, Manginapudi beach near Machilipatnam, Mypadu and Thummalapenta beach near Nellore, Ramakrishna and Rushikonda beach in Vizag, Suryalanka beach in Guntur, Uppada and Vodarevu beach in Kakinada, and Vodarevu beach in Chirala are some of the
3. Indulge in Araku's Heavenly Valleys
Aside from the beach, hill stations are a great place to spend your summer vacation. There are other hill stations in Andhra Pradesh that are popular with tourists, but the Araku Valley hill station deserves special attention. This is without a doubt the nicest hill station in Andhra Pradesh, if not all of India.
This magnificent hill station features a series of five valleys with amazing views of the highlands and lush foliage. You'll find it difficult to resist falling in love with this magnificent location, especially if you're here for the first time.
This wonderful location is only 110 kilometers from Vizag and is accessible by all forms of transportation. Aside from Araku, Horsley Hills, Lambasingi, Ananthagiri, Nallamala Hills, and Nagari Hills are some of the other notable hill stations worth visiting.
4. Take a river cruise in Vijayawada.
The breathtaking river ride in Vijayawada is unquestionably one of the top things to do in Andhra Pradesh. This exhilarating trip on the Krishna river will provide you with an unforgettable experience. The south's most famous stream passes through some of the most gorgeous locations, providing a breathtaking cruise view.
The boat journey to the gorgeous Bhavani Island, which spans 130 acres, is one of the options. A journey to Bhavani Island, which is filled with natural beauties such as greenery, hillocks, and coconut palms, is the ideal way to get away from the city's rush and bustle.
Are you wondering what more you can do here? Relax and take in the scenery of riverine verdure, manicured gardens, rolling grasslands, and gleaming water bodies. You can also go swimming or participate in other water-related activities. This is an opportunity not to be missed.
5. Take in Andhra Pradesh's Beautiful Wildlife
Andhra Pradesh is home to some of India's most diverse fauna. Within the state's diversified environment, you have a great chance of seeing some of the state's rare and beautiful wild animals, such as Tigers, Leopards, Elephants, Deer, and Panthers. The Nagarjuna Sagar — Srisailam Tiger Reserve is one of India's major tiger reserves.
In addition, some of the best places to see wild animals in action include Venkateshwara National Park, Papikondalu National Park, Kaundinya Wildlife Sanctuary, Coringa Wildlife Sanctuary, Gundla Brahmeswaram Wildlife Sanctuary, Rollapadu Wildlife Sanctuary, and Sri Lankamalleswara Wildlife Sanctuary. This fascinating and exhilarating wildlife activity should also be on the top of Andhra Pradesh's must-do list.
6. Travel throughout Andhra Pradesh's cities.
Andhra Pradesh's cities are an excellent illustration of how modernization can coexist peacefully with tradition. Historic cities like Hyderabad and Secunderabad are no longer part of Andhra Pradesh due to a significant portion of the state separating.
They are now part of the newly constituted Telangana state. Nonetheless, Andhra Pradesh features some of India's top cities. Vizag, also known as Visakhapatnam, Vijayawada, Amaravati, Tirupati, Kurnool, Kakinada, Anantapur, and Nellore, are some of the state's most prominent cities.
Each city requires at least a couple of days to explore because they have so much to offer. So keep visiting these locations and learning more about this fascinating Indian state.
7. Look at the Pillar That Is Suspended in the Air.
Many mysteries in the world are still unsolved. Even with the advancement of technology, certain phenomena still require explanations, and when we encounter such an event, we are left in a state of bewilderment. You've probably heard of Ahmedabad, Gujarat's Jhulta Minar.
A similar occurrence can be found in the medieval Lepakshi temple in a small village in Andhra Pradesh's Anantpur district. The pillar that remains hanging in the air for generations is one of the temples' around 60 pillars that will leave you stunned. It is the world's only pillar that stands hanging in the air without any support, making it a medieval architectural marvel.
You can see the magic for yourself by passing objects (such as fabric) under it. There is no explanation for why this was done. Try to solve the puzzle.
8. Travel to South India's Kashmir.
That's right, you read that correctly. Do you believe that snowfall can only be found in regions like Kashmir, Simla, Laddak, and Manali in India's north? Yes, No, or Perhaps? What if we told you that it snows in the south of India, namely in Andhra Pradesh, where the maximum summer temperature exceeds 44° C? Do you think you'd believe us? Most likely not. But there is an area in Andhra Pradesh that is known as South India's Kashmir.
Lambasingi is a small village in Andhra Pradesh's Vishakhapatnam district, located 1025 meters above sea level. Throughout the year, the temperature remains below 10° C. Spend a winter here, and if you're lucky, you might get some snow. So make a point of seeing snowfall at Lambasingi on your bucket list. This is an opportunity not to be missed.
9. Trek to the Talakona Waterfalls, which are a bit of a challenge.
Trekking is one of the most adventurous activities available. Trekking at areas like the Talakona Waterfalls in Sri Venkateswara National Park near Nerabailu hamlet in the Chittoor district adds to the adventure. The sound and sight of water falling from 270 feet into a valley will leave you stunned.
The state's highest waterfalls, which are located in dense forests, are surrounded by natural beauty and greenery. Many endangered species live in the jungle, including the big India squirrel, panthers, golden gecko, sambar, porcupine, cheetah, and others.
A 240-meter canopy rope walk (35-40 feet high) may provide a thrilling trekking experience for everybody. Birds and monkeys can be seen in the area, as well as enormous trees. There will be a variety of trek routes with varying degrees of difficulty, which will add to the thrill. Choose a path that appeals to you and begin trekking.
10. Visit Vizag's Submarine Museum.
One of the best things to do in Vizag, Andhra Pradesh, is to visit the Submarine Museum, often known as the Smritika. It's close to the gorgeous Ramakrishna Beach. Before 2001, the museum was an INS Kursura, a powerful Russian submarine. This submarine is claimed to have been employed in the Indo-Pak conflict of 1971, where it played a key role.
The submarine was converted into a museum after 2001 and made public in 2002 by Mr. Chandrababu Naidu, the then Chief Minister of Andhra Pradesh. This magnificent museum is one of a kind on the entire Asian continent, and it captures the interest of every visitor who comes to Vizag.
Andhra Pradesh's Best Tourist Attractions :-
Andhra Pradesh is an old Indian state with a history documented in Sanskrit Epics such as the Aitareya Brahmana and Mahabharata dating back to 800 BC. Andhra Pradesh has witnessed numerous ups and downs over the years, having been ruled by several notable rulers and emperors.
Various monarchs contributed to the state, and as a result, there is no shortage of spectacular architecture throughout the state. This vast realm was ruled by the Mauryas, Pallavas, Rashtrakutas, Chalukyas, Cholas, Mughals, and Nizams. As a result, fantastic tourism in Andhra Pradesh is a given. Let's take a look at some of Andhra Pradesh's greatest tourist attractions.
1. Tirupati
Tirupati is a prominent pilgrimage destination in Andhra Pradesh's Chittoor district. It is located in the state's extreme southeast corner and attracts millions of visitors throughout the year. Tirumala Tirupati, also known as Tirumala Tirupati, is a renowned temple town for Sri Venkateswara Temple.
It's known as Tirumala Tirupati Balaji Temple and is one of Andhra Pradesh's most popular tourist spots. Apart from Tirumala Tirupati, Varahaswami, the Goddess Padmavati temple at Tiruchanur, and Govindaraja temple are some of the most important temples in the state.
These temples provide spectacular religious and natural delight to devotees and tourists, especially during the Tirumala temple Brahmotsavam celebration, which is the city's largest festival.
Trains, buses, and aircraft may all take you directly to Tirupati. Between October and March is the best time to visit this location. The prime seasons are April to May and September to December. Usually, a trip of 2-3 days is sufficient to see the finest of this lovely city.
2. Vizag
Vizag, often known as Visakhapatnam, is one of Andhra Pradesh's top coastline and port cities. Located on the Bay of Bengal's coastline. The Eastern Naval Command of the Indian Navy is based at Vizag. Vizag is the ideal spot in Andhra Pradesh for a relaxing vacation, with spectacular beaches along the Bay of Bengal coast, lovely valleys, excellent scenic hills, and caves.
The city's best attractions include the Submarine Museum, VUDA Park, Lighthouse, and Kailasagiri Hill Park. Vizag may be reached by flight, train, or bus from practically every Indian metropolis or semi-metropolis. A trip of 2-3 days is usually sufficient to see the finest of Vizag.
3. Araku Valley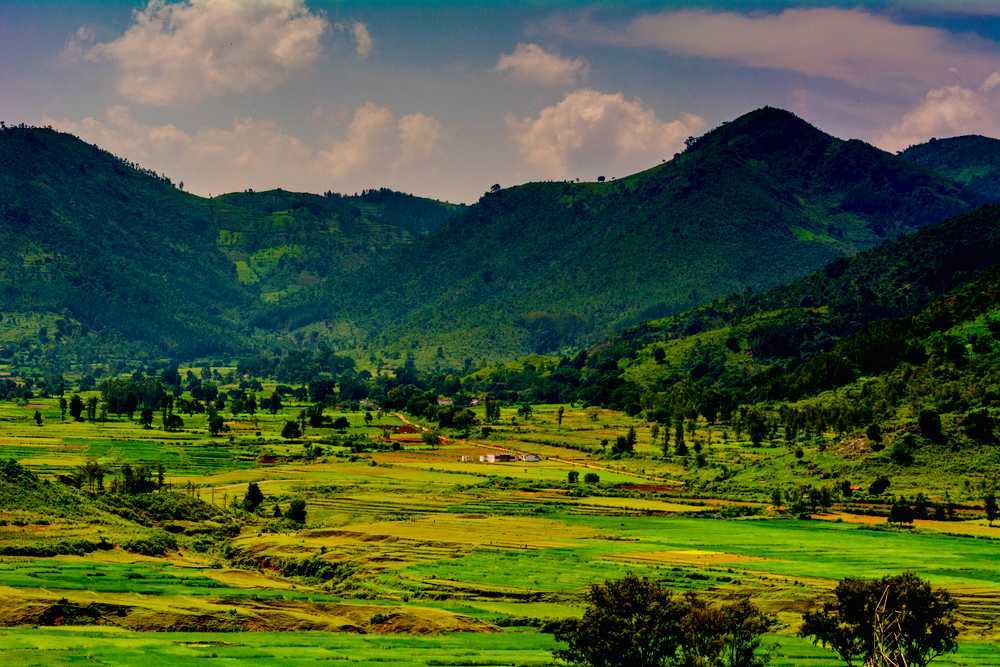 Araku Valley, or simply Araku, is a captivating hill station in Andhra Pradesh's Vishakhapatnam district. It is also known as Andhra Ooty and is one of Andhra Pradesh's most attractive places. This gorgeous hill station, located around 110 kilometers from Vizag, has the most comfortable environment you can imagine, complete with lush flora, waterfalls, and streams.
For newlywed couples, this may be an ideal honeymoon spot. Tribal Museum, Katiki Falls, and Padmapuram Botanical Gardens are also worth visiting. Along with viewing the town's other attractions, enjoy the folk dance as you've never seen it before. Vizag is the closest city, and a trip of 2-3 days is ideal for an unforgettable vacation.
4. Srisailam
One of Lord Shiva's twelve Jyotirlingas is located 181 kilometers from Kurnool and 263 kilometers from Vijayawada. Srisailam, in the Kurnool district of Andhra Pradesh, is the name given to this location. Srisailam is one of Lord Shiva's most important pilgrimage sites in India. This location is at the top of the list of the greatest places to visit in Andhra Pradesh.
Srisailam Dam and Bhramaramba Mallikarjuna Temple are famous attractions in this area. The combination of temples and scenic sites makes this a popular tourist destination. Aside from temples, the Nagarjunasagar-Srisailam Sanctuary, which covers 2500 square kilometers, is another popular tourist destination. It is also India's largest tiger reserve.
This location is primarily connected to Vizag, Bangaluru, Hyderabad, and Vijayawada by road. A two-day journey is sufficient, and the best months to visit are September and March.
5. Vijayawada
After Vizag, Vijayawada or Bezawada is Andhra Pradesh's second-largest city. Vijayawada is the major railway junction in India's south-central railways, located on the banks of the Krishna River. Goddess Durga is claimed to have slept here after defeating the demons (Rakshasa), and this is how Vijayawada acquired her name (land of victory).
The city's main attractions include Kanaka Durga temple and Mangalagiri temple. Apart from these, people are drawn to Gandhi Hill, Prakasham Barrage, Hazrat Bal Mosque, Mogalarajapuram Caves, Rajiv Gandhi Park, and Victoria Museum. Between November and March is the greatest time to visit.
It is also highly well-connected with practically all important cities in India, as it is the largest railway junction in South India. A trip of 2-3 days is sufficient to see the finest of Vijayawada.
Places to Explore in Andaman and Nicobar
6. Mantralayam
Mantralayam, also known as Manchale or Mantralaya, is a prominent Andhra Pradesh town located 70 kilometers from Kurnool. Sri Guru Raghavendra, a Vaishnava saint, is claimed to have taken Samadhi.
This is one of the best sites in the state, located close to the Karnataka-Andhra Pradesh border. The Manchalamma temple, located within the Mantralayam Mutt complex, is a renowned city attraction. Alampur, Panchamukhi Anjaneya Temple, Chinna Tumbalam, Bichchali, and Panchamukhi Anjaneya Temple are the next great places to go in the city.
Trains and buses provide a handy way to travel to the city from all around the state and India. A two-day journey is approximately right, and the ideal months to visit are August and March. If you're going in August or September, keep an eye out for rain.
7. Srikalahasti
Srikalahasti is one of the prominent and old Shiva Kshetras, located 27 kilometers from Tirupati. It is situated in the Chittoor district, which is home to the famous Srikalahasteeswara Temple. Srikalahasti Temple is another name for the temple, which is claimed to have been built in the 10th century.
The entire temple is carved out of the side of a massive stone hill, which astounds every visitor. As a result, this location becomes one of the top spots to visit in Andhra Pradesh.
The main gate of the Kalahasteeswara temple has a 120-foot high gopuram. Apart from temples, the most popular destinations in Srikalahasti include Tada Falls or Ubbalamadugu Falls, Veyilingala Kona Waterfalls, and Pulicat Lake & Sanctuary. 2-3 days will allow you to see the best of the city. Between September and March is the greatest time to visit.
8. Gandikota
Gandikota, a little village 150 kilometers from Kurnool, is a prominent historical tourist site in the Kadapa area. The Gandikota Fort is surrounded by this small village. Gandikota is not well-known, and nothing is known about the village's tourism. Because of the stunning gorge carved by the river Pennar through the Gandikota hills, this community is recognized as Andhra Pradesh's hidden treasure.
The Hidden Grand Canyon of India is the name given to this magnificent work of nature. The Jamia Masjid, Owk Reservoir, Belum Caves, Madhavaraya Temple, Raghunatha Swamy Temple, and Yeganti are among the village's other attractions. Between September and March is the greatest time to visit the area.
This little town can be explored in two days. Gandikota is easily accessible by bus and train from various regions of the state and India.
9. Rajahmundry
The lovely city of Rajahmundry is situated on the Godavari River's bank. It is around 150 kilometers from Vijayawada and is considered Andhra Pradesh's "culture capital." Rajamahendravaram was the old name for this city. The city is known for its beautiful landscapes, majestic structures, countless historic temples, and exciting tourist attractions.
The Sir Arthur Cotton Museum, Kadiam Flower Nurseries, Godavari Bridge, and Maredumilli EcoTourism are all popular tourist attractions. This city is connected to the rest of the state and India by highways and railways. A two-day journey is usually sufficient to see the best of Rajahmundry.
10. Amaravati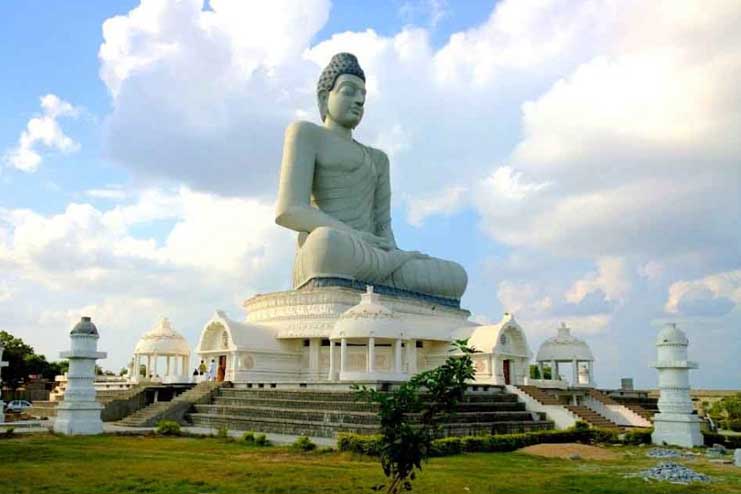 Amaravati is located on the banks of the Krishna River in the Guntur district, just 38 kilometers from the old city of Vijayawada, the new capital of Andhra Pradesh. This city is a popular Hindu and Buddhist pilgrimage destination. The magnificent temple of Amareshwara is the most prominent feature of Amaravathi.
The city is also known for holding one of the world's largest Buddhist stupas. According to legend, this stupa was built during Emperor Ashoka's reign. Other popular tourist attractions are Undavalli Caves, Mangalagiri Temple, Amaravati Archaeological Museum, Amaravati Mahachaitya, and Kondaveedu Fort.
Between October and February is the perfect time to explore this magnificent city. This city is well connected to the rest of Andhra Pradesh and India by highways and trains.
11. Kurnool
Kurnool is a popular Andhra Pradesh town located halfway between Hyderabad and Bengaluru. This famous town, once known as Kandenavolu, was ruled by various monarchs and emperors, including the Mughals, Nawabs, and lastly the British authority. You will enjoy experiencing this old city as a traveler.
The fort built by the Vijaynagar monarchs, the tomb of Abdul Wahab, and Konda Reddy Buruju is just a few of the well-known sites. Aside from these, world trekkers flock to the Orvakal Rock Garden, Rollapadu Sanctuary, and Belum Caves. Wintertime, between October and March, is the greatest time to visit. The city is well connected to the rest of Andhra Pradesh and India via railways and highways. In general, it takes 2-3 days to tour all of Kurnool's important sites.
How to Reach Ladakh: By Road, Air, Bike, Bus
12. Additional Tourist Attractions
Guntur, Horsley Hills, Vizianagaram, Machilipatnam, Chittoor, Kadapa, Puttaparthi, Anantapur, Srikalahasti, Bhadrachalam, Kakinada, Nellore, and Lepakshi are some of the other sites in Andhra Pradesh worth visiting. All of these locations feature fantastic tourism attractions for visitors of all ages. All you need is some nice company, some forethought, and some time. Andhra Pradesh would not let you down, even if you choose to go alone. The breathtaking sights that the state has to offer can refresh even the most tired of souls. Traveling is a fantastic activity and the most effective way to learn about diverse countries, traditions, customs, dietary preferences, and hospitality.
YOU MAY LIKE –