Switzerland is a stunningly beautiful landlocked country in Central Europe bordered on the west by France, the south by Italy, the east by Austria, and the north by Germany. The country's picturesque Alps, rolling hills, plains, and lakes are well-known.
Switzerland is a trendy tourist destination that provides various outdoor adventures and contemporary urban breaks, combining expansive countryside, sleek cities, and buckets of fresh air.
Switzerland's Alpine landscapes are so picture-perfect that they look like they came straight out of a postcard or a novel. These deceptive environments, however, are alive and well, as seen by the numerous opportunities for skiing, hiking, and mountain biking. Zermatt (home of the Matterhorn), Verbier, and the celebrity-studded St Moritz all provide everything from huge, dangerous Olympic runs to encouragingly soft beginner slopes. When the snow melts at lower elevations, the white-tipped mountain peaks are left against a backdrop of azure skies, making for an ideal summer hiking location.
Berne, the old capital, offers virtually infinite chances for sightseeing, shopping, and traditional folk entertainment, while Zurich, with its opera and world-class theatre, as well as fashionable pubs and nightclubs, leads the way in art, design, and nightlife. Geneva is the slickest and most upmarket of Switzerland's cities, with a significant ex-pat community, many of whom work for the several international organizations that call it home.
Switzerland's cultural offers, however, do not end there. Basel reigns supreme when it comes to modern art, with more than 40 museums and galleries crammed into this tight city. Basel takes the stage for a few days every year for the prestigious Art Basel fair. Montreux, with its French flavor, also gets a chance to shine in the cultural spotlight during the Montreux Jazz Festival, when it becomes the center of attention for the jazz world. Countless spruce towns and quaint villages dot the green hillsides, where historic farm culture thrives and cattle still graze amid flower-filled pastures.
Switzerland is known for its exceptional quality of life, with public services running like clockwork. It is small, hilly, and wealthy. Stay for the exquisite culture, fantastic scenery, and sheer feeling of fun. Come for the creamy, complex cheeses, silky chocolates, and fine watches; come for the exquisite culture, incredible scenery, and sheer sense of fun.
It's also known for its chocolates and timepieces, as well as the Swiss knife, which is a legend in and of itself! Skiing, snowshoeing, eating chocolates and cheeses, and, of course, swaying in the Alps are all part of the Swiss tourism experience. Here is a general travel guide to Switzerland to assist you in planning your next vacation.
How To Reach
Everyone's concept of a dream holiday is a trip to Switzerland. With snow-capped peaks, glaciers, waterfalls, gorgeous meadows, and picturesque villages, the small, landlocked country is so beautiful that almost everyone falls in love with it. Furthermore, it is one of the world's safest and best-connected countries. Flying is the best way to get to Switzerland because Swiss International Airlines, the country's primary airline, connects it to over 73 places across the world.
1. By Air
Zurich, Basel, and Geneva all have international airports. In addition, airports are located in Bern and Lugano. If you can't locate a direct flight, it's best to fly into either Paris or Milan and then to either of the big Swiss airports. Many direct flights connect India with Switzerland, and it takes only 7 hours to go from India to Switzerland.
2. By Rail
The train service is outstanding. With trains arriving from all around Europe, Switzerland is incredibly well linked. It is one of Europe's most centrally located countries, which means it has a well-developed railway network. The best way to get to Switzerland is to go through France on the French-Swiss high-speed rail. In Italy, there are also hourly trains to and from Milan.
There's also the hourly ICE (InterCity-Express) from Germany to Zurich, which runs from Karlsruhe, Mannheim, and Frankfurt. These are high-speed trains from Germany. There are night trains to Swiss cities such as Basel, Geneva, and Zurich from Hamburg, Venice, Vienna, Prague, Belgrade, Paris, Berlin, Rome, Amsterdam, and Barcelona. CityNightLine (symbol: CNL) or EuroNight are the names of these trains (symbol: EN).
How to Reach Ladakh: By Road, Air, Bike, Bus
3. By Road
Switzerland has well-developed road networks. France to Geneva and south Germany to Zurich are two popular routes. Even though Switzerland is currently a member of the Schengen Agreement, it is not a member of the EU's customs and tariff union. Major EU/Swiss border crossings, passport inspections are rather common.
4. Getting Around in Switzerland
Switzerland is known for its efficiency. The internal transportation system is fantastic. Trains operate on time, buses are clean, and the staff is efficient and kind. Aside from that, there are a variety of mountain transportation options. All of this is quite well-coordinated. There is a large selection of tickets available, as well as numerous discount alternatives. You can get a half-face card and use it on all modes of transportation (buses, trains, boats, and bike rentals). Every route has hourly trains or buses, with some lines running every 30 minutes and others every 15 minutes.
You can go in any direction once you've arrived in a Swiss city. If you're in Zurich, visit the Limmat River Banking Centre; in Geneva, visit the imposing United Nations building; in Bern, visit the Paul Klee art museum; in Lausanne, visit the Olympic Museum and Park; in Zermatt, visit the renowned ski resort below the Matterhorn; in Basel, visit the Tinguely Museum; in Lugano, go boating on Lake Lugano; and in Interlaken, spend a few days at the Alpine resort.
Weather In Switzerland And The Best Time To Visit
1. Summer
Summer is the greatest time to visit Switzerland, which is from June through August. The weather is warm during this time of year, making sightseeing a breeze. The mountain passes are open, allowing you to take in the country's magnificent splendor and many colors. During this time of year, you will be greeted by the most gorgeous and panoramic views.
The air is clean and the temperature is around 26 degrees. However, this is prime tourist season, so expect crowds. In the summer, the cold Alpine air brings travelers in droves to Switzerland's highlands. This summer is breezy thanks to the dry, south-easterly wind that blows at the upper elevations. The waterfalls are breathtaking and allow for fantastic photo opportunities with family and friends. During the summer, you can attend international and local events in Switzerland, most of them are focused on sports, music, film, and art. The Lucerne Music Festival, which takes place throughout the summer, is extremely popular.
2. Autumn
Autumn brings cooler weather, but it's still a great season to hike in the Swiss Alps. Although the air is cooler, the vistas are breathtaking. The summits of the mountains practically steal your breath away. Because the main tourist season has passed, hotel rooms are cheaper in the autumn. However, this does not exclude out the presence of tourists! Tourists are constantly present in Switzerland.
3. Winter
If you are an adventurous kind who enjoys winter activities, the best time to visit Switzerland is during the winter months, from December to April. Winter in the Alps is attractive and appealing. The snow-capped peaks appear to be breathtaking. Switzerland, after all, has a white Christmas every year. Various ski resorts, particularly Gstaad and St Moritz, provide snow sports like skiing, snowboarding, and ice skating. You can also visit Val d'Anniviers, which is located in Switzerland's French-speaking region.
If ordinary winter sports aren't thrilling enough, tobogganing from Pradaschier, near Lenzerheide, to Churwalden, the world's longest toboggan course on rails, is an option.
4. Shoulder Month
In Switzerland, May is the off-season, which means it's usually quiet and rainy. It's a nice time to visit Switzerland if you want some peace and want to see the sights without the crowds. In May, several hotels offer attractive discounts. It might be possible to go hiking, depending on whether the trails are still covered in snow.
Things You Must DO
Switzerland is a tourist's dream – the scenery is beautiful and calm, and there is so much to see and do that no matter how much time you have spent there, you will always feel like you need at least another week to take it all in! So, to help you make the most of your holiday, we've compiled a list of the top things to do in Switzerland.
1. A picnic on the shores of Lake Geneva
Lake Geneva is considered one of the most beautiful lakes in the world. It's the ideal location for a full-day picnic. It is one of the largest lakes in Western Europe, located on the Rhône River's course on the border between France and Switzerland. You can take a stroll along the lake's shores, soaking in the beautiful scenery, pure blue sky, crystal clear water, and fresh air. If you visit during the summer, you can participate in the various fetes and festivals that are held around the lake. There is also a unique seating configuration. There's also a small beach for you to relax on. Overall, it is a magnificent location.
2. Go for a hike in the Jura Mountains
In the 18th and 19th centuries, the famed Swiss watchmaker industry exploded in Northern Jura's cities. You can also visit the watchmaking factories and learn about the 'Watch Valley's history and culture. Trekking in the Jura mountains is an option for the more daring. You can do this alone because the trails are highlighted in yellow on special hiking maps. Biking around this gorgeous path is also an option.
Where you can Scuba dive in India
3. Valais sightseeing
Valais has an incredible variety of sceneries, providing curious nature enthusiasts with access to several glaciers and mountain ranges in the tranquil Alps. The Matterhorn mountain and glacier must be seen. It is a pyramidal mountain that is nearly symmetrical and one of the highest in the Alps. A guided day tour of the magnificent Ossola Valley and the Simplon Pass is also available from Stresa. Don't forget to look into ski schools so you can get the most out of your trip. There are a lot of them, which is understandable given that Switzerland is a popular skiing destination.
4. Take a trip to Ticino
Ticino, in the south, is known for its beautiful lakes and scenery. Ticino, which borders the north of Italy alongside Uri, Valais, and Graubunden, offers a variety of remarkable experiences for nature lovers. Visit Lake Lugano, a popular windsurfing destination, and Lake Maggiore, a big lake in the Southern Alps. You may also go to Contra Dam for an exciting bungee jumping adventure. Hiking at Monte Generoso is a great option for anyone looking for a relaxing day in the woods. The Castles of Bellinzona also have a lot to offer history buffs.
5. Mountain Viewing in the Bernese Alps
The Bernese Oberland is a well-known tourist attraction in Switzerland. This small area, located just south of Bern, has a diversified scenery populated with lakes, snow-capped mountains, quaint mountain communities, cogwheel trains, and lovely hiking paths. The region is home to some of Switzerland's highest and most famous peaks, including the Eiger and Jungfrau.
6. Tour of the 'Godfather' Film
If you're a fan of The Godfather, this will be a once-in-a-lifetime event. Enjoy a coach trip to the villages of Savoca and Forzà d'Azur, the real-life settings where Coppola shot this renowned 1970s film. Relax at the renowned Bar Vitelli and listen to local legends from the time the movie was shot.
PLACES TO SEE IN PHUKET ISLAND
7. The Museum of Fine Arts
If you enjoy aesthetics and art, then look no further. The Zurich Museum of Art is a must-see. With a large collection extending from the 1600s (middle ages) to contemporary pieces, you can see the work of some of the world's most famous artists. Pablo Picasso, Edvard Munch, Vincent Van Gogh, and Claude Monet are just a few examples.
Switzerland's Best Tourist Attractions
Swiss chocolate, Swiss cheese, and clocks are undoubtedly on your mind as well. These are some of the facts about Switzerland that you may already be aware of. This landlocked country, however, is a sanctuary for anyone seeking truly stunning and sweepingly dramatic scenery. It's in the Alps, so how could it not have the picture-perfect appearance it does?
You could be riding a cogwheel railway up a mountain one minute and then exploring medieval heritage sites perched on lakes the next. Prepare yourself for spectacular vistas of jagged peaks from Swiss mountain villages, ancient districts set against a pristine backdrop of glistening water, and majestic alpine meadows surrounded by snowy mountains. Here are some of the top spots in Switzerland to visit:
1. Interlaken (Switzerland)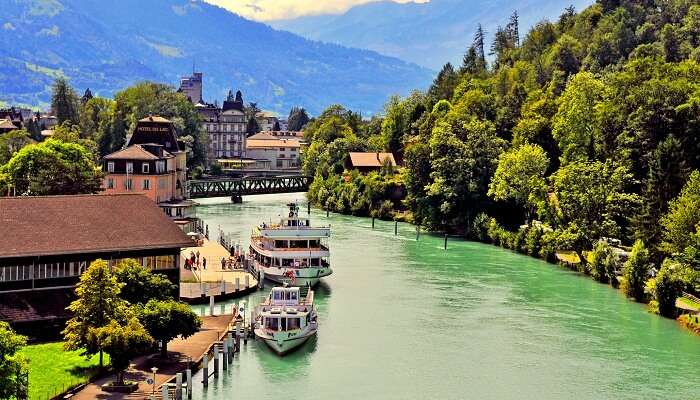 Interlaken was once recognized as a watchmaking center, although it is now more well-known as a tourist destination. In the early 1800s, tourists began flocking to Interlaken to breathe in the mountain air and indulge in spa treatments. Its popularity skyrocketed after that. The city of Thun is sandwiched between two important Alpine lakes, Thun and Brienz. As a result, you'll never be far from a lake where you can go swimming, boating, or riding.
The city is also a popular base camp for outdoor activities in the adjacent Bernese Oberland Alps, with breathtaking views of three iconic Swiss mountains: the Eiger, the Jungfrau, and the Monch. Sign up for a class or two at a woodcarving school if you're searching for something unusual to do. Hungry tourists should enjoy raclette, a traditional Swiss cheese dish.
2. Lausanne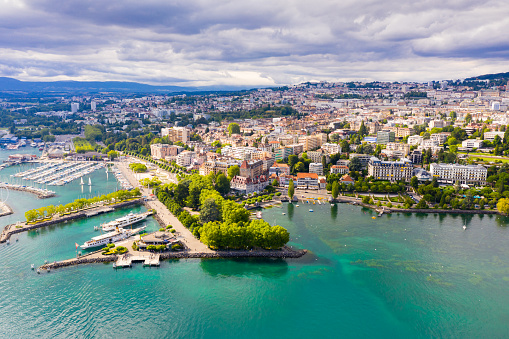 The city of Lausanne is located on the beaches of Lake Geneva, with views of both the Swiss and French Alps. Lausanne's worldwide appeal is simple to see, as it is the gateway to a major ski area and the home of two important institutions.
The city is divided into districts, the most prominent of which is the Cité district for visitors. You may visit what was once known as the Old Town in Cité, as well as some of the architecture, which ranges from cathedrals to castles. Make the Palais de Rumine your first stop in Lausanne if you only have a limited amount of time. This Italian Renaissance-style structure has five museums, making it an ideal site to spend a whole day learning about local art, culture, and history.
Lausanne, on the Swiss Riviera, has long been a favorite of writers, including Lord Byron, the Shelleys, and Ernest Hemingway. Lausanne, in Switzerland's French-speaking region, is home to an outstanding cathedral and wonderful outdoor markets.
3. Geneva
Geneva is a city dominated by international influences. It houses the International Red Cross Committee, the United Nations' European headquarters, and 20 other international organizations. Environmentalists will appreciate Geneva's status as a "green" city, with parks covering 20% of the city's land area, earning it the moniker "city of parks."
The renowned Jet d'Eau, a massive fountain visible from the Lac Léman coastline that spews water far into the air, is a highlight of any visit to Geneva. The Cathédrale St-towers Pierre's are the tallest structures in the Old Town, and you'll want to stop for some photos and a tour of the interior. Geneva is also a great city to explore by bike or take a boat excursion on Lake Geneva to rest weary feet.
4. Zurich
Zurich is the largest city in Switzerland and is well-known as a major financial center in Europe. Even if you're not in the business sphere, there's much to see and do in Zurich. To begin, Zurich is situated on the shores of Lake Zurich. You can get some exercise by hiking or cycling around the lake's perimeter, renting a boat and heading out on the water, or visiting some of the man-made beaches and jumping into the cool water for a lake swim.
Zurich also has a variety of historic cathedrals, world-class museums, and internationally recognized architecture. The Swiss National Museum, housed in a fantasy castle, is devoted to Switzerland's cultural past and is not to be missed. Take the Polybahn, a 19th-century funicular with fantastic views, and a chance to dine at the delightful cafe terrace at the top, to see as much of Zurich as possible at once.
5. Zermatt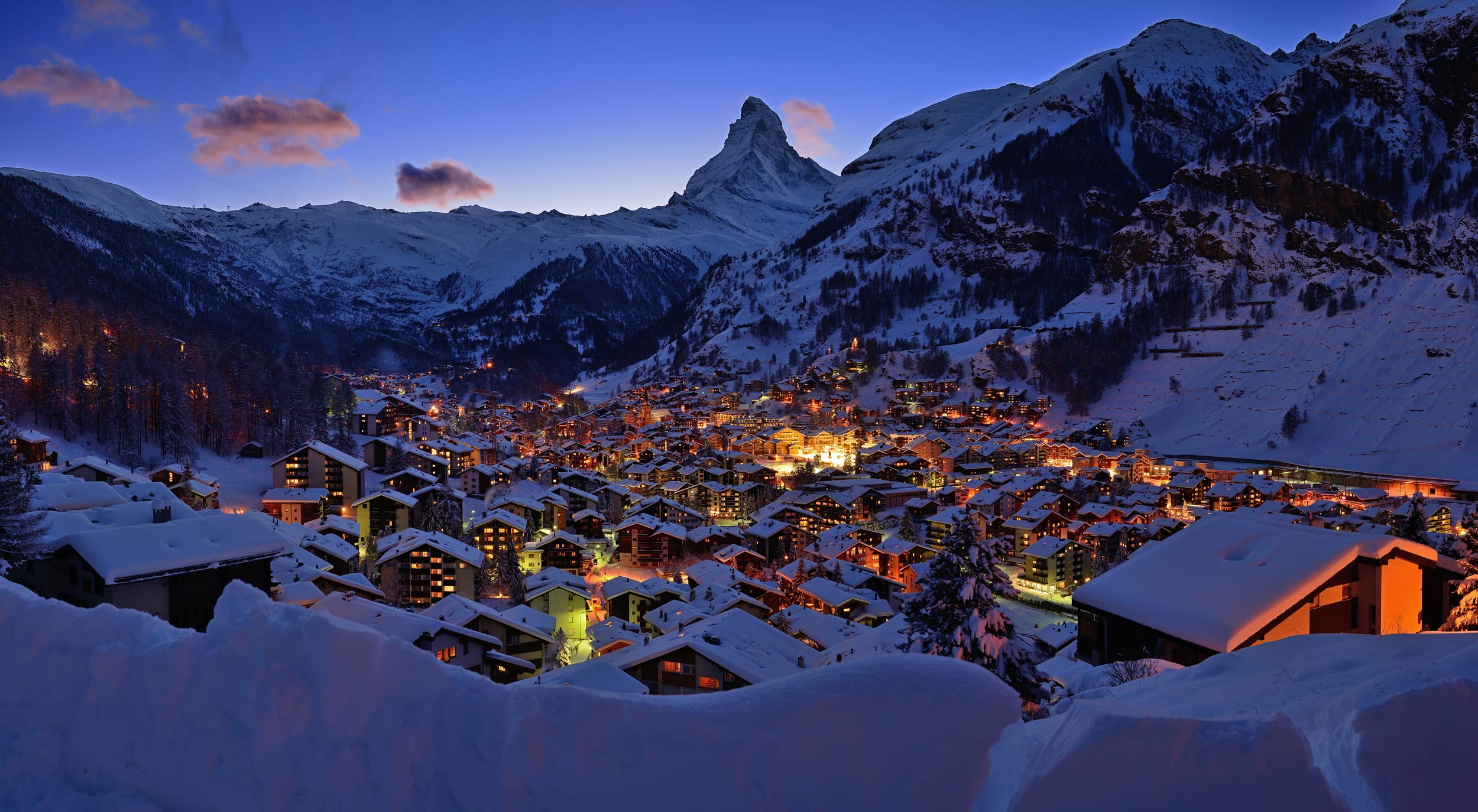 Because of its proximity to the Matterhorn, one of Switzerland's tallest mountains, Zermatt is known for skiing and mountaineering. In the winter, cable cars transport skiers to the nearby slopes, and in the summer, they hikers. Because gasoline-powered vehicles are not permitted within the city borders, Zermatt is an excellent town for walking to many attractions. Fortunately, people may walk between attractions in 30 minutes or less. The town has scenic train routes that connect it to the rest of the world.
6. Jungfrau Region
In both summer and winter, the Jungfrau Region is one of the best destinations to visit in Switzerland. Only hard-core explorers who wished to ski or climb through the mountains visited this Alps region a century or two ago. The area is now accessible to a wide range of travelers because of an extensive network of trains and well-maintained foot and bike trails. The Jungfrau Region is made up of four charming towns: Grindelwald, Murren, Lauterbrunnen, and Wengen, as well as three towering peaks: the Eiger, Mönch, and Jungfrau. The Jungfraubahn, one of Switzerland's most spectacular rail journeys, brings passengers from the Kleine Scheidegg mountain to the Jungfraujoch through the Eiger and Mönch.
7. Lugano
Because of its expanding celebrity appeal, Lugano has been dubbed the "Monte Carlo of Switzerland." The city is situated on the shores of Lake Lugano, in the Italian-speaking part of this alpine country. Lugano dates back to the 9th century and is known for its mild summers.
Outdoor recreation is a big lure in Lugano, and there are plenty of ways to stay active in and around the city. You may spend the day hiking along the well-marked Olive Tree Trail or swimming at the Lido di Lugano, which is conveniently located in the city center. After strolling through the Old Town to admire the architecture, visit the attractive and intriguing Swiss Miniature Village to see it all from a different perspective.
8. Lake Geneva
Lake Geneva, one of Europe's largest lakes, is located on the Rhone River's course, on the border between France and Switzerland. Aside from Geneva, the majority of the Lake Geneva region's destinations are located in either the Swiss canton of Vaud or the French department of Haute Savoie. The Jura mountains are in the north, a hilly plain is in the middle, and the Alps are in the southwest. The magnificent villages and towns that surround the lake, the chances for skiing and hiking in both mountain ranges, and, of course, the lake itself are the main attractions.
9. Lucerne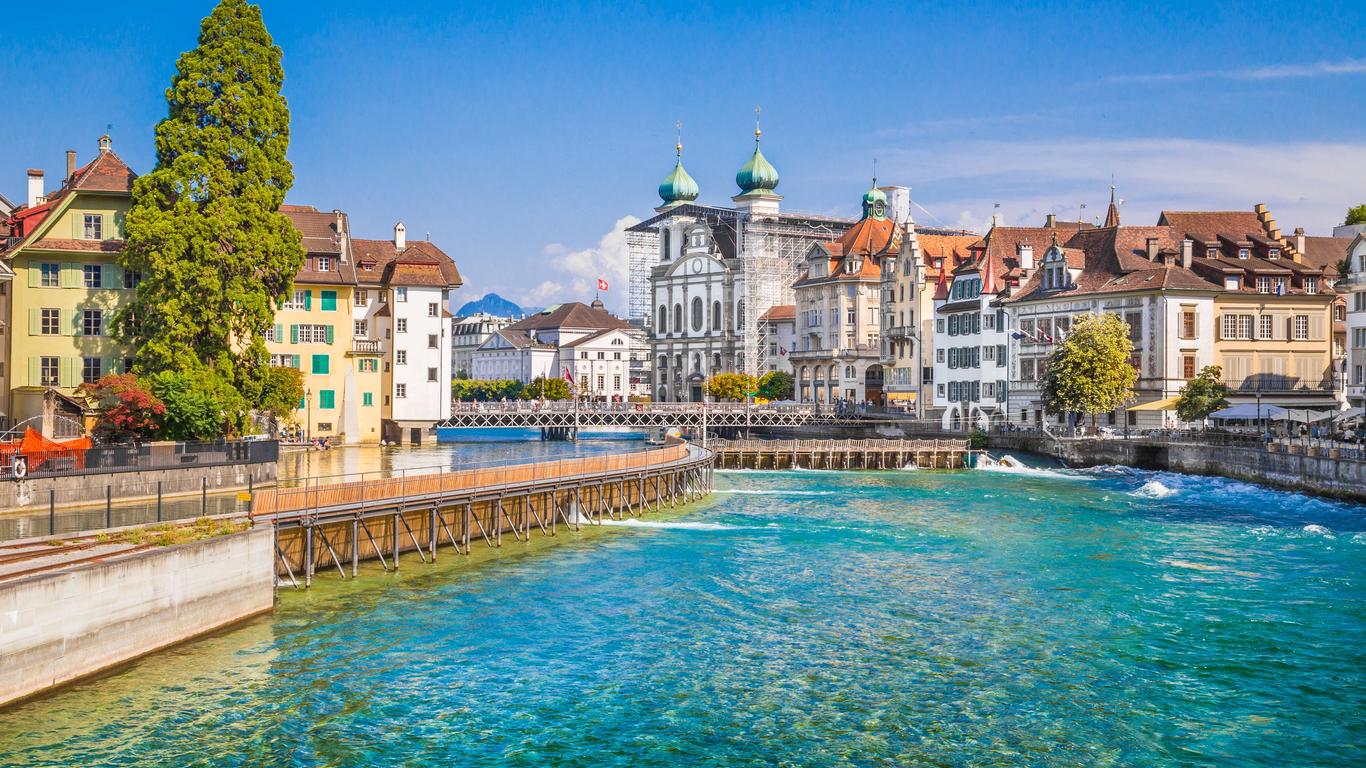 Lucerne, in Switzerland's German-speaking region, is a city with it all: city life, a lake, and mountains. Lucerne, one of the world's most beautiful cities, is most known for its 14th-century Chapel Bridge and Water Tower, which is claimed to be Switzerland's most photographed structure. The Dying Lion, carved out of the rock to honor Swiss mercenaries who died in France in 1792, is another well-known monument. Luzerner Chügelipastete, a local specialty prepared of puff pastry, veal, and mushrooms in a cream sauce, is a must-try for hungry tourists.
10. Bern
Bern is a lovely medieval city with a long history dating back to the 12th century, though it did not join the Swiss Confederacy until the 16th century. Bern is the capital of Switzerland, however, it is not the largest city. The Zytglogge, an antique clock tower with moving puppets, is the city's most famous attraction. The Munster, a Gothic cathedral that rises from the old town, and Bern's town hall are also popular tourist attractions.
Bern's symbol is the bear, and several are housed in an open-air pit. The old town, which has four miles of arcades and is one of Europe's longest covered shopping areas, will appeal to shoppers.
YOU MAY LIKE-