Sikkim is located in the Himalayan foothills and is home to India's tallest peak, Kanchenjunga. Sikkim's scenery includes glaciers and ice caps. Mountains at higher elevations, meadows and wildflowers in the lower plains, and heavy pine woods further down the slopes Everything about Sikkim tourism will transport you to the enchanted kingdoms of fairy tales! To plan a vacation to Sikkim, read this short travel guide and get immersed in this fairy tale.
The Namgyal dynasty established the Kingdom of Sikkim in the 17th century. The Chogyal, Buddhist priest-kings, governed the country. In 1890, it was made a princely state of British India. Sikkim maintained its protectorate status with the Union of India after 1947, and the Republic of India after 1950, following Indian independence.
Among Himalayan states, it had the greatest literacy rate and per capita income. Anti-royalist protests erupted in front of the Chogyal's palace in 1973. After the Indian Army took control of Gangtok in 1975, a referendum was held that resulted in the monarchy being deposed and Sikkim becoming India's 22nd state.
Sikkim is a multiethnic and multilingual Indian state in modern times. English, Nepali, Sikkimese, and Lepcha are the state's official languages. For the preservation of culture and tradition in the state, additional official languages include Gurung, Limbu, Magar, Mukhia, Newari, Rai, Sherpa, and Tamang.
In schools, English is taught, and it is utilized in government papers. Hinduism and Vajrayana Buddhism are the two most popular religions. Agriculture and tourism are the two mainstays of Sikkim's economy. The state had the fifth-lowest GDP among Indian states in 2019, although it is also one of the fastest-growing.
Sikkim produces the most cardamom in India and is the world's second-largest producer after Guatemala. Between 2003 and 2016, Sikkim completed its goal of converting its agriculture to 100% organic, making it the first state in India to do so. It is also one of India's most environmentally concerned states, having outlawed plastic water bottles and polystyrene goods "at any official functions and meetings" (throughout the state).
The Lepchas are thought to be the first people to settle in Sikkim. However, as early as the Lepchas were in the East and North districts, the Limbus and Magars dwelt in the inaccessible areas of the West and South districts. In the eighth century, the Buddhist guru Padmasambhava, better known as Guru Rinpoche, is reported to have travelled through the country. The Guru is said to have bestowed blessings on the land, promoted Buddhism, and predicted the arrival of monarchy in Sikkim centuries later.
Khye Bumsa, a 14th-century prince from the Minyak House in Kham, eastern Tibet, received a divine revelation telling him to journey south to pursue his fortunes, according to mythology. Phuntsog Namgyal, a fifth-generation descendant of Khye Bumsa, was consecrated as the first Chogyal, or priest-king, of Sikkim by the three venerated lamas at Yuksom in 1642, and so became the foundation of Sikkim's monarchy.
Tensung Namgyal, Phuntsog Namgyal's son, succeeded him in 1670 and moved the capital from Yuksom to Rabdentse (near modern Pelling). In 1700, the Bhutanese invaded Sikkim with the support of the Chogyal's half-sister, who had been denied the crown. The Tibetans drove the Bhutanese out, and the Chogyal was restored to the throne ten years later.
Between 1717 and 1733, the kingdom was subjected to several attacks by Nepalese in the west and Bhutanese in the east, culminating in the Nepalese devastation of Rabdentse, the kingdom's capital. In 1791, China dispatched troops to Sikkim in order to defend Tibet from the Gorkha Kingdom. Following Gorkha's loss, the Chinese Qing dynasty took control of Sikkim.
Following the establishment of British control in India, Sikkim collaborated with the British against their mutual foe, Nepal. The Nepalese assaulted Sikkim, capturing the majority of the region, including the Terai, in the process. The British East India Company responded by attacking Nepal, sparking the Gurkha War of 1814. The region taken by the Nepalese in 1817 was returned to Sikkim as a consequence of treaties struck between the two states.
However, when the British began taxing the Morang district, relations between Sikkim and the British deteriorated. In 1849, two British surgeons, Sir Joseph Dalton Hooker and Dr. Archibald Campbell, the latter of whom was in charge of ties between the British and Sikkimese administrations, went unannounced and unauthorised into the Sikkimese mountains.
The doctors were imprisoned by the Sikkimese government, prompting a British expedition to punish the kingdom, which resulted in the Darjeeling region and Morang being annexed to British India in 1853. As a result of the invasion, the Chogyal of Sikkim became a titular king at the British governor's request.
In the late 1800s, Sikkim became a British protectorate, which was formalized by an agreement signed with China in 1890. Over the next three decades, Sikkim steadily gained more autonomy, eventually becoming a member of the Chamber of Princes, the legislature representing the rulers of India's princely states, in 1922.
Urgyen Trinley Dorje, the seventeenth Karmapa, departed Tibet in 2000, wanting to return to the Rumtek Monastery in Sikkim, after being confirmed by the Dalai Lama and acknowledged as a tulku by the Chinese government. Chinese authorities were caught in a bind on this subject, as any protestations to India would be interpreted as an express affirmation of India's rule over Sikkim, which China still regards as an independent state occupied by India.
In exchange for India designating Tibet a "part of" China's territory, the Chinese government recognized Sikkim as an Indian state in 2003. New Delhi had accepted Tibet as part of China in 1954, but China appears to have believed the agreement had expired. Sino-Indian ties thawed as a result of the 2003 accord. The Nathu La Himalayan pass in Sikkimese opened to cross-border trade on July 6, 2006, making it the first open border between India and China.
The pass had been blocked since the 1962 Sino-Indian War, when it was initially opened during the Younghusband Expedition to Tibet in 1904. A magnitude 6.9 earthquake rocked Sikkim on September 18, 2011, killing at least 116 people in the state as well as Nepal, Bhutan, Bangladesh, and Tibet. In Sikkim alone, more than 60 people died, and the city of Gangtok was severely damaged.
The state of Sikkim is known for its rugged topography, which is found in the Himalayan highlands. The state is almost entirely hilly, with elevations varying from 280 meters (920 feet) in the south near the West Bengal border to 8,586 meters (28,169 feet) in the north between Nepal and Tibet. The state's highest point is Kangchenjunga, the world's third-highest peak, which is located on the boundary between Sikkim and Nepal.
Because of the steep, precipitous slopes, the terrain is mostly unsuitable for agriculture. Some hill slopes, on the other hand, have been transformed into terrace farms. In the west and south of the state, numerous snow-fed streams have carved out river valleys. These streams join to form the Teesta River and its tributary, the Rangeet, which flow from north to south through the state.
The state is highly forested in around a third of its area. Sikkim's northern, eastern, and western boundaries are all surrounded by Himalayan mountains. The Lower Himalayas, which run across the state's southern parts, are the densestly populated.
There are 28 mountain peaks in the state, as well as over 80 glaciers, 227 high-altitude lakes (including the Tsongmo, Gurudongmar, and Khecheopalri Lakes), five significant hot springs, and over 100 rivers and streams. Tibet, Bhutan, and Nepal are all connected by eight mountain passes.
The medical and therapeutic significance of Sikkim's hot springs is well known. The hot springs in Phurchachu, Yumthang, Borang, Ralang, Taram-chu, and Yumey Samdong are among the state's most famous. The sulphur-rich springs are found near riverbanks, and some have been observed to produce hydrogen. The water in these hot springs averages 50 degrees Celsius (122 degrees Fahrenheit).
The highlands of Sikkim are mostly made up of gneiss and schist, which weather into poor, shallow brown clay soils. The soil is gritty, with high iron oxide concentrations; it is neutral to acidic, and deficient in organic and mineral nutrients. Evergreen and deciduous forests thrive in this sort of soil.
The rock is made up of phyllites and schists, and it is easily weathered and eroded. This, paired with the state's significant rainfall, results in widespread soil erosion and leaching of soil nutrients. Landslides are common as a result, separating rural towns and villages from major urban centers.
Winter, summer, spring, autumn, and monsoon season are the five seasons in the state. The climate of Sikkim varies from subtropical to tundra in the north. The majority of Sikkim's inhabited areas have a temperate climate, with summer temperatures rarely topping 28 °C (82 °F). The average yearly temperature in much of Sikkim is around 18 degrees Celsius (64 degrees Fahrenheit). Sikkim is one of the few Indian states that receives snowfall on a regular basis.
The snow line runs from 6,100 meters (20,000 feet) in the south to 4,900 meters (16,100 feet) in the north of the state. Four months of the year, the tundra-like region in the north is snowbound, and the temperature goes below 0 °C (32 °F) practically every night.
The peaks in northwestern Sikkim are frozen all year; temperatures in the Himalayas can dip to as low as 40 °C (40 °F) in winter due to the high altitude. Heavy rains enhance the risk of landslides during the monsoon season. Sikkim holds the record for the longest period of continuous rain at 11 days. During the winter and monsoon seasons, fog blankets much of the state, making travel dangerous.
East Sikkim, North Sikkim, South Sikkim, and West Sikkim are the four districts of Sikkim. Gangtok, Mangan, Namchi, and Gyalshing are the district capitals, respectively. These four districts are further subdivided into 16 subdivisions, with the East district's subdivisions being Pakyong, Rongli, Rangpo, and Gangtok.
The West district is divided into four subdivisions: Soreng, Yuksom, Gyalshing, and Dentam. The North district is divided into four subdivisions: Chungthang, Dzongu, Kabi, and Mangan. The subdivisions of the South district include Ravongla, Jorethang, Namchi, and Yangyang.
The district collector, who is in charge of the administration of the district's civilian regions, is appointed by the state government and oversees each of Sikkim's districts. Because Sikkim is part of a crucial border area with China, the Indian Army has jurisdiction over a substantial portion of the state. Many regions are off-limits to foreigners and require government licenses to enter.
Sikkim is one of just three ecoregions in India that is located in an ecological hotspot in the lower Himalayas. The state's forested areas are home to a rich array of animals and vegetation. Because of its altitudinal gradation, the state boasts a diverse range of plants, ranging from tropical to temperate, alpine, and tundra species, and is one of the few areas in the world to have such diversity in such a small space. Sikkim's forest department is responsible for over 81 percent of the state's land.
Around 5,000 blooming plant species, 515 unique orchids, 60 primula species, 36 rhododendron species, 11 oak kinds, 23 bamboo varieties, 16 conifer species, 362 ferns and fern allies, 8 tree ferns, and over 900 medicinal plants may be found in Sikkim. In the mountainous state, a Poinsettia relative called as "Christmas Flower" can be found in profusion. Sikkim's official flower is the Noble Dendrobium, and the state tree is the rhododendron.
The Himalayan subtropical broadleaf forests of Sikkim's lower altitudes are home to orchids, figs, laurel, bananas, sal trees, and bamboo. There are Eastern Himalayan broadleaf forests, where oaks, chestnuts, maples, birches, alders, and magnolias grow in considerable numbers, and Himalayan subtropical pine forests, dominated by Chir pine, at temperate heights above 1,500 meters (4,900 feet).
Alpine vegetation can be found between 3,500 and 5,000 meters above sea level (11,500 to 16,400 ft). Juniper, pine, firs, cypresses, and rhododendrons from the Eastern Himalayan subalpine conifer forests can be found at lower elevations. Eastern Himalayan alpine shrub and meadows, as well as high-altitude wetlands, support a diverse range of rhododendrons and wildflowers.
Snow leopards, musk deer, Himalayan tahr, red pandas, Himalayan marmots, Himalayan serows, Himalayan gorals, muntjacs, common langurs, Asian black bears, clouded leopards, marbled cats, leopard cats, dholes, Tibetan wolves, hog badgers, binturongs, and Himalayan jungle cats are among Sikkim's biodiversity. Yaks are one of the most frequent animals found in the alpine zone, and they are primarily raised for milk, meat, and as a beast of burden.
The impeyan pheasant, crimson horned pheasant, snow partridge, Tibetan snowcock, bearded vulture, and griffon vulture are among Sikkim's avifauna, which also includes golden eagles, quails, plovers, woodcocks, sandpipers, pigeons, Old World flycatchers, babblers, and robin Sikkim is home to around 550 bird species, some of which have been designated as endangered. Sikkim is also home to a diverse range of arthropods, many of which have yet to be researched.
Sikkimese arthropods, particularly butterflies, are among the most understudied species. Sikkim is home to 695 of the approximately 1,438 butterfly species found across the Indian subcontinent. The endangered Kaiser-i-hind, the Yellow Gorgon, and the Bhutan Glory are among them.
Sikkim's nominal state gross domestic product (GDP) was predicted to be US$4.6 billion in 2019, with a GDP per capita of $7,530, making it India's 28 states with the third-smallest GDP. The state's economy is predominantly agrarian, with rice terraces and crops like as maize, millet, wheat, barley, oranges, tea, and cardamom being grown. Sikkim grows more cardamom than any other Indian state and has the greatest cardamom-growing area.
Sikkim lacks a large-scale industrial base due to its steep topography and limited transportation facilities. The principal industries are brewing, distilling, tanning, and watchmaking, all of which are concentrated in the state's southern regions, particularly in the cities of Melli and Jorethang. Furthermore, Sikkim has a modest mining sector that extracts minerals such copper, dolomite, talc, graphite, quartzite, coal, zinc, and lead.
Sikkim's economy has been among the fastest-growing in India since 2000, despite the state's lack of industrial infrastructure; the state's GDP increased by 89.93 percent in 2010. Sikkim made the decision to fully switch to organic farming in 2003, and in 2015, it became India's first "organic state." Sikkim's government has heavily encouraged tourism in recent years. As a result, since the mid-1990s, state revenue has surged 14 times.
Sikkim has also put money into a nascent gaming business, which promotes both casinos and online gambling. The Casino Sikkim, the state's first casino, opened in March 2009. In 2010, the government approved three gambling licenses, one for casinos and the other for internet sports betting in general.
In the state, the Playwin lottery has been a huge success. The opening of the Nathu La pass, which connects Lhasa, Tibet, and India, on July 6, 2006, was heralded as a windfall for Sikkim's economy. Though the volume of products traded has been constantly increasing, trade over the pass remains impeded by Sikkim's inadequate infrastructure and regulatory prohibitions in both India and China.
Sikkim's adult literacy rate was 82.2 percent in 2011, with males accounting for 87.29 percent and females accounting for 76.43 percent. In total, there are 1,157 schools in the state, comprising 765 state-run schools, seven federal government institutions, and 385 private schools. In Sikkim, higher education is provided through one Institute of National Importance, one central university, and four private universities.
The Government of Sikkim recently approved the Board of Open Schooling and Skill Education, or BOSSE, to provide Secondary Education, Senior Secondary Education, as well as Skill & Vocational Education up to pre-degree level, and to provide an opportunity for students who have missed out on school education to continue their education.
Sikkim has a National Institute of Technology, which is now operating from a makeshift campus at Ravangla, South Sikkim, and is one of ten new NITs sanctioned by the Indian government under the 11th Five-Year Plan. NIT Sikkim also features a cutting-edge supercomputer called PARAM Kanchenjunga, which is said to be the fastest among the 31 NITs. Sikkim University is the state's only central university.
The Sikkim Manipal University of Technological Sciences is a public-private partnership that offers higher education in engineering, medicine, and management. It also offers a variety of remote learning programs in a variety of subjects.
The Advanced Technical Training Centre (ATTC) and the Centre for Computers and Communication Technology (CCCT) are two state-run polytechnic colleges that offer diploma courses in several engineering fields. ATTC is located in Singtam's Bardang, and CCCT is located in Namchi's Chisopani. Sikkim University opened its doors in Yangang, around 28 kilometers (17 miles) from Singtam, in 2008. Many students, on the other hand, seek higher education in Siliguri, Kolkata, Bangalore, and other Indian cities.
The National Institute of Electronics and Information Technology (NIELIT), which is part of India's Ministry of Electronics and Information Technology, is based in Pakyong, East Sikkim, and offers formal and informal IT/ITES education. All important Hindu festivals, such as Tihar (Diwali) and Dashain, are celebrated by Sikkim's Nepalese majority (Dashera). Maghe Sankranti, Sakela, Chasok Tangnam, and Bhimsen Puja are popular traditional local celebrations.
Buddhist festivals held in Sikkim include Losar, Saga Dawa, Lhabab Duechen, Drupka Teshi, and Bhumchu. Most offices and educational institutions are closed for a week during Losar (Tibetan New Year). Muslims in Sikkimese observe Eid ul-Fitr and Muharram. In order to attract tourists during the off-season, Gangtok has promoted Christmas.
Sikkim's music scene is dominated by Western rock and Indian pop. Lepcha music and Nepali rock are also popular. Football and cricket are the most popular sports in Sikkim, while hang gliding and river rafting have gained popularity as part of the tourism business. In Sikkim, noodle-based foods including thukpa, chow mein, thenthuk, fakthu, gyathuk, and wonton are popular.
A favorite snack is momos, which are cooked dumplings filled with vegetables, meat, or pork and eaten with soup. Beer, whiskey, rum, and brandy, as well as tongba, a millet-based alcoholic beverage popular in Nepal and Darjeeling, are commonly enjoyed in Sikkim. Sikkim, behind Punjab and Haryana, has the third highest per capita alcoholism rate of any Indian state.
How To Reach Sikkim
Sikkim, located between Nepal, China, Bhutan, and West Bengal, is a renowned tourist destination with its own distinct culture. The state has a lot to offer, whether it's spectacular landscapes, unique flora and wildlife, or traditional and cultural practices, making it a refuge for adventurers, naturalists, and nearly any other type of traveller.
The gorgeous white monasteries close to turquoise lakes, a pristine picture this entire belt of Himalayas is famed for, provide lots of options for those seeking peace and quiet. If you've decided to spend your holiday in this beautiful state, here's a fast guide to getting there.
1. By Bus
For those considering taking the bus to Sikkim, there are a variety of options available at various rates. Volvo A/C Semi sleeper or A/C Multi-Axle Semi sleeper are two options. You can also take the government buses if you don't want to pay the higher fees. Siligui and Darjeeling are the closest bus stations, and the travel should take no more than a few hours. You may rest guaranteed that you will appreciate the gorgeous route.
2. By Train
In the state of Sikkim, there are no railway stations. Although one may be found in New Jalpaiguri (NJP) and Siliguri, both of which are only 125 and 114 kilometers from Gangtok, respectively. Both NJP and Siliguri have excellent connections to the rest of India. From here, you may either hire a taxi or take a bus to Gangtok, which would take about 4 hours.
3. By Air
Bagdogra Airport, roughly 124 kilometers from Gangtok, is the nearest airport. This portion of the country is well connected by flights from Delhi, Mumbai, Bangalore, and other major cities.
Hire a taxi from Bagdogra Airport to Gangtok in just 4 hours. Helicopters also operate between Bagdogra and Gangtok. The Sikkim Tourism Development Corporation conducts daily flights from Bagdogra to Gangtok that take just 20 minutes. This helicopter administration is, of course, dependent on the weather.
4. Getting around in Sikkim
The most prominent mode of public transportation in Sikkim is Sikkim Nationalised Transport (SNT), which was founded in 1944. Kalimpong, Gangtok, Darjeeling, and Siliguri are all well-connected by bus. Auto rickshaws can also be seen practically everywhere. This means of transit is quick, inexpensive, and handy.
In addition, most auto-rickshaw drivers are familiar with the routes and may assist you in visiting popular tourist attractions. In addition to buses and automobiles, a taxi can be hired to get around town.
Weather In Sikkim And The Best Time To Visit
Sikkim embodies a frigid north and a humid and tranquil south, guarded by Mount Khangchendzonga and bathed in beautiful blue skies. March to June and September to December are the finest months to visit Sikkim.
1. The season of summer (March to June)
The summer months are April to June. Sikkim's summer weather is aromatic yet humid. This is also the period for Sikkim's famed International Flower Festival, which features over 600 orchid species and 240 different trees, ferns, shrubs, and flowers.
Along with the flower festival, a lively food market is held, making this one of the most sought-after tourist destinations in the summer. Summer is also the greatest time to go on a hike through the farmlands to see the flowering Orchids that flourish in the lush greenery.
2. Monsoon season (July to September)
The monsoon season begins in July and lasts until September. It is strongly advised that you avoid visiting Sikkim during the rainy season because the state is prone to landslides. By the end of August, people are celebrating the post-monsoon atmosphere, when the sweltering temperature has subsided and the atmosphere has returned to a serene and calm state.
3. Autumn (October to November)
The arrival of fall brings with it immaculate and clear blue skies, inviting you to explore and enjoy the invigorating environment of our North Eastern region. The temperature is between 15 and 20 degrees at this time. The temperature dips slightly to 12 degrees in November. This is the greatest season to visit Sikkim because of the mild and pleasant weather.
4. The season of winter (December to February)
In December, Sikkim experiences continuous and massive snowfall that lasts until February. The high peaks and roads are blanketed in white dazzling snow, creating a refuge.
Tourist Attractions in Sikkim
This lovely and charming state has been a vacation destination for years, tucked hidden in the willows of East India. Sikkim is a melting pot of cultures and traditions, waiting to enchant your mind, body, and spirit.
Its all-encompassing natural beauty has the ability to conjure up fantastic landscapes that transport your mind to ecstatic heights. From Lachen to Yumthang, Gangtok to Pelling, Ravangla to Namchi, here are the top tourist attractions to see on your Sikkim tour.
1. Gangtok
Gangtok is indisputably Sikkim's capital, a mash-up of traditional culture and modern lifestyle. This city, which is protected by the Khangchendzonga, offers excellent rooftop views of Sikkim. Deer Park, Himalayan Zoological Park, Ridge Park, and Flower Show are among the several parks in Gangtok. Other notable sights are Nathula Pass, Menmecho Lake, and Tsomgo Lake.
2. Pelling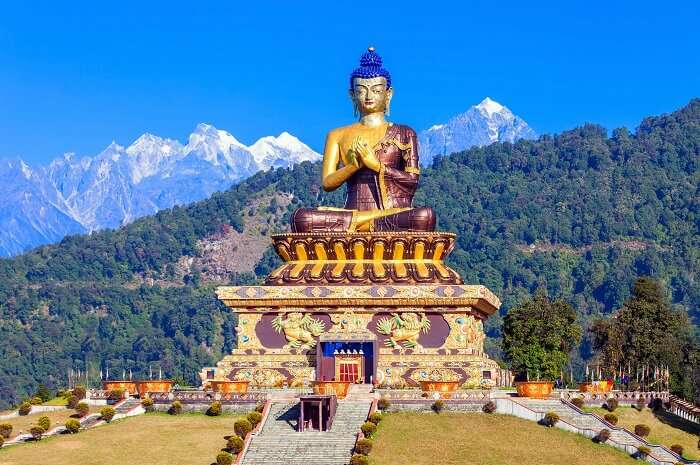 Pelling has a plethora of trekking options. With serpentine rivulets, flowering flora, and soaring mountain ranges, it is truly a paradise on Earth. Pelling is a fantastic place for adventure seekers and trekkers, with a panoramic view of Khangchendzonga. Pelling is a must-see destination because of its breathtaking views.
3. Ravangla 
Ravangla is a small town in Sikkim's south. It depicts a charming and enticing picture of the nearby mountains. The bright colors calm the senses and provide a welcome break from your journey. Tourists flock to Ravangla due of its peaceful atmosphere and lush surroundings. Tourist sites such as Sikip, Temi Tea Garden, Jorethang, and Samdruptse Hill Top, where the statue of Guru Padmasambhava is stationed, surround Ravangla.
4. Nathula Pass (Nathula Pass)
In Sikkim, the Nathula Pass is a trekker's dream. This pass, which is 14000 feet above sea level, was utilized by traders, merchants, and soldiers alike in the past. It is now a popular tourist destination, luring visitors to Sherathang, a border trade mart where Tibetan handicrafts may be purchased at low costs. Also worth visiting are Sikkim Point, Kulup, and the View Point, where you may virtually float among the clouds.
5. Goechala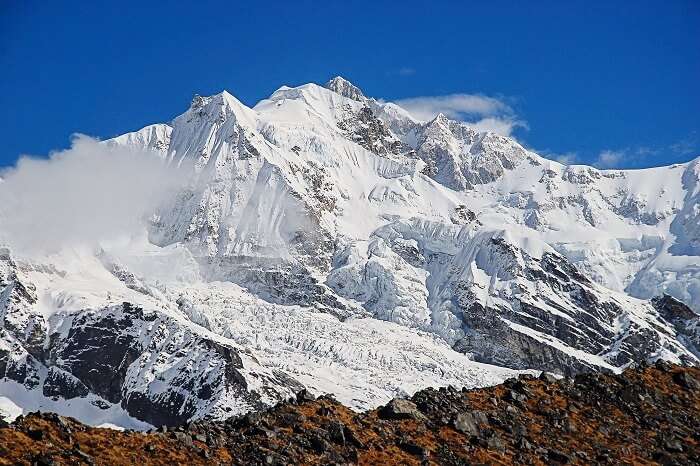 Goechala, a high-altitude mountain pass in the Himalayas, is also popular with trekkers and hikers. Furthermore, from this route, one may get some of the most beautiful vistas of Mt. Kanchenjunga. This is the same frame of mind depicted on the Indian Rs. 100 banknote. Goechala is the base camp for most mountaineers attempting to climb Kanchenjunga.
6. Namchi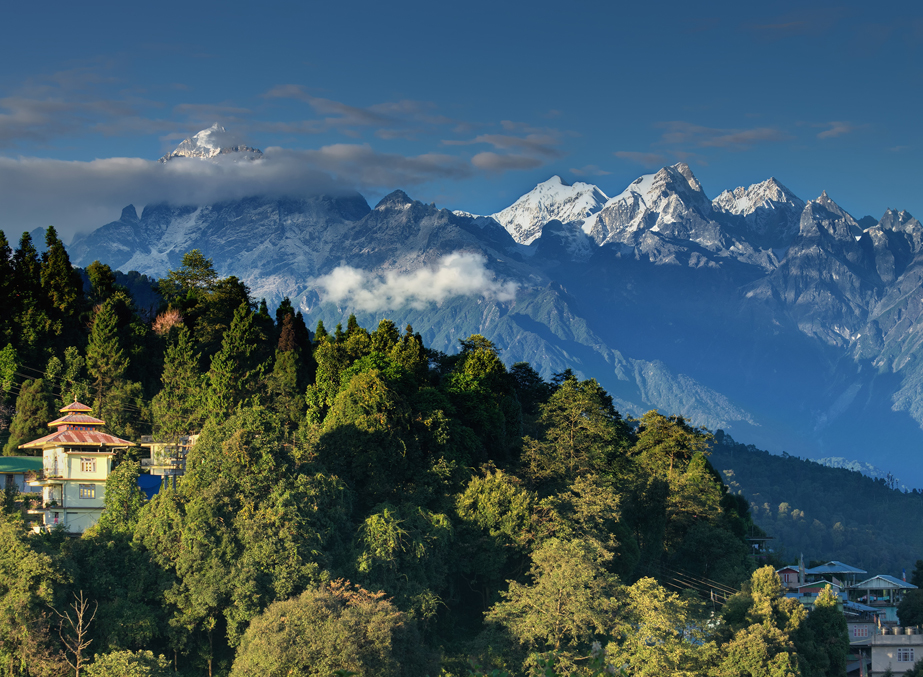 Namchi, Sikkim's southern capital city, is also the state's cultural center and capital. Its rapid development in recent decades, combined with the replica Char Dham, has made it a sought-after tourist destination. Ecotourism and religious yatras are highly popular in this area. Religious souls throng this place, from temples like Shirdi Saibaba Mandir and Guru Padmasambhava statue to the Char Dham complex. Namchi Rock Garden, Central Park, and Baichung Stadium are among the other attractions in the area.
7. Lachen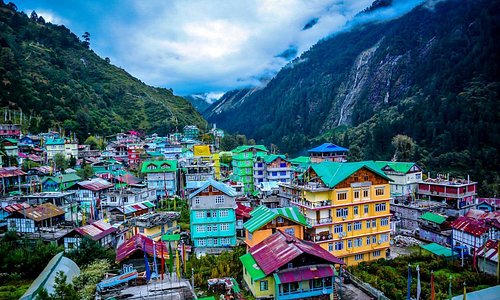 Sikkim's Lachen is a picturesque snow-covered fantasy village in the state's northern region. Lachen is half of the Lachen-Lachung settlement, with Lachen being the low-altitude settlement and Lachung being the high-altitude settlement. From lakes to postcard-worthy meadows, rhododendron forests to monasteries and mountains, the splendor of this small hamlet is unrivaled. Gurudongmar Lake, Mt Pandim, Khangchendzonga, and Lachung Gompa are all worth seeing. Yumthang Valley is just a short distance away.