Since time immemorial, the breathtaking grandeur of Srinagar in Jammu and Kashmir has enticed visitors. Throughout history, the city has captivated Mauryans, Mughals, Sikhs, and British rulers. Srinagar is a dream location for many travelers, set against the backdrop of the Himalayan highlands at a height of 1730 meters on the banks of the Jhelum River.
The Dal Lake is, without a doubt, the heart of Srinagar's activities. The lake's houseboats arose as a result of a pre-independence regulation prohibiting the British from owning land. These houseboats have now become Kashmir's most popular tourist attraction.
Houseboats, like hotels, come in a variety of classifications, ranging from luxurious to barely floating, and staying on one is a necessity when visiting Srinagar.
Do not rent a houseboat in advance; instead, go view it for yourself before paying and get a good sense (preferably, have the owner write it down for you) of how much everything you buy/do on the houseboat will cost.
Srinagar is known for its picturesque lakes, spectacular Mughal gardens, and religious sites such as the Hazratbal Mosque and the Shankaracharya Temple. It is also a popular shopping and dining destination in Kashmir. Adventure sports enthusiasts flock to Srinagar for activities such as skiing, trekking, river rafting, and paragliding.
Human settlements reaching back to 3,000 BC have been discovered in Srinagar. Pravasenpur was the name given to the city when it was founded by King Pravasena II.
Emperor Asoka brought Buddhism to Srinagar after it was conquered by the Mauryans. With the Kushans in control of the city, Buddhist culture became entrenched. Mughal rule began in Srinagar in the 14th century.
During their reign, the Mughal culture had a widespread effect; but, after Emperor Aurangazeb's death, its influence waned and control shifted. When Maharaja Ranjit Singh took Srinagar in 1814, the city became under Sikh administration.
In 1846, the British and Gulab Singh signed a peace deal that established Kashmir as an autonomous country. Srinagar remained an independent kingdom until 1947, when it was amalgamated with independent India.
Beautiful mountains and lush green pastures surround Srinagar. Srinagar literally translates to "the city of richness and abundance" in Sanskrit. This sparkling city is located on the Jhelum River's banks and is home to some incredibly magnificent lakes such as Achar, Nagin, and, of course, the famed Dal Lake.
Srinagar tourism combines outdoor activities such as shikara boat rides and visits to Mughal Gardens with meditative trance walks around the old city and ancient crumbling mosques and minarets. Read this Srinagar travel guide to learn more about this wonderful city.
Is It Safe To Travel To Kashmir?
How to Reach Srinagar
Although Srinagar has an international airport, it primarily handles local flights from Delhi, Chandigarh, Amritsar, Bangalore, and Mumbai, among other locations. Srinagar Airport is surrounded by a security barrier and is 1.2 kilometers away. It's a good idea to arrive early because there are multiple large lines for luggage and body screening.
Although the airport is not far from the city center, it is advised to depart early due to security concerns. IndiGo, Spicejet, Go Air, and Air India all fly to Srinagar regularly.
Prepaid taxis are available to take you into the city from the airport. Another alternative is to take the complimentary shuttle bus to the security gate outside and try your luck with an auto from there.
Getting to the airport on time could be difficult given the frequency of curfews. Even if you arrive early, you may have to wait outside because you can only go inside three hours before the flight. In addition, airline cancellations are prevalent throughout the winter months.
1. By Bus – Buses go from places like Delhi and Chandigarh, as well as Jammu and Leh, to Srinagar. Between Srinagar and Jammu, there is a relatively new roadway that has greatly decreased travel time. However, keep in mind that buses are sometimes in poor condition, and your trip may not be very comfortable as a result.
You will be able to board your bus at the J&K SRTC bus station. Buses usually arrive early in the morning or late at night, so keep that in mind before making your travel arrangements. There are also direct buses from Delhi, but keep in mind that they take nearly an entire day to reach Srinagar.
2. By Road – You can book a taxi or a jeep to get to Srinagar from adjacent towns like Gulmarg, Sonamarg, Pahalgam, and Jammu. If you're going to reserve a taxi, make sure you do it for several days.
While this may appear to be costly, it is cost-effective if you plan to visit other nearby locations. While the trip duration from Jammu to Srinagar is 10 to 11 hours, it's a good idea to allow at least 5 hours for traffic. In addition, inclement weather and even a minor collision can cause road delays and traffic bottlenecks.
3. By Rail – Srinagar's train station is located in Nowgam, about 10 kilometers from the old city. This, however, only applies to a few cities, including Baramulla, Anantnag, Qazigund, and Banihal. It is not yet connected to India's railway system.
The only other option is to travel to Jammu Tawi Railway Station, which is well-connected to several Indian cities, including Delhi, Mumbai, Lucknow, Kanpur, Udaipur, and Pune, to mention a few. The Delhi Anand Vihar-Katra Special Express, Lucknow-Katra Special Express, Pune-Jammu Tawi Jhelum Express, and other trains all stop here regularly.
You can hire a taxi or take a bus to Srinagar once you arrive in Jammu. However, this is a highly winding path that will take more than 8 hours to complete by car. As a result, arriving in Srinagar by air or road is preferable.
Best Places to see in Coorg (2022)
The best time to Visit Srinagar
If there is a paradise on earth, it is right here, right now. These lines, written by Mughal emperor Jehangir in the 17th century, are still relevant today. Srinagar, affectionately known as 'heaven on earth,' is a dream destination for many travelers, with some returning time and time to lose themselves in the magic of this place.
The weather in Srinagar is nice throughout the year, and there is no particular optimum time to visit. Summer and winter are the two main seasons, with autumn tossed in for good measure. Because of its location, Srinagar receives extremely little rainfall and lacks a healthy monsoon.
Srinagar is best visited between April and October when the weather is mild and ideal for sightseeing. Whether you visit Srinagar in the summer, autumn, or winter, the area is breathtaking, and you will be captivated by its unblemished beauty. Are you ready for a once-in-a-lifetime vacation?
1. Summer Season (March-June)
Srinagar is stunning in every season, but summer is the ideal time to come. The months of March through June are probably the busiest for travelers, as the weather is temperate and pleasant. The days are warm and pleasant, with temperatures never dropping below 30°C, and the evenings are cool, with temperatures never dropping below 10°C.
2. Monsoon/ Autumn Season (July-September)
In Srinagar, the transformation from summer to winter is breathtaking. From July to September, the leaves turn golden, and the entire area transforms into a postcard-perfect postcard-perfect postcard. The environment in the region is dry, with temperatures ranging from 12 to 15 degrees, making it the optimum time to visit Srinagar.
3. Winter Season (October-February)
In the winter, Srinagar turns beautiful and cold. At its coldest, the temperature drops below – 20 degrees Fahrenheit, and the area receives significant snowfall. During the frigid winter months of October to February, tourists rush to Srinagar to enjoy this magical experience.
4. (Srinagar during March to June – Pleasant Summers)
Between April and September, summer arrives in the Srinagar valley. And you'd be astonished to learn that at its peak, Srinagar can be quite hot.
A maximum of 30 degrees Celsius can be uncomfortable in a place known for its snowfall and frigid environment. But don't be concerned. The average low temperature is a pleasant 14 degrees Celsius. If you're lucky, you'll arrive when Srinagar's summer weather is perfect.
Summertime in Srinagar is the best season to hire a boat, or a shikara, and cruise about Dal Lake. Blossoms are in full bloom, and designed gardens such as Nishat Garden and Shalimar Garden come alive with vibrant colors and gorgeous flowers. While you're there, you can also pay a visit to the Shankracharya Temple if you're feeling spiritual.
Every year in April, during the summer, Baisakhi, one of Srinagar's most popular festivities, is held. This is a festivity unlike any other in Srinagar during the summer. Yes, it is a Sikh holiday that marks the beginning of the Sikh New Year, but it is enjoyed throughout Srinagar.
Badamwari is the location of this all-encompassing celebration. It's almond blossom season, which provides the ideal setting for ringing in the New Year in style. The weather, the environment, and the celebrations are all in place for you to spend the perfect summer vacation in Srinagar.
Keep in mind that visiting Srinagar during the summer can be a risky proposition. You will have a lovely time if you arrive when the weather is in the lower ranges.
However, if the weather is hot, you may find it difficult to leave the luxury of your air-conditioned hotel room. Wear plenty of sunscreens. Make sure your camera is charged and ready to go. Srinagar provides numerous options for stunning photography.
5. (Srinagar during July to September – Autumn/ Monsoon Season)
Srinagar does not receive much rainfall due to its geographical location. The change from summer to winter, however, is what brings the tourists to Srinagar's magnificent terrain. The trees are about to shed their leaves, and all you can see are golden and copper hues everywhere.
This is the ideal location and timing for an outdoor picnic. The temperature in Srinagar has begun to cool in the autumn, but it is still not as cold as winter. You can comfortably walk around the city and take in the sights.
The sun isn't as hot as it is in the summer, but it still feels warm on your back. The skies are clear for miles around, and you walk with a light step as you take in the beauties of Srinagar. Significant events: Srinagar is teeming with tourists, and every local is attempting to entice you with a once-in-a-lifetime vacation.
There is much to do in Srinagar to turn this vacation into the best vacation of your life, whether you wish to explore the streets alone and discover the city or ride the shikhara and feel the breeze in your hair.
Srinagar is at her most breathtaking. You can sit in one of the numerous gardens and take in the grandeur of one of the world's most beautiful sites — a true paradise waiting to be discovered.
It's neither too hot nor too cold; the scenery is stunning, and the people are friendly and hospitable. Autumn is a popular tourist season, so book your hotel ahead of time to prevent disappointment. Even if winter hasn't arrived yet, bring woolens. Evenings might be cool.
6. (Srinagar during October-February – Winter Season)
Winter is one of the most gorgeous seasons in Srinagar. From October to March, the area is blanketed with white snow, and the wonderful cold lasts. You may believe that all of the months are cold and that it is chilly most of the time. That is not the case, however.
In the winter, the mornings are nice, with the sun beaming brightly and warmly. This alleviates the discomfort of the cold. It's the perfect time to take a stroll through Srinagar's streets. If you want to see snow, you should go to Srinagar between December and January.
However, this is also when the majority of tourists choose to visit. This could result in traffic jams, overcrowding, and high prices. If you're still thinking about going to Srinagar for a winter vacation, proceed with care.
You have the option of getting out of town and taking a trip away from the people. Dachigam Wildlife Sanctuary, Charar-i-Sharif, Badgam, Harwan Gardens, Pulwama, and Pari Mahal are other attractions to add to your itinerary.
Winter in Srinagar is a lovely season that also happens to coincide with two major festivities. The first is the Hindu festival of Shivratri, which takes place in February. Lord Shiva's kindness and power are honored throughout this festival.
Lord Shiva temples, such as the famed Shankaracharya Temple, are lavishly decorated, and the brightly lit monuments are a pleasure to behold. Nuroz is Srinagar's second most important festival. This is traditionally celebrated around March, near the end of the winter season. Even though Nuroz is an Armenian festival, Srinagar residents celebrate it with vigor.
Snowfall, snow, and snow-capped mountains are excellent reasons to visit Srinagar during the winter. If you enjoy winter sports, get your tickets immediately.
Purchase your tickets in advance. You don't want to miss the opportunity because it's a popular time to visit Srinagar in the winter. Carry more woolens than you think you'll need; believe us when we say you'll need them.
Things To Do In Srinagar
These activities to do in Srinagar make the city an ideal destination for every sort of traveler. A paradise on earth for adventure seekers, a magnificent retreat for nature lovers, and a surreal domicile for cultural vultures, these things to do in Srinagar make the city a wonderful place for every type of traveler.
Srinagar is a spot where you may visit at any season and enjoy everything, from escaping the summer heat to bathing in the lovely snow in the winter. But, just to be sure you don't miss out on any of the must-see sights, here's a list of everything you must see and do in Srinagar on your next visit. Take a peek around!
1. Visit Shankaracharya Temple for Blessings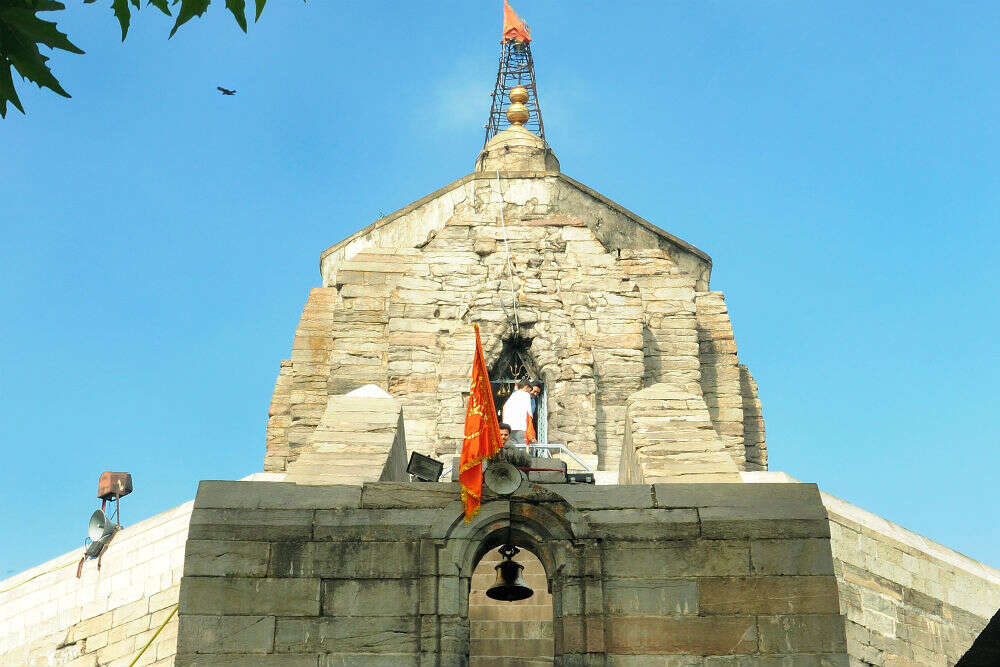 This Hindu temple, also known as the Jyesteshwara Temple and perched on Shankaracharya hill, is a must-see in the city. Needless to say, the temple is stunning, and the divine vibrations will tempt you to remain longer than you intended.
The most exquisite aspect of it, though, is the breathtaking view of the city and mountains that it provides, making it one of the top things to do in Srinagar in January.
2. Hike to the Well-Known Spots
This city isn't just about temples and gardens, which makes it all the more worthwhile to visit at any time of year. Apart from adrenaline-pumping activities like paragliding, skiing, and horseback riding, trekking is a popular way to explore Srinagar like a native. You can go for a hike among the lush green hills and relax in the peaceful atmosphere of nature.
3. Indulge in some of the region's most popular cuisines
Kashmiri cuisine is known around the world for its unique flavors and fusions, and why shouldn't it be? They appear like culinary art, with their perfect blend of spices, pepper, vegetables, and color. Treating your taste buds to the same is undoubtedly a must-do in Srinagar.
Mughal Darbar, Lhasa, Niramish, Alka Salka, and other popular destinations are good places to try some of the native cuisines.
4. Do Your Shopping Like A Local
Pashminas, papièr mâchè bangles, carved wooden boxes, embroidered scarves, wicker baskets, silver jewelry, spices, and Kashmiri carpets are just a few of the popular items to buy in Srinagar, making it a must-do for any visitor.
They're not only a wonderful deal, but they're also a fantastic keepsake. As a result, you can go to any of the well-known markets or businesses and buy whatever your heart desires.
5. Take a stroll through the Indira Gandhi Tulip Garden.
A romantic or tranquil stroll through the astonishingly gorgeous tulips at the famed Indira Gandhi Memorial Tulip Garden is one of the top things to do in Srinagar in April. This area, like the Keukenhof Gardens in Holland, will allow you to get a beautiful view over the city, making it the paradise that it is.
6. Visit a bird sanctuary Manasabal Lake is a beautiful place to visit.
Manasabal Lake is located to the north of Srinagar and is known for its picturesque beauty. The lotus blooms dotting the green waters of the lake contribute to the attractiveness of the lake.
Birdwatchers and ornithologists will love this spot because there are so many birds on the lake's coast. Aside from that, there are a variety of other enjoyable activities such as boating and water skiing. Bring your camera to capture the beautiful scenery of the lakes.
7. Pay a visit to the Hazratbal Mosque.
Hazratbal Mosque is a Muslim shrine and Srinagar's only domed mosque. Many Kashmiri Muslims think it contains the Prophet's hair. Women are only permitted to enter the mosque up to the first floor.
The location, which is close the Dal Lake, gives the city a divine appeal. It is regarded as the holiest Muslime shrine in Kashmir.
8. Take a rafting trip at Sonmarg
Sonmarg, often known as the "Golden Meadow," is a favorite of both families and adventurers. Whitewater rafting is a thrilling experience. It is suited for both expert and novice rafters.
The grade 4 rapids on the Indus River provide a challenge for experienced rafters. It is without a doubt one of the top things to do in Srinagar. Sonmarg promises to be an action-packed getaway.
9. Gulmarg is a great place to go skiing.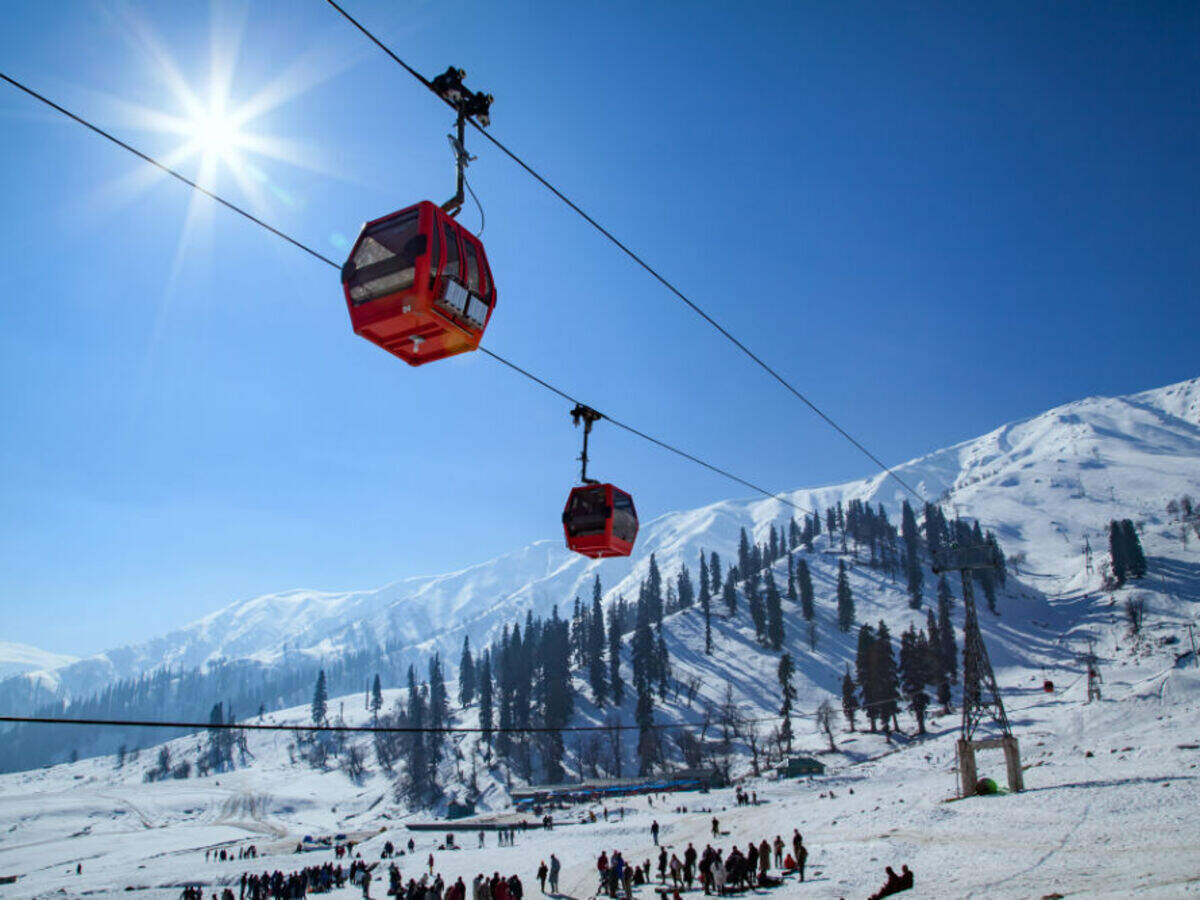 Sonmarg, also known as the "Meadow of Flowers," is noted for its triangular frozen lake, the world's highest golf course, and a well-known Gondola ride. Gulmarg skiing has grown in popularity over the years, and it is now the most popular skiing destination for visitors from all over the world.
It's also a great site to learn to ski, and it's one of the best things to do in Kashmir. The Gulmarg Ski Resort, at an elevation of about 8,600 feet, offers beginners and experts alike smooth slopes.
10. Cricket Bat Factories are a lot of fun.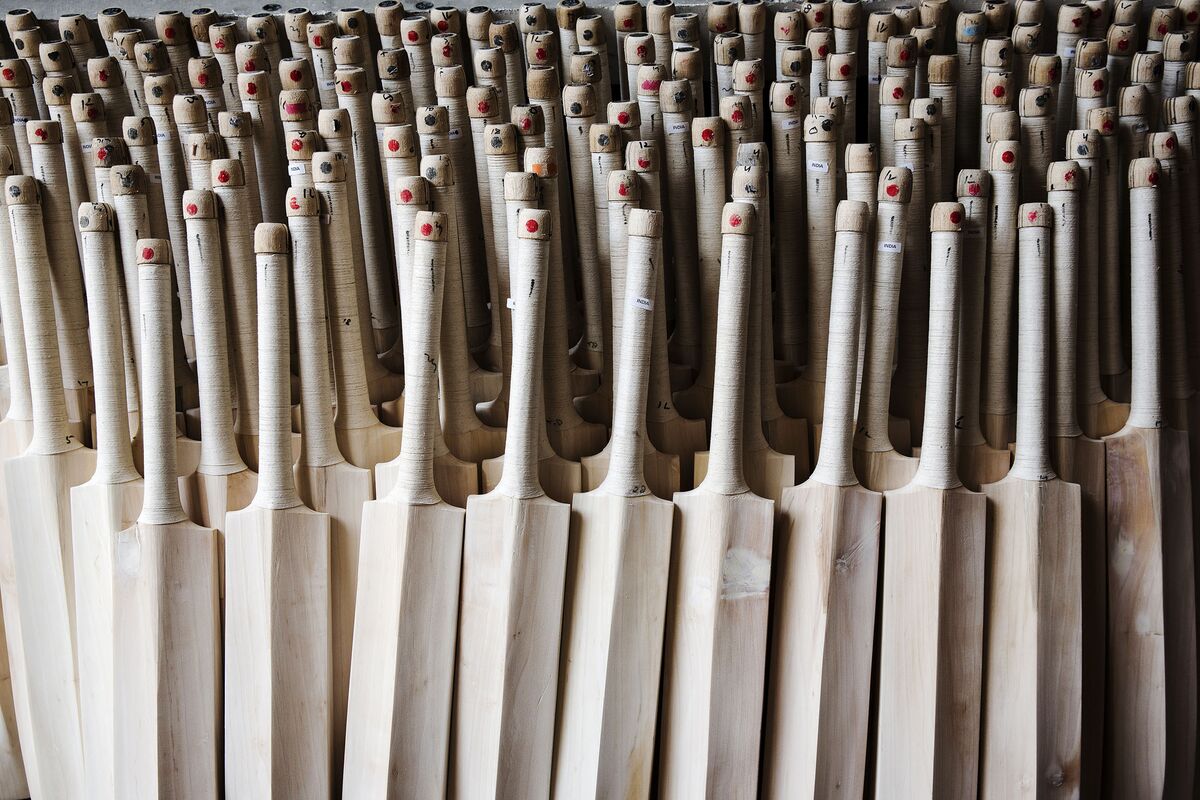 One of the best places for youngsters in Kashmir is the Cricket Bat Factories. With so many cricket manufacturers, kids will have a field day. Some factories even provide bats to the game's most dependable players.
Srinagar is a favorite holiday destination for children since it offers year-round fun, whether it's a shikara ride on the Dal Lake or creating a snowman.
11. Pay a visit to the world-famous Jamia Masjid
The Jamia Masjid Mosque, located in the heart of the ancient city and directly across from the busy bazaars, is the most bizarre destination in Srinagar that you should visit during your sightseeing tour.
Inside, the stunning Indo-Saracenic architecture, the breathtaking courtyard, and over 350 wooden pillars are just a few of the sights that will enchant you.
12. Spend Time On A Beautiful Houseboat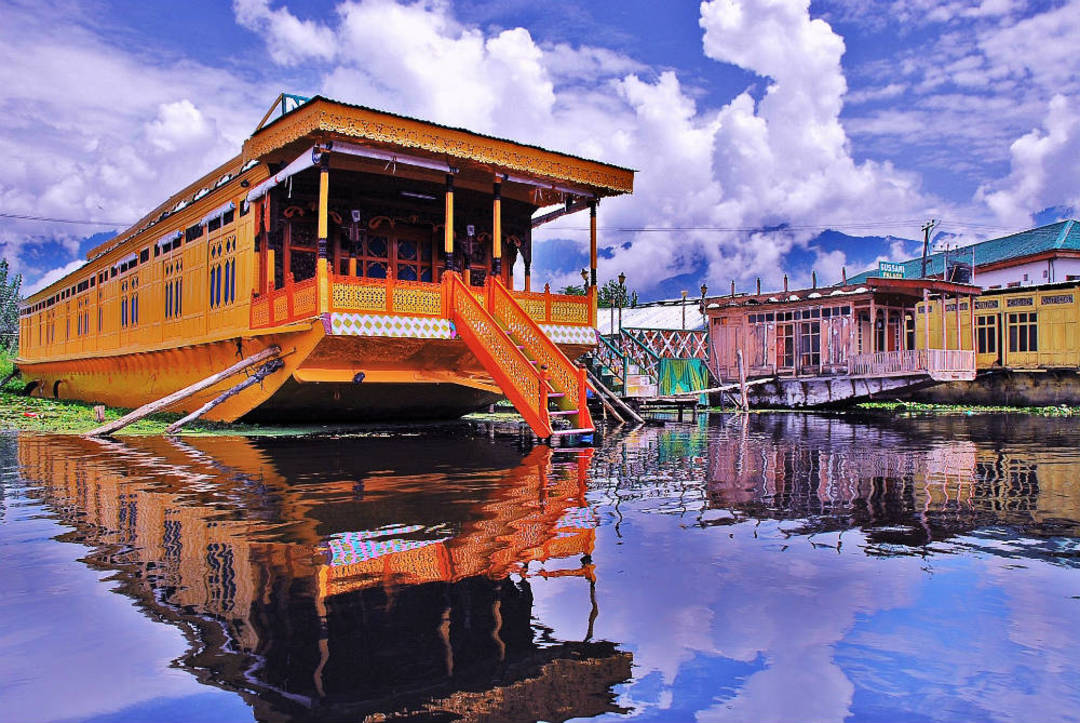 There are numerous things to do in Srinagar, especially if you're looking for an adventure. Staying in one of Kashmir's famous houseboats is one of these unforgettable experiences.
The floating boats function as a tiny hotel, providing traditional experiences with modern convenience. You can revitalize yourself in the accommodation, and when you're weary of resting, you can spend your time on the boat's balcony appreciating the natural beauty around you.
13. Try paragliding
What better way to see a city than from above, and what could be better than paragliding through the air in Srinagar and having the most delightful Kashmir tour ever! The dreamlike aerial view of the city will allow you to take in all of the city's lovely lakes and gardens at once, leaving you wanting more.
So, whether you're an adventure seeker or not, make sure you don't leave this off your to-do list.
14. Visit the Mughal Gardens, which are lush and green.
Visiting the city's famous Mughal Gardens, which are known for their amazing beauty, is one of the greatest things to do in Srinagar. The Chashme Shahi, Shalimar, and Nishat Gardens all beautifully portray a bygone age, making your trip worthwhile.
So, if not all, at least one of them can be visited in the evening for a stroll among the lush green lawns, wonderful fountains, and beautiful flowers.
15. Ride a Shikara on Dal Lake
When you're in this summer capital of J&K, don't worry about figuring out what to do in Srinagar. The shikhara ride on the beautiful Dal Lake is the most fantastic experience you can have.
You will not only be able to see the sunset in all of its splendor while rowing around the lake, but you will also be able to see the city's lifestyle at its best. This priceless city experience is well worth the money!
Places To Visit In Srinagar
Srinagar is unusual in that, during the summer months, it is not only the capital of the state of Jammu and Kashmir, but it is also a magnificent portrayal of nature. Srinagar is surrounded by the River Jhelum, which is protected by five districts. Srinagar is located in the Kashmir valley at an elevation of 1585 meters.
Lakes and gorgeous gardens abound in Srinagar. Srinagar is a planet's paradise, with the sun-kissed peaks of the highlands in the background and the calm waters of the lakes. While in Srinagar, you should go to the following places to enhance your experience.
1. Dal Lake
When visiting Srinagar, Dal Lake is the first stop on the agenda. The appealing Shikara, or wooden boats, which float on the gorgeous waters, provide a view of the lake that promenades the Mughal gardens.
Nature's vibrant hues, as well as the dawn and sunsets across the lake, are breathtaking. The majestic mountains, combined with the scents of fresh flowers from the lake's surrounding gardens, create a quiet atmosphere.
2. Shalimar Bagh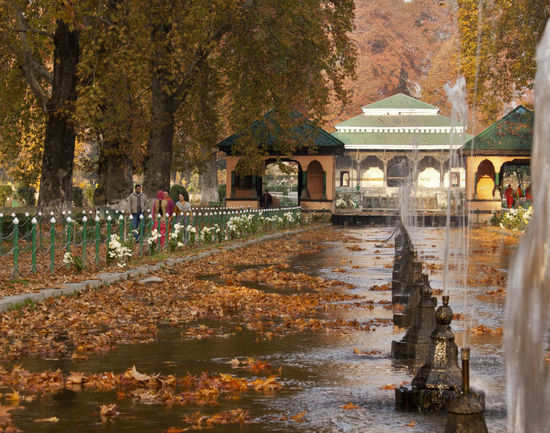 The Shalimar Bagh garden, designed in the Persian style, is spread out across 31 acres of land. Shahanshah Jahangir erected the garden on the outskirts of the Dal Lake to satisfy Queen Noor Jahan.
The garden is a hypnotic beauty, with trees on all sides and a canal running through the middle, lined with polished stones. Shalimar Bagh is steeped in its unique splendor, with three terraces depicting diverse perspectives of the area.
3. Shankaracharya Temple
The temple on the top of Shankaracharya Hill dates back to 200 BC. The temple is very important to Buddhists because it is dedicated to Lord Shiva. Devotees must journey a short distance to reach the temple, which is supposed to be built on an octagonal pavement.
4. Nigeen Lake
Nageen Lake, in contrast to Dal Lake, is quieter and calmer and is separated from Dal Lake by a causeway. The margins of the lake reflect the trees that surround the coastline, while the center of the lake features pure blue placid waters. Cruising on a shikara with clear skies overhead and surrounded by mountains is one of Srinagar's best pleasures.
5. Jamia Masjid (Muslim Mosque)
Jamia Masjid is one of the country's holiest Islamic sanctuaries, with its peaceful interiors that contrast with the surrounding bustle of the bustling markets outside the mosque's grounds. The mosque's Indo-Saracenic style is reflected in its 370 intricately carved wooden pillars. The mosque, elegantly standing tall amid the precise square garden, is unrivaled in every way.
6. Hazratbal Shrine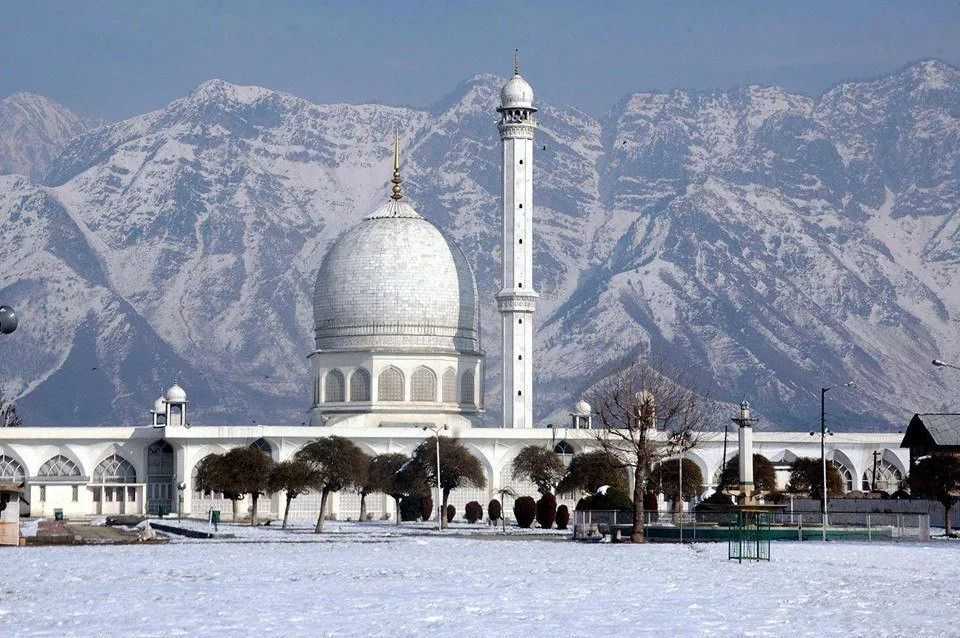 The Hazratbal Mosque is a white marbled dome edifice on Dal Lake's western shore that reflects its splendor in the waters. The mosque houses the relics of the prophet Muhammad, making it a popular place of prayer for Muslims. The shrine is a stunning architectural structure that radiates brightly.
7. Pari Mahal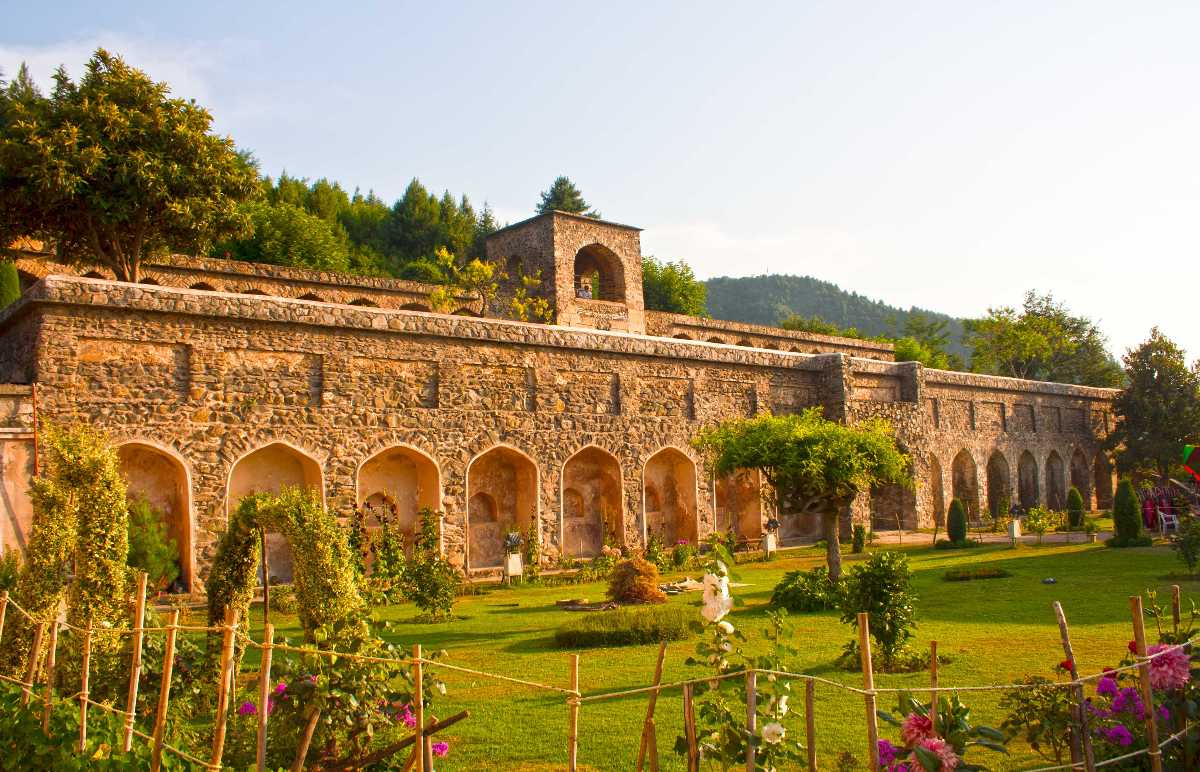 The multi-tiered garden, which translates to the 'palace of the fairies,' is built on a hilltop and provides spectacular views of Dal Lake. The Pari Mahal garden is surrounded by lush green gardens and has a history that predates the Mughal era.
The site served as a Buddhist monastery and afterward as a study institute for Emperor Shah Jahan's son, Dara. From each terrace, the view grows more magnificent and surpasses the previous.
8. Tulip Garden
The Tulip Garden is a new addition to Srinagar. Tulip Garden is Asia's largest tulip garden, with over 60 different varieties of tulips. When fully bloomed, the tulips cover over 12 hectares of land and give a breathtaking sight. The tulip garden was created to boost Srinagar's tourism.
9. Apple Orchards
A visit to an apple orchard in Kashmir, known for its Kashmiri apples, is a must. It's a great experience to stroll along the red and green walkways that are packed with trees and colored by apples.
Apple orchards are plentiful in Srinagar, but nothing compares to plucking an apple and eating it. Your taste buds will be flooded with the richest flavors around the area.
10. Kheer Bhawani Temple
The temple, dedicated to Goddess Bhawani, is a significant site for Kashmiri Pandits. The rice pudding, kheer, is claimed to be offered to the deity, and so the temple is known as Kheer Bhawani.
The temple is surrounded by chinar trees and is clad in smooth, beautiful stones. There's also a mystical water spring that's thought to bring good luck.
Srinagar is a gorgeous and mesmerizing site that encapsulates the splendor of the skies in one location. This renowned tourist spot has all you need to transport you to another era.
Plan Your Trip to Srinagar
Srinagar is a top hill station in India, located in the Kashmir Valley in far northern India. It's known as the "Land of Lakes and Gardens" or the "Switzerland of India" because of its stunning natural beauty.
Many of the gardens were tended by Mughal rulers, giving them a distinct Mughal flavor. Even though civil instability is still a problem in the area due to the dispute with Pakistan, the peace has been restored, and travelers are returning. Nonetheless, expect to see army and police forces everywhere. This Srinagar travel guide contains crucial information and travel advice.
1. Getting There
The Indian Air Force owns the Sheikh ul-Alam airport in Srinagar, which was completed in 2009. Flights from Delhi are the most convenient way to get there. Jammu, Mumbai, Ahmedabad, Chandigarh, Amritsar, Kolkata, Bangalore, and Lucknow all have flights.
The Jammu and Kashmir State Road Transport Corporation runs a low-cost bus service between the airport and Srinagar's Tourist Reception Center. Otherwise, a prepaid taxi will cost around 1,000 rupees (2018 prices). Uber and Ola, two popular app-based taxi services, do not operate in Kashmir.
If you're on a budget and up for an adventure, take an Indian Railways train to Jammu (these trains originate in Delhi or pass through Delhi on their way to other Indian cities), then take a shared jeep or taxi to Srinagar (traveling time around eight hours).
Buses run as well, albeit at a much slower pace, taking roughly 11-12 hours to complete the route. A training project to connect Kashmir Valley with the rest of India is underway, however it is far behind schedule and is not projected to be completed until around 2021. Tunnels are also being constructed to reduce the time it takes to drive from Jammu to Srinagar by about five hours.
2. Security and Visas
Foreigners (even OCI cardholders) must register at the airport upon arrival and departure. It's a simple process that just takes approximately five minutes and needs the completion of one form.
Note that security-cleared US government personnel and contractors are not permitted to visit Srinagar because Kashmir is off-limits. Traveling to Kashmir may jeopardize security clearance.
3. When to Go
The greatest time to visit Srinagar depends on the type of experience you wish to have there. From December to February, it is very cold and snowy, and you can go snow skiing in the nearby areas. It is best to visit between April and October if you want to enjoy the lakes and gardens.
The peak season is from April to June. By mid-July, the monsoon has generally arrived. September through October is also a wonderful time to travel because it is less crowded.
As the temperature grows colder in late October, the foliage turns wonderful deep, warm colors. Summer temperatures can be fairly hot during the day but can be quite frigid at night. Don't forget to bring a jacket!
4. Tips for Staying on a Houseboat
Houseboats should not be booked through tour operators in Delhi. There are a lot of con artists out there, and you never know what type of boat you'll get! Houseboats with a good reputation can be hired at the Srinagar airport, and many have websites.
5. Where Else to Stay
Lal Chowk, in the heart of Srinagar, is the primary business and tourist district, where the majority of the accommodations are located. Local markets and the Jhelum River are both within easy walking distance. It takes roughly 30 minutes to walk from Lal Chowk to Dal Lake.
If you prefer to stay near Dal Lake, Boulevard Road, which runs alongside the lake, has a variety of affordable hotels to select from. In the Dal Gate neighborhood near Dal Lake, Hotel JH Bazaz and Blooming Dale Hotel Cottages provide good value for money.
Swiss Hotel Kashmir, located just off the Boulevard, is a popular budget option — and, to foreigners' delight, they spend less (in India, Westerners normally pay more)! The Hotel Dar-Es-Salam is a well-known boutique hotel with a view of the lake.
6. Travel Tips
Your SIM card will not operate if you have a prepaid phone because roaming has been restricted in Kashmir for security concerns (postpaid connections are fine). A local SIM card may be provided by your hotel or houseboat.
Because Srinagar is a largely Muslim city, alcohol is not offered in eateries, and most establishments close for prayer on Friday lunchtime. However, bars can be located in a few high-end hotels.
If you're flying out of Srinagar airport, allow plenty of time (at least three hours before departure) because security procedures are extensive and multiple.
When flying into the airport, there are no restrictions on cabin luggage. However, save for laptops, cameras, and ladies' handbags, airlines frequently prohibit cabin luggage before departing.