Tripura is known for its tribes. Tripura is known for its temples. Tripura is known for its densely forested hills. Tripura is known for its delectable cuisine. The state of Tripura is rife with history and culture. Tripura educates its citizens. Tripura wins in the field of agriculture. A state characterized by tender tenacity.
A state that cries out to be explored. And, if you haven't already guessed, Tripura is your next destination! Tripura is geographically isolated in India, with only one major roadway connecting it to the rest of the country, National Highway 8. Five mountain ranges, the Boromura, Atharamura, Longtharai, Shakhan, and Jampui Hills, stretch north to south with valleys in between; Agartala, the capital, is on a plain to the west.
The state has a tropical savanna environment and is subjected to heavy rains from the south west monsoon on a seasonal basis. More than half of the land is covered in forest, with bamboo and cane tracts frequent. Tripura has the most primate species per capita of any Indian state. Economic advancement is hampered in the state due to its geographical remoteness.
Tripura, which has a poor infrastructure, continues to be plagued by poverty and unemployment. Although agriculture and related sectors employ the majority of citizens, the service sector accounts for the majority of the state's gross domestic output.
Tripura has a literacy rate of 87.75 percent, according to the 2011 census, making it one of India's most literate states. Traditional ethnic activities such as diverse dances to celebrate religious holidays, weddings, and festivities, the usage of locally manufactured musical instruments and clothing, and the worship of regional deities coexist with mainstream Indian cultural components. Sculptures found in the archaeological sites of Unakoti, Pilak, and Devtamura show a historical merger of organized and indigenous religions.
Although no evidence of lower or middle Paleolithic settlements has been found in Tripura, Upper Paleolithic fossil wood implements have been discovered in the Haora and Khowai valleys. Tripura is mentioned in the Mahabharata, ancient religious literature, and the Edicts of Ashoka, which are stone pillar inscriptions of the emperor Ashoka dating from the third century BCE.
Kirat Desh (English: "The Land of Kirat") is an ancient name for Tripura referenced in the Mahabharata, most likely referring to the Kirata Kingdoms or the more generic term Kirata. However, it is questionable if the contemporary state of Tripura and Kirat Desh are contiguous.
For centuries, the region was ruled by the Twipra Kingdom, however it is unclear when this rule began. The Rajmala, a Tripuri kings chronicle initially recorded in the 15th century, lists 179 kings from antiquity through Krishna Kishore Manikya (1830–1850), however the Rajmala's credibility has been questioned.
Over the years, the kingdom's borders shifted. The frontiers reached south to the Sundarbans jungles on the Bay of Bengal, east to Burma, and north to the Kamarupa kingdom's border in Assam at various times. From the 13th century onwards, there were multiple Muslim invasions of the region, culminating in Mughal supremacy of the kingdom's plains in 1733, however their rule never stretched to the hill regions.
The appointment of the Tripuri rulers was influenced by the Mughals. During British rule in India, Tripura became a princely state. In addition to the independent realm known as Hill Tippera, the present-day state, the monarchs possessed an estate in British India known as Tippera district or Chakla Roshnabad (now the Comilla district of Bangladesh).
Until the 18th century, when king Krishna Manikya transferred the capital to Old Agartala, the kingdom's capital was Udaipur, in the south of Tripura. In the nineteenth century, it was relocated to the new city of Agartala. Bir Chandra Manikya (1862–1896) modeled his government after that of British India, enacting reforms such as the foundation of the Agartala Municipal Corporation.
Tippera district – the estate in British India's plains – Comilla became a part of East Pakistan after India's independence in 1947, and Hill Tippera remained under a regency council until 1949. On September 9, 1949, the Maharani Regent of Tripura signed the Tripura Merger Agreement, which made Tripura a Part C state of India. In November 1956, it was designated as a Union Territory without a legislature, and an elected minister was established in July 1963.
The North-Eastern Areas (Reorganisation) Act of 1971 granted it full status in 1971. The state suffered substantial economic and infrastructure setbacks as a result of the geographic partition, which corresponded with India's independence. Road travel between the state and India's major cities had to take a more convoluted route.
Before the partition, the road mileage between Kolkata and Agartala was less than 350 kilometers (220 miles), but it climbed to 1,700 kilometers (1,100 miles) as the route avoided East Pakistan (although from June 2015 a bus service started from Agartala to Kolkata via Dhaka; this has been named the "Bangla Corridor"). The lack of rail transportation exacerbated the geopolitical isolation.
Many Bengali Hindus have migrated to Tripura as refugees fleeing religious persecution in Muslim-majority East Pakistan since India's partition, particularly after 1949. During the Bangladesh Liberation War in 1971, Hindu Bengalis increased their settlement. During the 1971 Indo-Pakistani War, the Pakistan Army shelled parts of the state.
Following the conflict, the Indian government reorganized the North East region to guarantee effective border control – three new states, Meghalaya, Manipur, and Tripura, were formed on January 21, 1972. The majority of the population was indigenous before to independence.
Ethnic tensions between the Tripuri tribe and the largely immigrant Bengali minority resulted in sporadic violence and a decades-long insurgency, which included occasional massacres like the Mandai massacre in 1980. Following the establishment of a tribal autonomous district council and the employment of planned counter-insurgency operations, this eventually subsided.
As of 2016, Tripura is still quiet. Mosques in numerous parts of Tripura were attacked between October 19 and 26, 2021, in retribution for religious violence against the Hindu minority in neighboring Bangladesh.
Tripura is a landlocked state in North East India, and it is part of the Seven Sister States, which include Arunachal Pradesh, Assam, Manipur, Meghalaya, Mizoram, Nagaland, and Tripura. Tripura is the third-smallest state in the country, behind Goa and Sikkim, with a total area of 10,491.69 km2 (4,050.86 sq mi). It spans 22°56'N to 24°32'N, as well as 91°09'E to 92°20'E.
Its largest extent is 178 kilometers (111 miles) north to south and 131 kilometers (81 miles) east to west. Tripura is bordered on the west, north, and south by Bangladesh, and on the north, east, and east by the Indian states of Assam and Mizoram. National highways pass through Assam's Karimganj district and Mizoram's Mamit district, making it accessible.
Hill ranges, lowlands, and plains characterize the physiography. From Boromura in the west, through Atharamura, Longtharai, and Shakhan, to the Jampui Hills in the east, the state has five anticlinal ranges of hills flowing north to south. The Agartala–Udaipur, Khowai–Teliamura, Kamalpur–Ambasa, Kailasahar–Manu, and Dharmanagar–Kanchanpur valleys are the intervening synclines.
Betling Shib in the Jampui range, with an elevation of 939 meters (3,081 feet), is the state's highest peak. Tillas are little solitary hillocks that can be found across the state, and lungas are narrow fertile alluvial valleys found largely in the west. A number of rivers flow into Bangladesh from the hills of Tripura. To the north, the Khowai, Dhalai, Manu, Juri, and Longai run; to the west, the Gumti; and to the south, the Muhuri and Feni.
The Geological Survey of India published lithostratigraphy data that places the rocks between the Oligocene period (about 34 to 23 million years ago) and the Holocene epoch (around 12,000 years ago) on the geologic time scale. The hills are covered in porous red laterite soil. Alluvial soil covers the flood plains and narrow valleys, which account for the majority of agricultural land in the west and south.
The state is classified as seismic zone V by the Bureau of Indian Standards, on a scale ranging from I to V in order of increasing earthquake sensitivity. The climate of the state is tropical savanna, with a Köppen climatic classification of Aw. Local variances result from the undulating landscape, particularly in the hill ranges.
Winter, which lasts from December to February, is followed by pre-monsoon or summer, which lasts from March to April, monsoon, which lasts from May to September, and post-monsoon, which lasts from October to November. The south west monsoon provides torrential rains and frequent floods during the monsoon season.
Between 1995 and 2006, the average annual rainfall ranged from 1,979.6 to 2,745.9 mm (77.94 to 108.11 in). Summer temperatures range from 24 to 36 °C (75 to 97 °F), while winter temperatures range from 13 to 27 °C (55 to 81 °F). The state is in a "very high damage risk" zone from wind and cyclones, according to a UN Development Programme report.
Tripura, like the rest of the Indian subcontinent, is part of the Indo-Malayan region. The state belongs to the "North-East" biogeographic zone, according to India's biogeographic classification. Forests covered 57.73 percent of the state in 2011. There are three types of ecosystems in Tripura: mountain, forest, and freshwater. Species like Dipterocarpus, Artocarpus, Amoora, Elaeocarpus, Syzygium, and Eugenia dominate the evergreen forests on the hill slopes and along the sandy river banks.
The majority of the vegetation is made up of two types of wet deciduous forests: moist deciduous mixed forest and Sal (Shorea robusta)-predominant forest. Tripura's vegetation is unique in that it has bamboo and cane forests interspersed with deciduous and evergreen flora. Grasslands and swamps, particularly on the plains, are also present.
Albizia, Barringtonia, Lagerstroemia, and Macaranga are among the herbaceous plants, shrubs, and trees that thrive in Tripura's swamps. Schumannianthus dichotoma (shitalpati), Phragmites, and Saccharum are examples of shrubs and grasses (sugarcane).
Tripura is home to 90 land mammal species from 65 genera and 10 orders, according to a survey conducted in 1989–90. These include species (Elephas maximus), bears (Melursus ursinus), binturongs (Arctictis binturong), wild species (Cuon alpinus), porcupines (Artherurus assamensis), barking deer (Muntiacus muntjak), sam Tripura has the most number of primate species of any Indian state, with seven out of India's 15 free-ranging monkeys.
The wild buffalo (Bubalus arnee) is no longer found in the wild. The state is home to almost 300 different bird species. Sipahijola, Gumti, Rowa, and Trishna wildlife sanctuaries are among the state's wildlife sanctuaries. Clouded Leopard National Park and Rajbari National Park are two of the state's national parks.
The total size of these protected areas is 566.93 km2 (218.89 sq mi). Gumti is also a critical bird habitat. Thousands of migratory waterfowl flock to Gumti and Rudrasagar lakes in the winter.
Tripura's gross state domestic product (GSDP) in 2010–11 was 129.47 billion rupees (US$1.7 billion) at constant prices (2004–05), up 5.71 percent from the previous year. India's GDP was 48,778.42 billion (US$650 billion) in the same period, growing at an annual rate of 8.55 percent. The state's annual per capita income was 38,493 dollars (US$510), while the national per capita income was 44,345 dollars (US$590).
In 2009, the state's tertiary economy (service industries) contributed 53.98 percent of the state's gross domestic product, compared to 23.07 percent from the primary sector (agriculture, forestry, and mining) and 22.95 percent from the secondary sector (economy) (industrial and manufacturing).
According to the 2005 Economic Census, retail trade employed the most people (28.21 percent of the total non-agricultural employment), followed by manufacturing (18.60 percent), public administration (14.54 percent), and education (14.54 percent) (14.40 percent ).
Tripura is an agrarian state, with agriculture and related sectors employing more than half of the population. Only 27% of the land is suitable for cultivation due to the rough topography and forest cover. Rice, the state's most important crop, is grown on 91 percent of the land.
Potato, sugarcane, mesta, legumes, and jute were the other major crops cultivated in the state in 2009–10, according to the Directorate of Economics & Statistics, Government of Tripura. Horticultural goods such as jackfruit and pineapple are at the top of the list. The majority of the indigenous population used the jhum method of farming (a type of slash-and-burn). In recent years, the number of people who rely on jhum has decreased.
Tripura's economy is characterised by a high rate of poverty, a lack of capital formation, insufficient infrastructure, geographical isolation and connectivity bottlenecks, insufficient exploration and utilization of forest and mineral resources, delayed industrialization, and high unemployment.
Agriculture is the primary source of income for more than half of the population. Agriculture and related industries, on the other hand, provide only 23% of GSDP, owing to the low capital base in the sector. Despite the inherent limitations and constraints, as well as significant resource shortages for investing in basic infrastructure, this has resulted in consistent improvements in people's quality of life and income across the board.
The state government, through its Tripura Industrial Policy and Tripura Industrial Incentives Scheme, 2012, has provided substantial subsidies in capital investment and transportation, as well as preferential treatment in government procurement and waivers of tender processes and fees, but the impact has been limited to a few industries in the Bodhjungnagar Industrial Growth Center.
The Planning Commission uses the Assam headcount ratio to assess the poverty rate in all North East Indian states (the second largest state in North East India after Arunachal Pradesh). According to a 2001 report by the Planning Commission, 22% of Tripura's rural population lived in poverty.
However, according to a Tripura government impartial evaluation based on consumption distribution data, 55 percent of the rural population was poor in 2001. Geographic isolation and communication constraints, combined with a lack of infrastructure, have hampered the state's economic growth. Poverty and unemployment remain at alarmingly high levels.
Tripura had the fourth-highest literacy rate in India, according to the 2011 census (which had a national literacy rate of 74.04 percent). Tripura has the highest literacy rate in India, at 94.65%, according to a state government survey from 2013. The state government, the TTAADC, or private organizations, including religious ones, administer schools in Tripura.
In schools, Bengali or English are the primary languages of instruction, while Kokborok and other regional languages are also used. Jawahar Navodaya Vidyalaya, Kasturba Gandhi Balika Vidyalaya, Tripura Tribal Welfare Residential Educational Institutions Society (TTWREIS), and missionary schools like St. Paul's, St. Arnold's, Holy Cross, Don Bosco, and St. John's are among the special schools.
The schools are accredited with the Council for Indian School Certificate Examinations (CISCE), the Central Board for Secondary Education (CBSE), the National Institute of Open Schooling (NIOS), or the Tripura Board of Secondary Education, respectively. Students often enroll for two years in a junior college or a higher secondary school connected with the Tripura Board of Secondary Education or other central boards after completing secondary school under the 10+2+3 plan.
Students can pick from three streams: liberal arts, commerce, or science. After passing the Higher Secondary Examination (grade 12), students can enroll in general degree programs such as bachelor's degrees in arts, commerce, or science, or professional degree programs such as engineering, law, or medicine, just as they do in the rest of India.
Tripura is the second most populated state in North East India, behind Assam. Tripura has a population of 3,671,032, with 1,871,867 males and 1,799,165 females, according to the provisional findings of India's 2011 census. It accounts for 0.3 percent of India's total population.
The state's sex ratio is 961 females per thousand males, which is higher than the national average of 940. The population density is 350 people per square kilometer. c Tripura's literacy rate in 2011 was 87.75 percent, which was higher than the national average of 74.04 percent and ranked third among all states.
According to a 2006 estimate by India's Ministry of Women and Child Development, Tripura ranked sixth among 35 states and union territories in the Human Development Index (HDI); its HDI was 0.663, higher than the national HDI of 0.605.
Tripura's police registered 5,803 criminal offenses under the Indian Penal Code in 2011, second only to Assam (66,714) in North East India. The state's crime rate was 158.1 per 100,000 people, which was lower than the national average of 192.2. However, according to 2010 data, the state had the highest rate of crime against women of any state, at 46.5 per 100,000 inhabitants, much higher than the national rate of 18.
Tripura's varied ethno-linguistic groupings have created a composite culture. Debbarma, Jamatia, Reang, Tripura, and Noatia are the prominent Tripuri clans. Murasing, Chakma, Halam, Garo, Kuki, Mizo, Uchoi, Dhamai, Roaza, Mogh Munda, Oraon, and Santhal are among the tribal groups who migrated to Tripura as tea laborers.
The Bengali people make up the state's largest ethnolinguistic group. As a result, Bengali culture is the dominant non-indigenous culture. The Tripuri Maharajas were big supporters of Bengali culture, especially literature, and Bengali took over as the court language from Kokborok. Bengali culture, including as Bengali literature, Bengali music, and Bengali cuisine, are widely practiced, especially in the state's urban areas.
Bamboo and cane crafts are well-noted in Tripura. Furniture, kitchenware, hand-held fans, reproductions, mats, baskets, idols, and interior decoration items are all made from bamboo, wood, and cane. Music and dance are an important part of the state's culture. The sarinda, chongpreng (both string instruments), and sumui are some of the native musical instruments (a type of flute).
Every indigenous culture has its unique set of songs and dances that are performed at weddings, religious events, and other celebrations. During the Goria puja, the Tripuri and Jamatia people do the goria dance. Other Tripuri dance forms include jhum dance (also known as tangbiti dance), lebang dance, mamita dance, and mosak sulmani dance.
The hojagiri dance is performed by young girls balancing on earthen pitchers by the Reang community, the state's second largest scheduled tribe. During the Bizhu festival, the Chakmas perform Bizhu dance (the last day of the month of Chaitra in Hindu calendar).
Other dance forms include the Garo's wangala dance, the Halam branch of the Kuki's hai-hak dance, and the Mog's sangrai and owa dance. Along with traditional music, contemporary Indian musical aspects including Indian classical music and dance, as well as Rabindra Sangeet, are also practiced. Sachin Dev Burman, a member of the royal family, was an Indian music master who specialized in the filmi genre.
Tripura Sundari is the patron goddess of Tripura and a manifestation of Shakti, according to Hindus. The state's major holidays are Durga Puja, Kali Puja, Dolyatra, Ashokastami, and the worship of the Chaturdasha deities. Some festivals, such as Ganga puja, Garia puja, Kharchi puja, and Ker puja, demonstrate a fusion of distinct regional customs.
Historic locations such as Unakoti, Pilak, and Devtamura are noted for their huge collections of stone carvings and rock sculptures. This state's cultural Water Palace is Neermahal. Sculptures show that Buddhist and Brahmanical orders have been present for ages, and they offer a remarkable aesthetic combination of established organized religions and tribal influence.
How To Reach Tripura
Tripura is India's third smallest state, located in the extreme north-eastern country. Bangladesh borders the state on three sides. Tripura, which boasts 4051 square miles, is home to a wide range of tribal cultures and religious communities. Tripura, like other of the north-eastern states, has a substantial tribal element that gives it a distinct personality. Tripura is a flavorful tourism destination since it is a melting pot of many cultures, traditions, and faiths. Let's have a look at how visitors can get to Tripura.
1. By Air
Agartala is Tripura's capital city, and the Agartala Airport, also known as Maharaja Bir Bikram Airport, is the state's domestic airport, located 12 kilometers northwest of the city. Tripura has the second busiest airport in the northeast, behind Guwahati, and provides vital air access to remote areas and districts.
It has been proposed that it be upgraded to an international airport. Flights connect Agartala with cities such as Kolkata, Delhi, Chennai, Guwahati, and others. Regular flights to and from Agartala are operated by Air India, Spicejet, and Indigo. Tourists can reach the city via taxi or car from the airport.
2. By Rail
In Tripura's Unakoti district, the nearest railhead is located. There are two platforms at Kumarghat Railway Station. Agartala city is 126 kilometers away from the station. Guwahati and Kolkata in the east, as well as Delhi, Chennai, Bengaluru, and Indore in the west, are all accessible from the station. In the absence of direct trains, tourists can reach to Tripura via connecting trains. Tourists can take buses or cabs from the station to various places within the state.
3. By Road
Tripura has a good road network connecting it to neighboring districts, towns, and cities, which helps to link distant places. National Highway 44, for example, connects Tripura and Guwahati via Shillong. Tripura is 587 kilometers away from Guwahati, whereas Shillong is 487 kilometers away.
Silchar in Assam is 250 kilometers from Tripura, but Dhaka, Bangladesh's capital, is only 150 kilometers away. To help people move between cities, there are good luxury coaches run by public and commercial transport organizations. Tourist cabs, jeeps, and compact cars use the roads on a regular basis, transporting tourists from one place to another.
4. Getting Around
It is not difficult to commute inside the state. Different forms of transportation are available to assist tourists in getting from one place to another. The state has well-maintained roads and a network of National Highways that go across it. For travel, taxis, cabs, state and privately owned buses are readily available.
Weather In Tripura And The Best Time To Visit
Tripura, in India's state, is a lovely state with a long history and rich cultural heritage. It is a smaller state with varied cultures and villages that has grown in popularity as a tourist destination over time.
There are several important spots to visit, but you should be mindful of the temperatures and weather conditions at various times of the year. Knowing the current weather conditions will aid tourists in making better plans and determining when it is best to avoid the state.
1. The season of summer (March to May)
Tripura's summer lasts two months, beginning in March and ending in May. Late April and May are the hottest months of the year, with temperatures reaching around 33°C, which is relatively pleasant and acceptable when compared to other states. The humidity level is significantly higher, at 50%, causing considerable discomfort.
It's important to note, however, that due to the state's undulating terrain, temperature changes greatly around the state. As a result, even in the height of summer, certain regions have a cold climate.
2. Monsoon season (June to September)
By the end of May, the monsoon has arrived in Tripura and will last until September. Rainfall occurs during each of the four months. Rain is brought to Tripura by south-westerly winds, which are obstructed by the hills, resulting in heavy rain on the windward side.
During these months, there has been reports of frequent flooding in the state, which causes rivers to overflow and frequently disrupts connectivity with the mainland. Humidity levels rise dramatically as a result of increased rainfall. The monsoon season is not the greatest time to visit the state.
3. The season of winter (October to February)
Winter is unquestionably the greatest season to visit Tripura. The winter season lasts from November to February, and the weather is pleasant. Rainfall is sporadic but not infrequent. Most of the time, the skies are clear.
As a result, the humidity level drops dramatically, erasing all indications of discomfort. With temperatures ranging from 10°C to 30°C, the weather is cool and pleasant. Early morning fogs and a coolness in the air, but it's pleasant. It's a fantastic time to visit the state and participate in outdoor activities such as picnics and camping.
Tripura's Best Tourist Attractions
Tripura may be a small state, but it is rich in diversity and natural beauty, as well as varied civilizations. Tripura is a natural wonderland filled with meandering streams, rivers, deep valleys, and mountains.
Wild animals such as bears, wolves, elephants, leopards, and monkeys can be found in the jungles. A number of historical sites and architectural treasures also draw tourists from all around the country. Let's have a look at some of the places you should visit while in Tripura.
1. Agartala
Tripura's main city, Agartala, is the second largest city in north-eastern India after Guwahati. It contains a number of notable tourist attractions, including the beautiful Ujjayanta Palace, which was erected in 1901.
The palace is now the Tripura Government Museum, which is one of the region's most important museums. There is a lovely Heritage Park that was designed to provide tourists a glimpse of the state's art, culture, and history. The well-known Jagannath Bari can also be located here.
2. Ujjayanta Palace
This was a splendid palace erected within Agartala originally, but it was devastated by a huge earthquake in 1897, and Maharaja Radha Kishore Manikya rebuilt it in 1901 AD. The beautiful Mughal garden, complete with musical fountains, artificial lakes, and greenery, is the highlight of this palace. The gardens add elegance and charm to the surrounding area and are considered one of the state's must-see attractions. Rabindranath Tagore, a noble laureate, gave the palace his name.
3. The Palace of Neermahal
Another spectacular architectural specimen in Tripura is the Neermahal Palace, also known as the Water Palace. In terms of architectural style and design, it is strikingly similar to Jag Niwas Palace in Udaipur, Rajasthan. It was designed to serve as Maharaja Bir Bikram Kishore Manikya's summer house and was completed in 1930.
The palace has a dome on top, giving it the appearance of a fort. A lake close to the palace fascinates bird watchers because it is home to a significant number of migratory birds. In the months of July and August, boating and water sports are organized.
4. Dharmanagar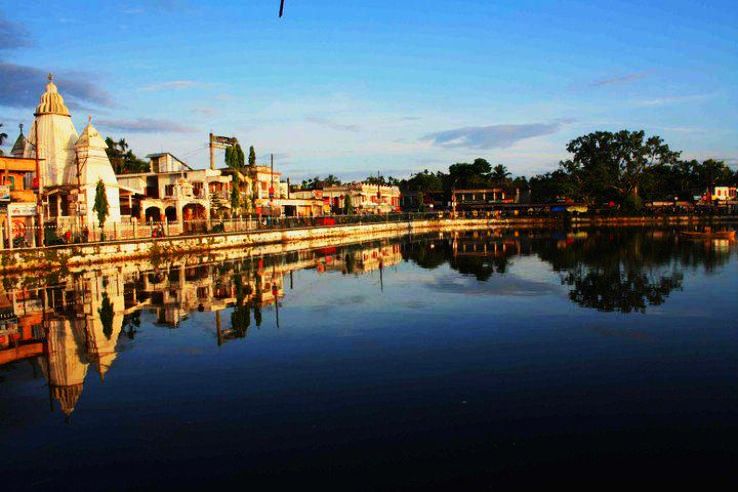 Dharmanagar is an important city in Tripura that is noted for its natural beauty and historical attractions. Several historical sites, palaces, and ruins may be found.
Due to its strategic location, it is an important business hub in Tripura. In addition, the city has a great number of good Bengali and English-medium schools. Many of these schools use the Digitical Class System and offer a high level of education.
5. Tripura Government Museum
If you enjoy museums and make it a point to visit museums in different cities to learn more about the history and culture of the places you visit, then the Tripura Government Museum is a must-see.
It was founded with the goal of conserving and showcasing the people of Tripura's culture, history, and heritage. There is a large collection of archaeological artefacts, including as stone carvings and coins, that have been collected from all across the state, and it is an excellent place to learn more about the area, its people, and their daily life.
6. Unakoti
Unakoti Archaeological Site is the name given to an archaeological site in Tripura. Unakoti means "one less than a crore," and it is thought that there are as many rock sculptures here as there are people.
Beautiful Hindu deity murals can be found here. It is a prominent Saivite pilgrimage place since it is believed that Lord Shiva's punishment transformed Gods and Goddesses into stones. These rock sculptures cover a large region and help to define the landscape. These carvings are surrounded by stunning waterfalls and lush flora.
7. Jagannath Temple
The Jagannath Temple can be located in the heart of the Ujjayanta palace grounds. The temple architecture is remarkable in that the façade of the temple has strong Islamic influences, while the inside are marked by dazzling Hindu architectural styles and patterns. Lord Jagannath, Lord Balaram, and Devi Shubhadra are the primary deities worshipped here. Tourists visit to see the temple for its outstanding blend of architectural styles, in addition to its religious significance.
8. Trishna Wildlife Sanctuary
Tourists, particularly wildlife enthusiasts and photographers, should pay a visit to this sanctuary. Indian Bison are the main attraction at Trishna Wildlife Sanctuary. Gaur is another name for Indian Bison. A variety of apes known as Hoolock Gibbon, Capped Langur, and Golden Langur are among the endangered species found here.
9. Sipahijala Wildlife Sanctuary
Tripura's Sipahijala Wildlife Sanctuary is a popular destination for wildlife enthusiasts. The sanctuary covers 19 km2 and is home to wildlife such as the capped langur, spectacled monkey, clouded leopard, jungle fowl, barking deer, and wild pig. Apart from 150 species of both local and migratory birds, there is a diverse flora and fauna to be found here.
It's an excellent place for birding and bird photography. Within the sanctuary botanical garden, there is a coffee and rubber plantation, as well as opportunities for boating and elephant rides.
10. Melaghar
Melaghar is a small village in the Sipahijala district of Bangladesh, only 10 kilometers from the border. The Sipahijala Wildlife Sanctuary, about 50 kilometers from Agartala, is the main attraction here. It's an excellent place to see wild animals and a variety of birds. The Neermahal Palace, also located as the water palace, is a prominent tourist attraction on the banks of Rudrasagar Lake.